Coway has been a trusted brand in many countries since its inception in 1989. It has been South Korea's top air purifier brand consistently. Even since its arrival on the US market arena, it has stirred up the already saturated market. Well established brands have been taken by surprise by the love people have shown to products from the Coway company. With Coway, you can always expect high quality and innovative design. Take their air purifier for instance. Not only do these air purifiers look differently attractive, but have substance and not just hollow promises.
Catering to the needs of users with varied needs and delivering what is advertised is Coway's USP. Scores of users have acknowledged their ultra responsive and courteous customer care, its a great thing for you to know and maybe experience too. All these attributes make them do full justice to their "We Care A Healthy & Convenient Life" tagline.
The Coway company manufactures only a few products but they have already attained iconic status.
COWAY COMPANY – AN INTRODUCTION

The reason Coway is so popular is because they induce their thoughtful design into reality. Don't you want a product that understands your needs and harmonizes with your lifestyle? Coway understands that. And they cater to it very well. They also joined the Sustainable Development Goals (SDGs) Implementation Declaration, so if you're looking for an environmentally-conscious brand, this is the one! They have very low carbon emissions and were awarded for this for the 10th consecutive year.
Coway is dedicated to researching and developing solutions to air purification. They work with some of the world's best scientists and designers and are a global brand. They have been known for their style, eye for detailing, meticulous functionality and even great products as a whole. For Coway, Air Purifiers and water purifiers, are their main focus area. Although they also make spectacular bidets too. The company has forayed into cosmetics and home wellness business.
Coway company head office is in South Korea. For India, Coway's headquarters are in Mumbai. Woongjin group is the parent company which owned it before selling it to a private equity fund in 2013. Now in 2019 it has again regained stake in the company. Coway may soon be renamed to Woongjin Coway.
HUMBLE BEGINNINGS
Coway started off in 1989 as a small company selling door-to-door products in South Korea. They focused on products related to well-being and healthcare. In 1990 they started their water purifier business. And in 1994 they got into their Air purifier business. In 1998, they started off on their rental journey with their customers exceeding 2 Million by 2002. Goes on to show their meteoric rise. Adopting a code of services, in this year they entered the Trillion Sales Club! This is an impressive statistic for a company to achieve within a period of fewer than 10 years.
Since 2005, Coway has a research center established at Seoul National University which is the top institute in South Korea and has an acceptance rate of less than 10%. Coway started their company's USA operations in 2006.
In 2010, customers trust in them allowed Coway to expand into other avenues. They also started a Cosmetics and Homecare business and expanded overseas. Recently Coway opened offices in India as well.
Awards and Certifications Awarded To Coway Company
Coway has received a multitude of awards throughout the years. Recently, they received the Dow Jones Sustainability Indexes (DJSI) in 2016, which is the 4th year they received it. Their corporate culture makes them among the Top 100 Companies to work within South Korea. They were winners of the 2017 CES (Consumer Electronics Show) which is provided by the U.S. Consumer Technology Association. It is their 2nd year of winning the award. Their unique product designs won them 2016 iF Design Award for the 9th consecutive year. In 2015, they received the Japan Good Design Award for the 9th consecutive year as well.
IS COWAY A GOOD BRAND?
Coway manufactures water purifiers, air purifiers, and bathroom products. They also provide services to clean the mattresses and more. If you're familiar with the other posts on this site, you might've seen our praises for their Airmega air purifier series. These are smart products that come with the IoCare APP support. These settings will even allow you to monitor via graphs the particle count and oxygen content. It also connects you to a representative in case of any malfunction.
Design-wise, Coway keeps updating its content on a regular basis. Just recently they rolled out Airmega 250 model. Its design is on the same lines as the Airmega 150 but with more features. Their new air purifiers even come with dual suction options! With all the different product lines available in the market it might be difficult to find the ones best suited for you. So, we're here to help! We've compiled a list of the best Coway company air purifiers to help you find the best for your home.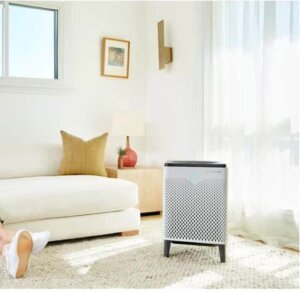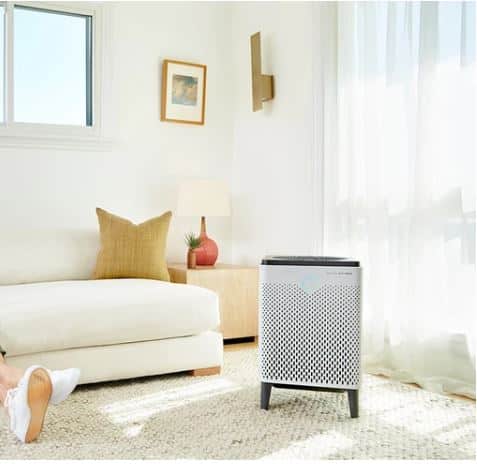 The Coway Airmega 400S is a leg up on its previous 300 version. It can cover large rooms up to 1,560 square feet. On its fastest fan speed mode, the Airmega cleans the entire air of the room at least twice. This model used the Airmega Max2 filter which contains a True HEPA filter. So if you're allergic to dust suffer from asthma – this is a great product! Even if you are not and the air quality index of the place that you live in is poor or moderate, consider buying this product. Long term exposure to allergens and pollutants can affect even the healthiest of respiratory systems.
Coway Airmega 400S has a laser dust sensor. This sensor keeps checking the air quality in real-time. A beautiful round composite LED light is present on the product. With its color changing AQI LED lights the air purifier plus inside the APP. It makes you aware of 4 different levels of pollution. You can see these on the IoCare App on your phone. With Coway's unique app, you can study the current air conditions in details by simply logging in.  Through this, you get a rough idea of whether the indoor air is pure or somewhat unhealthy. It will remain green most of the time since that's how good this product is.
---
---
DESIGN
This air purifier device has the largest size among any air purifier Coway company makes. This is understandable since it caters to a large square footage area. It has a designed mesh in front and stands on four short feet. You will find that the design is sharper than the other ones on the list. Unlike the other two product with rounded corners, this one has a very formal feel to it. It will match well in any office setting. The controls and outwards airflow fan are located on the top. A model without any APP and a few less features is the Airmega 300.
FILTERS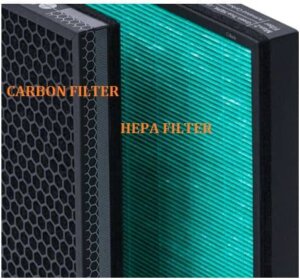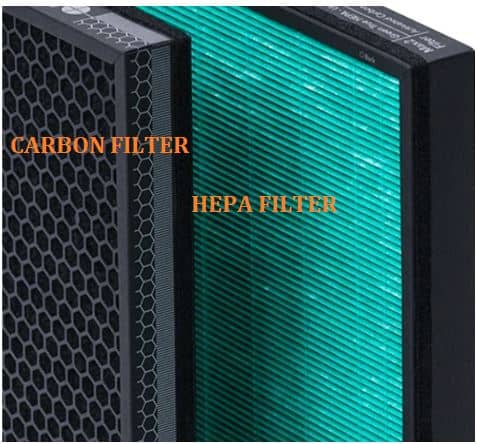 Coway Airmega 400S comes equipped with two filters – A pre-filter and a MAX2 filter. The MAX2 filter itself is a composite filter comprising of a TRUE HEPA green filter and a honeycomb activated carbon filter.
PRE-FILTER – There is a pre-filter on the outside to filter out larger dust particles and form a barrier for the inside. This filter is removable and should be washed frequently.

MAX2 FILTER

– The Max2 filter which is placed with its HEPA filter facing the fan is of utmost high quality. A TRUE HEPA filter, as you must be aware removes up to 99.97% of particles in the air that are 0.3 microns in size. It also removes pollen, pollutants and other allergens. While its activated carbon layer removes odors, VOCs and other harmful gases.
FAN MODES AND NOISE
The product has a total of 5 fan modes: Smart, Sleep, Low, Medium and High. Users found that at lower speeds, the fan was almost silent. However, at higher speeds, this Coway air purifier registers around 43.2 dB on the decibel meter. This is still quite silent compared to other market models that cover the same square footage.
The smart purifier comes with three settings that self-adjust depending on the current AQI of the place you live in. In auto mode, the fan speed also automatically adjusts itself. The product has a timer that can be set for 1, 2, 4 and 8-hours. The filter needs to be replaced annually. In case you forget, Coway Airmega 400S has an indicator for both the pre-filter and the Max 2 filter.
CONTROLS
From the perspective of control and convenience, Airmega 400S and 300S are Coway company's flagship models. The controls are located on the top face. Only 3 different buttons are present. There is also an LED indicator to show if it is connected to the WiFi or not. LED indicators are also present to show the current fan mode operation. There is a mood light on top that you can use to find the device in the dark.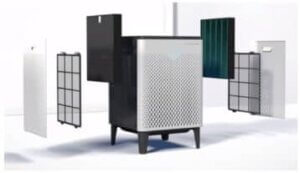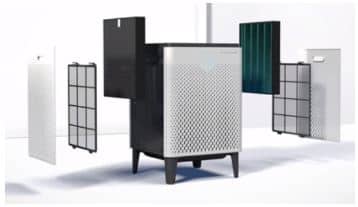 OTHER FEATURES
Coway Airmega 400S uses Dual suction. In this, it draws air from both sides, filters it and then projects fresh air from the top.
Filter indicators will ensure you never forget to replace it on time.
The IoCare App can also provide help in times of malfunction. It can connect you to a representative who will walk you through the processes in case it is a minor disturbance.
A Mood light to turn off the lights is present on top.
Energy Star certified and consumes only 66W. This wattage may seem too much but look at its coverage area.
The product is available in two colors – White and Graphite (which is almost black) and has a 5 years manufacturer's warranty.
COWAY AIRMEGA 400S PRICE CHECK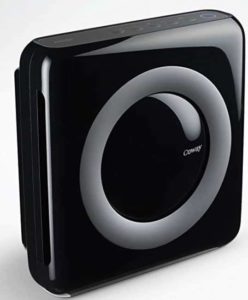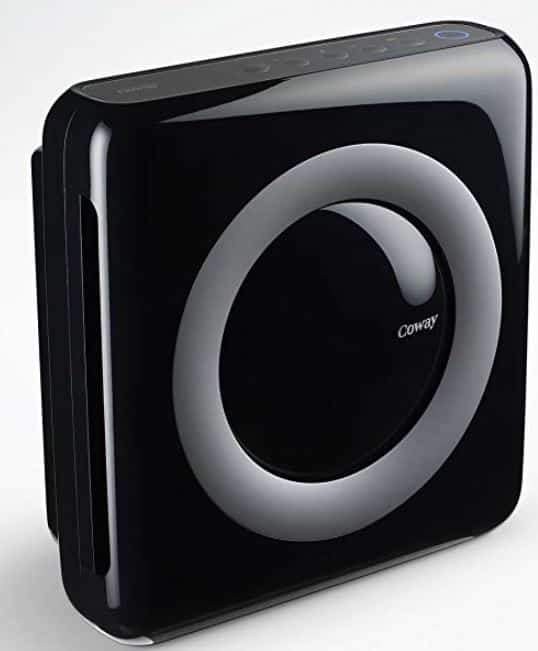 Winner of the Top Pick Award by New York Times, Coway Mighty air purifier is immensely popular. If you're looking for an air purifier air quality indicators and odor eliminator, then Coway AP-1512HH Mighty is the one for you. It is recommended to use the air purifier in rooms up to 528 square feet in size. It covers a smaller area than the Airmega 400S, but it belongs to a different niche as well. This air purifier comes with a one-year replacement pack and uses a 4 stage filtration process to give you the best AQI.
In the auto mode, it can automatically sense the AQI and adjust fan settings accordingly. An LED light on top will inform you about the current AQI. It can detect up to 3 different pollution stages. The design uses HEPA filters.  There is an indicator for filter replacement so that you never forget to do it on time.
DESIGN
The Coway AP-1512HH comes in the form of a small cube. There is a circular ring in front with a contrasting color. If you're looking for a compact and portable purifier, this is surely the best choice. Compact because it weighs just 5.6 Kilos and height reaches only 18.3 inches. This is approximately the height of a small stool! The front portion is extended and larger than the back portion. It has a solid plastic build with rounded corners so it's great if you have children. The cuboid shape means it will not topple over easily either.
FILTERS
Coway AP-1512HH air purifier uses a total of 4 different filters. Replacement filters are affordable just for you know.
Firstly, there is a pre-filter that is washable and should be cleaned regularly. This filter prevents larger particles from entering the HEPA filter and clogging it. If you live in a dust-prone zone then the pre-filter will get dirty quite often. Keeping this clean will ensure the overall health of your product.
Secondly, there is a HEPA filter that captures and eliminates 99.97% of airborne allergens.
In addition, this product also contains 2 carbon activated filters. These are designed to absorb noxious gases. Finally, these also work as odour eliminators. This is not air filtration per se, but it prevents any bad odour of pets or fumes from cooking from disrupting your home.
---
---
FAN MODES AND NOISE
There are 3 different regular fan modes available termed as 1, 2 and 3. There is an additional ECO fan mode present. Using the ECO mode you get the most power-efficient work done. In auto mode, the fan speed is adjusted itself. Timers can be set for 1, 4, 8 or 12 hours.
The fans are silent in the low modes and even in the 2nd setting, it is only a low hum that does not disturb. In the top speed, there is some noise but it can easily be overtaken by other background noises. The noise ranges from 24.4 dB to 53.8 dB. The top speed setting has the highest noise seen in the 3 Coway products shown here. However, it is still less enough to be covered by other background noises. The reviews of this product only praise its abilities.
CONTROLS
The controls are placed on the top. You will find 5 different buttons with LED lights. As usual, there is an indicator for WiFi connection and a mood light for diffused light. A single one-touch button controls the speed. So you keep pressing it and it alternates between the fan modes. There is an LED light to show that either the HEPA or odour filter requires replacement. As mentioned, there is an LED light to show the air quality index as well.
OTHER FEATURES:
Odour eliminator is a great addition if you have pets.
Eco-mode gives you the best power-efficient performance with air purification
Small and can fit into any room. Will not stand out and even if it does – has a great design and style!
Contains a virtual ionizer. Ionizers are responsible for releasing purified ionized air in your home. Ionized air has several benefits, especially for people suffering from allergies and asthma! Usually, ionizers are not completely good at removing allergens but combined with a HEPA filter, this is the best filtration one can hope for in residences.
COWAY MIGHTY AIR PURIFIER PRICE CHECK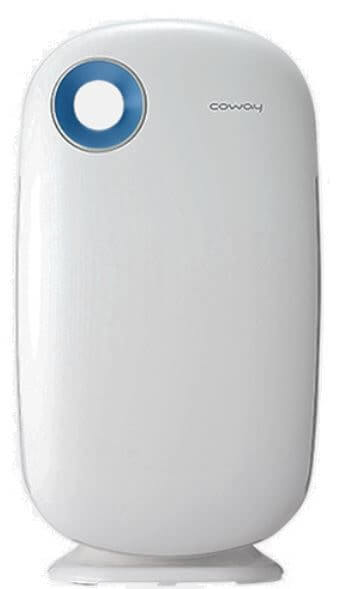 If you like in India and suffer from seasonal allergies, catch flu quite often, then Coway company offers something amazing for you. The astounding popular Coway Sleek Pro AP-1009 Air Purifier is specially designed to be an Anti-flu air purifier. Using the Green Anti-flu HEPA Technology, it can cover spaces up to 355 sq. m. Light sleepers can rejoice as this is a super-silent air purifier. An air pollution indicator is also located. This LED can signify the current AQI in your home by its light change. It can identify four different pollution levels.
As with the above products, there is a small mood lamp on top of the product. You can set it either on auto mode or the Turbo Mode which is for highest and fastest quality filtration. Users mentioned that the Turbo mode is rarely needed. Mostly, in auto mode, the device can itself set the necessary fan speed by using sensors to study the AQI.
DESIGN
This one has the most unique design among the list. You will see that the product has an elliptical shape with an opening towards the top. This opening is where you see it displaying shades of colors based on the air quality. The base is somewhat small so it appear to be wobbly but it isn't. The control buttons are placed on the top edge. It is an extremely child-friendly shape without any shape corners. The product has a height of 62 cm and a solid plastic build.
FILTERS
This product uses a Unique Air Filtration Process. In this, the air passes through a Multi-Layered filtration.
First, the air passes through a pre-filer. This only serves to remove the larger particles and does not clean the particulates of harmful pathogens.
Secondly, a urethane carbon filter is present that removes all bad odor and fumes. If you smoke (ironical for air purifier users!), you can be sure that the smoke will be cleared up by this filter. This filter deodorizes air with the

goodness of Ginkgo and Japanese sumac plants

. Up to 98% of odor is removed by this process. The resulting 2% is too weak for any human nose to perceive!
Thirdly, a true Anti-Flu Green HEPA Filter is present. This filter traps even PM2.5 particles and allows clean air through.
Finally, the outside airflow itself is optimized. The slim design allows a longer purification process with more efficient and maximum airflow.
FAN MODES AND NOISE
Coway Sleek Pro air purifier has a one-touch speed adjustment. You can choose from four different fan modes of 1, 2, 3 and Turbo. The sound ranges from 22 dB to 44 dB in Turbo mode. Lowest noise at low fan speeds is Coway company air purifiers' specialty. However, most users found that the Turbo mode was in general rarely needed. The product has a Clean Air Delivery Rate (CADR) of 303 cubic m/hr. The company states that is most suited for bedrooms and small offices. Coway claims 8 units of this purifier are sold around the world every minute!
CONTROLS
Additionally, a mood lamp is also present. It can be turned on and off by a single switch on the product. The controls are easy to understand and simple. The speed button is only one and by pressing it one can alternate between the fan modes. Coway has used a minimalist approach for this and here, it works well. The product is most effective in a closed environment of course. There are LED lights to indicate fan speed and also when AUTO mode is on.
OTHER FEATURES
Urethane HEPA filter that has layers of extracts from Japanese Ginko and Sumac. This green coating has anti-bacterial and anti-viral properties. Any germs that the filter attracts to itself are killed in the process.
Slim and unique design. The design also aids in the filtration process.
Easy to understand controls. One-touch press button design.
Night mode is fully noiseless for diffused air.
The product weighs 7.5 kgs and can be easily moved. 5 years of warranty is given on the motor and only 1 year on other electrical parts.
COWAY SLEEK PRO PRICE CHECK


ARE YOU NOW IMPRESSED WITH COWAY COMPANY AIR PURIFIERS?
Overall, Coway's products do their job well. Their products have some amazing features and design considerations. If you need a pollution indicator – it is present. You desire a good quality filters – you got it! If you need an APP to monitor the performance – it is present in Airmega 400S/300S models. Coway has understood the aspirations of most users and come up with this Airmega series, so popular even in the US market. Their successful expansion around the world proves that it is more than just a brand name. It has a high brand trust as well.
CONCLUSION – COWAY COMPANY
Is Coway a good brand? Yes! Buying Coway company's air purifiers are a worthwhile investments. For those who are not so technically inclined, they have kept a simple interface on products. And have a statistics, graphs and infographics laden APP too for the other group. For larger rooms, the Airmega 400S is undoubtedly the best choice. For homeowners, products with smaller CADR will work just fine. The Coway Mighty is small and square in size. It is easy to carry and its playful design is bound to add some elegance to your home.
Each Coway product has some sort of unique filtration process or other. Depending on your need, you can go for the one that suits you best. If foul odors are your main concern, then go for Coway Sleek Pro, whereas if you're prone to allergens, then the Airmega 300S or its bigger sibling Airmega 400S might be a better option. The 3 products have distinctly different designs and can match the sensibility of your home.
You May Like These Similar Posts From AirSwacch!