Chime in to my Coway AP1512HH Review. Coway has some of the Bestseller air purifiers to offer. Coway AP1512HH air purifier along with Coway Airmega 300 are its most loved models. This post ushers the Coway Mighty Review i.e. Model AP1512HH for you. We'll bring out its highlights and about its qualities which set it apart. At first sight Coway AP1512HH might look like a giant iPod to you! Coway Mighty is already a well-known model in Korea and the US. Its panache in cleaning up the air is well-known and numerous blogs and websites regard it as among the Best air purifiers. Its a very big thing since there are numerous air purifiers out there. To stand out among a constellation of air purifiers it ought to have a refined design and filters, right!
Many newer models are available from other brands but Coway AP1512HH is still managing to go strong and hold its fort.
COWAY 

AP1512HH 

REVIEW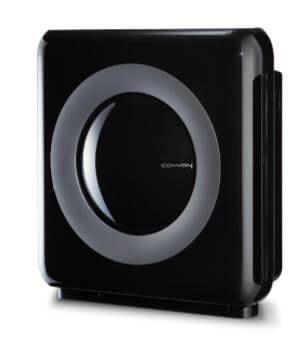 COWAY MIGHTY

PRICE
The Coway Mighty is not the newest air purifier now. There are the likes of Coway AP1512HHS with Smarter features like WiFi connectivity and mobile APP support. With the advent of such models as the Coway Airmega 200M, Coway Mighty has a price drop. Price-wise, you can consider it to be very reasonable given its performance and reliability. There should be no fear that your investment would go waste. Thousands of happy users are testimony to how great Coway AP1512HH air purifier is. It is not free from any shortcomings though. You'll learn about it in a short while from now.
The air purifier market has grown very competitive since a few years. Almost daily a new model launches with a self proclaimed supremacy. Whether or not they carry any real goodness is always doubtful. There's not enough reviews or user testimonials to back up their claims. Then why not go for an air purifier which has braved the tides of time. Read along this Coway AP1512HH REVIEW and judge for yourself. Air purifiers with the coverage area of around 350 sq.ft. like the Coway Mighty are comparably priced.



DESIGN AND LOOKS
Coway AP1512HH air purifier is available in two colors. One is jet black and glossy as shown above while the other variant is off-white. The front cover doesn't have any perforations in it. Rather, the air intake happens through the two sideways slits. The ingress air pulled in by the fans is welcomed by the good quality triple stage filters. The purified air is ejected out from the top vents. Coway Mighty's peculiar front panel is unlike any air purifier you would have seen before.
The shape of the air purifier is such that from the front it looks very sleek. It is fairly slim, nothing to take away from its merits.
DIMENSIONS (H x W x D)

: 18.3 x 16.8 x 9.6 in.
As you can see, the depth is just 9.6 inches which means it can be placed against a wall (slightly away). Not hard to guess, its weight is also not too much. Weighing in at 5.5 Kgs, its a feather weight champion of sorts.
COMPETITOR MODELS
Coway Mighty can be challenged in its popularity by only two other air purifiers. One is the WINIX 5500-2 and the other being the RABBIT AIR BioGS 2.0. Many Coway AP1512HH Reviews out there have identified these two models as even better.
Coway AP1512HH Coverage Area
The Coway AP1512HH air purifier is ideal for mid-sized rooms as its CADR is optimum. It's compact design makes it easy to handle and move around. This Coway Air Purifier can clean the air of rooms sized 360 sq.ft. effectively. This is the same as another extremely successful air purifier, the Winix 5500-2. Indoor pollution is considerably reduced especially dust. However, it loses its sheen when used in larger rooms. The Coway Mighty air purifier is capable of achieving 4 air changes per hour. This figure is called ACH in technical terms and is a must have for an air purifier of this caliber. This means that Coway Mighty AP1512HH can pass all the air in the room through its filters 4X times hourly.
The Air Quality Indicator light at the top is useful to know the pollution level.
---

FAN MODES
Coway Mighty does not have a sleep mode. The fan is noisy at its top speed. So, you may think that it may disturb your sleep. This is not the case as you can set it to AUTO mode. In this mode, the air purifiers switches its gears (fan speed) in accordance with the air quality. The air purifier has 3 fan speed levels. The decibel value at lowest fan speed is as low as a whisper. During night the sound of the fan is not disturbing. In fact, the fan produces a humming sound which promotes sleep as it is Continuous White Gaussian Noise (CWGN). There are a few inbuilt soothing sounds which help in mental relaxation.
I want you to read this Coway AP1512HH Review till the last line. There's no information worth leaving out!
COWAY MIGHTY PERFORMANCE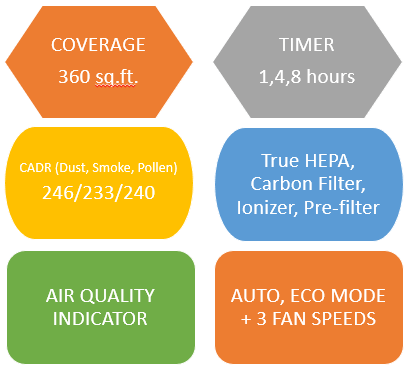 Performance from the  word go is what Coway Mighty stands for. This air purifier has a CADR of 240 CFM which means it can cleanse 250 ft³ air per minute. Different air purifiers take different times in achieving low particle count in the room air. Air purifiers meant for larger rooms like the Coway Airmega 400 would bring down the count very quickly.
Coway Mighty, if you happen to buy it would not disappoint you with its air cleaning prowess. The only area where it lacks in is odor control. With costlier air purifiers for this coverage you may not get better air filtration. Going for dearer models may fetch you more convenience features like an APP etc.
VOLUME OF AIR CLEANED
As mentioned above, Coway AP1512HH has an airflow value of 250 CFM. In comparison, Coway Airmega 400 has this value at 430 CFM. This rating of Coway Mighty makes it suitable for over 300 sq.ft. rooms. But, to do full justice and lower the particle count, you have to run it in full throttle. Actually, for any air purifier especially the ones for large rooms, the fan speeds have to be set judiciously. Unless you are setting up your air purifier to use some AUTO mode, obviously.
To bring down particulate pollution, an air purifier must start off in full fan speed. Let it take its own sweet time and work to bring the safe levels. Afterwards, sealing off the windows and doors, set the air purifier to run in Middle fan speeds. This would keep the pollutants atleast maintained to what the high fan speed left them at.

At fan speed '2', the air movement is around 120 CFM and at speed '1' its 70 CFM. Hence, running the air purifier in a quieter mode is akin to lowering its performance too. Its best to run the unit in highest setting before going to bed. You may switch it to some Sleep Mode or similar afterwards. Timer feature comes handy here.
COWAY MIGHTY FILTERS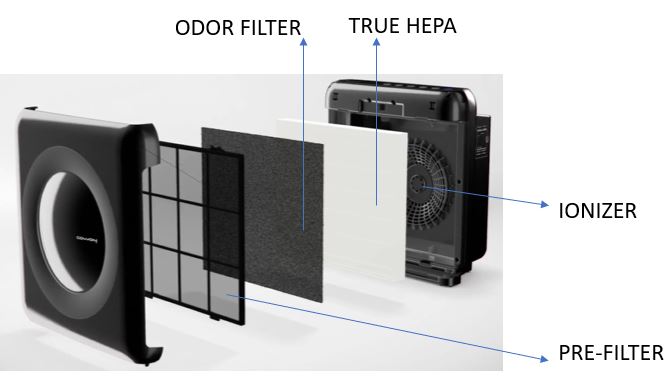 Coway Mighty employs 4-stage air filtration stages. Filters are something you should notice closely in not just this Coway AP1512HH Review but before purchasing any air purifier.
PRE-FILTER – The first one is the pre-filter which is a plus if your air purifier has it. It stops the larger particles of dust and hair etc. from choking the HEPA and carbon filters. A pre-filter can be washed when you find it has turned dirty. It will enhance the efficiency of the air purifier.
ODOR FILTER – Next stage is a dense carbon filter to remove odor and gases from the air. Coway Mighty has a not very high grade carbon filter in which activated carbon is only coated on the surface of a fibrous material. In this regard if any air purifier employs pellet-carbon filters, they are the best type. Such filters use actual carbon masses that remove VOCs and obnoxious gases. Winix 5500-2 is one such air purifier using a better carbon filter.
TRUE HEPA FILTER – Now, the third stage is the True-HEPA filter. You know how small bacteria and virus can be. Even some very fine dust particles easily evade filtering media, so specialized HEPA filters are needed. True HEPA filters are capable of arresting 99.97% particles as small as 0.3 microns in size. Basically, germs, allergens and ultra-fine particles are removed in this stage.
A dedicated ODOR mode is very effective in removing unwanted smells from the air.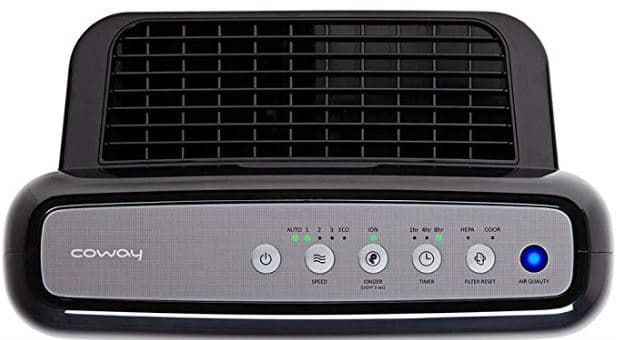 IONIZER
An extra layer of protection against bacteria and virus is provided. The Ionizer can be independently operated which is a good thing. Anions produces euphoria in humans and act as mood enhancers. You should avoid running the air purifier with ionizer ON for a prolonged duration. An Ionizer can generate ozone gas in small quantity. Ozone is a killer for bacteria and virus. It also degenerates harmful substances in air and makes them harmless. As a best practice run it before sleeping for sometime only.
A filter replacement indicator alerts you when its time to replace the carbon or HEPA filters. Do read the power consumption part just a little down in this Coway Mighty review.
CONTROL PANEL

– Coway AP1512HH Air Purifier
Coway Mighty AP1512HH has its control panel on its top face. The buttons are easy-touch with well thought of spacing in between. Every button except the Power button has an indicator LED/s above it.
SPEED – This button is used to set the fan speed to one of five settings (1, 2 , 3, Auto, Eco).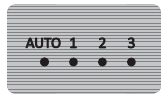 IONIZER – This is for activating the optional Ionizer functionality. You can turn it off at will.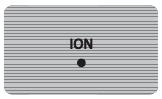 TIMER – Pre-set timers for 1, 4 or 8 hours after which the air purifier would shut down.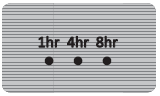 FILTER REPLACEMENT – After making a filter change you need to press this button for resetting.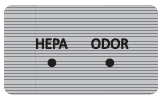 AIR QUALITY LIGHT – This button is used to set the fan speed to one of five settings (1, 2 , 3, Auto, Eco).

---
Next up is the power consumption section. It is perhaps the only part in this Coway AP1512HH Review which highlights a drawback.
POWER CONSUMPTION
An air purifier needs to work non-stop to deliver pure air. In times when power bills pinch us bad, its important to know how much power a device eats. The Coway Mighty scores high marks in this regard. In its ECO Mode function, the air purifier barely consumes any power. Just 5 Watts! You can also set timers for 1, 4 or 8 hours. Setting timers can further save you power.
Coway Mighty is of the most power efficient air purifiers specially at fan speeds '2' and '1'. On speed '2' it draws 8.0 W of power. This is further reduced to just 3.1 W at speed '1'. Naturally, with this decrease in power spend, the air purifier becomes less and less ineffective. By ineffective I mean at lower fan speeds, the unit's air volume output is diminished.
The sleep mode in your laptops puts it in a low power state. ECO mode is also similar to it. When the air quality becomes good then instead of running uselessly, the air purifier goes into standby mode. The particle sensors sense the improvement or deterioration in air quality and operate the air purifier. When the air quality degrades the air purifier is turned ON back.
NOT TOO GOOD POINT
The power consumption at highest fan speed is 70 W. So, if you run it for 14 hours on top fan speed then it would consume 1 unit. That's a little more than its peers. This is perhaps one the few bad points of Coway AP1512HH air purifier.
Few Positives About The IONIZER
When you run an ionizer, millions of negatively charged particles are spread in the air. These ions disintegrate the harmful gases or pollutants present in the air. The result is that pollutants are converted into something harmless. The suspended dust particles in the air also get oppositely charged when they come in contact with these anions.
Moreover, anions double up as mood enhancers. Negative ions help patients of depression or anxiety.
You must have observed how any charged particle gets drawn towards nearby surfaces? Same happens with charged dust particles and they either stick to curtains or settle on surfaces. So, it may seem to you that how come so much dust has accumulated on your tables or floor. Don't worry, your ionizer just saved you from breathing dusty air!

COWAY AP1512HH SHORTFALLS
In this Coway AP1512HH review, I've have tried to capture its most important aspects. So, time now for some of its shortcomings. Some people complain of strong vibrations at the top fan speed. I suggest you place the air purifier on some mat or rug instead of floor. But, yes some design flaw is there with the base. Others report of plastic shards coming out the air purifier. This is a rarest of rare incidents and we cannot be too sure about an individual's rough handling. A few say that the air quality indicator light is pretty intense and disturbing as it can't be put off. Well, you can stick a translucent tape on it to tame it down. You see, every problem has a solution. This if you notice it within the returnable period. Lol!
A glimpse at the ratings on Amazon will clear your qualms. I hope this Coway Mighty Review was useful for you.
Recently, a newer model Coway AP-1512HHS which is a Smart version of the Coway Mighty has been introduced.

You May Like These Similar Posts From AirSwacch!