This post is our review of the most affordable of Sharp Air Purifiers in India – the FP-F40E. A couple of cheaper models are also available from Sharp. But, in terms of its coverage area, this one is an optimum air purifier with the Best in class HEPA filter quality. The filter is H14 grade which means its excellent! Come let us find what else this Sharp Air Purifier Review reveals.
In one of our previous posts we brought out a comprehensive post on the Best anti pollution masks. Go through it and you'll be amazed at the amount of research we have done.
Sharp Air Purifier Review FP-F40E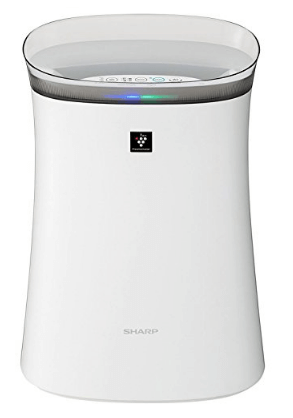 FEATURES
Model Name – FP-F40E-W
CHECK PRICE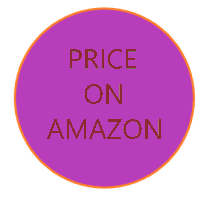 ---
CHEAPER MODEL
---
WARRANTY
Warranty is 1 year from the date of purchase. Please contact customer care in case of any doubts.
DESIGN & COLORS
The Sharp FP-F40E Air Purifier comes in two colors- White and Brown. But, you may only be able to find the white color in market. White is a standard color in such devices. The looks are decent and the air purifier doesn't occupy much space on the floor. The air suction mechanism is at the back of the air purifier. The air flow angle is 20°. Faster airflow at a 20º angle collects dust at lower levels in the room for more effective cleaning.
FILTERS
The Sharp Air Purifier has a standard mesh pre-filter. There's a deodorizing filter or what you know as a Carbon filter. The quintessential HEPA filter does the majority of the fine particle cleaning. Sharp Air Purifiers sold in India are equipped with H14 Class (in EN1822 type) True HEPA filters, based on the JEM1467 standard of The Japan Electrical Manufacturers' Association. HEPA filters built to this standard remove 99.97% of dust and other particles of size 0.3 μm each time air passes through them.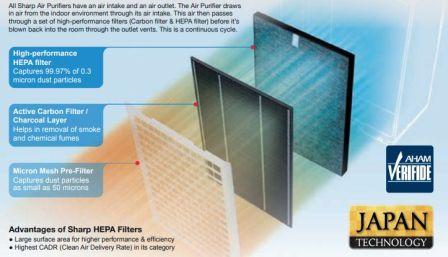 The filter life as advertised is about 12 months. Needless to mention that the filter life is all about how much polluted the air is where the air purifier is operating. Some best practices and precautions can help you extract the maximum life out of the filters. Never broom or do dusting with the air purifier ON. Always switch off the air purifier while cooking is on in the kitchen especially when oily stuff is being prepared. Do periodic cleanup of the pre-filter and if the other filters are washable too.
In case of Sharp Air Purifier, the pre filter is indeed washable. But, the HEPA and Carbon needs to be vacuum cleaned only .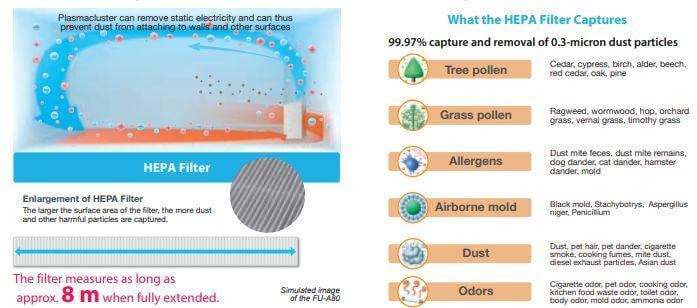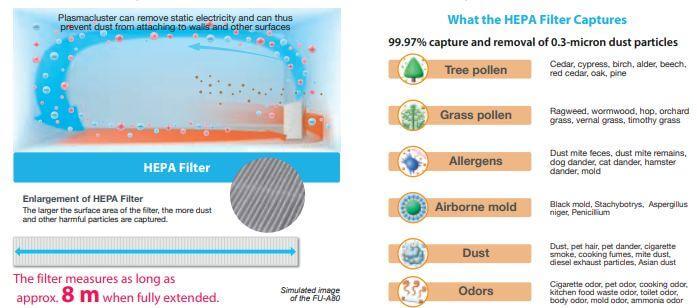 ACTIVE Plasmacluster Technology
Sharp Air Purifiers employ a 3-step system to combine the "active" Plasmacluster mechanism with "passive" HEPA filtration to sterilize and cleanse the indoor air off of airborne substances harmful to humans. This mode can be
GENERATES FRESH INDOOR AIR
Plasma discharge generates and emits the same positive and negative ions that occur in nature
NEUTRALIZES HARMFUL VOC & OTHER TOXIC GASES
Plasmacluster ions surround and break VOCs and toxic gases
KILLS MICROBES AND OTHER CONTAGIOUS ELEMENTS
Plasmacluster ions kill viruses including H1N1, microbes, bacteria like E. Coli, MRSA, TB & fungal spores to sterilize indoor air
ELIMINATES STATIC CHARGE
Plasmacluster ions remove static charge which causes dust & pollen to cling to surfaces such as ceilings and walls, curtains, even hair and clothing
HYDRATES SKIN
Plasmacluster ions not only help the skin retain moisture, but also help improve its elasticity and texture
CADR (m³/h) – 

240
The CADR for Sharp FP-F40E is 240 when the fan is operating at high speed. Compared to other air purifiers in the same price band like MI Air Purifier 2 (310) and Philips AC1215 (270), it is lesser. The Coverage Area is 320 sq.ft. As advertised, the air purifier can clean this much area in 15 minutes. This claim means that there is something fishy about the CADR rating. The CADR rating is indicative of the Air Changes per Hour (ACH) which is a minimum of 5.
Sharp is a well-known Japanese multinational corporation that designs and manufactures electronic products.

AIR QUALITY INDICATOR
The Sharp Air Purifier FP-F40E doesn't have any Real-time air quality indicator. It just has a color indicator which is OK. But, real-time digital PM2.5 reading has become a sought after feature nowadays. Air purifiers which come with WiFi and APP functionality have PM2.5 displays. The display is either on the control panel or is visible in the APP. The MI Air Purifier 3 has this functionality via an APP. The Honeywell Air Touch i8 Air Purifier also has this feature. There is no comparison in terms of coverage, CADR or cost as such. The i8 model is the only model from Honeywell which has a PM2.5 on the control panel itself. The Air Touch S8 model comes with WiFi and the PM2.5 reading can be seen in the APP.
SLEEP MODE & TIMER
Sharp FP-F40E Air Purifier has a sleep mode feature which can be used during night or sleep time. Sleep mode ensures s disturbance free night sleep. In this mode, all the LED lights are turned off.
There is a 2/4/8 hour timer which lets you set the duration for which the air purifier will operate at a time.
SENSORS
There is a sensitive laser dust sensor in this model. It senses the particulate levels in the room and helps the purifier. There is an odor sensor also. With whatever feedback this sensor gives, the LED lights change color to reflect the indoor pollution levels.
AUTO-RESTART
The Sharp FP-F40E air purifier restarts itself when the power supply is resumed after a power cut.
HAZE MODE
This mode is like TURBO mode in which the fan spins at he highest speed. This mode is useful when you want to clean the room's air quickly. As a trade-off to this fast air cleaning, you'll have to bear some extra noise. This is so with every air purifier in the world. So, forget about noise, power consumption etc when you employ haze mode. You cannot get everything all the time!
SUMMARY OF FEATURES – SHARP AIR PURIFIER REVIEW
Below is to summarize this Sharp Air purifier review for easy reference.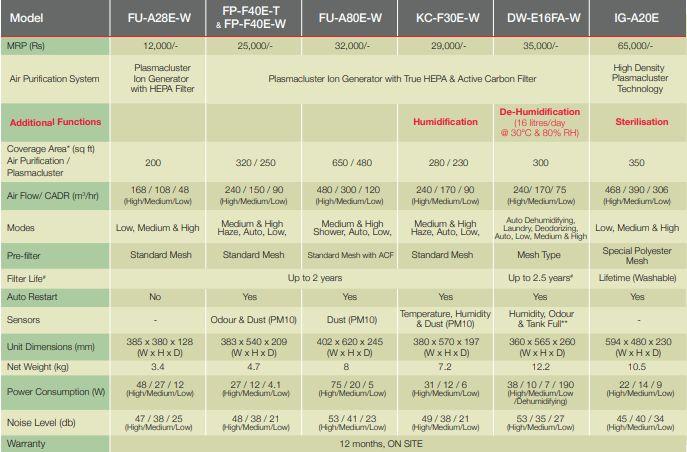 Note- MRP prices are only indicative.
Call 1800 4254 321 toll-free to learn more or visit www.mySHARP.in
CONCLUSION – Sharp Air Purifier Review
The Sharp FP-F40E air purifier is a bit costly and that is understandable owing to it being from a big brand. Overall its a bit lacking in its features if price is taken into account. Philips AC2887 is a better choice. If you are looking for budget models within Sharp then consider
You May Like These Similar Posts From AirSwacch!