Here we have the Blueair Sense Review post. I have my home at a place where there's a vacant piece of land at a distance. In summers, the land becomes more of a dust bowl. Heaps of dust bathes our house and no matter how hard we try our indoors is always dusty. My mom is suffering from allergic rhinitis and she goes through hell too. My natural reaction to this problem was to sell off our house and shift to a new area. The land was earmarked for a new building which somehow is stuck somewhere. I have Blueair Blue Pure 411 air purifier at home which is the real life saver. I have 3 Blue Pure models at home – a Blue Pure 121, a Blueair 211 plus and a 411.
Once when the one in my other room got faulty, I searched online for a new one. This is when I stumbled across the Blueair Sense+ Air Purifier. Its console caught my attention but I let it pass and scrolled on.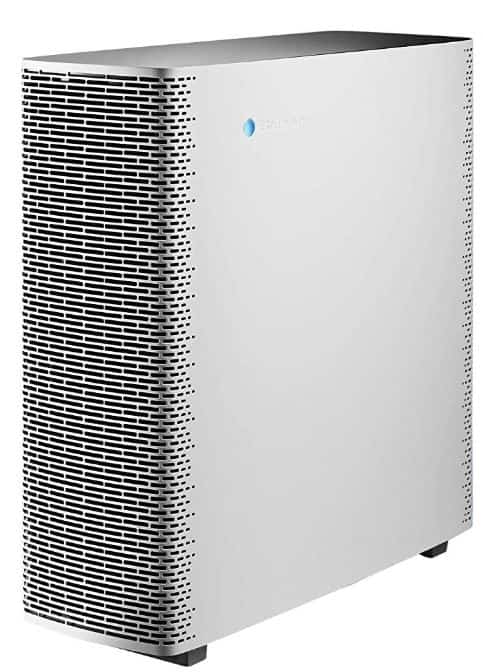 BLUEAIR SENSE+ AIR PURIFIER REVIEW
I was so happy with my Blue Pure 411 that I still wanted another one from Blueair only. I had got my Blue Pure 411's some 3 years back. All this time they have been performing great except for one that gave way. I had seen how newer models show pollution levels in real-time. An idea which attracted me. I still hadn't researched enough and the next day I discussed this with Doug, whose my colleague at office. Turn after turn in the discussion, there came a moment when Doug told me that he is using the Blueair Sense+ model.
He told me how he is majorly satisfied with his air purifier. And he told me about a few qualms too. I inquired if the Blue Sense+ has the real-time pollution tracking? He responded in the negative. At this very stage itself I lost most of my interest. This is when he interjected that Blueair Sense+ does have WiFi and Alexa compatible. I had heard of it as the previous day I had paused on the Coway Airmega 300S Air Purifier. Coway Airmega 300S has an APP by the name IoCare and is Alexa compatible too. The only thing which kept me from a safe distance from it was its price. I was in no mood to spend the money equivalent to 5 of my new Blue Pure 411. Below I'll share my research on the topic which is a mix of what Doug told me and my own.
ABOUT BLUEAIR
Blueair is a Swedish company and popular in making good air purifiers. I've had a long stint with one of its entry level air purifiers, you know it already. I can say that the design of their air purifiers is minimalist. There are no flashy consoles or touch panels. There is hardly any plastic body as we know it. The Blue Pure 411 is just like a skeleton consisting of just the filters and a fan. Even the vastly popular Blueair models the Blue Pure 211+ and Blue Pure 121 have a single button. With this button you can power ON/OFF the device and change its fan speed or reset the air purifier after a filter replacement.
BACK TO BLUEAIR SENSE REVIEW
Blueair Sense+ is a complete reversal of my above description of Blue Pure 121, 211 or 411. This guy has a flashy console which actually looks attractive. This model has won several awards for its design. It is WiFi enabled but resembles any desktop computer's CPU to tell you frankly. But, it does look sophisticated and sober. If you don't like the all black color then there are six other colors to choose from. That's the most variety I've seen ever in choice of an air purifier! The air purifier is all metal casing except for the top and bottom.
Coming to its Alexa compatibility. With Alexa, you can give voice instructions to your Blueair Sense+ should you purchase it. I personally dislike Alexa and similar techs. Humans have already become so lazy and then this! True, these do provide convenience and are exciting to you for the initial few times. Just for your knowledge its APP is called Blueair Friend.
INSTALLATION
The installation is quite straightforward. Its a plug and use device. You need to first download and install the Blueair Friend APP to use the air purifier.
COVERAGE AREA
My one reason of not buying this air purifier was its low coverage area. My requirement was to find one which could cater to over 350 sq.ft. (the size of my drawing room). Blueair Sense+ is suited for small rooms only. Anything over 186 sq. Ft. room area and it would not be able to do full justice. Its ACH (air changes per hour) for this area is 5 (only in a 186 sq. Ft. room with 8 ft. ceiling). In simpler terms it means that it purifies the entire air in the room in 12 minutes. The ACH halves to 2.5 if the air purifier is used in a 372 sq. Ft. Room.
CADR
Its CADR is not very impressive and hovers around 250.

SLEEP MODE
With the Blueair Friend APP, you can do all that you need to control of the air purifier. You can view statistics of the level of pollutants indoors too. As is apparent from pictures, the blue LED can be distracting during night. Through the APP, the light's brightness can be toned down. When you set the NIGHT mode, the fan speed is lowered to its minimum and the LED brightness too is mellowed down.
AIR QUALITY CHECK
Blueair Sense+ does not show any reading to denote the pollution levels. There's a separate device, the Blueair Aware which you can buy separately. With Blueair Aware you can monitor the indoor air quality. This device then sends the statistics directly to your phone App via WiFi. The Blue Friend App. monitors particulate matter, total VOC, carbon dioxide, temperature, humidity, and sends/stores data every 5 minutes. It weighs just half a Kilo so you can move it around to wherever you want to for air quality analysis.
This makes me think of something. Why would I buy the air purifier and Aware separately? I can get a magnificent air purifier with inbuilt air quality monitoring in that total cost. Not a very useful thing for me.
CHILD LOCK
As much as the console is attractive, its natural to pull kids towards it too. Even grownups can't keep themselves from trying out the gesture control feature. So, the Blueair Sense+ has a child lock function to prevent inadvertent setting changes or mishandling.
DIMENSIONS
The Blueair Sense+ is not even a foot tall (just 19.5 inches) from the ground. It is as much wide as much its high. Its depth is just 7 inches. Be mindful to place the air purifier away from household objects. Nothing should be obstructing its airflow. Maintain a gap of minimum 10 cm from the walls.
The outer body being all-metal makes the air purifier quite heavy. Blueair Sense+ weighs a solid 11 Kilograms or 24 pounds to be exact.
MOTION SENSOR

I can't help but jump on this part as I found this feature really cool. The top of the console is LED lit. With this you can control the power and fan speed with just your hand gestures. I have never seen this feature in even the costliest air purifier models. Come to think of it, this may be the reason why its an award winning air purifier (just for the design and looks).
Sensors even track the activity around and speeds up the fan to capture more dust. You can notice from the above pic, there's a filter replacement indicator LED as well.
BLUE SENSE PLUS FILTERS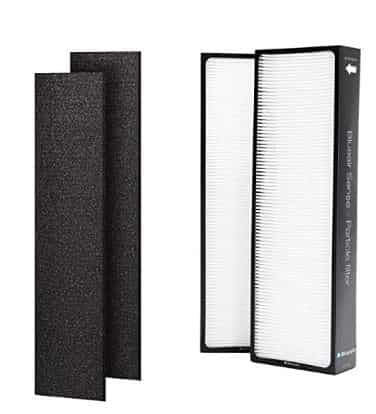 Blueair Sense+ has True HEPA filters which remove 99.97% of particles from surrounding air. HEPASilent technology is what Blueair calls their way of functioning. There's a quintessential HEPA filter which filters dust and fine particles. The remaining pollutants are made to settle down via the electrostatic charge. I reckon this air purifier uses an electrostatic chamber rather than an ionizer. Its safer that way as there is no ozone production.
BOTTOM LINE – Blueair Sense+ Review
I now knew fully well, what 'qualms' my friend was referring to. He is earning more than me and still the filter replacements pinch him. Seriously, buying the Blueair Sense Plus makes little sense to me and I would stay away from it. Its cost itself is too high. The company is milking the cow just on the basis of its flashy console and that gesture-control feature. Anyways, it takes just a few days when the excitement around it vanishes. The charm returns only when you have to show it off in front of your guests. Another thing he mentioned was how a few people feel burning in the eyes while the air purifier is ON.
Go for a Blueair 211+ instead of this and you should be happy!
You May Like These Similar Posts From AirSwacch!