Humans have long been tampering with the quality, quantity and state of natural resources. Water is one such resource which despite its abundance on Earth, is the cause of millions of yearly deaths around the world. Some deaths are due to unsafe drinking water replete with dissolved poisonous impurities. Others die for want of pure drinking water. For the likes of more fortunate people like us, there are many water purifiers to use. Using a technologically best water purifier is a seal of trust for the water's purity. Coway Aquamega 200C is one such advanced water purifier. This post is a review of this smart water purifier which is controllable with a mobile App.
Coway has a reputation of creating some of the most loved air and water purifiers. Coway Airmega 300S air purifier is breaking records with its performance. With a limited inventory of products, Coway is focused on quality and customer satisfaction. Its for nothing that Coway is the world's largest air purifier seller. Some of the luckiest souls are born Americans, whether they agree or not! No matter in which country you live, there is always a chance that impure water makes its way into your taps. A single incident of drinking contaminated water is enough to send you packing to the doctor if not the hospital. Hence why take chances?
Lets start with the Coway Aquamega review now.
To set your expectations, Coway Aquamega water purifiers do not come cheap. Aquamega 100 and 200C are not RO systems but are still priced at a premium. Price is not always an indicator of quality as some companies play with the psychology of buyers. With Coway, you can rest assured of the quality. Coway Aquamega 200C is an epitome of sophistication. With its mobile App you see reports, real-time monitoring and many other stats.


DESIGN & WORKING
Coway Aquamega 200C is an electric water purifier and not one of those gravity-based. The water purifier looks elegant with its soothing to look at white body. Aquamega 200C is a direct water system which can attach to you water pipeline. You need not worry of filling up its tank either. There's a water dispensing station to place your water container to be filled. Easy to touch buttons let you make a selection among four, eight or sixteen ounce fillings. The water dispensing would stop automatically when your selected water quantity is dispensed. There's an AMOUNT button to use when you have to use these 3 quantified presets.
The podium design where you place your vessel is spacious enough. You can even put jugs, water bottles or other containers for obtaining a serving size of your choosing.
The dimensions are relatively compact and you can easily provision the unit at a convenient setting.

COOL WATER
The Coway Aquamega 200C dispenses purified water at ambient temperature. In this mode, you can get an endless and continuous water supply. If you want to, you can make it to give out cold water too. The unit store 0.36 gallons (1.35 L) of cold water. The purifier will always maintain this quantity of water for anytime usage. The touch buttons are interactive enough to change LEDs in sync with your selections.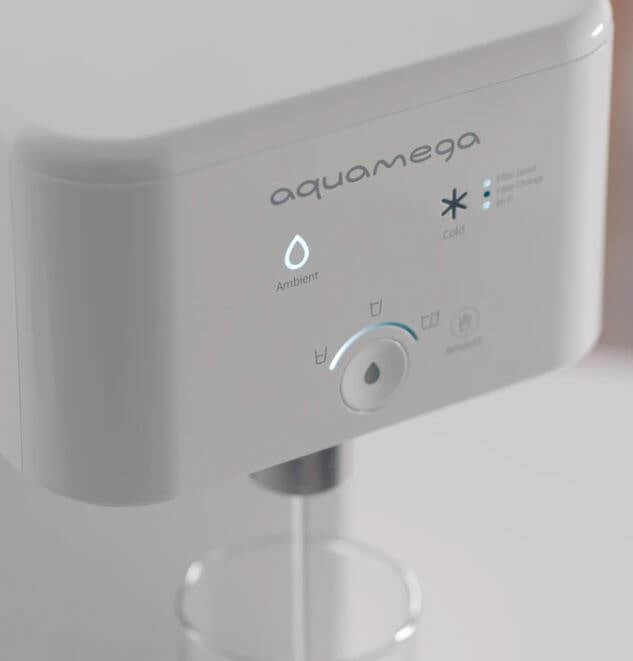 TWO STEP FILTRATION
Coway Aquamega 200C uses a two step water purification system. The first filtering stage comprises of the sediment filter. This filter removes any dirt or solid impurities from the water. The second filter is the powerful carbon block filter. The carbon block filter is a dual carbon filter merged into a single block.
Close to 99.9% removal of cysts and lead from the water.
Over 99.9% removal of Volatile Organic compounds.
Particulate Class 1 particles are impurities sized between 0.5 to 1 micro meter in diameter. Coway Aquamega removes 99.9% of PFCs.
Riddance from 85.4% of heavy metal mercury.
95% Ibuprofen drug is removed from the water.
Chlorine is a common gas to kills germs in water. 99.9% Chlorine removal is achieved.
FILTER CHANGE INDICATOR
Coway Aquamega 200C filters last for about 150 gallons of pure water supply. The water purifier flashes an LED when its time to change its filters. At other times when the filter health is good, a Filter Good LED is constantly lit. On the front of the panel, a Filter Change LED comes up and you must change the filters. Changing the filters is an easy and intuitive process. You do not need to call any servicemen for this.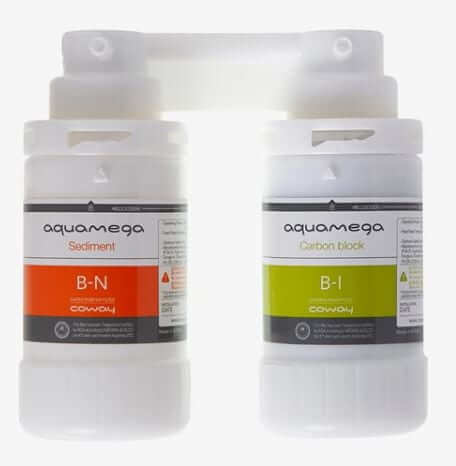 For changing the filter, just remove the top casing of the water purifier. Then you need to remove a cap covering the filter cartridges. Reading the user manual and correlating it with an actual device infront of your eyes, its a breezy affair. The filters cost around $40 per replacement. CHECK REPLACEMENT FILTER COST.
SMART DEVICE – IoCare App
Coway Aquamega 200C is a smart water purifier which pairs with your mobile devices. With it-
You can check the usage of the water purifier.
Check the filter change status.
Some users face difficulty in installing the App and connect it to their device. You know what – from the point of view of the IoCare App, its not very impressive.
POWER
Any electric water purifier ought to consume electricity for its various functions. Coway Aquamega 200C has an inbuilt water cooling system. Its average power consumption is 60W. In other words, it consumes as much power as any other water purifier.
PROS
A smart water purifier which does the job well.
Convenience features like App and preset water dispensing.
Simple filter replacement procedure.
Removes many contaminants including lead and mercury.
CONS
Pricey, so you need to make a judgement if any cheaper water purifier can do the trick for you.
Installation needs services from a plumber or plumbing knowledge.
High recurring costs for filter replacement.
FINAL WORDS – Coway Aquamega Review
Coway makes some of the world's most loved air purifiers. Coway is not very famous for its water purifiers. The Coway Aquamega 200C is an intelligent water purifier and soon to make its foray into Indian market. If the water quality in your area is generally good, you should weigh in whether you require a costly device as this one. The ambient mode will give out purified version of the supply water. There would not be any taste enhancements as this is not an RO system. If the water in your area is high on TDS, then you require an RO system and not just a water purifier. Drinking clean water is important and only a fraction of Earthlings are fortunate enough to get it.
You May Like These Similar Posts From AirSwacch!