This countdown lists out the Top 6 Best RO Water Purifiers in India 2020. We help you in making an informed decision. If you are confused by the sheer number of brands and numerous models, Airswacch helps you decide better! Last we posted the HUL PUREIT COPPER RO REVIEW. It is generating huge interest in the market.
BEST RO WATER PURIFIER IN INDIA
RO Water Purifiers have become a necessity just as a stove is in kitchens. Water purifiers are a must-have to stay safe from water-borne diseases. There are several things which you must keep in mind. While buying a water RO and purifier system, follow the tips shared in this post.
Water makes up over 65% of the human body. So, the quality of water we drink is of prime importance for a healthy physiology. With growing population; the load on civic authorities to provide clean drinking water to people is high. The same goes for our water bodies which are fighting to survive the industrial pollutants and urban waste menace. Hence, the onus is on us to save our health. We should wisely select the Best Water Purifier to maintain good health.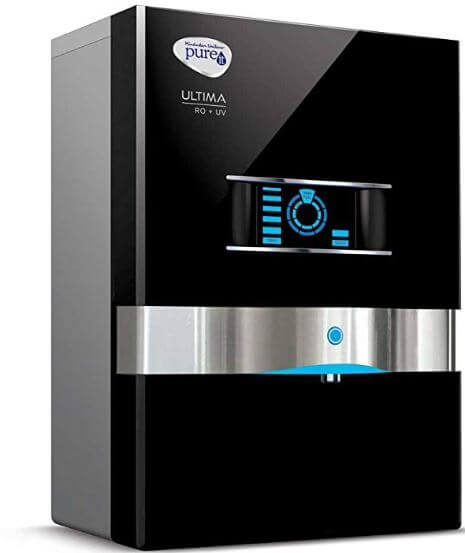 RO Water Purifier Or Normal Water Purifier?
RO stands for Reverse Osmosis and is the technology to make hard water soft. There is nothing hard about hard water. All it means is that there is too much dissolved salt concentration in it. An RO is required where ground water is your water source and if it is full of dissolved salts (high Total Dissolved Salts). RO Water Purifiers function well for TDS below 1500 ppm. If the water is soft then you need just a Water Purifier.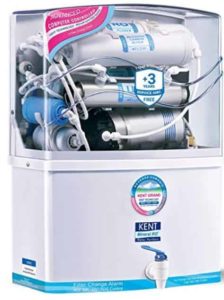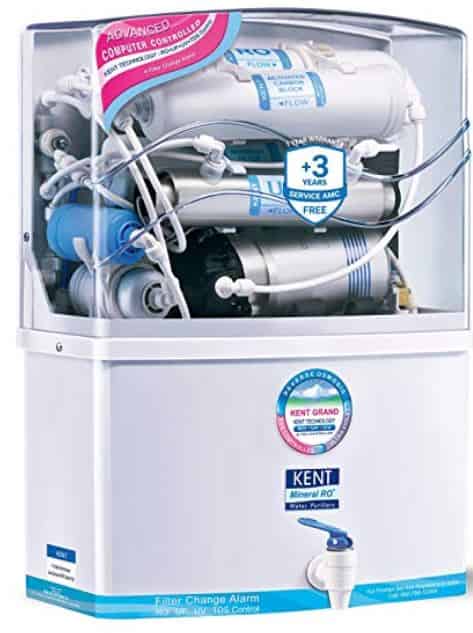 Kent, a 100% Indian company has dominated the water purifiers industry for years now. The product quality is good as Kent is around in Indian markets since over a decade. Reviews by customers also look encouraging. After sales support is also good. Kent Grand can be considered the Best RO Water Purifier in India.
UV which is one of its features denotes ultraviolet light which kills Bacteria & Viruses. UF is Ultra Filtration to reduce Bacteria & Cysts. TDS Controller maintains the dissolved salt concentration. It also takes care that a healthy level of essential natural minerals is maintained in the purified water.
#9 Best Seller Water Filters and Purifiers category and #4 RO on Amazon
Model Name- Grand Plus
Kent Grand does not have a Water Level Indicator. This is the only difference between Grand Plus and Grand. Kent Grand is the #1 Bestseller RO Water Purifier
Price Check

FEATURES
Kent Grand Plus gives you RO + UV + UF + TDS/Mineralizer
Awesome purification and water taste
Capacity – 8 Litre
Capable of Operation for 500- 2000 PPM (measure of hardness)
Electricity is required to purify the water. Once Tank is full, water can be dispensed without power.
Water Level Indicator is present.
Wall Mountable.
Optional Refuse Tank to collect waste water (use it for washing and cleaning)
CONS
Cost of replacement of various filters is too high. Around ₹4000 if something major doesn't break down.
Do a survey of Kent service quality in your area before buying.
Warranty
Kent RO Water Purifiers come with 1 year Manufacturer warranty.
Note
 

Beware of the timelines of your warranty and whats included and excluded in it. A few days before your warranty is about to expire, do get all the faults checked and parts replaced. You may have to shell out too much money when warranty is over. Generally for the first 90 days, electrical parts are replaced free of cost. Do check all these things at the time of purchase.

If input TDS is more than 1000 ppm, it will reject upto 90% and if TDS is less, rejection will also be less.

So, to conserve water always collect and reuse the refuse water. You can fill the waste water in buckets and use it for washing and cleaning purposes.
Mere raising slogans and helping your child write good essays on water conservation won't do good! Ensure your family and generations to come have drinking water in the future. Clean or Dirty is another thing.
---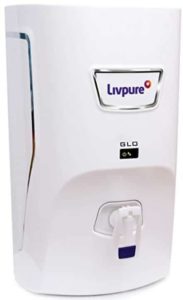 Livpure brand is promoted by Sachin Tendulkar. That's not the reason we have mentioned it here. Livpure water purifiers use 6 advanced stages of water processing. These stages work against all sorts of impurities ranging from sediments, microorganisms, smells, and even enhance taste. The RO process depletes the dissolved minerals which are absolutely vital for health. In other words, the TDS level of RO water falls so sharply that it is not water as we know it. TDS below 50 is not recommended for consumption day in and day out.
A mineralizer stage jumps to the rescue and its cartridge re-induces the lost minerals. Water without minerals tastes bad even bitter. The mineralizer adds just the right amount so the water tastes good.
PRICE CHECK



FEATURES
Livpure Glo Water purifier has RO + UV + UF + TDS/Mineralizer
Touch Screen panel
Capacity – 7 Litre which is just okay neither too much nor too less.
Cartridge change needed after 6 months for 25 litres daily usage. There is an indicator also which turns Red.
Capable of control output water TDS.
There is no Pre-Filter which can be bought separately for about ₹700.
Water Level Indicator is present and Auto-shutdown when tank full.
Wall Mountable.
CONS
Electricity is needed to dispense water although there is a small valve near the spout at an inconvenient location.
Customer Service may not be very good.
Warranty
Note- Better to buy Non-touch model from Livpure than Livpure Glo. Even the best water purifier can give you headaches if installed by unskilled technicians.
---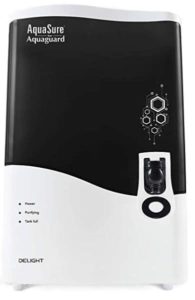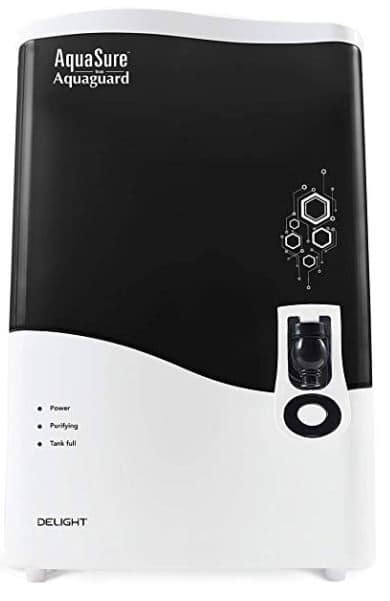 Aquasure Delight is a newer model from Eureka Forbes. It has pleasing looks and is a great RO water purifier. Your service engineer can adjust the TDS of the output water. It is not necessary to install an RO system is the source water TDS is below 200 ppm. You may think that it doesn't have a mineralizer as its not mentioned in the product description. In lieu of that, there's MTDS feature which lets you regulate the TDS (amount of mineral salts) of the output water. You are in control of the TDS according to varying input water qualities.
PRICE CHECK

FEATURES
MTDS lets you regulate the TDS and the taste of the filtered water.

Capacity of the water tank – 7 Litre
There are LED indicators to depict status of water purification, power and tank filling up.
Unlike most other RO water purifiers, this RO can be placed over a counter or kitchen slab. It has legs over which it rests. Its wall mountable too if you want it that way.
This RO ranks high in ease of installation and use. You or your plumber can install it without any issues. But, for warranty and other issues, please avoid out-of-the-company handling or product opening.

The speed of the tank filling up is quite fast. The full 7 L tank can fill within 15 minutes.

Wall Mountable.
CONS
This RO wastes a lot of water and you should find ways to collect and use that water. The water is not something to be discarded. The waste water is just the same water as your tap or supply water with just a higher TDS that's it.
After sales service from Eureka Forbes could be a concern in your particular area. Do check from other users in your area/society who have Aquaguard RO water purifiers about their experience.
---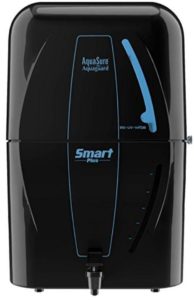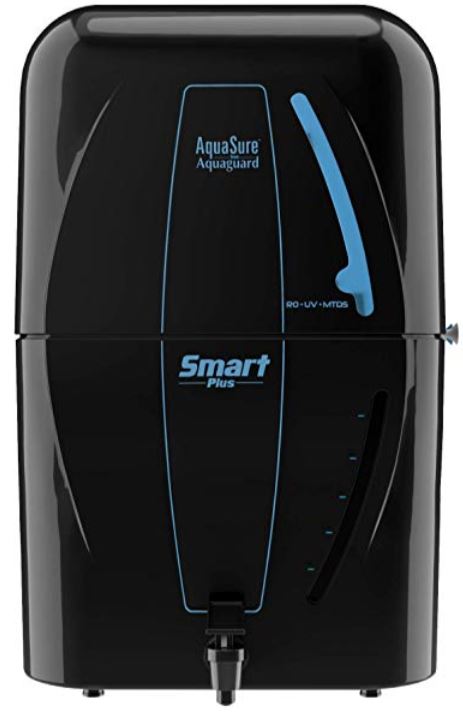 Aquaguard is the front-runner in Water Purifiers in India. Aquaguard was the first to introduce RO water purifiers even before Indians had heard about them. So, you can trust their 35 years of rich experience in water purification solutions.
Aquaguard RO systems can work well even on high TDS water sources. But, TDS over 2,000 ppm can pose a challenge to any RO purifier. ROs can bring down the TDS level by 90% at max. So, for highly brackish water look for alternative ways like installing a water softener.
Model Number- 

Smart Plus
PRICE CHECK

FEATURES
The Aquauard AquaSure Smart Plus model employs 6 stage purification. The quintessential RO stage eliminates risks from heavy metals like lead and mercury. Bacteria, viruses and their cysts are stopped by the semi-permeable membrane.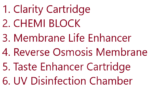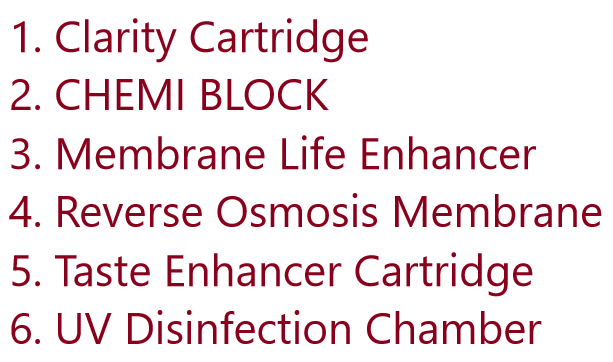 The Clarity cartridge removes sediments and mud. CHEMI BLOCK stage dispels bad odor due to chlorination. Pesticides which are highly water soluble  and other chemicals are removed. The membrane life enhancer prevents the deposition of removed minerals so that it does not damage the membranes. Taste enhancer cartridge adds minerals so you do not have to compromise with tasteless water. This stage also polishes the water for that sparkling clear water! The UV chamber kills any leftover bacteria for 100% safe water.
HIGHLIGHTS
No Mineralizer in this model.

MTDS controller:  Enables adjustment of taste depending upon the source of water

Capacity – 6 Litre in 12 minutes approx and Water level indicator
It comes with 6000 litres* cartridge life. Orange LED blinks when cartridge nearing end-of-life.
Capable of controlling output water TDS.
There is no Pre-Filter which can be bought separately for about ₹850.
Tank Full indicator is present.
Wall Mountable.
CONS
Very less visual indicators which makes it look like a dumb device.
Warranty
Note- For Free installation please contact on: [18602661177]
---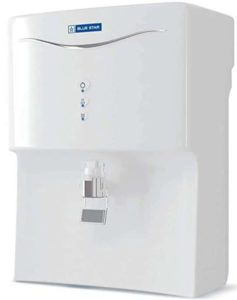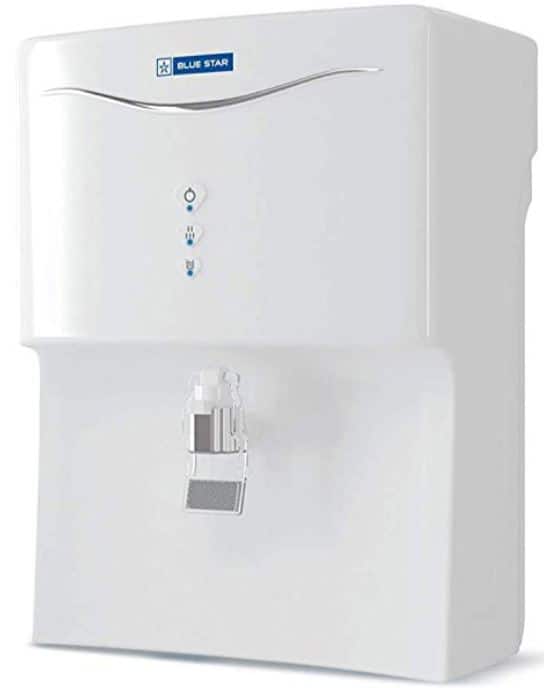 Blue Star Water Purifiers are top quality products. They come with 6-stage purification process which comprises a pre-sediment filter, pre-carbon filter, sediment filter, RO membrane, UV Lamp and post-carbon filter with aqua taste booster (ATB). The Aqua Taste Booster needs a special mention here. Every RO brings down the dissolved minerals levels to critically low levels. Pure water is colorless, odorless but not tasteless. Water from natural sources like rivers and springs contains minerals which are so crucial. Distilled water is called the purest form of water. But, don't think it is the best water to drink. Water must have dissolved salts and minerals, period!
Model Number- 

AR4BLAM01
PRICE CHECK

FEATURES
Aqua Taste Booster- Enhances the taste of the water.

Capacity – 7 Litre
Child Lock button to prevent water wastage
Pre-Filter is provided with the product.
Tank Full alert is present. Auto Shut off when tank full.

Alerts like purification alert, UV Lamp failure and low pressure alerts.

Wall Mountable.
CONS
Not effective in low water pressure.
Warranty
1 year on product
3 services are Free of cost.
Note- For Free installation please contact on: [18002091177]. Please be patient for 3-5 days
---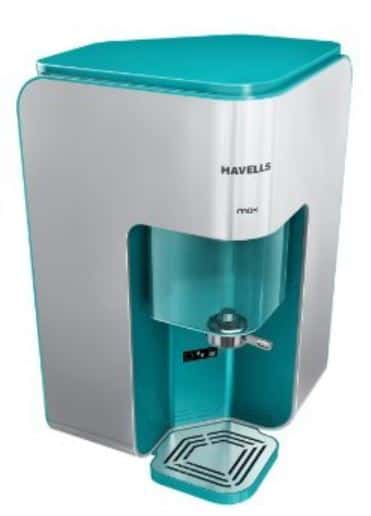 Havells Max RO UV Water Purifier looks very beautiful. It is among the Best RO water Purifier in India. The looks are stylish and performance is great. The point worth highlighting is that this RO water purifier delivers alkaline water. If you have to choose between acidic and alkaline water, choose alkaline for the sake of your health. Water from which too many minerals have been removed becomes slightly acidic. In this regard also, check the TDS level of the water you are drinking with a TDS Meter.
Model Number- GHWRPMB015
PRICE CHECK

FEATURES
Minerals cartridge corrects the PH of purified water and adds back full natural minerals to water for better health.

Revitalizer modifies water molecule so that body absorbs water better to stay hydrated.

Capacity – 8 Litre with a transparent water tank
Child Lock button to prevent water wastage
Pre-Filter is provided with the product.
Tank Full alert is present. Auto Shut off when tank full.
Easily removable tank for cleaning.

Alerts like purification alert, UV Lamp failure and low pressure alerts. Also for sedimentation filter and pump failure

Corner + Wall Mountable.
CONS
Warranty
1 year on product
First year maintenance cost is zero. Take extended warranty @ 7,000 for next two years at 22% discount.
Note- For Free installation please contact on: [18001031313].
---
7. Pureit Ultima Nxt RO Water Purifier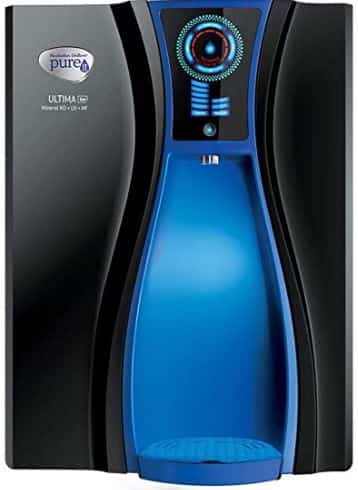 We have reviewed this product in a separate post. Read the Pureit Ultima Review. The Pureit Ultima Nxt is a wall mountable water purifier. Like its predecessor (Pureit Ultima) this too displays when the water tank is full with pure water. The Input and Output water quality bars keep on fluctuating and give a real-time overview and assurance. However, these bars denote the TDS of input and output water. It has a feature which fills up a 1 Litre water bottle in just 30 seconds and then stops the flow automatically. Apart from this, a separate mineralizer stage adds the minerals lost during the RO process. With this the water regains its taste. You may not know it but the taste of water tastes depends on the nature and quantity of TDS. RO water with very low TDS tastes bitter and is harmful for health.

The maintenance cost of this model is very high. Its storage tank can hold 10 Litres of pure water. The highlight of Pureit Ultima Nxt is its Turbo flow which dispenses pure water very fast. The downside is the dependence on electricity to draw water. It's sensor may throw faults and water wastage is quite high.

HOW TO MAKE ALKALINE WATER AT HOME
Below we mention some ways to make water alkaline at home.
1. LEMON JUICE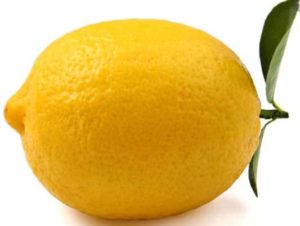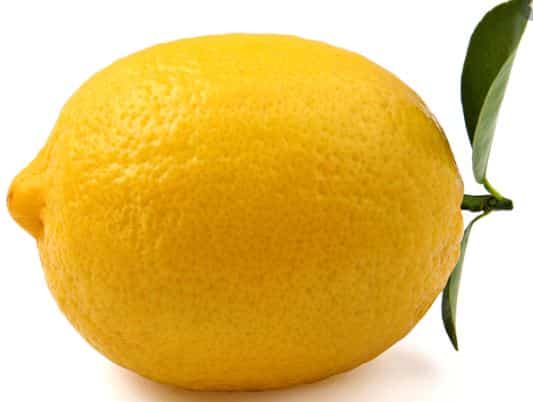 Lemonade has always been a popular drink in India. The health benefits of lemon are well-known to all. Lemon contains citric acid which has a pH between 3 and 6. Its a weak acid. Lemon water when taken in diluted form could benefit by increasing your urine pH. How lemon impacts the blood pH is not very well known.
2. USING BAKING SODA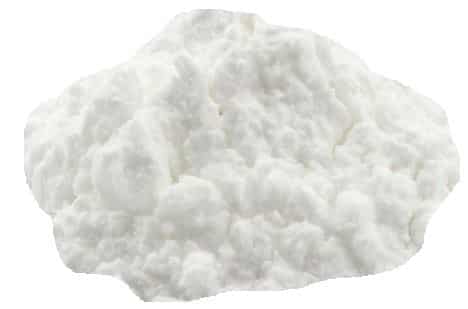 Baking soda is yet another thing which increases the alkalinity of water. It is commonly available and has presence in Indian households by default. Take a tablespoon of baking soda and add around 2 litres of water to it. Stir well to dissolve the baking soda. Those who have high blood pressure must avoid high sodium diet and thus this method is not for them. Introduce rock salt (sendha namak) in your diet and throw away the free flowing iodized common salt from your life. Do not confuse sendha namak with black salt. Black salt is high in just potassium while sendha namak has a balance of so many other good minerals.
3. pH Drops
This is by far the best way to make drinking alkaline water an easy and hassle free job. pH Drops are concentrated solutions of alkaline minerals. Put the recommended number of drops in water to have their goodness. Most pH drops have potassium, magnesium and chlorine minerals. In a way, these are what you would have got if you ate Sendha Namak. Indians knew only this salt before the Britishers conspired and weaned us away from it. If you are not the one who gets convinced easily then get pH drops.

MORE ON ALKALINE WATER
Alkaline water occurs in nature and can be found in springs, mountain rivers etc. Wherever the water gets mixed up with mineral rocks, the water turns alkaline. The RO water that has become so prevalent has very low mineral content. Die to this its disposition becomes acidic which invites cancer. Hence, always look for an RO with a mineralizer stage.
It is a controversial topic of whether of whether or not alkaline water is of any significance or not. But, research has shown that drinking alkaline water can reduce chances of acid reflux. You must have experience acid reflux yourself. Sometimes while sleeping very acidic water runs to your throat to cause a panic like situation. Alkaline water can reduce the recurrence of such episodes. Another study concluded that various heart conditions caused by increased viscosity of blood can be averted if one drinks alkaline water.
Alkaline water unless its obtained from natural sources and the processed is unsafe. Most artificial bottled alkaline water is produced using ionizer. Artificial alkaline water may have very less quality minerals. So, either drink normal water or the one obtained from springs or lakes.
FREQUENTLY ASKED QUESTIONS
1. CAN RO REMOVE VIRUSES FROM WATER LIKE CORONAVIRUS?
Yes, the RO membrane can remove viruses, bacteria, their cysts, protozoa, algae and other micro-organisms. The Coronavirus is a football if other viruses are cricket balls. Hence, a RO system is fully capable of removing microbes from your water. Even if some of the micro-organisms escape the RO membrane, then there's the Ultraviolet light stage which guarantees the end of bacteria and virus. Virus are fully capable of attacking our health through water. So, don't just think that air is the only way for viruses to enter into our bodies.
A virus is often called the missing link between the dead and the alive. It is neither a living thing (like bacteria) nor a dead creature. A virus can stay dormant for years and years until it finds a favorable condition (your body or host) to invade and wreck havoc. You would be surprised to know that nothing can 'kill' a virus. Even antibiotics you eat have no effect on viruses. This is the reason why doctors don't prescribe antibiotics in common flu. However, viruses are sensitive to heat and high temperatures deactivate them. Ultraviolet light also destroys bacteria and virus. Some virus called bacteriophage diet on bacteria. Its because bacteriophages outnumber both bacteria and viruses combined that life is possible on earth. Rogue bacteria and infections would have eliminated all life forms.
2. DO ROs WASTE TOO MUCH WATER?
Sadly the answer is Yes! To produce 1 L of pure water, approx. 4 L of normal water is required. Generally speaking, over 40% of the water is wasted if talking in optimistic terms. RO systems utilize the water pressure to drive the water through the very minute holes in the RO membrane. The RO membrane is a semi-permeable membrane. It means that it can allow passage to water molecules but traps all other impurities like micro-organisms, contaminants behind it. With advancement in technology, RO systems now recirculate the impure water to maximize the water utilization. However, this results in quick degradation of the filter membranes. Hence, RO water purifier companies do a trade-0ff between water wastage and membrane life.
So, a RO would definitely waste water. Its just to a varying degree. A higher TDS of the input water would invite more water wastage. We can always utilize the refuse water for cleaning, flushing and washing.
3. WHAT TIME IS NEEDED TO FILL THE RO WATER TANK?
A standard RO water purifier water tank is about 10 L in capacity. Had there not been storage tanks, one would have to wait atleast 10 minutes just to fill a glass of water. Reverse Osmosis is a naturally slow process. 2-4 hours is a norm. That is unless some artificial pressure is exerted to forcefully pass the water through the membrane. Ideally the RO system works perfectly with a pressure of 60 – 80 PSI. In areas where supply water is weak, then booster pumps are required. Correct water pressure is an integral factor is how well an RO water purifier performs.
4. WEAK WATER OUTPUT FROM RO WATER PURIFIER?
BENDS IN THE INPUT LINE –

Do check whether there is any twist or bend that may be holding up water.

CHECK WATER PRESSURE

– As discussed above check for correct water pressure. The pressure inside the water tank itself could be low and causing the issue. Call your RO serviceman or technician for this. He would be able to tell if the pressure inside the empty tank is around 7 – 8 PSI or not. The serviceman may need to pump in some air to increase the pressure.

CHOKED RO FILTERS

– Water Purifiers have inbuilt mechanisms of alerting when the filters need a change. Change the filters at the recommended times to get fast water dispensing and safe water.

RO TANK BLADDER LEAKAGE –

Does your RO give only a short burst of RO water before the water stream dies down? If its so, then get the water tank checked for any breakages. In normal course, the water tank itself would need to be replaced.

VALVE –

Also check the water supply line dial is fully open.
5. AVERAGE TIME BETWEEN FILTER REPLACEMENTS?
SEDIMENT FILTER

should be changed every year or earlier. Depending on the amount of dust or rust in the input water, a periodic inspection may be required.

CARBON FILTER

may also need replacement within a year or so. Usually when the carbon filter has degraded, black specks may come out in RO water.

REVERSE OSMOSIS MEMBRANE

can need replacement in over a year. It all varies with your RO water purifier model and water.

POLISHING FILTER

can also need a change each year.
6. WHAT TDS LEVEL SHOULD BE MAINTAINED?
TDS of the water is so important for your health and well-being. Very less TDS can severely hinder body functions and weaken the body. Water without a good proportion of minerals and salts is not worthy of being called water. High TDS is risky as the water may contain heavy metals like Lead, Arsenic and Mercury. Besides, Potassium and Sodium Chloride also contribute to the TDS among other safer minerals. Hence, to dispel the dangers of heavy metals, its essential to use RO water purifiers. They remove the minerals completely and then add the good minerals back.
80 – 200 ppm

is considered Excellent level of TDS for drinking. We could have written 50 as the lower end of range but prefer it to be slightly higher.

Roughly Greater Than 200 And Less Than 500

is the most common range of tap water in India. This TDS level is also good to have. No problem.

Roughly Greater Than 500 To 900

is safe for drinking but starts to have a different/unpleasant taste.

Roughly Greater Than 900 To 1200

is drinkable if no other option is present.

Above 1200 ppm

TDS is unfit for human consumption.
RO STAGES SIMPLY EXPLAINED
Most RO water purifiers nowadays come with 7-stage purification. Not all stages out of these 7 are physical as the UV stage is just irradiation. We are mentioning the various technical terms you'll come across while buying Best RO in India. The list is not in any specific order.
1. THE SEDIMENTATION FILTER
As the name suggests, this filter is always the first stage in the water purification process. This filter traps the mud, rust and other sediments in water. The sedimentation filter bears the greatest brunt of contaminants in water. Hence, it demands a change quite frequently in hilly regions or where too much sand, rust or mud is present in input water.
2. CARBON FILTER
The granular activated carbon (GAC) stage of filtration rids the water of undesired odors and tastes. Water which is highly chlorinated as in the early hours of the day from municipal supplies, has too much chlorine. Carbon filters adsord the chlorine, hydrogen sulfide and other organic gases. A good quality activated carbon filter removes 99.99% chlorine from the water.
3. REVERSE OSMOSIS STAGE (RO)
This stage is the most crucial stage in water purification. So much so that the entire water purifier is identified by its name- An RO! The fine membrane removes all traces of pesticides, heavy metals, salts, minerals, virus, bacteria and what not. The refuse water that comes out of the RO water purifier is a mix of impure water and untreated water. Untreated water here is that part which could not pass through the RO membrane in due time.
4. ULTRAVIOLET STAGE (UV)
Ultraviolet light is a fast and effective way of killing all microorganisms from water.
5. ULTRAFILTRATION (UF)
This stage is a fail safe mechanism for double surety of water safety. It caters to the rare case that any impurities managed to escape through the RO membrane.
6. TDS CONTROLLER
The TDS controller as the name suggests keeps the TDS level under check. As we have mentioned above, the RO stage does not let any minerals which contribute to the water TDS to pass through it. To let the water keep certain level of minerals, the TDS controller stage is provided. Here what happens is the input water is split into two channels. One part follows the normal course passing through all the stages mentioned above. Needless to say the resultant water has had its TDS reduced considerably. The other smaller water channel is not passed through the RO stage at all. Rather, it is passed through all other stages to remove microorganisms, dirt, organic gases, chlorine and odor. Finally, it is allowed to mix up with the first channel. All this helps in maintaining the TDS as the TDS of the smaller channel wasn't altered at all.
You guessed it right! Here a risk of contamination and presence of heavy metals in water cannot be ruled out.
7. MINERALIZER
If there is no TDS controller then your RO water purifier may have a mineralizer stage instead. Here, there's a separate mineral cartridge which replenishes lost minerals. You can think of it as the stage where water is made tastier. Having a mineralizer is more preferable than a TDS controller.

Hope you liked this Best Water Purifier in India post. I tried hard to make it as informative as I could in a condensed manner. Your feedback, queries and suggestions are most welcome and solicited!
You May Like These Similar Posts From AirSwacch!