In our last post we reviewed the Top 5 Best RO Water Purifiers in India. Here we review the latest entrant from Hindustan Unilever- the HUL Pureit Copper 8 Liter water purifier.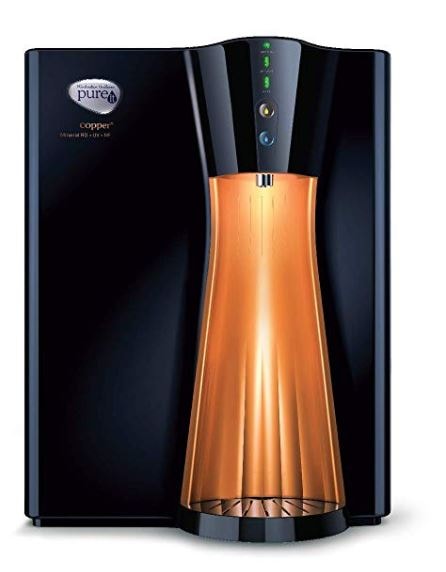 What Is The Fuss For Copper All About?
Indians traditionally know that drinking water from copper vessels has health benefits. My granny used copper utensils to store drinking water. Needless to point out, copper vessels have almost completely been replaced by steel and aluminium ones. Copper is an important mineral whose deficiency may cause health issues. For instance Osteoporosis, anemia, reduced immunity or skin pigmentation are a few problems. In addition, people following balanced diet generally do not suffer from copper deficiency. People wearing copper rings or drinking 'copperized' water do not get one painful condition. This is the scaling of skin on the fingers above the nails.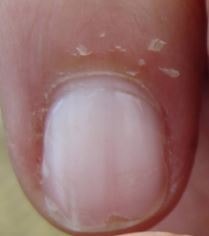 HUL has introduced the HUL Pureit Copper to cater to this.
How Much Copper Is Needed ?
The recommended daily allowance (RDA) for copper is around 900 micrograms a day for adults. An intake above 10,000 mcg, or 10 milligrams (mg) a day could be toxic. The HUL Pureit Copper adds the right amount of copper in your water.
Can I Get Normal RO Water With No Copper?
Yes! You Can Choose between Normal RO water and Copper RO water. Just press the buttons against each choice.


HUL Pureit Copper Features
Know- HUL RO water purifiers use an array of advanced technologies. Pureit Copper is a feature rich product. HUL along with Kent and Eureka Forbes and now LivPure lead the water purifier market. Water Purifiers from HUL stand out for their regal looks and reliable performance.
Design and Make
Pureit Copper has its body made from ABS plastic which is quite sturdy. The looks department is impressive as is customary for HUL water purifiers. Only black is the available color option.
Storage Capacity
The HUL Pureit Copper Water Purifier can store upto 8 Liters of water. This is the purified water capacity in the storage tank. Well, this capacity is not a discerning factor as there are models with more capacity also.
Filtration Tech
Nowadays most RO water purifiers have multiple purification stages. Similarly, the Pureit Copper too has 7 Stage Advanced Purification with RO+UV+MF. With so many advanced purification stages, there's no chance of any impurity.
RO is Reverse Osmosis which removes dissolved salts and other impurities. The Pureit Copper can handle water with TDS as high as 2000 mg/l.
UV is Ultraviolet light. UV light can kill all microorganisms present in the water.
MF is Micro Filter which is also known as UF (ultra filtration).
How To Clean The Copper Tank?
You must have seen that copper tarnishes with time and its surface gets covered with dirty greenish layer. This layer would hinder the copper charging process if left unchecked. The HUL Pureit Copper has an auto cleaning mechanism for infusing a fresh layer to the copper surface. So, you need not do anything as far as cleaning the copper tank is concerned.
Is My Water Safety Guaranteed?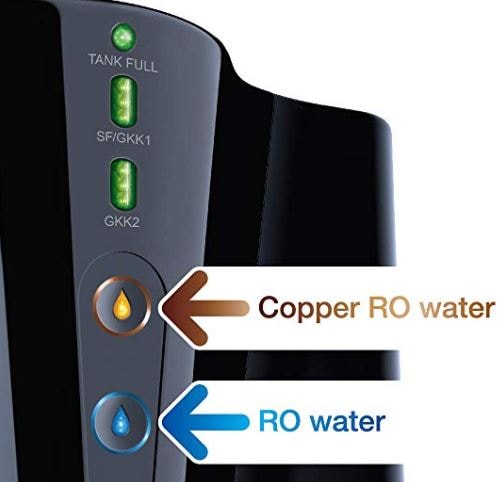 The manufacturer markets that not one drop of water dispensed from the water purifier can be impure. This assurance has been named as double purity lock. How is this achieved-
By alerting you 15 days before your Germ Kill Kit is going to expire.
Water is not dispensed if you still try to use the water purifier after GKK has expired.
Ensure the cleanliness of the storage vessels and hygiene of the surroundings.
Does It Dispense Water During Power Cut?
The Pureit Copper has a vent at its side to be used in times of power cut to draw the tank water.
Warranty
Check the customer care 18602101000 or your on product website about the warranty. It comes with 1 year warranty on product. A water purifier is something you'd wish to use for years. Therefore we suggest you to take extended warranty from Amazon or Flipkart while purchasing it.
Conclusion – HUL Pureit Copper Review
The purity of water is excellent and the taste too. Its cost is prohibitive for many. Definitely, you can get equally good water purifiers at a much lesser price. Read Reviews from AMAZON
The HUL Pureit Copper is a very new product. We would suggest you to defer your purchase for sometime as the technicians are themselves not fully aware of its features. In conclusion, go for HUL Pureit Ultima Grand in the interim.