This countdown lists out the Top 5 Non-Electric Gravity based Best Water Purifiers in India. We help you in making an informed decision. If you are confused by the sheer number of brands and numerous models, AIRswacch helps you decide better! Beware that non-electric gravity based water purifiers do not give the level of features or efficiency as RO water purifiers.
Best Water Purifiers in India
Water Purifiers and RO systems are different. Nowadays, RO systems come bundled together with water purifiers. Many people use the term RO and water purifiers interchangeably. Well! They are not the same. In fact, ROs are a subset of water purifiers. Electricity is absolutely required for an RO to function.
Non-Electric gravity based water purifiers are simple water purification solutions. They are affordable to the masses and ensure that pure and risk-free water is available to one and all. Its not possible to achieve Ultra-filtration, Ultraviolet treatment or Reverse Osmosis without electricity. Since, such purifiers lack the aforementioned technologies; they are cheaper. Water Purifiers give you germ-free and particle (mud, sediments, solid impurities) free water.
When To Choose Gravity Based Water Purifier Over A RO Water Purifier
Water Purifiers are needed to purify ground water when it is not much salty, or water is supplied by municipalities. Your civil bodies should provide you fit to drink water straight to your taps. Still, its always advisable to install water purifiers. No government body can guarantee 100% purity or assurance.
Non-Electric Water Purifiers use chlorine, activated carbon and sedimentation filters.
RO stands for Reverse Osmosis and is the technology to make hard water soft. An RO forces water through a very fine membrane which is semi-permeable. In simple terms, it allows selective passage to molecules of a set size and blocks the larger ones. RO Water Purifiers function well for TDS below 1500 ppm.
Free Gyan
When buying a non-electric water purifier, look for the stages of water treatment in the purifier. Usually, all purifiers have chlorine based cartridges to kill germs, still look for it. The water tank needs frequent cleaning, so go for one which is comfortable to clean in quick time. Do keep a check on the pre-filter cleanliness.
Unilever is an MNC and has vast business hold in India. It has a vast presence in FMCG. I have used and experienced the Pureit Classic water purifier personally. The output water quality was good and reliable. Even in rainy days when the water was visibly muddy, the output water was always crystal clear. The water was not smelly either.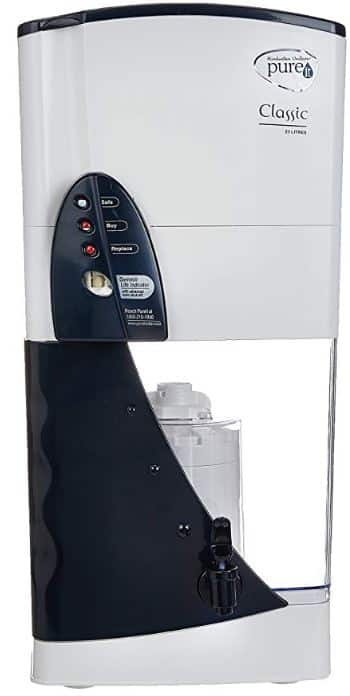 Free Gyan
Buy the Pureit Classic without any apprehensions. You won't regret this choice. Apart from some occasional leakages, it purifies water wonderfully. Just maintain the hygiene of the fabric cup. It's from where you pour the untreated water. Leave the rest to the powerful Germ Kill Kits!
The pre-filter cup is a micro fiber mesh. It gets in touch with the worst water day in and day out. Keep a track of its cleanliness. Turn it inside out and keep it under running tap water. Clean it with a forceful well directed stream of water. You'll observe a clear difference in color between the cleaned and untouched portions of the filter. We've even soaked it in boiling hot water to sterilize it periodically.
Model Name- Classic
#1 Gravity Based Water Purifier on Amazon
Price Check

Features
Total capacity is around 10 liters on top, around 2 liters on the middle, and around 11 on the bottom portion. 
Among the Best Water Purifiers in India. Trust us it gives germs free water.
Color of the GermKill Kit Life Indicator changes to Red over time. This lets you know when its time to replace it.
When the GKK is exhausted you cannot use the purifier. The water purifiers stops filtering to prevent possibility of unhygienic water.
May give peculiar water taste for some days.
Capacity – 23 Litres Total, 11 Litre pure water.
Capable of Operation for 200 PPM (measure of hardness)
Auto shutdown when purified water tank is full.
Cons
May get leaky at the junction of bottom and top halves. Keep it on perfectly level surface.
Do check for any breakages in shipping as the plastic body is not very sturdy.
Some people complain that the water purifier leaks when the lower half fills up.
Warranty
Pureit Water Purifier comes with 6 months warranty.
---
Kent Water Purifiers are much loved and among the Best Water Purifiers in India. The Kent Gold Optima is an entry level water purifier. It looks so simple in design. You'd probably think is there any technology or mechanism inside it at all! Don't expect miracles from it, its just a time pass.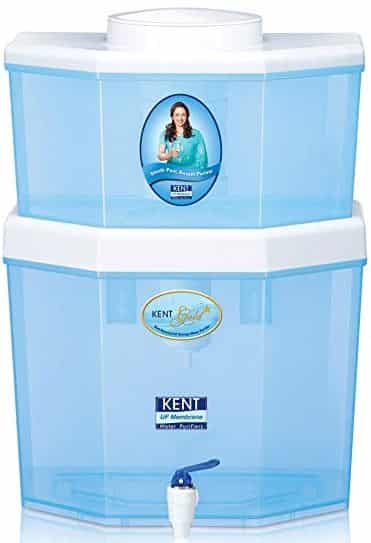 Free Gyan
Pureit Classic is a hundred times more versatile and effective. Included it in this countdown to warn you that you may not like the water taste. Buy this product only when Pureit Classic is unavailable. If at all you need to get it, purchase it from a local store.
Model Name- Gold Optima
#2 Gravity Based Water Purifier on Amazon
Price Check

Features
Total capacity is around 5 liters on top, and around 5 on the bottom portion. 
Hollow fiber ultra filtration membrane and nano-silver carbon kill germs. Pore size is 0.1 micron which doesn't let bacteria or cysts pass through.
No chlorine, bromine or iodine used.
Capacity – 22 Litres Total, clean water 14 litres.
Capable of Operation for 200 PPM (measure of hardness)
Membrane change is required after 4000 litres. Sedimentation filter after 3 months. Carbon filter needs replacement after 6 months.
Auto shutdown when purified water tank is full.
Cons
Water taste gets very much changed and many people don't like it.
Cheap product just like its cost.
Water output is very slow after regular use.
Loose Carbon particles
Warranty
Kent Gold Star gives you 1 year warranty. You do not have to give any service charge for 3 years.
---
Eureka Forbes Aquaguard water purifiers are among the Best Water Purifiers in India. This is not true for non-electric gravity based water purifiers. This segment is a race between losers, so the winner is also a loser. The inherent problem with these is the technology limitation. Without electricity much cannot be done. So if you are looking for serious water purification go for conventional electric water purifiers.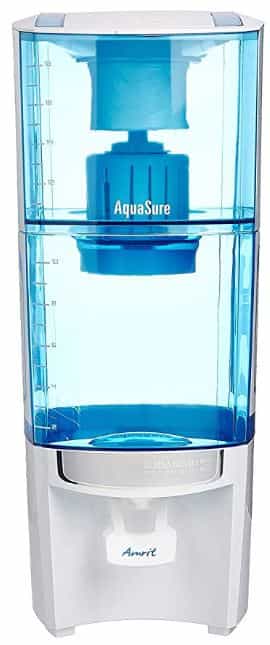 Free Gyan
Pureit Classic is also better than this one. The only issue with the Aquasure Amrit is its cartridge. If it works fine, you are lucky. In short its a little unreliable.
Model Name- Aquasure Amrit
#3 Gravity Based Water Purifier on Amazon
Price Check

Features
Positive Charge Technology remove all kinds of Bacteria, Virus, Cyst and other microbial contaminants. 
Natural shut-off when cartridge life is over
No chemicals added to water.
One replacement cartridge included.
Capacity – 20 Litres Total, clean water ~ 10 litres.
Cartridge needs to be changed after 1500 litres (variable)
NO Auto shutdown when purified water tank is full. DON'T Fill the top part with water unless the bottom part has space.
Cons
Low life cartridge.
After sales service is poor for non-electric water purifiers.
Manufacturing defects and mis-alignments are common.
Check refill availability in your region.
Warranty
Eureka Forbes Aquasure comes with 6 months warranty on product
Tata Swach uses silver nano technology. Silver is the best conductor of electricity and also anti-bacterial. The good thing about this water purifier is the storage capacity is good. The ease of installation is also quite good. However, the water flavor is just OK.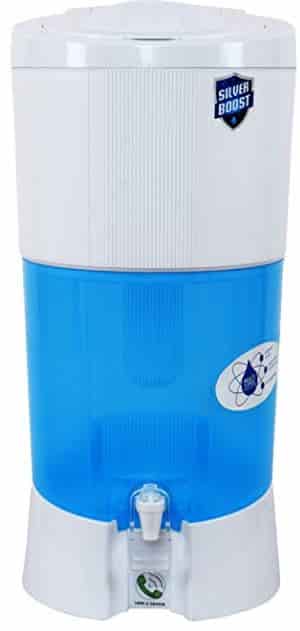 Tata Swach shares part of its name with our website, so we have a soft corner for it.
Model Name- Tata Swach Silver Boost
The Tata Swach Cristella has Total capacity: 18 litres, Storage capacity: 9 litres, Purification capacity: 6000 litres
It also has a Filter Life Indicator. The looks and design are similar to Pureit Classic.
Price Check

Features
Easy to assemble.
Capacity – Clean water ~ 14 litres out of 13 litres is usable.
Silver nano-technology destroys germs.
The Tata Swach Lock guarantees the genuineness of the Tata Swach Bulb, easy-to-fit, one-step process
Auto shutdown feature is available. Its called Tata Swach Fuse.
No chlorine, no bromine, no iodine used.
Cons
Don't use muddy water as this will destroy the life.
Needs monitoring to fill upper part. The top part is not transparent.
Doesn't rid water of smells.
Material of plastic is somewhat cheap and brittle.
Warranty
Tata Swach comes with 6 months warranty on product
The Livpure Fit water purifier is another gravity based water purifier. Delivers pure 17 litres per hour which is usually not true.
Model Name- Livpure Fit
Price Check

Features
4 stage purification 
Wall mountable design
No chemicals added to water. Only activated carbon is used.
One replacement cartridge included.
Capacity – 17 Litres Total.
Cartridge needs to be changed after 2000 litres (variable)
Cons
As with other non-electric filters, customer service is a problem
Vacuum gets created sometimes. You have to remove air to let water come out.
It fails when water is dusty. Suitable for already clean municipal water.
Look out for the extra kit, many complain they do not get it in the package.
Warranty
Free Maintenance for 1 year
There are many many other models within each brand. Do refer to the URL links in this post to consider them.
You May Like These Similar Posts From AirSwacch!