pH stands for Power of Hydrogen. If you still remember your chemistry concepts this post will surely take you down the memory lane. Who can  forget the mysticism behind the color changing property of litmus paper! Wasn't it exciting to see the paper turn Pink from Blue when you squeezed a lemon on it? If your memory evades you or if you had bunked that particular class, read on.
Just as so many new fads come and go, you may think the same for alkaline water. One day you read a "research" proving XYZ  practice is beneficial for health. On some other day, a new research rejects the same as a "myth". So, one doesn't know what and whom to trust. Thankfully researches now almost equivocally prescribe the healthy turnaround that alkaline water can bring about. But, remember not to overdo things. For example- There's a very thin line when salt may make the food tasty or ruin it!
RO Water pH – First Know the Basics
Read our Best RO Water Purifier Review for such products which let you drink pure and safe water.
Role of pH In Nature
To put forth this concept in simple terms, we'll explain it in layman terms. The pH is measured as a numerical scale running from 0 – 14. All things which taste sour are acidic and have pH level less than 7. Chemicals tasting bitter are Basic and have pH ranging from >7 to 14. The strongest acid will have its pH very near to 0. The strongest Base would have its pH touching 14. Base chemicals which are soluble in Water are called Alkalis.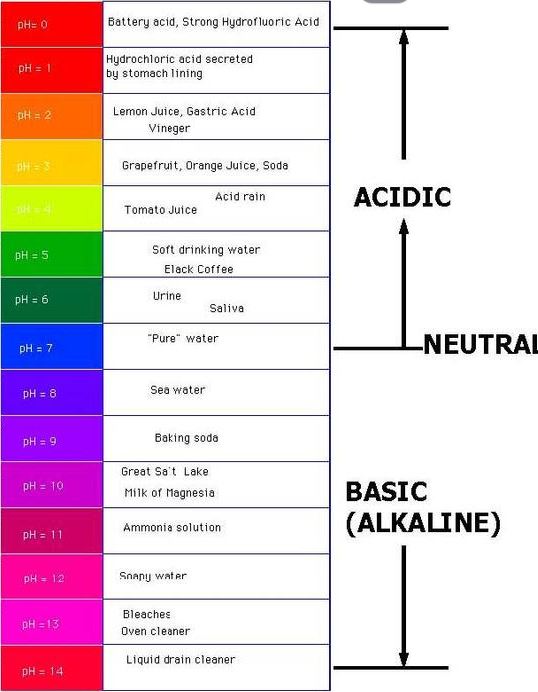 Even nature maintains a very delicate pH balance. The pH of the soil in a region governs what type of vegetation grows well there. Pure water has a pH of 7. Distilled water is the purest form of water. The rain water falling directly from the sky is distilled water too. This is not to suggest you can drink the rain water. The first few rains of the season are very polluted and may be even acidic. You should not forget that rain brings down the pollutants with it too. Hence, once there have many rainy spells only then the rainwater is pure.
What pH of Water is Safe For Drinking?
As mentioned above the purest form of water i.e distilled water has a pH of 7. You can consume water with pH ranging from 6.5 to 8.5. As a rule of thumb prefer alkaline water as much as possible. There are water purifiers which dispense alkaline water after correcting the pH. Havells Max Alkaline 7-Liter RO+UV Water Purifier is one such appliance.
ACIDIC Water And Its Impact On Health
You must have heard of a term- Acid Rain. Due to the intense air pollution in our skies the water droplets falling through it becomes Acidic. Poisonous gases like sulphur dioxide, nitrogen dioxide react with rainwater to turn it acidic. Acidic water is in no way beneficial for health. Acidic water flowing through metal pipes cause its corrosion. In some cases heavy metal impurities like Lead can make their way into our stomachs. In a way you can treat water acidity if you remove the dissolved metals. Ion-exchangers come handy to this end.
ALKALINE WATER
Areas where water is salty is often called Hard water and is typically Alkaline. Mountain regions where water is high in dissolved salts of sodium, calcium and magnesium is alkaline. Hard water tastes awful and is often not pleasantly palatable. RO water purifiers with Ion exchange mechanisms can correct the pH levels. People settling in mountains from plain areas often suffer from gastric problems.
Hard Water causes greenish scaling on bathroom fittings. Even steel develops rust wherever drops of hard water fall and dry out. Buildings made with salty groundwater have a weakened structural strength. This is because the steel rods in the entire building develop rust which quietly eats them up. We all have experienced difficulty in washing clothes or hands in hard water. Clothes get uneven discoloration and soaps do not lather easily.
BENEFITS OF CONSUMING ALKALINE WATER

People suffering from GERD or acid reflux can benefit by drinking alkaline water. Studies have shown that Alkaline water reduces the risk of heart diseases. This is so because the blood becomes more free-flowing. Strokes can happen when blood isn't able to reach to the brain. Sudden movement or change in position from lying to standing is said to be the main reason.
SIDE EFFECTS
We should not overdo anything. Even a good dietary habit can turn against you if you follow it unnaturally. Drinking too much alkaline water may result in cell odema. Earlier we pointed out how your body is better hydrated if you drink alkaline water. Excessive use of such water can result in the body getting bloated. A rare condition called metabolic alkalosis which results in the body fluids getting extra basic. Too much bicarbonate in the  blood is the cause of this disorder.
Conclusion
The key knowledge shared in this post is to avoid drinking acidic water at all costs. For once alkaline water is tolerable but limit the alkalinity as well. Use good quality Water RO and Mineralizers. RO removes the dissolved metals salts along with heavy metal impurities like Arsenic, Lead or Mercury. The Mineralizer replenishes the removed salts sans the harmful ones. There are good Non-electric Gravity Based Water Purifiers too. A PH meter can come handy to measure RO water PH for assurance.
You May Like These Similar Posts From AirSwacch!