Coway is the maker of some of the best air purifiers in the world. I do not say that all models from this company are top class. Coway has introduced Coway AirMega range of smart air purifiers. These have given all other popular air purifiers a run for their money. Especial mention of the Coway AP-1009 Sleek Pro is warranted here, which is one of the bestselling air purifiers this industry has ever seen. Another air purifier, the Coway Mighty is also one of the most popular mid-size air purifiers in the USA. Mid to large room air purifiers come with a natural higher cost compared to small sized models. Coway AP-1012GH is an old model which is deemed suitable for 256 sq.ft. room sizes. You'll learn more on this classic air purifier in this Coway AP-1012GH Review.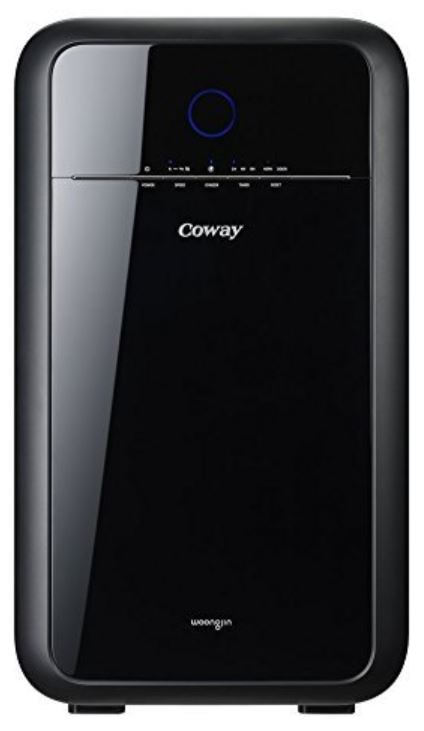 The Coway AP-1012GH has just recently been introduced in India. It's been available in the US from even before 2013. I would not call the Coway AP-1012GH, the "ultimate air purifier for small rooms". The reason is simple, old is not always gold when seen in technological advancement domain. Refinements in design and sensor technology happen quickly and their effect apparent in newer models. With regards to the Coway AP-1012GH, I am sure the company is not maintaining a dinosaur, as its still in production. Lets delve deeper into its specifications, and at the last you should be able to make your mind if its worth your money.
PRICE
The Coway AP-1012GH is an affordable air purifier in the sub-$250 range. One can say that it is optimally priced. I would not have cared to review this air purifier, if it were priced more. Obviously you cannot expect the same set of sophistication or high coverage area compared to some costlier and better loved models. If you have a free flow of funds, then the Coway Airmega 300S is the one for you.
The two filters need replacement in 3 years and 1 year. On the fourth year, when both filters would need a change, expect to shell out nearly 1/3rd the air purifier price on them. Individually speaking, I do not see the company fleecing you with the replacement filters.
The Coway Sleek Pro AP-1009 is the Best Air Purifier in India.
DESIGN AND LOOKS
I am not a fan of how the Coway AP-1012GH looks. Don't you think some sharper contrasts in color could have looked better? Well, its a matter of personal choice, as I've seen people with special liking to "All Black" things. Users who like their devices to have jet black glossy body would love this one. Talking of me, this air purifier looks to me as a rectangular block of coal sitting in a drawing room!  The air quality indicator LEDs do provide some shade of color in the otherwise insipid color code. But again, its my own feeling, you should not fall for my blabber. Look at the pictures closely and make a decision.
Since its a small air purifier, it has meek dimensions. Its not more than 13.77 inches wide, 8.62 inches deep and 24.72 inches in height. It will sit in a corner silently doing its job. When using the air purifier, try and maintain a minimum clearance of 20 cm from the walls. You must keep any air purifier you may have away from clutter. For this particular model, keep clear 30 to 60 cm above the product. Talking about weight, nothing extraordinary here. The Coway AP-1012GH weighs 7.6 Kilos. I do see a niche been provided to lift or move the air purifier with ease.
More on the looks department would become clearer when we discuss whats on its control panel.
FILTER
Its a very good thing to know that Coway Air Purifier have good quality filters. Coway, I can vouch on their behalf, do not compromise on the air filter quality. This air purifier uses 3-step air filtration. Different filter types specialize in taking care of specific pollutants.
PRE-FILTER – It removes relatively large dust and mold, human hair, pet hair, and so on. Pre-filters are washable and you should try doing so without fail. Regular cleaning of pre-filter goes a long way in enhancing the life and efficiency of the air filters.
DEODORIZATION FILTER – Features a granular active carbon, which is particularly effective at trapping odors and harmful gases to keep your home smelling fresh.
TRUE HEPA FILTER –  The most important filter which makes or breaks the goodwill of an air purifier. Coway uses TRUE HEPA filters which are the best air filters. These filters remove fine dust and cigarette smoke up to 99.97%. It reduces airborne bacteria, mold spores and particles that carry viruses.
If we consider the Ionizer as a filter stage, then the Coway AP-1012GH has 4 stages.
COVERAGE AREA AND AIR FLOW
The Coway AP-1012GH is an air purifier for small rooms. Hence, its coverage area and CADR all reflect this. As stated earlier in this post, it can cater to rooms sized around 256 sq.ft. The CADR is fine with 165 cfm (280 m3/h).
The purified air is expelled out from the top back grille. Room's air is taken in through the front sides and bottom faces.
CONTROL PANEL
Coway AP-1012GH's control panel is at its front face. This is a deviation from most air purifiers where usually the control panel is at the top face. No problems in the buttons being at the front though. Light sleepers may have issues with the blue LED lights as these are quite bright. Some find good use of this light as a nightlight. It all depends on personal tolerance or liking.
The buttons are like normal press-type and not touch or fuzzy logic type. To make a selection of setting you need to press the buttons cleanly. The buttons are long in shape and have a metal polish, look good overall.
There are five buttons through which all the air purifier operations can be handled.
AIR QUALITY INDICATOR
A circular color LED constantly gives you a colorful feedback of the room's air quality. There three color variations which indicate whether the air is clean, polluted or highly polluted. As the air purifier removes pollutants, the ring color changes from Red -> Dark Purple -> Blue. I must say that the sensitivity is great. You can see it for yourself by checking the LED response to some pollution you introduce in the room artificially.

The air quality sensor is located on the right side of Coway AP-1012GH. With time the sensor gets dirty itself and needs some cleanup. Below I have explained how to clean the sensor so that your air purifier can give accurate air quality feedback. You must try to clean the sensor surface atleast once every 2 months. This goes for any air purifier you may own.
Open the air quality sensor cover. There is a mesh in front of the sensor and it has air inlet and outlet vents. With a soft brush clean this mesh.
Take a moist cotton swab to wipe clean the air quality sensor. Remember to do the cleaning gently. Clean the lens surface and afterwards use a dry swab to remove remaining moisture.
FAN SPEED
Next to the power button, is the fan speed button. It allows up to 3 speed levels. The top fan speed is preferable when the air quality is worse and you want it to get better quickly. Mostly, people like to run their air purifiers at top speed unless they want quiet. The fourth speed setting is the AUTO mode wherein you leave it upon the air purifier to self-adjust its fan speed. Here the pollution/dust sensor plays the guiding part. If the sensor is dirty then it would not give the best results. So, read the way to clean it as mentioned above to get the most out of the AUTO mode.
The medium and high fan speeds are loud but not so much to be disturbing.
IONIZER
Adjacent to the fan speed button is where you find the Ionizer button. You can easily guess that the ionizer is independently operable. Should you not feel the need to have it ON, just switch this feature OFF. An ionizer is always looked at with suspicion. The state of California is very particular about ionizers and only allows the sale of such models which release zero ozone.
Anyways, you need not to worry about ozone production with the Coway AP-1012GH.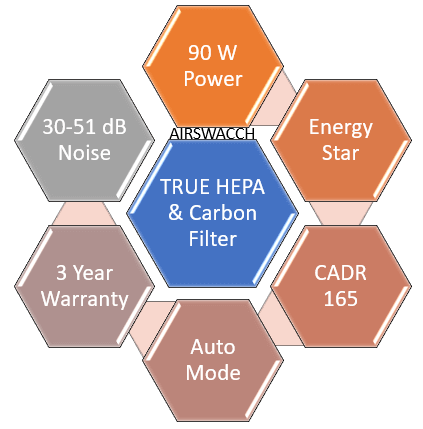 TIMER
Next comes the timer button where you can set the air purifier to stop after 1, 4 or 8 hours. To deactivate the timer, you need to press and hold the Timer button until the indicator LED stops glowing.
FILTER REPLACEMENT INDICATOR
The life of its HEPA filters is touted to be around 3 years. I think that's too much to flaunt. In most cases, the HEPA filter does need compulsory replacement around the 2 years mark. The activated carbon gives way much earlier. Anyways, whenever the time comes when the air filters need replacement, the air purifier has a mechanism to alert you. There are 2 corresponding LED lights – one for the HEPA filter and another for the Odor filter. Once you make a replacement, the RESET button is what you need to press for 2 seconds.
CONCLUSION – Coway AP-1012GH Review
The Coway AP-1012GH cleans amazingly well whatever small area it is designed for.
I would say, go for it only if your room size and budget is small. This air purifier would not disappoint you with its performance, you can note it down. Yes, the golden rule to enjoy a product you've already bought is to not compare it with others. Take good care of your device and maintain it in the recommended fashion, that's what in your hands. You would agree that reading reviews of products do not give a 100% clear thumbs up or down. Some uses report extremely positive reviews while other call the same product worthless. Really, at the end of the day, its your luck!
Its good to take experiences and same goes with different air purifier models. Do you know; Coway sells the most number of air purifiers the world over! It cannot be for nothing right? Still, if you ask me, for a little extra cost, the Medify MA-40 is a strong alternative.
Do leave your comments if you found this Coway AP-1012GH Review interesting!
You May Like These Similar Posts From AirSwacch!