Despite the price of air fryers in India being way more than that of frying pans, Indians have found a new appliance to crave for. With the rise in awareness about healthy eating habits and diseases brought on by obesity, Indians have had a hard time adjusting. We just can't seem to let go of our delicacies! Most Indian snacks like jalebi, samosa, puri, and pakoda are deep oil fried. And they are all meant to be fried right either in oil or sugar syrup to lend them their taste. Not only this, but we have added our own twist to Tibetan cuisines like thukpa and momos – friend thukpa and fried momos! So, no wonder why air fryers are becoming an increasingly common household appliance. So, irrespective of the price of air fryers, they tend to buy it on special occasions or festivals.
Air fryers are not suitable for cooking on a large scale. The basket is small and the normal serving size suffices for 3-4 members. However, they radiate little to no heat unlike frying pans and help to keep your kitchen a fume-free zone.
AN INTRO
Air fryers are basically used to fry food using only hot air and a fraction of the required amount of oil. It works as a convection oven and with the help of fast-moving hot air, gives a crispy and "fried" texture to the food, without actually ever frying it! They're easy to clean, work on electricity and provide as close a taste to fried food as possible. The price of air fryers can vary from INR 5,000 to INR 10,000 or more depending on quality!
PRICE OF AIR FRYERS IN INDIA
Are you confused with the many air fryer options in the market? Don't sweat because here is a countdown of some of the popular ones. This post is not intended to categorize according to the price of air fryers in India.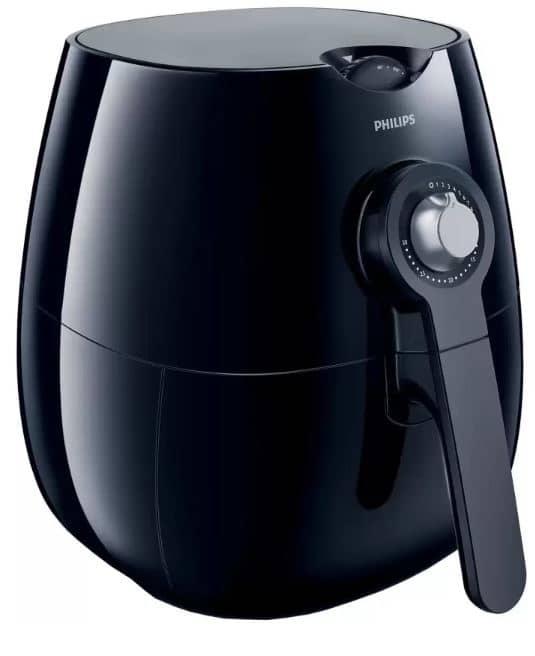 Did you know that Philips introduced something air fryers to the world? Yes, being pioneers in this field Philips air fryers are guaranteed to perform good. The Philips Daily Collection HD9218 Air Fryer uses 90% less oil than regular frying pans. It uses more power at 1450 wattage but comes with a recipe book and 1.8m long cord. The product comes with a plastic build and a two years warranty period. It has multipurpose cooking features and uses Rapid Air technology to cook food evenly.
Philips' product portfolio is quite pricey for sure. At the kind of price their cheapest air fryer comes, you can get 2 even 3 Bestselling Inalsa air fryers. However, Philips is a big brand so they naturally cash in on their name. Being a big brand comes with its own advantages to the consumers. For example they have many customer care centres which Inalsa would lack. So, its a trade-off if you get caught between quality and price. You need to tread a middle path which suits the pocket, does the intended job without any performance trade-offs.
COUNTRY OF ORIGIN
Who in this World would not have heard of Philips, a Dutch company? Nothing definite can be said of the country of origin.
GOOD FEATURES (Model- HD9218) :
Timer setting up to 30 minutes and can auto-switch off as needed. Temperature can range up to 200° C.
Long cord of 1.8 m for ease of setting in the kitchen wherever the power socket is.
The capacity of 2.2 L is enough for a family of 3-4 members in a single batch.
Multipurpose cooking features – can bake, grill, roast and fry.
Uses Rapid Air technology to keep food crispy on the outside and soft on the inside.
There are some more models, with slight variations in bucket capacity among other add-on features.
PHILIPS AIR FRYER PRICE

---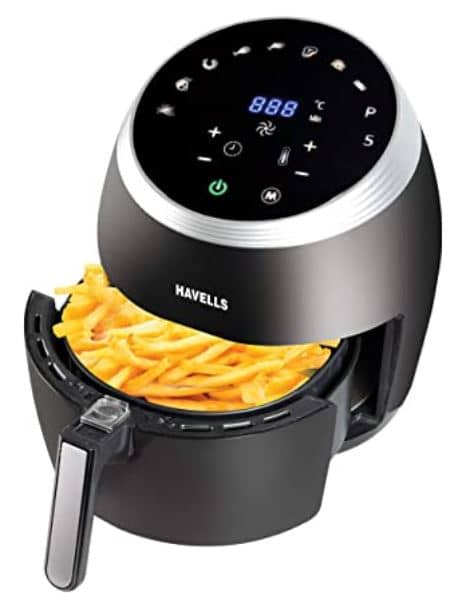 Very few companies can beat the meteoric rise of Havells. It is a Noida based company and has captured quite a large share over the electrical goods market. Their air fryers use a 360° air circulation technology that ensures quicker and healthier cooking. The Havells Prolife Digi is a hugely popular 4.0 L capacity air fryer. While a 5 L basket model, the Prolife Grande uses a unique Aero-Crisp Technology to evenly cook food. It uses 85% less oil than regular frying and similar to the Prestige PAF 4.0, has a detachable frying basket. The temperature control is also the best and can be raised up to 200° C.
Currently, the model is only available in black with a plastic body and two years warranty. The price of the air fryer is on the higher side. But if you have a free budget you can't resist the urge to buy it. It has a very attractive digital touch panel. Its a relatively new entrant in the market hence reviews are tad less. But, whatever there are they indicate it to be a good product.
COUNTRY OF ORIGIN
Havells is an Indian company. It has many state-of-the-art manufacturing hubs across India.
GOOD FEATURES:
Fully digital and touch-based control panel on top.
Can not only roast, grill, fry, and bake but comes with 10 more preset heating options.
An LED display that shows the time left and current cooking temperature.
Detachable food basket for easy cleaning. The food basket has a 5L capacity.
Can cook for 6-7 people in a single batch.
Auto-timer that switches it off as needed.
Timer control can be set up to 60 minutes.
HAVELLS AIR FRYER PRICE

---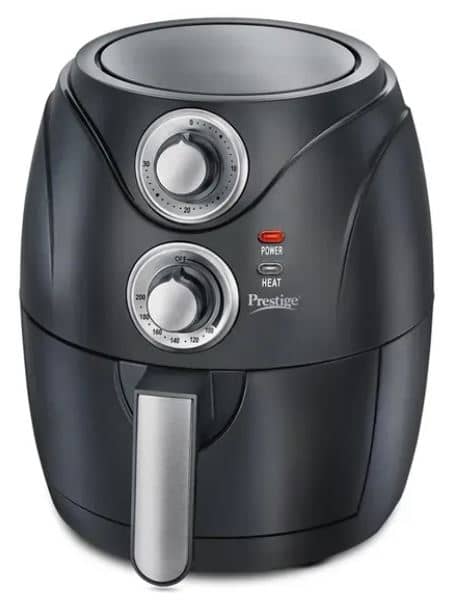 Prestige, an Indian company founded in 1955, is well known to all of us. Since its inception it has established itself as one of the top brands for kitchen stuff. Be it pressure cookers, gas stoves or air fryers, Prestige is a trusted brand. With the Philips Air Fryer 6.0, Prestige has come up with a multipurpose air fryer. This one can not only fry food but also grill, roast and bake it. It works on 1400 Watt which is somewhat less than other air fryers. The price of air fryers from Prestige is also comparatively less than other multinational brands. However, the feature set has not been compromised for this lower cost. With a capacity of 2.0 L, the updated PAF 6.0 fryer comes with a 30 minutes timer. Also, there's a safety feature to prevent burning of the food. The product has a specially designed, detachable frying basket inside.
The Customer Reviews majorly concur that the product is a Good value for money. Available in black, with a shiny silver top, this can be a great addition to your kitchen. You can expect a good-enough air fryer unless the seller himself sends you a damaged product or for mishandling in shipping. For this there's always a return window.
COUNTRY OF ORIGIN
Although Prestige is an Indian company but it gets all its products imported from the PRC (People's Republic Of China).
GOOD FEATURES
Multiple functions like fry, grill, bake and roast with temperature and timer control (up to 30 minutes).
The frying basket is detachable for ease of cleaning and is coated with a non-stick layer.
The product is fitted with an oil and smoke filter to reduce any odor outside of the fryer.
Enough for a family of 3 members.
Equipped with a safety switch so that fryer automatically shuts down if the basket is removed. On re-inserting the basket, cooking resumes from the previous point.
All parts are dishwasher safe.
PRESTIGE AIR FRYER PRICE


---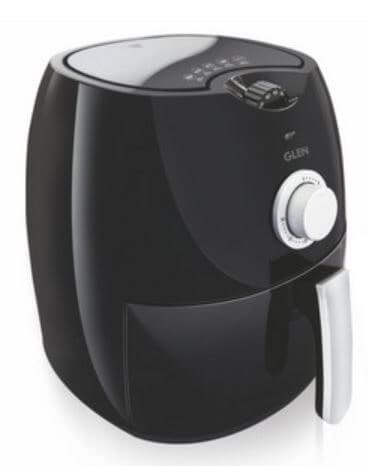 Glen India is a kitchen and home appliances brand that produces everything from gas stoves to chimneys. The Glen Rapid Fryer 3044 promises to use less than 80% of the amount of oil used by conventional fryers. This model works on 1350 wattage which is the lowest wattage seen in air fryers. The product comes with a free recipe book inside! Its rapid heating system sues vapour steam to provide a crispy texture even with no oil. With 3.2 L capacity, it is smaller than the other items on the list but still larger than the Prestige PAF 4.0 fryer. With detachable parts, it is easy to clean and maintain. The Glen Rapid Fryer comes with a black plastic build and has a 2 years warranty period.
COUNTRY OF ORIGIN
Glen is originally an Irish company. Glen India is headquartered in Faridabad, Haryana.
GOOD FEATURES:
Multipurpose usage – can fry, bake, grill and roast. Temperature control can range fro 80° C to 200° C. You can set a Timer up to 30 minutes.
Removable disc and plate inside for easy cleaning, coated with a non-sticky layer.
Uses vapour for a crispier texture.
Enough for a family of 4 people.
Uses less amount of wattage, hence saves power.
GLEN AIR FRYER PRICE

---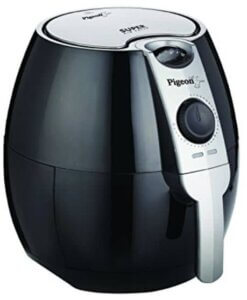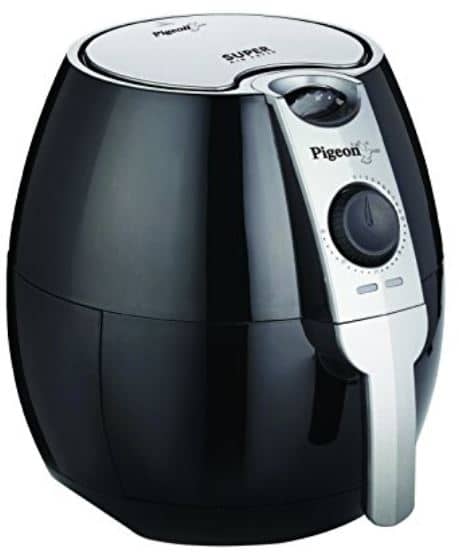 Pigeon is a kitchen appliances company best known for their range of cookware and dinner sets. It is a house-hold name for those who have grown up eating from Pigeon casseroles and tea jugs. The Pigeon Super 12044 3.2-Litre Air Fryer uses less than one tablespoon of oil to provide crispy, fried meals. It also has an additional pre-heating feature so that you can immediately heat up fried food for sudden guests. The product is only available in black color with a silver-colored top part and has a one year warranty.
COUNTRY OF ORIGIN
Pigeon is a South Korean consumer goods company founded in 1978. 
GOOD FEATURES
Safety feature that stops cooking if the cover is removed.
Has an auto-timer that can be set up to 30 minutes, and temperature control as well.
Has pre-heating feature and can be used to bake, roast and grill as well.
Noise-free operation.
In a single batch can cook for 3-4 people.
PIGEON AIR FRYER PRICE

---
You might be familiar with the name of Ravi Saxena, who after leaving Sodexo India, started his own appliances and cookware brand – Wonderchef. The Wonderchef Regalia Compact Air Fryer is a small, sleek and compact air fryer for those who have less space for new appliances or are looking for easily portable options. With only 1.8 L capacity, Wonderchef Regalia saves power by using only 1000 wattage for cooking. The product has a black plastic build with a glossy finish. The manufacturer allows two years warranty on the product. The product adheres to German build standards and uses Italian designs but the price of air fryers by Wonderchef is among the lowest on the list.
GOOD FEATURES:
Small and compact, 1.8L capacity is enough for 2-3 members in a single batch.
Uses very little power as compared to other air fryers.
Detachable frying basket with non-stick for easy cleaning of the inside.
Timer control for up to 30 minutes. Preset options are available as buttons on the top.
Analogue rotary for temperature control up to 200° C.
WONDERCHEF AIR FRYER PRICE

CHOOSE THE ONE THAT SUITS YOUR NEEDS
Depending on the size of your family, the space available in your kitchen and service-centres located near your address, your preference will be unique and not always guided by what's the cheapest or what's the best. If you're someone who cannot give up fried food no matter what doctors say, then an air fryer is an absolute must. If the price of air fryers is the deterrent, Prestige and Wonderchef provide cheaper and economic options. Whereas, if you're okay with the price of air fryers, then go for options like Philips, or Havells.
You May Like These Similar Posts From AirSwacch!