Indians and fried food are inseparable. Even foreigners who visit India take back memories of samosas, pakodas and fried chicken! Taste aside, too much fried food is not good for your health. Food deep fried in fresh oil is fine. Oil cooked at high temperatures develops compounds which are unhealthy. Most people are unaware of this fact. Eatery outlets and chefs are not the least bothered for your health. They would rather use the same oil over and over again. Making profit is what is their top priority. So, they'd fry your samosas in pitch black burnt oil and server them hot! Read this Best Air Fryer in India post to enjoy healthy fried food.
In the form of Air Fryers, a new food technology has come to your rescue. With as much as 80% lesser oil or even no oil, you can enjoy your fried items with no compromise on taste. Moreover, Air fried food has a discernible crunchy crust on the outside. The food is crunchy to bite in and soft on the inside.
BEST AIR FRYER IN INDIA
1.  Philips Viva HD9xxx Series Air Fryer
Philips is the pioneer in the Air Fryer market. It was Philips which brought out the first Air Fryer ever. Every other brand played catch-up and as expected could never compete with the original maker. Philips Viva HD9220 is the Best Air Fryer in India for a small 4 member family.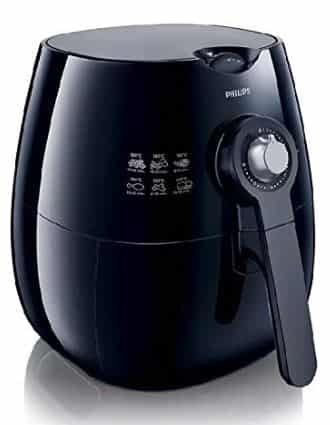 The Philips HD9220 comes in 2 colors- white and black. But, white color is rare to be found. This particular model is one of the most popular budget models. The reviews and ratings on Amazon are proof of its performance. Unless you are unlucky to get a defective product, trust our word Philips HD9220 won't disappoint.
Good Features
Auto shutoff at the end of timer.
Temperature range of 200°C
Time presets up to 30 minutes.
Analog knobs to set the temperature and time.
2.2 L food basket. Optimum for side meals but for full meals size may fall short.
It has Non slip feet and cord storage.
The food basket has to be hand washed. Its not made for dishwashers.

Note              Do look out for whether baking tray, grill pan or food separator are included in the package or not. The reason to highlight this is because some users take it for granted after watching the videos. Some or all of these things have to be bought separately.
2. American Micronic 3.5 L Air Fryer
This Air Fryer is an imported product from US. Its 3.5 L food basket is suitable for full-meal preparation. You need to follow a procedure to avail international warranty. The company has kept the price very low to compete against brands like Philips.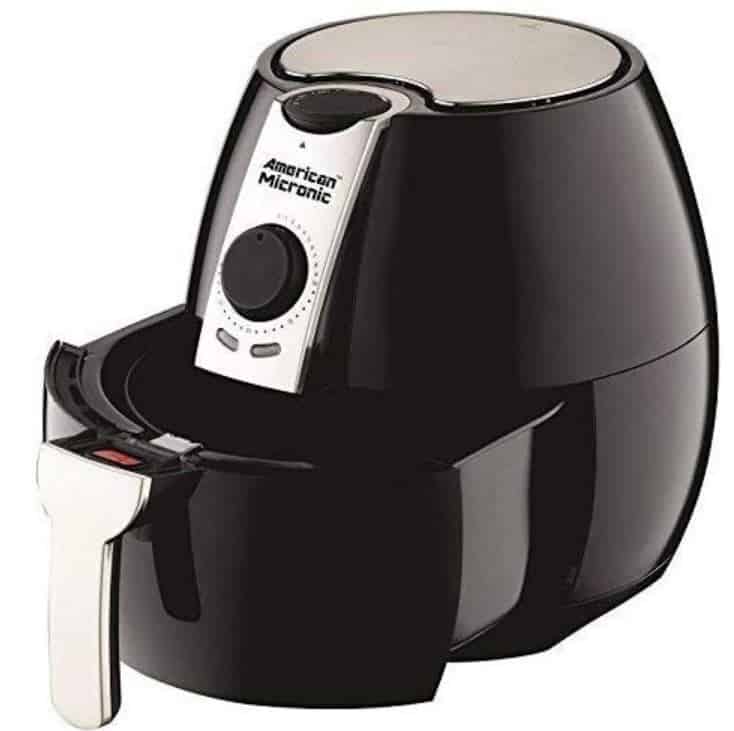 Good Features
TurboTunnel FreshAir Technology is what they call their version of Rapid Air Technology.
Ideal for a medium sized family. Can cook 1.4 Kg food.
200°C adjustable temperature and 30 minutes time knob.
Noise Free operation.
Good quality pan and coatings do not flake.
You can message American Micronic at 8882009988 on Whatsapp for a free recipe book.

3. Havells ProLife Digi Air Fryer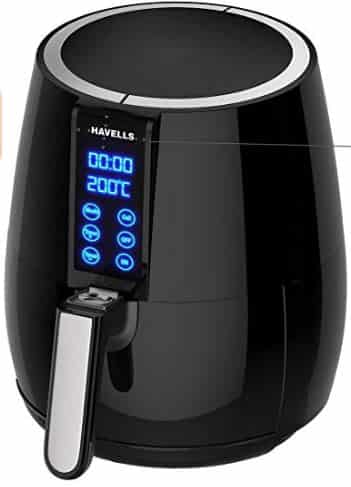 Havells ProLife Air Fryer is most suitable for large cooking basket capacity. It is one of the only air fryers in Indian market with digital touch control panel. Havells also acknowledges to be using Rapid Air technology. Thankfully so, rather than a fancy named own version of the same.
Good Features
Large capacity of 4 L for cooking food for a large family in one go.
Food separator to cook different foods simultaneously.
This one has a timer till 60 minutes.
Ability to fry, bake, roast and grill.
Fry stuff in as low as 85% lesser oil.
80-200° C temperature range which is a norm.
Havells Air Fryer Price in India

4. SToK Best Budget Air Fryer
This one here is the Best Air Fryer in India for small Budgets. You should believe the word of its thousands of happy customers. Its available for a dirt cheap amount- A Philips air fryer would cost thrice as much! A recipe book, metal grill, and food basket comes along. Basket capacity of 2.6 L is neither too small or large.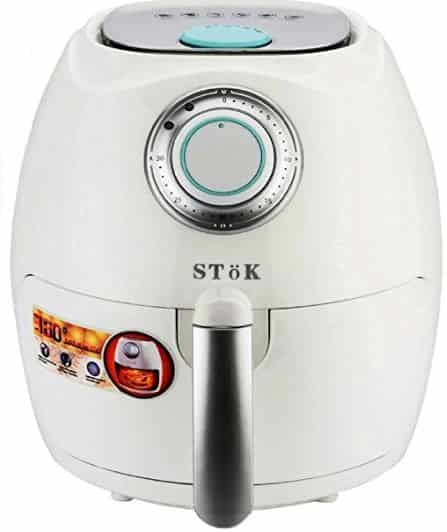 Good Features
For such a small cost, its at par with other big brand products.
The air fryer parts are dishwasher friendly.
200°C adjustable temperature and 30 minutes time knob.
Also uses Rapid Air technology.

5. Prestige PAF 6.0 1200 Watt Air Fryer
Prestige is a household name in Indian kitchens. Since decades prestige products have won the trust of Indian consumers. Prestige Air Fryer is also a great addition to your kitchen.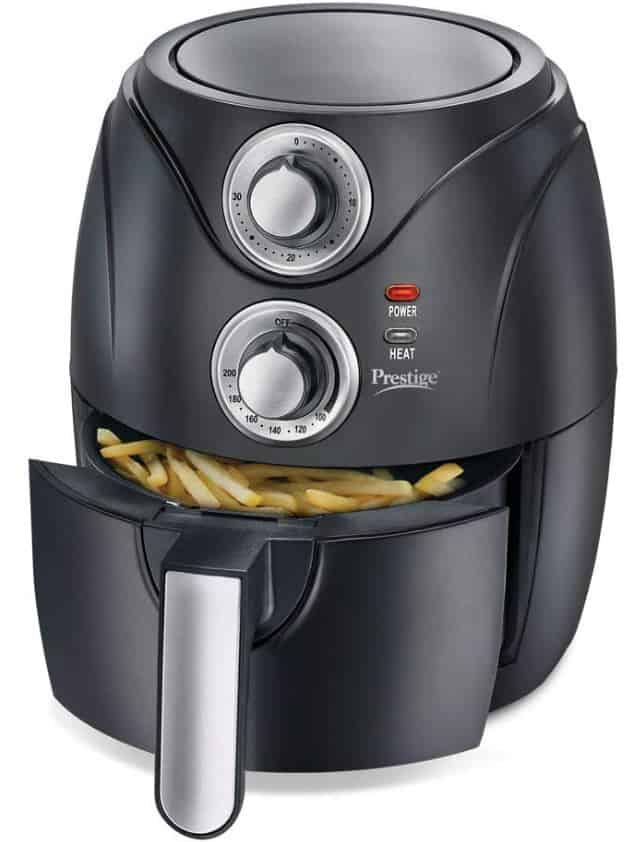 Features
Capacity of 2.0 L, hence ideal for a small family.
Temperature range from 80-200° C.
Timer of 30 minutes.
Smoke vent is provided for absorbing odors and smoke.
CONS
Too small for an average family. You may have to cook food in batches.
Not an Indian product as may seem. Its made in China.
Light weight but mainly due to cheap plastic.

Air Fryer Buying Guide
Benefits Of An Air Fryer
Traditionally fried food has oil which has seeped inside the crust to varying extent. The oil lends its taste and this cannot be denied.
Use an Air Fryer to eat a 'toned down' variant of the oily deep fried foods you love so much!
There is little that you lose on the taste front with an air fryer.
An Air fryer can make all such dishes which are deep or half fried perfectly.
The hot oil is not openly exposed. So, there is no risk of blisters caused from hot oil droplets.
You just need electricity rather than cooking gas. This makes the use portable.
Air Fryers fry food much faster (25-50% faster) and evenly.
Energy consumption can be 50% lower in 24 hours period.
Rapid Air Technology
Most branded Air Fryers you'll see would say they have Rapid Air Technology. Philips came up with this term and used this for their Air Fryer first. Heat is conducted with high intensity and evenly spread to the food from all directions.
                                How Rapid Air Technology Works 
An Air Fryer has a fan, a heating element and a food basket. The heat radiates from the heating element just above the food. The fan creates a powerful convection current. This heat current moves up through the food basket and pulled up by the fan. So, you see here that your food is being heated from both sides. On one side from the heating element and from the upward rising heated air on the other. In a way a circular pattern of heating is established. A specially designed star shaped cavity at the bottom of the food chamber evenly spreads the heat.
                               How Come Oil Is Not Needed In An Air Fryer?
The Rapid Air Technology discussed above is the reason for this. What does oil do in a deep fryer? Oil needs to be super heated for deep frying. In an Air Fryer, air takes over the work done by oil. To deliver the same or more amount of heat to the food, the air intensity has to be great. The infrared radiation from the heating element heats up the air to this extent. The fan does the rest to impart intensity in the air flow. The temperature inside the food chamber can get as high as 230°C.
                               Effect On Cooking & Fat In Food
You can bake, fry, grill and roast food with an Air Fryer. With very little oil (a teaspoon suffices), you can enjoy the same food which otherwise is deep fried. This way you cut out on those calories and fat. Any extra oil or fat drips down and gets collected.
Depending on the model and its features, an air fryer can cook many things. French Fries is something especially noteworthy. The crust comes out crispy and it gets prepared in lesser time. French Fries, Burgers and Rolls. Chicken wings, Tandoori, Bacon, Fish, Steak, Sausage and Chicken breast can also be prepared. Apart from this, cakes and muffins can be prepared too.
How To Use An Air Fryer
An Air fryer can be used in more ways than one. What makes air fryers so versatile is that amateurs can also use it well. Shaking the cooking basket at times, ensures even spreading of oil. Mostly you would be required to do this manually. Lately, some air fryers have an in-built shaker that does the job for you.
Grill
Grilling your food item is easy with an air fryer. The good thing is that you need not worry about turning the thing over lest it should get burnt.
Put the ingredients on the grill pan.
Place the pan inside the air fryer through the handle.
Set the timer according to the recipe.
Shake the pan a little around the half-way mark of the timer.
Your food when prepared is evenly grilled with no excess fat or oil.
Zero Oil Frying
Air Fryers are marketed telling you that no oil is necessary for it. Well, it is partially true. You still use oil but as low as 80% you'd normally use in deep frying. There is no harm in using a little olive oil or canola oil. But, the way to do it is different. You have to layer the oil on the ingredients beforehand. There is no provision or place to put the oil inside the air fryer.
Roast
An air fryer can prepare perfectly roasted recipes and that too faster than an oven. The excess oil if any gets collected in the dripping tray.
Never use scrubbers or scratch the pans or food basket while cleaning. Always use soft sponges to prolong the life of the coating. Non stick coatings can peel or start flaking if not handled properly.
Times and Temperatures For Some Common Recipes
Fryums– 3-4 mins, shake after 2 mins at 160° Celsius
Fish– 2 fishes at a time, 4 mins each side at 190° Celsius
Chicken– 4-5 medium pieces, 8-9 mins each side at 190° Celsius
Potato samosa– 4-5 samosas, 4 mins each side at 200° Celsius
Spring rolls– 4-5 rolls, 4 mins each side at 180-190° Celsius
Conclusion – Best Air Fryer in India
Technology is changing lives. You just saw how air fryers are helping us in healthy cooking. The best part is that they are not very costly either. Some people who do not eat much fried food may not see any benefit in buying it. But, is not the excess oil the only reason why they avoid fried food? After all some of the most lip smacking recipes are prepared in oil. With hardly any oil usage air fryers give you the best of both worlds. Health and taste going hand in hand is a rare proposition. The various tips and models listed in this Best Air Fryer in India post should definitely be an eye-opener for many.