Since the beginning of 2016, air fryers have made a splash in the market. Doctors have been asking people to eat healthily and avoid oil for ages. Obesity and health risks are direct causes of fatty foods. But no one really took notice until the air fryer came around. With the invention of the air fryer, people can now enjoy deep-fried food with 70% less oil. After all, can you really blame us? Some of us were waiting for something like this to be invented all along so that we can start enjoying "healthy" snacks again. Since 1891, Philips' innovation and design has been a benchmark. Some of the Best Philips Air Fryer in India use up to 90% less oil than regular frying ovens. You may also be in knowing the Best Air Fryers in India
An air fryer uses convection currents of hot air and minimal oil (a tablespoon or less) to evenly heat your food. The rapid air technology, pioneered by all the best Philips air fryers in India keep the items crispy on the outside and soft on the inside. Rapid Air Technology was developed and improved upon by Philips in all their subsequent models.
BEST PHILIPS AIR FRYER IN INDIA
In 2010, Philips introduced the first-ever air fryer in the market. A revolutionary item in the cooking industry. By 2019, air fryers had seen a surge in sales, especially in the Western market. There is no reason why India should remain behind in our quest to eat healthy food. We cannot give up our fried delicacies but surely we can make them healthier!
Philips is a well-known brand with well-supported customer service centres. Their appliances are top-notch and their products are full of positive reviews from happy customers. Air Fryers are a domain dominated by them. Due to their special position, Philips has come out with various air fryers in a variety of price ranges.
Currently, Amazon sells two Philips Air Fryers. Flipkart has a lot more variety. So here's a look and comparison of the models.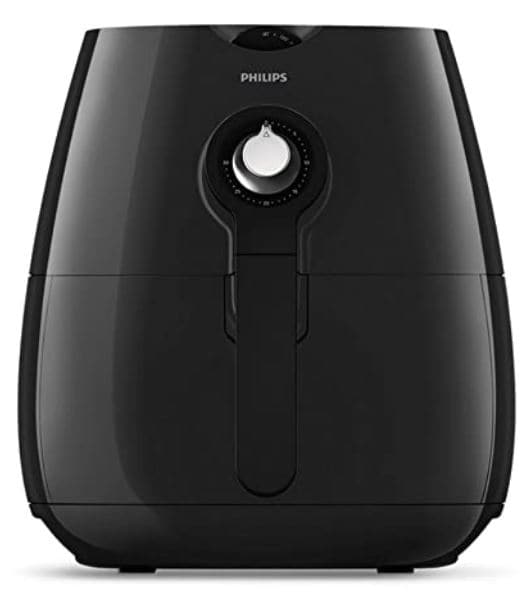 The newest model introduced in June 2020, the HD9216/43 is an improvement of the earlier HD9216 model. This makes it a great model as Philips HD9216 itself was very popular. Its predecessor comes in a pure, glossy white finish while this one is all black. The plastic build ensures that the outer wall remains cool while handling. The cord length of this model is 1.8 m which may or may not be sufficient for your kitchen setting. Both these models can replicate the "deep-fried" feeling as testified by several customer reviews. Unless you receive a faulty product, this is a great investment for the long run.
The Philips HD9216/43 1425W Air Fryer has a rotary knob for time and temperature control. It might take a while to understand the time requirements of various products, but once you have mastered it – there's no stopping! The capacity of this fryer is 800 grams or 1.2 L for a single batch which is enough for a family of 3 to 4 persons. It might not be enough for a full meal, but certainly enough for side dishes. The re-heat option means you can quickly reheat any food for sudden guests. It will preserve the crispy texture again. The model runs on 1425 Watt of power.
CHECK PRICE


DIMENSIONS (H * W * D) -> 35 * 31 * 28 cm
GOOD FEATURES
LIGHT WEIGHT – It weighs just 5 Kgs.
MULTI-PURPOSE USAGE – You can use it to heat, grill, bake or roast.
COOL TO TOUCH HANDLE – Glossy, plastic finish with cooling handle.
ANALOG TEMPERATURE CONTROL – Rotary knob for temperature control from 80 to 200 degrees.
TIMER – The timer can be set up to 30 minutes.
RE-HEATING – You can reheat food or pre-heat before baking.
The odour filter makes sure to remove any fumes or unpleasant scent. An exhaust located at the back works to expel hot air from the system so it should be located appropriately within the kitchen. The hot air should be allowed to escape easily.
Both of these are good options and come within a close size and price range. Depending on the features, one can look for the model that suits them most.
This is undoubtedly the best Philips Air Fryer in India. Developed to use 90% less oil than a conventional frying pan, the model has multipurpose features. It can not only fry, but also bake, grill and roast. Weighing just 5.8 kgs, this model has a cooking capacity of 800 grams at once. This is enough to feed a family of 3-4 people in a single batch. However, air fryers aren't suited for cooking in huge quantities. As multiple batches will be required, it can be quite time-consuming. The pre-heat option can heat up the compartment much faster than in ovens. 1425 Watt of electric power is required to operate the fryer.
This model uses Philip's traditional Rapid Air Technology. The bottom frying plate has a unique starfish-like design that ensures proper and even cooking.  The metal coil is suitably protected to prevent any accidents, but still once must remember to follow instructions while using these items. The timer is in the form of an analogue rotary. It can be set until 30 minutes and given off audible ON and START sounds. The product has a 10 days replacement guarantee. The manufacturer has provided a two years warranty.
CHECK PRICE


GOOD FEATURES
Plastic build keeps exterior wall cool at all times.
Non-slip feet so that your fryer sits solidly on the counter.
Philips HD9218 comes with a 1.8 meter cord which is ample for maneuvering in the kitchen.
Multipurpose usage – use it to heat, grill, bake or roast.
Rotary for temperature control from 80 to 200 degrees.
The model comes with a free recipe book to try ideas from!
This model is available in both black and white colors, however, only the black shade product is available on Amazon.
Why Should You Use An Air Fryer?
SAFE – We know deep-frying makes a mess. You need a large frying pan, HUGE quantities of oil, and a large window or a top-class chimney. The oil in the pain can fume, spill or splash. Deep-frying food in oil can also cause dangerous compounds to form. Acrylamide is a compound formed due to deep-frying and is linked to ovarian and kidney cancer. Philips Air Fryers are very efficient when it comes to using oil and use the least amount than any air fryer.

COOK FASTER

– Air Fryers

reduce cook time by 20%.

Since heat cannot escape the closed compartment, food gets cooked faster. All the top Philips Air Fryers use odour filters that keep strong smells and fumes out.
NO MESS! We know how hard it is to clean up after a session of deep-frying. You need to scrape off remnants from the bottom of every utensil. But with air fryers, cleaning is a quick and hassle-free process. Some air fryers even come with detachable frying baskets.
Some relatively pricey air fryers can also Re-heat food, Bake, Grill and even Roast food! Is there anyone who would not want such an all-in-one package?
FREQUENTLY ASKED QUESTIONS
Being a relatively new introduction to Indian households, many questions can arise. Many wonder whether such an item can become as normal as a microwave oven or a toaster. Well, it has its advantages and disadvantages. Here are a few questions that you might have about the product.
---
Should I Prefer Air Fryer Or A Conventional Oven?
Many people ask this question- Is an air fryer the same as a small convection oven? Yes, it is but an air fryer is more capable than that. An air fryer can do a lot of things that an oven can't. It can deep-fry, bake, pre-heat and grill. It can do most of the things that a traditional oven can do in less time. However, an air fryer is small and can cook only a little food at a time. While an oven cannot deep-fry, it can still grill and roast to a much better degree, emits almost no heat and can be used for many other purposes. As such, one can heat a glass of water or milk before going to sleep at night. This sort of functionality is not provided by the air fryer. Both have their advantages and disadvantages and one cannot replace the other.
However, an air fryer becomes a must have for you if you gorge on fried food quite regularly. In the long run, health is wealth and should be prioritized over the tickling of taste buds.
---
Should I Buy Extra Attachments For My Air Fryer?
Yes, most fryers including some of the best air fryers from Philips come with additional attachments that be bought separately. For high models, all parts are removable and dishwasher safe. However, for the models displayed in the list, the frying baskets are fixed and cannot be removed. This might make cleaning difficult hence it is advised to brush the bottom with cheese or a thin layer of oil. Less than a tablespoon can be used for this purpose. A silicone brush can do the task quite well. Both Philips models come with a non-stick Teflon coated frying pan however as you know, in real life, even these "non-stick" surfaces are not 100% so.
---
Can I Use Aluminium Foil Inside An Air Fryer?
Ovens come with strict instructions to not use foil or any sort of metal inside them. However, an air fryer is much relaxed when it comes to this. You can use aluminium foil, but with certain precautions. The foil should not be allowed to block the starfish-shaped holes at the bottom of the basket. Otherwise, it would prevent the hot air from properly entering the compartment and heat the food. The foil should not extend beyond the edge of the basket and should be properly tucked within. Anytime if you put in foil, make sure there is also food in it. Otherwise, the foil can melt and stick to the device.
---
CONCLUSION
Philips was the first company to ever bring out the concept of air fryer. For this reason its air fryer always holds a special place.
So, with this, you now probably have a better understanding of how air fryers work? This post being on listing only the Best Philips Air Fryers in India. If you are interested in knowing about air fryers even more, then a comprehensive post on the the Best Air Fryers in India awaits you. There you'll find the best models from not just Philips but from other brands.
You May Like These Similar Posts From AirSwacch!