Its not been long since Coway Air Purifiers have been launched in India. Within a small time-frame, they have managed to impress the demanding Indian consumer. Read this concise Coway Air Purifier Review with all the models in Coway's catalog. Earlier we reviewed, the newest model Coway AirMega 400 Review.
Coway Air Purifier Reviews
Excellent Customer Support
What makes the Coway Air Purifiers special? No doubt the Coway Air Purifiers are among the best in the market. The most discerning quality which sets this company apart is the exceptionally professional customer service. We have seen customers satisfied with products but furious for the cringe worthy after sales support. Rest assured- from the first time you call them, you'd surely feel the difference. If you want guidance as to which model to purchase, you can call the below number. The call representative will suggest the best air purifier suitable for your needs.
Coway Customer Care: 1800 102 6960
Watch out for discount coupons on Online sites. Make sure to apply them to avail instant discounts. It may well be a psychological ploy to make you feel good. Still, why to lose out on money saving opportunities. Hence, we thought of highlighting this point.
Over 4.8 Star Rating on Amazon
Its a rare sight to find such fantastic reviews and ratings of a device. However good an air purifier may be, consumer experience may differ drastically. It seems a vast majority buyers were 100% content with all its aspects. We do not wish to suggest that all these ratings would be genuine. Some of the ratings were fake initially for sure. But, sometimes it becomes necessary to attract people to a new product.
We have tracked the growth of ratings and their language since its launch. Some words are repeated deliberately in reviews. But, once Coway Air purifiers caught the attention of users, genuine positive reviews started appearing in huge numbers. So, no point in suspecting the quality of Coway air purifiers.
This Air Purifier combines the functionality of an air purifier and a white noise generator. Most of us don't know anything about white noise. White noise is a non-intrusive, non-disturbing and soothing noise that is produced by combining sounds of all different frequencies together. The sound mingles into the surroundings and subconsciously soothes the mind. Two timer settings are present for it. Helpful to put your little ones to sleep. Full Coway Mighty Review on Airswacch.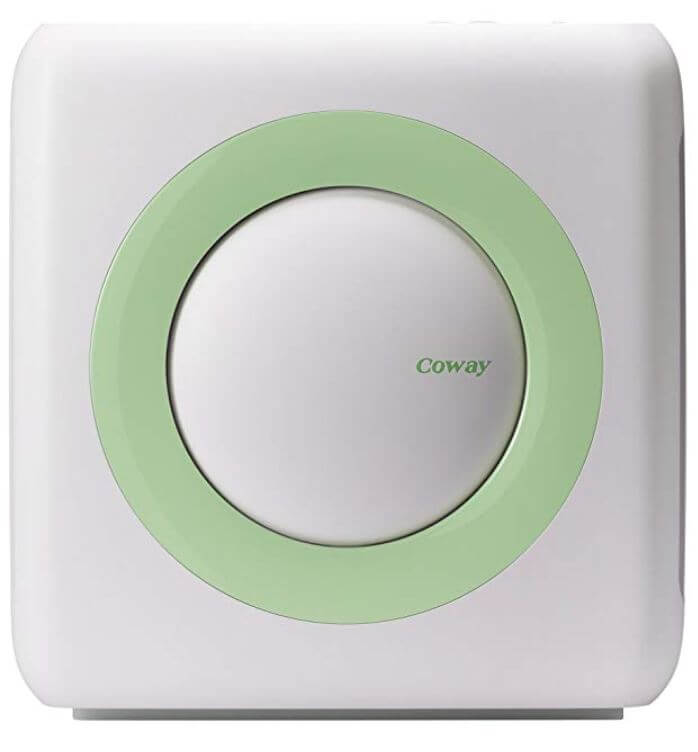 Sweet Natural Sounds
3 nature sounds and 2 lullabies can be selected. The crickets, lullabies, rain, and white noise are all sweet. The ocean sound may seem like a broken record. You may feel the sounds to be not easily audible so turn up the volume a bit. The unit takes the air in through the front and spits it out from the top. An Ionizer function should have made it a better option but its missing. Timer for 2, 4 or 6 hours is present. We hope our Coway Air Purifier Review would have helped you! If yes, then please spare a moment to share it on social media!
This room air purifier is arguably the most loved model from Coway. In our previous article we reviewed this model in depth. You can read this Coway Air Purifier Review.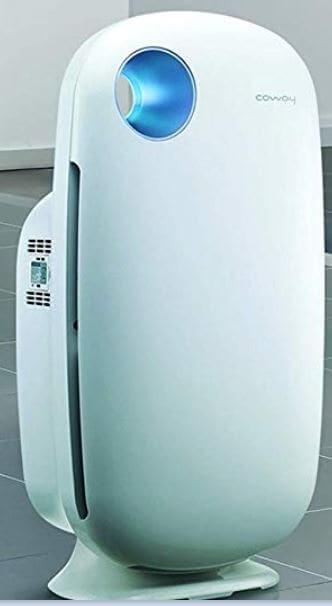 Users of air purifiers like the MI Air Purifier 3 may look down upon it at first. People really like to see real-time pollution readings. This is one feature which should have been present and we do miss it here. Still, color based feedback is present.



The design is sleek and this air purifier does not occupy much space. Users love the way it quickly purifies the room's air. Some even feel a peculiar cool smell of freshness. Naturally, when the air is free of odors or pollutants, it would feel fresh.
Coway AirMega 300 Review
Coway AirMega 300 is a bigger brother to AirMega 200. A smarter brother of the two is AirMega 300S. An improvement has been done over giving just a timer feature. Now you can even schedule a timer. The AirMega 300S can be controlled with Alexa, yet another reason why its smart.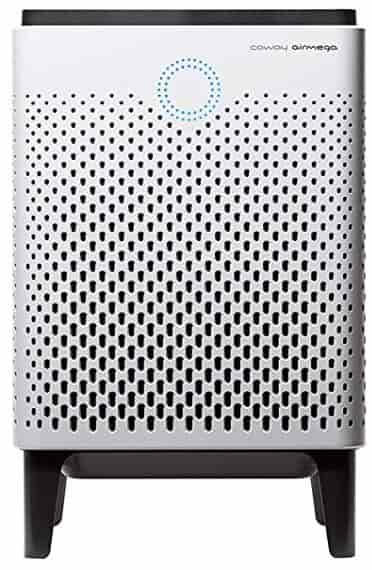 A color LED based air quality feedback apprises you of the how good or bad your room's air is. If your rooms are big then AirMega 300 is for you. It is capable of cleaning the air of a room as big as 1256 sq.ft (rare for most of us). Still, if your rooms as not as big, it can make the air cleaner faster should you use it.
Two set of filters (i.e 4 filters in total) translate into ultimate efficiency in air cleaning. You need not keep a track of the filter life as it does the job for you. Read More of the Coway AirMega 300 Review.
Coway Airmega 400S Air Purifier
Just like Airmega 300, it has a larger counterpart. It does not look any different except for the control panel. The Coway Airmega 400 has a larger coverage area and slightly greater dimensions. Airmega 400S is a smart air purifier. Hence, you see some extra buttons and LED on the console. It can be controlled and customized through an APP and is WiFi enabled. You would be glad to know that it can even be voice-controlled.
Coway AP-0509 Air Purifier
The Coway AP-0509 Air Purifier can cater to 255 sq.ft or 24 sq.m. This makes it suitable for bed rooms or small offices. This model does not have any Air Quality Indicator. All other Coway Air Purifiers have this feature. Other specifications are the same as the Coway AP-1009. You can read full Coway Sleek AP0509 Review on Airswacch. Do check whether it is still available, since sometime back it disappeared from Amazon.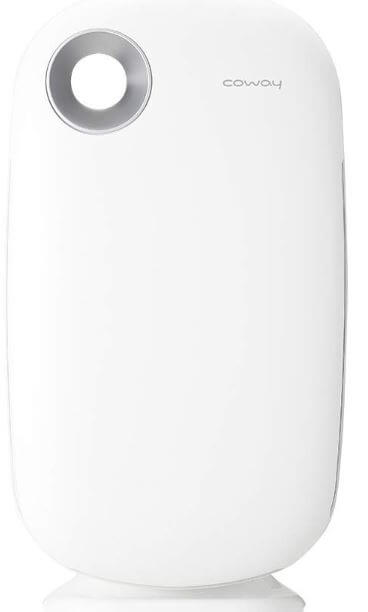 The Coway AP-1216L Tower Air Purifier has a low foot-print on floor and a tower design. A room sized 330 sq.ft can be cleaned well though this model. The air purifier circulates a lot of air mass which is a good thing. The suction is so strong that you can feel it if you stand in front of it. There is a 12 hour timer which is a unique setting.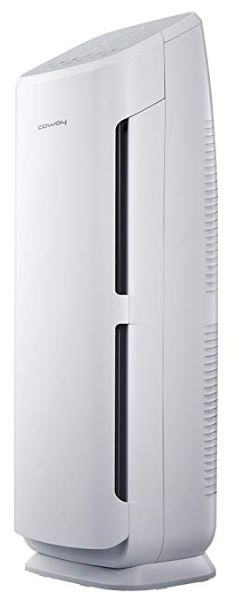 The control panel looks hi-tech and the air purifier blends well in the room. The 1216L Air Purifier sucks air through the side and blow it to the right side of the machine. The air sensor on this is on the left side of the machine. The only downside may be that the HEPA filters do not fit snugly.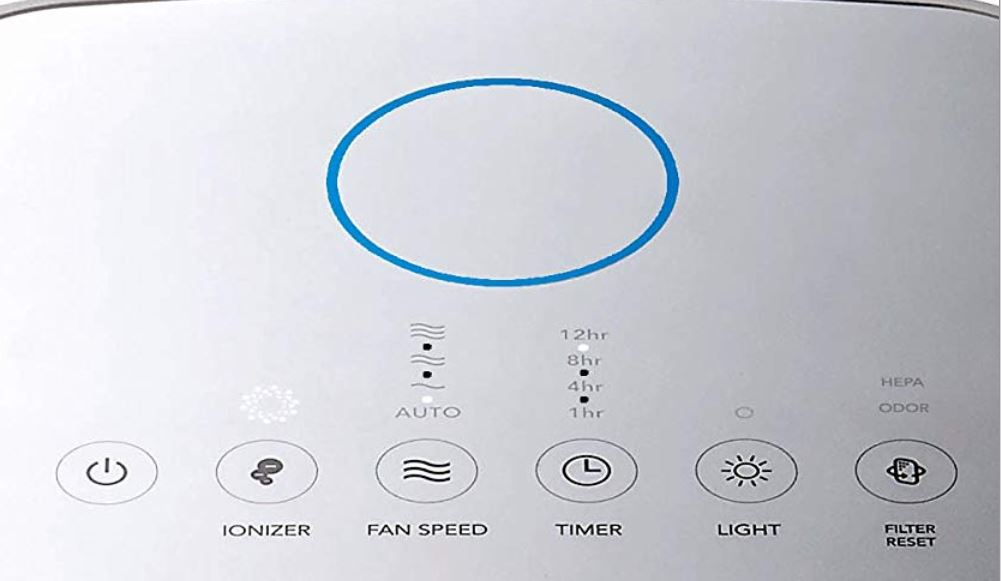 A separately operable Ionizer is a plus point. Ionizer destroys bacteria and virus. Negative Ions have an uncanny ability to uplift the mood too.
Features
4-Stage Filtration
The more the number of filter stages, the better. The Coway AP1216-L has 4 such stages of air purification.
Washable Pre-Filter: Its always good to have a pre-filter in your air purifier. Even if its not accompanied, you can make your device to wear a fine synthetic cloth. A pre-filter prevents larger dust particles from choking the inner filters. It also stops pet hair, mold, and dander.
Carbon Filter: The quintessential Activated carbon filter. It adsorbs the gaseous pollutants and odors too.
True HEPA Filter: A True HEPA filter is capable of trapping 99.97% of particles as small as 0.3 microns. It also removes very fine dust, smoke particles, pollen and other allergens.
Vital Ionizer: This stage is the last and

is individually operable

. The Vital ION Technology releases anions, which are negatively charged particles into the air. Anions are known to act as mood enhancers. Not just this they dissociate harmful particles, bacteria, and viruses and renders them impotent.
Air Changes Per Hour (ACH)
The Coway AP1216-L has an ACH of 4. This parameter reflects how many times an air purifier is capable of circulating the complete air volume through itself. Naturally, the more the ACH, the more quickly the air is purified. The rated room size to achieve ACH of 4 is 249 sq.ft.
Monitors The Air Quality
The Coway Air Purifier displays the ambient air quality through a color changing LED ring. The LED is visible clearly from all angles owing to the unique slanting console. Red LED (highly polluted), purple LED (medium polluted), and blue LED (clean) give you an idea. Though we would have loved to see a PM2.5 display which is a norm nowadays.


Filter Replacement Indicator
Timer
Timer can also be set for 1, 4, 8 or 12 hours.
Other Features
Silent operation at 52 decibels.
Sensitive touch panel
Compact Design
Cons
No Sleep Mode, Remote control or WiFi. Power consumption a bit high.
The Coway AP-1516 Air Purifier caters to large spaces. It is designed to cater to big rooms to the tune of 575 sq.ft area. Its design is a mix of MI Air Purifier 2 and Philips AC3256.
There's an Air Quality Color Indicator which changes color in accordance with the pollution level. Although we expected a digital real-time pollution display at this cost.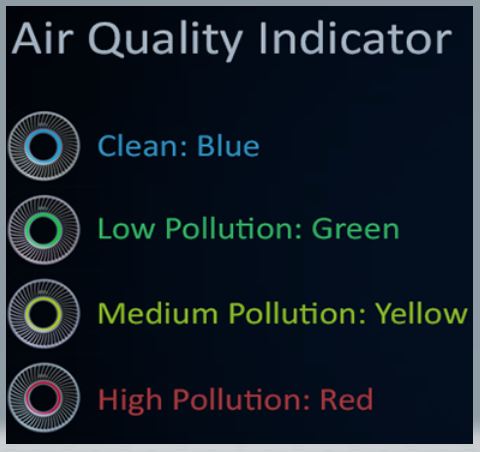 Unique 4 Stage Filtration Process- Pre Filter, Fine Dust Filter, Activated Carbon Filter, HEPA Filter.
A High CADR – 492 cubic m/hr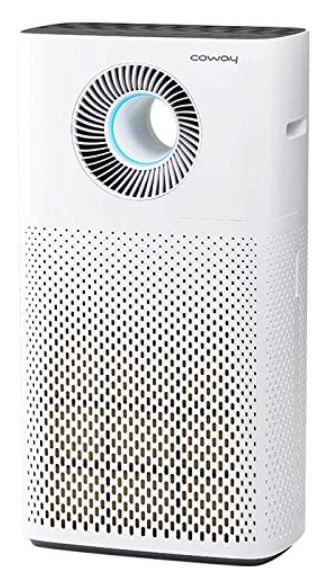 We liked the unique mode in this Air Purifier- Air Flow Technique. It can be set to long or wide modes. We really liked the air circulation it produces. It can stir up quite a storm just like its name! The more the circulation the better air cleansing is achieved. Plus lesser the time it takes to clean the entire room's air multiple times.

The Level 1 barely makes any noise. The Level 2 is somewhat audible but not that much. Level 3 makes as much noise as a kitchen fan. The Coway Storm AP-1516 reduces odor quickly. It removes lingering odor if your home fills with smells while cooking. Read its FULL Coway Storm Review on Airswacch.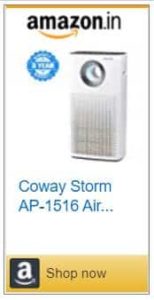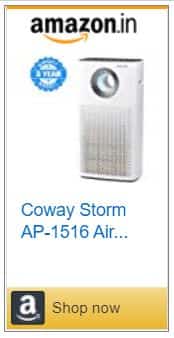 Coway AP-1012GH Air Purifier
This model from Coway is suitable for room sizes of around 256 sq.ft. Compared to the smart airmega air purifiers we have seen, this is quite an old model. This model has been prevalent in the USA since 2013. Owing to it being not too advanced its price is in the sub $250 range. Its not more than 13.77 inches wide, 8.62 inches deep and 24.72 inches in height. The looks may not be that great owing to just a single colored body.
There are 3 filters in this air purifier, the HEPA filter, the deodorization filter and a pre-filter in front of these. In terms of CADR, it cannot boast as it is low at 165 cfm. The feature to note here is the presence of an ionizer in this model. Furthermore, there are color LED based air quality indicator rings. The presence of this feature is a welcome thing whicih saves the day for this otherwise bland air purifier.
Read the full Coway AP-1012GH Review on Airswacch.
You May Like These Similar Posts From AirSwacch!