All your low humidity woes can vanish using a good humidifier. In dry and cold weather conditions, the home humidity levels need an artificial boost. If using a fireplace or coil type heaters, then the dry air problem is aggravated. A small humidifier won't suffice for a large room. You need to choose the Best Humidifier for large rooms to achieve optimum humidification. Some people keep a bucket full of water in Air conditioned rooms. That's how scrooges try to achieve humidification. But, you are not one of them right? The easiest and most efficient way is to let a humidifier manage the moisture content in your home's air. This post mentions a few of such better humidifiers, you won't repent buying.
Come lets take a look at some of the best humidifier for big rooms.
Best Humidifier For Large Rooms
I've reviewed all of Levoit air purifiers in great detail. With the details I know now about Levoit and its devices, I am mighty impressed. Even the Levoit LV600HH humidifier is sophistication objectified. With the fixation Levoit has with the white color no wonder its humidifier for large rooms also has a white body. Another habit of Levoit, which anyone who follows its devices closely would easily recognize is the console color code. Here too the console LEDs are blue against a black background.
Important now to mention is that Levoit LV600HH humidifier can cover large spaces. The exact coverage area for humidification is 753 sq.ft. Naturally large humidifiers also have bigger water tanks. It has a water tank capacity of 6L. This makes the humidifier capable of functioning for around 36 hours before a refill is required. It automatically shuts down itself when the water tank runs dry.
FUNCTIONING
You'd be delighted to learn that there's a remote control accompanying this humidifier. There's an LED display to show the various settings. You get to see the-
Relative humidity (RH) level indicator
Cool mist humidity level
Timer setting.
Warm mist humidity level
AUTO mode indicator
Low water level warning
High temperature warning
Set humidity function
There are buttons to set the mist level, humidity level, timer, or to choose warm mist. You can select from the three mist output levels. This can be done for both cold and warm mist. Then there's an option to set the timer to anywhere from 1 to 12 hours. There's a display LED that will flash three times before the time is set. The device will automatically turn off when the timer is complete.


With the Levoit LV600HH, you can choose to use warm mist or cool mist aspects of it. So, when you are using this humidifier for convalescence better use the warm mist function. Infants or some patients at home are to be looked after more. A humidifier can itself become a source of mold and bacteria if not maintained properly. In such situations, using the warm mist function assures of no pathogens in the moist vapor it gives out. In summers for general use, the cool mist option is ideal. You must note here that warm mist and cold mist it gives out are both are room temperature. Putting a hand to feel the temperature of the mist, you can't differentiate whether its cold or warm mist coming out.
MORE INFORMATION
Another great feature Levoit LV600HH has is the Auto mode. Auto mode automatically adjusts the mist output to the optimum levels. This is besides the manual way to do it. You can select the exact relative humidity percentage to be maintained in the room. Its Auto shutdown when tank dry is a good safety mechanism.
If you like taking aroma therapy then there's scope for it too. A separate aroma box lets you keep an aroma pad into it. For a distraction free sleep, you can turn off the LED display too from the remote. Also, the humidifier is nearly silent in its operation especially while working in cool-mist mode. All this and the reviews it has garnered make it a top humidifier for large rooms.
SPECIFICATIONS
Rated Power : 280W
Effective Range : 285.3 ft² (24 m²)
Water Tank Capacity: 1.5 gal. (6 L)
Max Cool Mist Capacity: 300 mL/h
Max Warm Mist Capacity: 500 mL/h
Bottom Filled
PROS
Choice of cool or warm mist is a plus.
Low noise levels
Auto humidity control
Auto shut-off when tank runs dry.
Has a remote control for ease of use. An LED display gives digital readings of settings.
CONS
Little difficult to clean.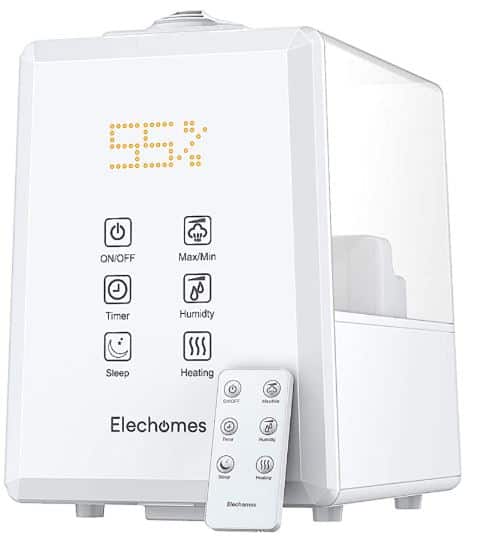 So similar to the previous Levoit humidifier and yet has option for two contrasting looks. This one can have an all white or black body and a transparent water tank. All the features the Levoit one has, you find then here as well. In a way it seems to a carbon copy of the Levoit LV600HH literally. From its coverage area of 750 sq.ft to its 6 L tank which enables it to last for 40 hours. Oh yes, Elechomes UC5501 humidifier for big rooms has a remote control too. Isn't it eerily similar and slightly better than Levoit? Elechomes humidifier is marginally heavier and larger in dimension, just minutely.
One thing I missed mentioning is the presence of a rotatable nozzle. It lets you focus the mist direction as per your needs. The Levoit LV600HH has a nozzle too. The humidifier makes just 34 dB when it is put in Sleep mode.


Keeping the indoor humidity levels between 40 – 60% is the ideal scenario. Achieving this keeps so many respiratory and skin problems at bay. Most importantly, you sleep and feel better the next day.
SPECIFICATIONS
Effective Range : 430 – 750 ft²
Water Tank Capacity: 1.5 gal. (6 L)
Max Cool Mist Capacity: 300 mL/h
Max Warm Mist Capacity: 550 mL/h
Bottom Filled
PROS
A better option for kids.
High coverage especially in warm mist mode.
It can be used as both a humidifier and an oil diffuser.
Auto shut-off when tank runs dry.
A remote control and an LED display
CONS
It does not have any filter. So, do not use hard water in it.
Here comes another black body humidifier with a filter. The USP for this humidifier is its low power consumption. Another pat on the back for the display which even gives the room temperature in °Celsius. Apart from this you get to see the water level, humidity levels also. Filling water in the tank is easy in this model. There is a large opening to fill the water through once you remove the lid. In Sleep mode, its display LEDs except the Sleep mode one turn off. The humidifier is very quiet when running in this mode.
FEATURES
You can set the percentage of humidity you want the humidifier to maintain.
TBI PRO humidifier has a coverage area of

750 sq.ft

.
A large water tank of 6L which the company says lasts for 2 days. The Auto shutoff feature is present too.
It has a custom mist level settings of low, medium and high.
TBI PRO humidifier comes with a remote control.
Its weight is just

3.94 pounds

.
A 360° nozzle can be turned around to spew more moisture in a particular direction.
Only makes around

30 dB noise

in Sleep mode.


PROS
Sleek design and quiet operation.
Has a medical stone filter to filter water of any impurities.
Top filling water tank makes it easier to refill than the bottom filled type humidifiers.
Does not leak from the tank.
A remote control and an LED display are present.
CONS
The display is rather small. So whatever LEDs indicators are there on it, may not be clearly visible from a distance.
No option for warm mist.
Cannot be used for aroma therapy or essential oil diffusion.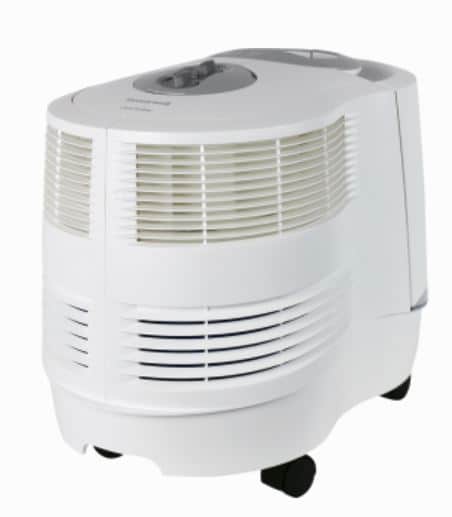 Now, here comes an evaporative humidifier which can cover an enormous 1900 sq.ft area. This is not a cool mist or warm mist humidifier. Here you have moving fan and a water tank of 3 gallons (1.5 gallons * 2 tanks) capacity. Here, the way to adjust the mist output is to increase or decrease the fan speed. At low setting, this humidifier is capable of 24 hours non-stop action. It pushes out the moisturized air horizontally.
The wicking filter is an important component of how evaporative humidifier work. The dry indoor air is passed through the filter which is immersed in water. By capillary action, the filter is always soaked throughout its length. The dry air obtains moisture from this wet filter when it makes its way out from the filter. There are 'Humidity Reached' and 'Tank Empty' indicator lights. This device cannot be described as attractive. If you are looking for a decent (not the best humidifier for large rooms), this one really humidifies a large area.


Here in this model, you'll need to replace the wicking filter, Model HC-14 (Filter E). After visual and sometimes tangible inspection of the wicking filter, you can come to know when it needs replacement. The wicking filter removes impurities from the water before it is evaporated into the air as moisture (not mist). Also, it helps offset the white dust problem which is so common in areas of high calcium in water.
Power Consumption
High Fan: 61 Watts
Medium Fan: 51 Watts
Low Fan: 44 Watts.
PROS
Large coverage area of 1900 sq.ft makes it a whole house humidifier.
Easy to clean as the dual tanks are separable.
CONS
Quite heavy at

20 pounds

. Although caster wheels are provided still its movement is difficult when tanks are full.
Humidification is not very uniform. The regions closer to the humidifier and farthest do not have the same humidity levels.
Getting new Filters and landing with the correct size ones may be a challenge.
Despite being so heavy, 24 hours time is not much. It in a way needs daily filling, which may not be likable to many.
Many seem noisy on high fan speed. The tanks may also vibrate more and some users have to keep some heavy objects over it.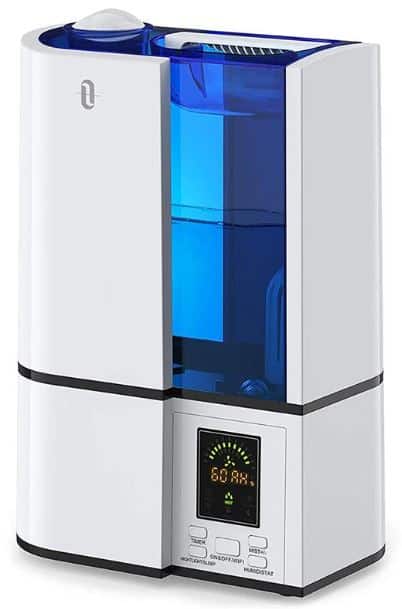 Taotronics TT-AH019 humidifier is not very costly still it has a WiFi module. This makes it controllable through Alexa and Google Home. I am mentioning this humidifier for the only reason that it is great for its cost. However, this model does not cater to very large rooms (107-322 ft²) like the models discussed above. Its tank measures 4L in capacity. The duration for which this tank-full of water lasts is impressive at 30 hours.  Taotronics humidifier is equipped with a night light and when not needed you can turn the sleep mode ON.


This humidifier is not meant to be used for essential oils. Please make sure to clean the humidifier regularly with a 1:4 vinegar solution.
PROS
All the intelligence you get from costlier humidifiers at a much lower price. The

SunHome App

lets you operate the humidifier through your smartphone. Now you can use your mobile as a remote control.
 Easy to set this humidifier to a desired humidity level and it will adjust to it automatically.
Complete with a timer, sleep mode, Mist output control and a

360 degree nozzle

.
This humidifier earns brownie points for being

very quiet

.
Top filling water tank even has a handle to lift it up.
You can set the

timer for 1 – 24 hour

intervals.
CONS
You May Like These Similar Posts From AirSwacch!