In this post we would specifically list out the Best Pollution Masks Bikers can wear in India. We compiled the list of Best Pollution Masks in India in an earlier post. Please read it once and make the right buying choice. See how we have reviewed the masks and their features like no other blog can come close to. Last post was on Best Honeywell Car Air Purifier in India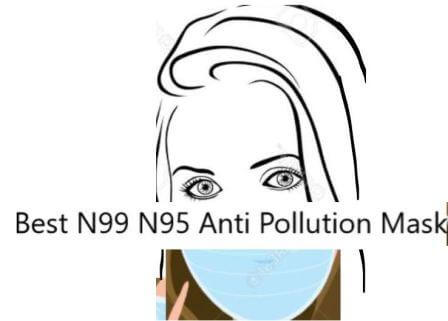 Best Pollution Mask For Delhi Bikers
Key Points To Look For in An Anti Pollution Mask For Delhi
The following are the Best Anti Pollution Masks Bikers in India must own. The following points must be your key considerations when buying one such mask-
Prefer N99 or N95 Masks over non-standard masks to get maximum protection against Dust and air-borne particulates. A green surgical mask is not meant for it.
The material of the pollution mask- It should be soothing to the skin and made up of soft material like cotton for wear-ability on long rides.
The Mask material should not trap moisture. In other words, there should be provision of vents to prevent moisture buildup.
The Ear loops should be strong enough not to easily come apart but convenient enough not to hurt your ears or cause discomfort.
Look for washable pollution masks which can be reused multiple times. This would make them economical and you Eco-conscious!
The air pollution mask must dissipate heat well.
Pollution masks must come with an accompanying container or packaging for hygienic storage.
The Beatclouds anti pollution mask is the best pollution mask for bikers. It is made of cotton and is comfortable to wear for extended hours. The table below summarizes its features. It is arguably the Best Pollution Mask Bikers would love to use.
| | |
| --- | --- |
| Feature | Value |
| Washable | No |
| N99 or N95 | N95 |
| Soft or Not | Soft |
| Filters Replaceable | Yes |
| Activated Carbon | Yes |
| Suitable For Long Hours | Yes |
| Certified | Yes  Chinese GB 2626-2006 |
| Adjustable Ear Loops | Yes |
| Adjustable Nose Clip | Yes |
| Carrying Pouch | No |
This respirator may look awkward on your face but provides excellent protection. Don't let your fear of being laughed or looked at with strange expressions keep you from buying it. It removes gases, vapors and particulates. You have to purchase the cartridges separately. Buy two 3M 6003 Organic Vapor Gas Cartridges for it. Its light weight and can be washed after removing the cartridges. It can be worn by bikers for long hours. People involved in varied industrial works where there is exposure to pollutants.

Honeywell PM2.5 anti pollution mask is light weight and ideal for bikers. This is a N95 mask. Valve is included which prevents moisture buildup. Moisture causes the mask to be slippery and causes fog on glasses. Valves also release heat and provide you comfort for longer duration. 3M masks come with  soft cotton ear bands, premium nose pad for better seal and comfort and soft adjustable nose clips.
Cambridge masks are originally from UK and technology developed by its military. The quality is definitely top class. Atlanta Healthcare had collaborated with cambridge but their price is exorbitant for a mask. Dettol being a bigger player has kept the price low.
The Dettol Cambridge anti pollution masks come with zip lock packs for storage. These masks remove odours, PM2.5, PM0.3 and even pollen, smoke and pathogens such as viruses and bacteria. Ideal for cyclists, these can be used by motorists also.
Model Number- E-D7002-BU10-IND
The Honeywell Pollution Mask is one of the Best Pollution Mask for Bikers.
This product from Honeywell does not have a valve and is cheaper. Absence of a valve does not impact its ability to protect you from pollutants. Absence of valve can cause fog on the glasses of specs wearers. The only downside is that exhaling may be little difficult for first time users. Cotton Ear band is comfortable to wear and enables prolonged use. For big faced people size may be tight. Bikers and motorcyclists can comfortably use it.

This anti pollution mask is also meant for bikers in Delhi or polluted regions. The material is essentially cotton. Front side is a mesh to enable easy breathing and heat dissipation.

Not an anti pollution mask per se, yet effective in keeping you protected from dust. The fabric is breathable and can be worn in summers. Such face masks are widely used by bikers. It finds multi-purpose use for running, trekking, mountain climbing, snowboarding, paintball, hunting, tactical training, cycling and other outdoor activities. Le Gear face mask are made from stretchable material for ultimate comfort.