You'll know about the Best N95 masks in India and also the price of best N99 masks etc. Keeping a couple anti pollution dust masks or respirators is crucial these days. Its an unwanted expense to need to buy pollution masks. On some days its the suffocating pollution levels due to dust, smog or vehicular fumes and now this Coronavirus pandemic. We all know how face masks protect us to become so essential. Its prudent to wear N95 masks or even plain cotton masks for saving self and sometimes others. A top pollution mask prevents spikes in pollution to impact you directly. Whether its the dust storms or broken roads or the poisonous fumes from nasty traffic jams, sources are pollution are so many. A N95 mask price is nothing in front of one's health and well-being. We have compiled a list of the Best Pollution Mask in India
There's would hardly be any human who wouldn't have to wear a face mask in the last half a year! Masks are made from specialized materials which trap airborne pollutants. Special fabric technology gives the mask material the ability to arrest pollutants. N95 and N99 masks are popular ratings of masks certified by NIOSH. N95 masks give a slightly lesser protection from particulate matter than N99 masks. Surgical Masks can be considered for limited (max 60%) protection against dust.
BEST N95 And N99 POLLUTION MASKS
Which One To Buy – Are N99 Pollution Masks Better N95?
This is a pertinent question every other person has. You are greeted with a choice to buy either N95 masks or N99 masks mostly. The answer is quick and easy to explain. N99 masks provide a maximum 4% extra protection as compared to N95 masks. Note the word 'maximum' here. An N95 mask does not just stop 95% of all particulates. 95% is the minimum assured value. Most N95 masks have even more efficiency than just 95%. So, the merit of N99 masks is further diminished compared to N95 masks.
N99 masks are best pollution masks for those hellish days when the AQI breaks the charts. Remember what happened last November in northern India? But, wearer of N99 masks may face a greater breathing resistance. People who follow an active lifestyle like running, jogging or cycling may suffer due to this. Even children, pregnant women or senior citizens should make the most with best N95 masks only. Patients of asthma, heart problems or COPD should not think of going for N99 or P100 masks.
QUICKLY CHOOSE BEST MASK FOR POLLUTION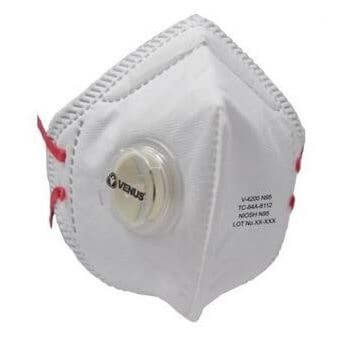 I would have liked to make 3M masks as the No. 1 masks. But, these days they are unavailable most of the times. Venus offers a wide range of PM2.5 masks. It offers N95 masks, N99 masks and FFP1 masks and a wide range of mask numbers in the package. There are masks with valves and without valves, whatever your need may be, options are available. Most importantly these masks are always in stock, unlike Honeywell masks or 3M masks.
Masks from Venus are originally NIOSH certified and even you can verify it. This is the agency which grants N95, N99 certifications to mask manufacturers. Without their approval no one can stamp or write "N95" or "N99" on their masks.
TEST FOR ORIGINAL VENUS MASKS
Chances are that the name Venus does not sound familiar to you. Most likely Venus is the only Indian mask maker which has been certified by NIOSH.
You can verify the authenticity (genuineness) of the mask using the markings printed on it.  Visit this URL. You'll see Venus masks feature in the official USA CDC (Center For Disease Control) website.

You'll notice something like TA-84A-XXXX written over your Venus masks. Just go to this American CDC website, as can be seen in the screenshot above. If you locate the mask model number there, it is a genuine N95 mask. Similarly you can check whether other mask brands you see on Amazon or other online marketplaces. I bet you won't find a trace of 99% of those brands which claim to be selling N95 masks.


---
#2 N95 MASK IN US & INDIA

→ 3M MASKS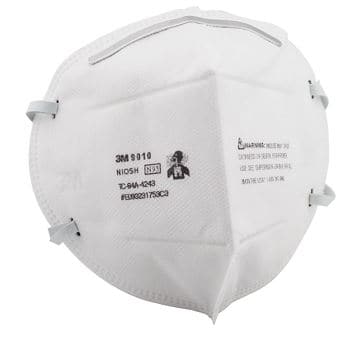 There are a whole many masks from different brands. Especially with the recent boom in demand, many fake masks are being sold. Its important to beware of counterfeit masks which otherwise give a false sense of security. When it comes to industrial supplies, 3M is a shining name. Really, 3M makes all classes of masks from N99 vs N95 vs P95 vs P100 vs N100 to FFP1, FFP2 and FFP3. We have a separate post which explains what these ratings and classes mean. But, for you its important to know that 3M masks are trustworthy.
CHECK 3M N95 MASK PRICE IN INDIA

There is an ongoing shortage of masks from well-known companies like 3M online. You may not find specific mask model which we recommend. Still, for combating the Coronavirus, even a dust mask is sufficient, so do not bother. If you can get your hands around genuine 3M mask India available online? Just buy it.
With the outbreak of Coronavirus, the demand for masks has risen exponentially.
There is a summary of features for each air mask for your convenience.
---
#1 CHOICE IN USA →

ASTRO AI REUSABLE POLLUTION MASK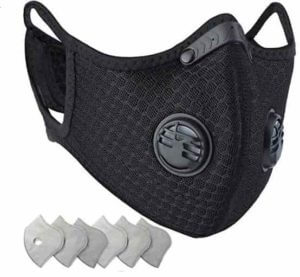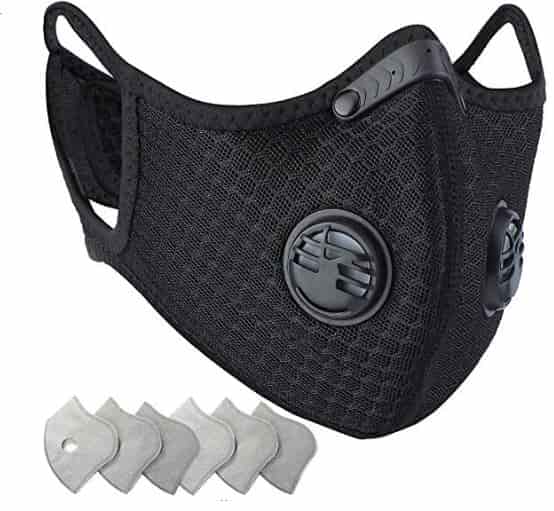 What I liked about this mask from ASTRO AI is its breathable fabric. Since its outer material is made from nylon, its very durable. You get atleast three filter replacements so that your protection is not compromised. Debrief Me N99 Masks are cool too. It is among the Best Reusable Pollution Masks With Replaceable Filters.
GOOD TO KNOW
✔ It has an activated carbon filter that removes 99% of dust, chemicals, fumes and particulates.
✔ The outer side is a nylon mesh which is strong and long lasting. This mask is ideal for wearing for long duration in warmer environments. Your skin does not become sweaty and hence no discomfort.
✔ The nose clip is adjustable and if worn correctly provides all-round seal.
✔ Hanging Ear Design keeps the mask from slipping.
✔ Adjustable hook & loop Strap get the perfect fit. Easy on, easy off
✔ There are two valves and they open slightly when you exhale. This prevents fogging on your glasses and heat buildup inside mask.
✔ The mesh which is nylon and the valves can be washed safely. Its inner filter you already know are replaceable.


---
The below countdown lists some of the best pollution masks. Now, masks can be N99 as well as N95. First we have listed the N99 ones which provide ultimate protection against pollution. Then some of the better N95 masks have been reviewed. There's nothing like a best mask for Delhi or best mask for Bengaluru. A mask made of the right material, correct fit and high NIOSH grade would work well everywhere!
Yes, for regions which are unusually hot, proper selection of mask is needed. One must be able to bear wearing the mask right!
BEST N99 MASKS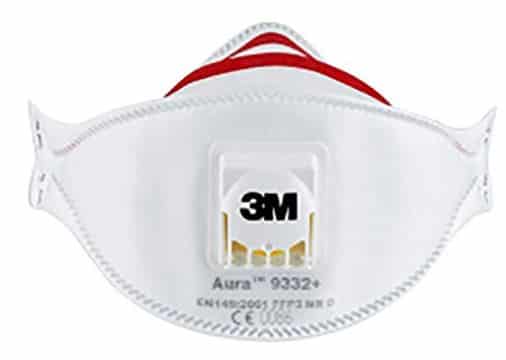 3M is an American company and offers a wide range of products, even for cars. This Aura 9332+ mask from 3M may be not so easy to wear but once on, its one of the best N99 masks out there. 3M offers a wide selection of NIOSH-approved filtering face-piece respirators too. The company uses a variety of innovative technologies and features designed to enhance user comfort and help increase wear time. Independent tests have shown 3M Aura 9332 stops 99.8% of 0.01 – 1.0 micron sized particles. This is by far the Best N99 Mask In India and we mean it. Its ear bands are slightly cumbersome to wear. That's the only reason why its fourth in the countdown.
As far as protection against PM2.5 is concerned, its the NUMBER ONE MASK IN INDIA. But, due to a great surge in demand it may not be available. A good 3M 1870+ N95 Mask must be available at this time.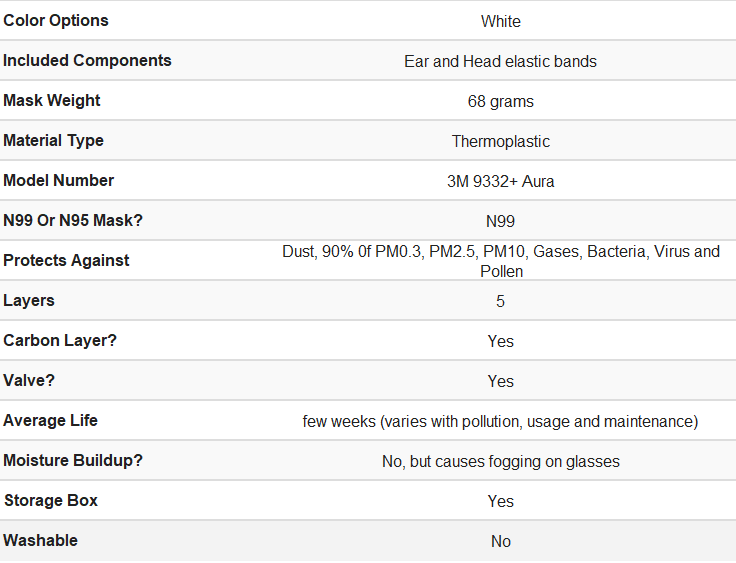 THE 3M COOL FLOW VALVE TECHNOLOGY
Most 3M disposable and reusable respirators have valves. These valves are designed to maximize breathing comfort and exhalation. Valves help releasing the user's exhaled breath quickly. The 3M™ Cool Flow™ Valve helps to reduce heat and moisture build-up inside the face piece. Additionally, the valve cover helps direct exhaled air downward and away from the face. On average, disposable respirators with a 3M™ Cool Flow™ Valve are up to 7.5 degrees cooler inside the face piece than similar models without the valve.
The level of pollution that Delhi NCR witnessed on 3rd November 2019, is unseen and unheard of. GrinHealth masks are a bit costly but then N99 masks do come at an extra cost. It is one of the Best N99 Pollution Masks. Even an AQI of 700 and above can be fought well using this mask. Clean air has become a luxury which even the rich people are finding it hard to get!
GrinHealth Masks; you would see the difference in sophistication just by the looks of it. It has a HEPA filter layer to remove the smallest of particulates. The material is extremely comfy to wear. You can wear the mask in two ways. One, the normal way to cling it to the ears. The other and the more comfy way is to tie it around your head via its braided strings.
An activated carbon layer may be present out of the 4 or 5 layers in  your mask. But, this make the mask non-reusable.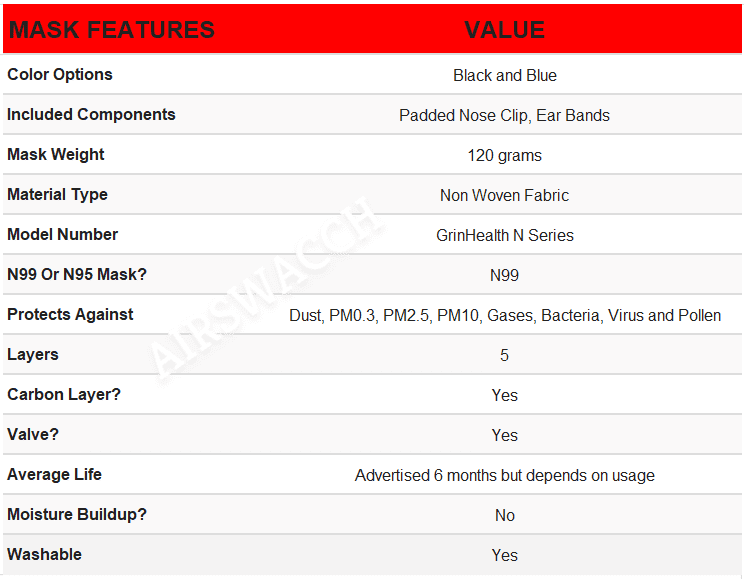 You may not find the GrinHealth N99 mask as it is often out of stock. In that case there's a great GrinHealth P95 Mask which is better than N95 masks. P95 masks are oil resistant and protect from aerosols. GrinHealth is the best reusable N95 Mask since it is washable.
WHAT ARE PM2.5 PARTICLES?
Throughout the length and breadth of this article you see 'PM2.5' written. PM2.5 is the name given to particles with size less than 2.5 microns in diameter. Sometimes PM2.5 particles are also referred to as 'fine particles'. These particles are 30 times smaller than your hair's width. Such fine particles can easily make their way into the lungs and ultimately into the blood.
Fine particles need not be of only dust, they can even be harmful chemicals. The ill-effects of PM2.5 may take some time to show signs. But, whenever they do, they manifest as cancer, lung diseases, strokes and other illnesses. Children, pregnant women and old-aged people at a higher risk. Children, because it's their growth years have to be protected the most. They have their whole life ahead of them. Senior citizens because of their age related bodily degradation face grater risks.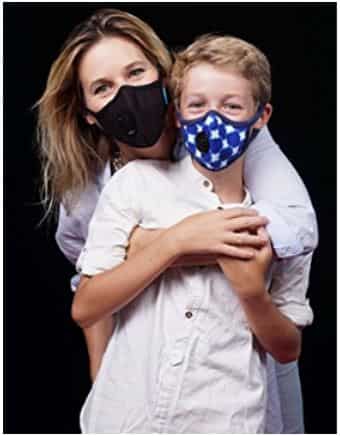 We have a detailed Review of the Cambridge Air Masks. It is a great product, though costly but definitely not inferior. Cambridge masks are military grade masks for very high deterrence against PM2.5 and even PM0.3 particles. These masks are imported so not price effective for India. Valves prevent moisture buildup and ensure easy breathing. Consider getting a mask with more valves for rigorous activities like cycling or sports.
Can Surgical Masks Protect Against Pollution?
The straight answer is No. Surgical masks, the green masks worn by doctors are of no use when it comes to anti-pollution use. These masks only shield the patient from the body fluids of the doctor/nurse. Surgical masks can provide only limited protection against dust. With their loose fit they definitely do not protection against Delhi dust storms. Surgical masks give just about 78% protection against dust which is not good enough.
N99 vs N95 Mask (Is N99 Better Than N95 ?)
An N99 Mask is always better to buy if you face severe pollution in your area. An N99 mask has a great 99% efficiency in stopping air pollutants. The material used to make N99 masks is denser. Hence, you may feel more breathing resistance with an N99 Mask.
The point to note here is that a pollution mask is useless unless it fits your face well. There should not be any any air leakages from the mask edges. Infact, to test it blow air while putting it on and observe whether it gushes out from any side. A well-fit pollution mask should blow up like a balloon.
An N95 mask as the name suggests has at least 95% success rate in stopping air-borne pollutants. Wearer of an N95 mask experiences lesser resistance to breathing than an N99 mask.
Caution
Do not think that wearing a N99 or N95 mask makes you immune to all kind of poisonous things. N99 or N95 pollution masks do not stop oil or aerosols. Aerosols are very fine droplets of chemical suspended in a liquid.
How To Know The Best Fit Size of Your Air Pollution Mask?
The most difficult part of buying an air mask is to spot the right size. An Air Mask which does not fit properly is of no use. Researches show that an ill-fit mask provides just 35% efficiency in stopping pollution. Rest 65% goes directly in your breath! There should be no gap or loose spots left which let the outside polluted air through. Half face masks cover the face from the chin to the top of the nose.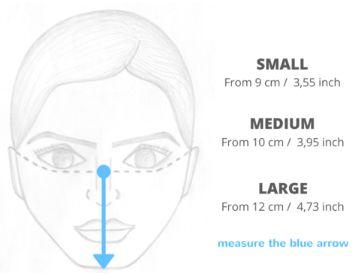 There's a Size For You Out There!
Most brands offer Small, Medium and Large size masks. Generally the body weight and age of the user are the best indicators of size. Mask size which fits you well would be comfortable to wear. Even after prolonged use your ears, nose or face should feel comfortable if you have chosen the right size.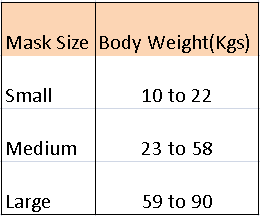 What's The Mask Fitting Test For A Perfect Fit?
Wear you mask normally.
Apply pressure on the nose clips/bridge for the mask to bend and take the shape of your nose.
Ensure that the head bands or ear bands are making a firm grip on your face. The mask should not move even when you are performing rigorous activity.
Ensure that the Silicone covering inside the Valve is in its proper place.
Blow air forcefully and in quick succession from your nose.
If the mask inflates and deflates as you exhale and inhale and you do not feel any air leaking from the sides, the mask is the correct size.
How To Wash Your Air Pollution Mask Safely?
With time, the outer and the inner layers get dirty and naturally so. To not let the mask itself be a playing ground of harmful germs, its essential to wash it periodically. Below are the steps to clean your Anti Pollution Masks:
Rinse outer and inner layer with water.
Add a drop of liquid dish washing soap. Do not use harsh disinfectants or chemicals.
Rinse again and hang to fully dry before storage.
Contaminants cannot multiply on textile without moisture.
NOTE–  Do not wash your mask which has carbon layer too often. The more you wash them, they lose their effectiveness against gaseous pollutants and odors.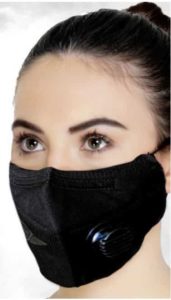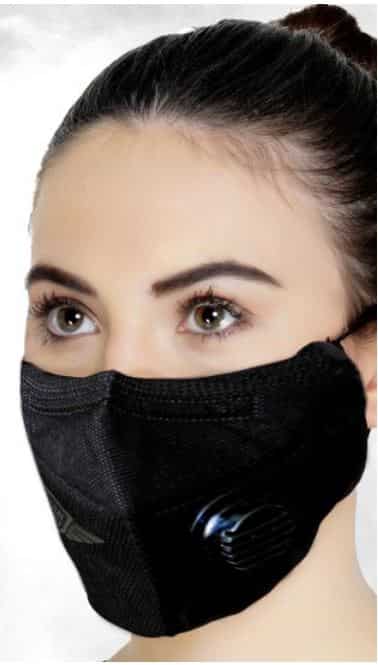 Urbangabru is a relatively new name and are good Made in India masks. Buyers of its N99 masks report mixed reviews. Either is product is good or it is bad. I think I know why there is a difference of opinion. These masks do not let you choose the size which gives a snugly fit. The mask may not fit well onto the faces of the dissatisfied users. So, suggest you to try it and if it doesn't suit you then return it. It thankfully has a 10 days return period.
FEATURES
There are 4 layers in this mask. As stated above, more the number of layers, the greater is the breathing resistance.

The material is soft to feel and comfortable.

Most users have rated it as a very good N99 mask.

A valve fitted on the mask provides seamless outflow of exhaled air providing better comfort.

The mask is easily foldable unlike some puffy masks. This lets you carry it with ease.

It is made of ultra-soft fabric that's gentle on skin and provides comfortable-fit.
The downside is that there is no size to choose from. A mask cannot be a one-size-fits-it-all thing. No clear description of the filter layers. No one knows whether there is any activated carbon layer or not. We think it won't have it otherwise it would not have been washable as advertised.
BEST N95 MASK PRICE IN INDIA

How To Know When To Replace The Mask?
As you use your mask regularly, despite regular washing, the filtering media in the air mask gets saturated with pollutants. This reduces the breath-ability of the air mask. When it starts to feel that you have to put in extra effort for every breath, its time to change the mask. Don't tolerate the inhalation resistance, as it means that your mask has lost its purification capacity.
Is It Normal To Experience Breathing Resistance With Mask ?
The answer is Yes! Its obvious that nothing can feel more relaxing than breathing from your nostrils unobstructed. All high efficiency anti pollution masks present this resistance. The feeling soon vanishes once you get used to wearing it or stop noticing. NIOSH has a set criteria for measuring this air resistance. If you are using a genuine N99/N95 mask, it should be good to go!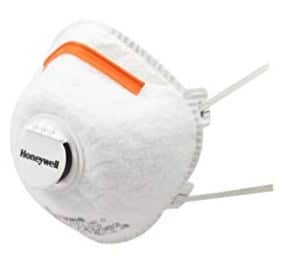 Honeywell which has impressed one and all with its range of air purifiers, also produces air masks. Like its air purifiers, the air masks too are good quality products. There are 6 varieties available from Honeywell with 3 each with/without valve. The above pic is of H801V, the only Honeywell N95 mask with valve. anti pollution masks are  economical to buy. Others are KN95 grade which is the Chinese equivalent of N95 but somewhat inferior.
The good thing is that they offer separate smaller masks for kids. This one is a good PM2.5 Mask for kids.
The Honeywell H801V N95 mask is cup shaped which is another USP. Why we say this is because it forms a good face-fit by default. The head band is without staples hence its comfortable to wear and does not pinch. As you can make out, an exhalation valve is provided. A valve facilitates that the exhaled CO2 laden air is let out. Plus the vapor and moisture in the exhaled air gets a passage.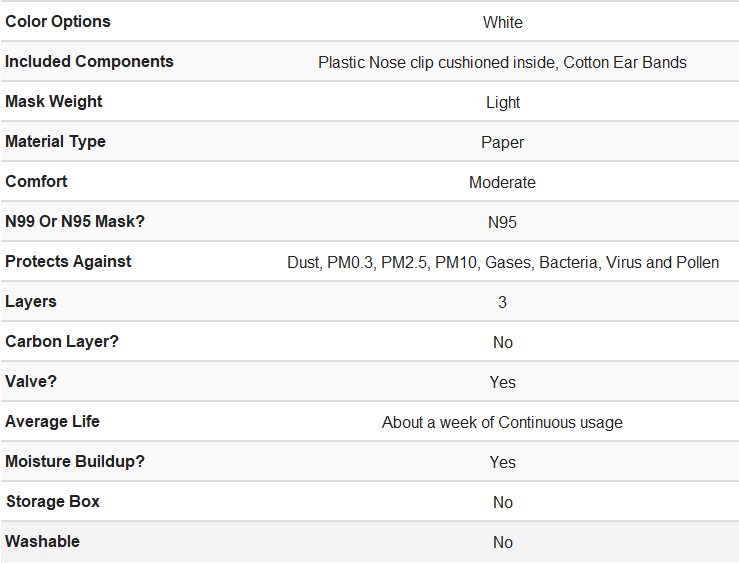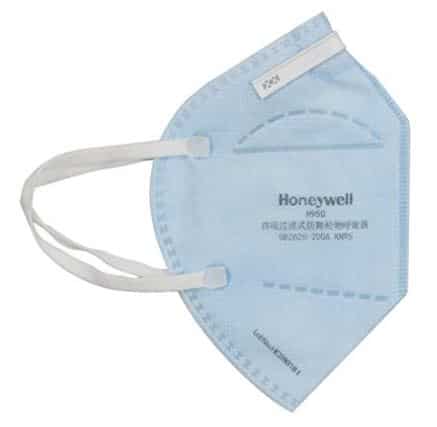 Here's a bestselling KN95 mask we talked of above. The best thing about this mask is that it is foldable. You can carry it in your pocket without any awkward bulges. This mask is KN95 which is a Chinese certification equivalent of N95. KN95 masks have a 95% efficiency to filter non-oily particles as small as 0.075 microns.
FEATURES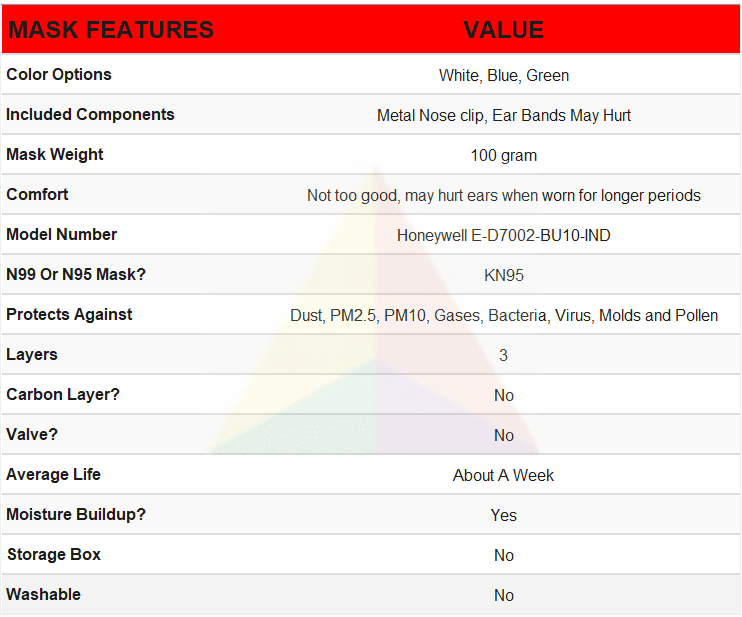 The Micro Fan is an externally placed fan which improves breath-ability and cooling. It helps remove the CO2 from the exhaled breath and can be charged 300 times.
BEST 3M N95 MASK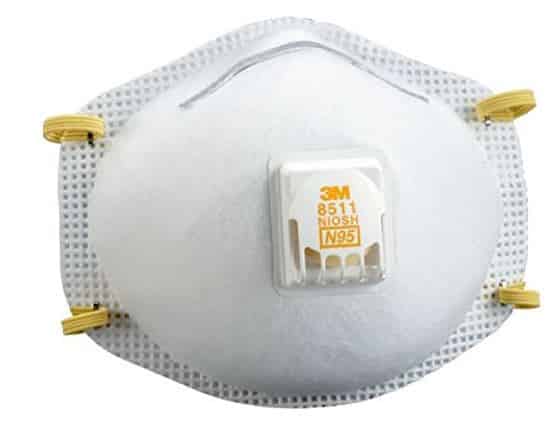 The 3M Blazon N95 mask provides 95% efficiency against non-oil based particles. The exhalation valve helps in heat dissipation. This is a disposable mask. This respirator is also suitable for protection against micro-organisms. It stops mold, bacteria causing anthrax and tuberculosis. Its braided ear loops provide a slip-proof fit. This mask is proper for wearing long hours in hot and humid conditions. Its shelf life is 5 years. This mask can be used in agricultural, building constructions, food processing, Mining, and transportation industries.
| | |
| --- | --- |
| Color Options | White |
| Included Components | Mounted on Ear and Head by Elastic bands,M-Noseclip |
| Item Weight | 68 grams |
| Material Type | Paper |
| Model Number | 3M Blazon BDM-8511 |
| N95 ? | Yes |
| N99 ? | No |
| Valve | Yes |
| Washable | No |
| Changeable Filter (Refill) | No |
| Storage Box | Yes |
| Comfort | Not very comfortable |
8. 3M N95 Mask 9004V Best Particulate Respirator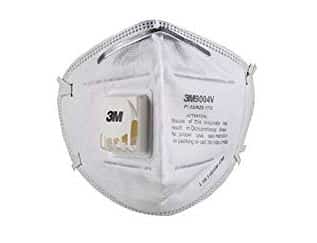 3M offers a large variety of pollution masks and this is one of the bestsellers. Easy on the pocket, you can give its masks a shot. 3M N95 masks are among the Top masks for pollution. The 3M 9004V is a disposable mask It provides good protection against dust and PM10. It is effective for medium pollution levels.
FEATURES
| | |
| --- | --- |
| Color Options | White |
| Included Components | Flexible Aluminium Nose clip, 2 bands |
| Item Weight | 118.0  grams |
| Material Type | Non woven fabric |
| Model Number | 3M 9004V |
| N95 ? | No |
| N99 ? | No |
| Protects Against | Dust, PM10 |
| Layers | 3 |
| Carbon Filter | No |
| Valve | Yes |
| Average Life | 30 hours approx |
| Moisture Buildup | No |
| Washable | No |
| Travel Bag | No (Disposable) |
9. PUREME POLLUTION MASK WITH ACTIVATED CARBON FILTER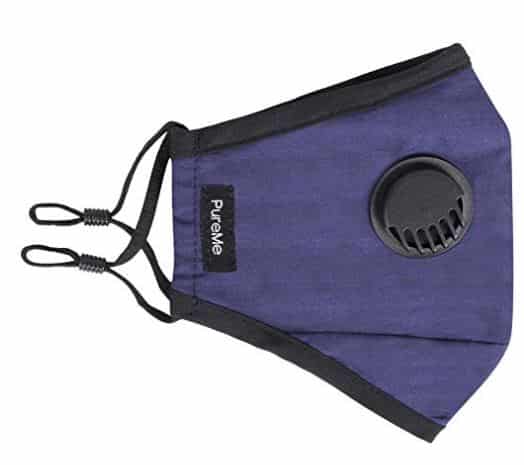 PureMe N95 Anti Pollution Mask is a relatively new entrant in this list. Its affordable and most users find it good. Other complain of difficulty in breathing and air leakages. You may give this one a shot too. This is a washable anti pollution mask. There are total 5 layers of fabric. However, some users complain of difficulty in breathing.

Bikers in Delhi find this mask especially comfortable. Know the BEST MASK FOR BIKERS IN INDIA
Vogmask masks were introduced in USA way back in 2011. Not only do the masks not look weird but provide great protection against pollutants as small as 0.3 micron or PM0.3 size. Vogmask brings an array of designer masks with a wide range of designs and colors. These are the best mask for pollution.
The Vogmask Head Strap is a useful thing which increases the comfort and seal. When one wears a mask for long duration, it may become uncomfortable. The Vogmask head strap is compatible with every mask from other brands too.
MASK MATERIAL
Vogmask  outermost layer is printed with designs which improve the wearer's looks as compared to hideous looks of ordinary masks. Its outermost layer is microfiber. The next inner layer is the nano-fiber N99 particle filtering media followed by the carbon filter. Its carbon filter has been derived from coconut shells and thus from organic sources. The inner most layer is a woven microfiber inner layer.
VALVE
Vogmask anti pollution masks have one valve to prevent moisture buildup. A valve also acts as an exit for carbon dioxide exhaled.
CERTIFICATIONS
Vogmask has achieved regulatory certifications from all around the world. Certifications boost trust in a product. It also means that each Vogmask is created following a strict plan and quality control standards. Vogmask is CE Certified and as it is designated as a N99 mask conforms to NIOSH efficiency standard of filters.
MASK LIFE
In Very Poor air, a Vogmask can serve you well for 3-5 months. You should follow the maintenance guidelines to prolong the mask life. Vogmask are reusable which means that the wearer can wash them and reuse them. The thing to be noted here is that the washing will help keep the outermost and innermost layers fresh. Washing will not remove the PM0.3 or PM2.5 particles which stick to the filters of the mask.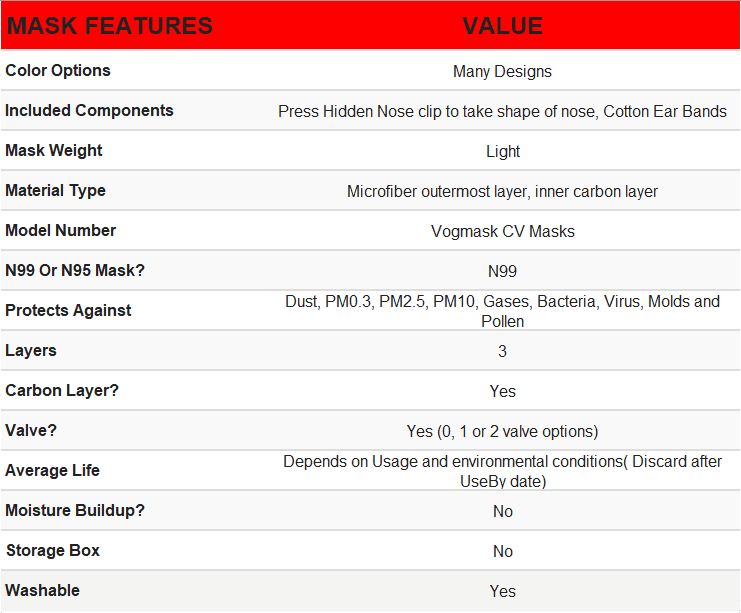 HOW TO IDENTIFY FAKE MASKS?
The demand for best N95 masks and facepiece respirators is constantly seeing an upward trend. The Coronavirus pandemic has seen the demand spiraling. This is the perfect opportunity for shady distributors and sellers to sell fake and counterfeit masks. For the sake of your well-being you must pay heed to this aspect. A fake mask would not provide even a fraction of protection which you believe its giving.
It is for this reason I recommend masks from 3M. They give you ways to determine the genuineness of its masks. Any original 3M mask would come in proper packing and would have safety features. There may be holograms on the box and/or markings on the mask to check for them on 3M site. CHECK MASK IS FAKE
Know that you may see various class of masks like –  N95 (NIOSH certified in US), FFP2 (certified in Europe & Brazil), KN95 (China), BIS P2 (India) or P2 (Australia). NIOSH specifically lets you check the authenticity of the masks and companies it authorized to sell its class of masks.
HOW TO TEST FOR A GENUINE 3M MASK
If your 3M respirators are delivered to you loose without any 3M packaging or box, there's a problem. Genuine 3M masks come well packed with user instructions according to the model.
3M respirators would have stamps on it. The stamps would clearly show the type (like N95/N99). The popular 8210 mask has TC number (eg. TC-84A-0007) and Lot Number (like A1C078).
Masks from 3M are quality products. Discard your mask or check with the seller if you find your mask has poor finish which reeks of low quality. 3M maintains high quality control standards.
A genuine mask would not have any spelling mistakes in what is printed.
If your mask gives out foul or strange smell, has poor quality or missing ear loops/bands, it may be a fake mask.
The mask material would feel rigid and should fit the face well without side leakages.
Some Frequently Asked Questions
What Are PM10 Particles?
PM10 particles are those whose size ranges between 10 microns and 2.5 microns. Common dust, pollen and mold constitute PM10 particles. PM10 is less worrisome than PM2.5 due to larger size. You can stay safe from PM10 by keeping dust under control. Also, on roads steer clear from old vehicles which exhaust black smoke.
Which N95 Mask Is The Best?
There is no fixed answer to this. Like you can see we've listed some of the Best N95 masks in this post. Try to get hold of original masks from 3M, Honeywell or other brands. Our list and various posts on masks would surely help you.
Can I Wash The N95 N99 Or Other Pollution Masks?
Yes, if the pollution mask is without any carbon layer. You can surely wash your N95 or N99 mask a few times before discarding. There are also masks with changeable filters which can be replaced while the mask cover can be washed.
How To Wash A N95 Respirator Mask?
Remember ideally you should discard your face mask after wearing it for the recommended time. You may feel smell coming out of it or it may visibly look dirty. It doesn't need education on how to identify a fresh mask from a dirty one. Still, if your mask is washable then here is the way to wash it. Washing a pollution mask 2 -3 times like this is OK. Doing it anytime more would only spoil its pollution-stopping effectiveness.
If the mask has a replaceable filter, remove it.
Dip the mask in warm soap water. Let it soak for a few minutes to loosen up the dirt.
Gently rub the surface  and ear loops with hands (do not use brush or any harsh chemicals to clean).
Rinse and let the mask to dry preferably in the Sun.
How To Maintain Your N95 Mask?
You should try to store your pollution mask in its box if it came in one. Otherwise, place the mask in a dry and clean place without distorting its shape. It doesn't harm to put the mask out in the Sun to sterilize it.
CONCLUSION – BEST N95 MASK FOR POLLUTION
I am sure you must not have read such a detailed and informative post elsewhere? This post on the Best N99 pollution masks in India has been prepared with much effort. The pollution in Delhi NCR reached severe levels of AQI on 3rd November 2019. You can save yourself from a guaranteed heath catastrophe by using a good N99 pollution mask.
Pollution masks are an ample defense against Coronavirus too. Allergens and pollen grains can be kept at bay when you venture out. So, you can avoid those incessant sneezes and watery eyes if you use a mask wisely. Be social and share it on social media if you found it worthy and helpful. 🙂
DUE TO UNEXPECTED SURGE IN MASKS DEMAND, MANY POPULAR MASKS MAY BE OUT OF STOCK.
BEST MASK FOR CORONAVIRUS, is a requirement for preventing your respiratory track from not just this virus but pathogens in general. This disease has proven to be a major upheaval in everyone's life. Scientists say that the virus is airborne which makes it more contagious.
The worldwide Coronavirus infection count is climbing fast and stood at 21,175,952 today.  As a very popular Whatsapp message says, " The initial fear of Coronavirus has subsided and proportionally the cases have risen." Sad but true!
You May Like These Similar Posts From AirSwacch!