Room Air Purifiers are available in various price segments. Companies bring out models with different price tags. Many factors determine the cost of an air purifier. Filter quality, brand value, additional features and coverage area or CADR govern the cost. This post is dedicated to the best air purifier under 5000 in India. Last we discussed the BEST AIR FRYER IN INDIA.
Best Air Purifier In India Under 5000
If you have a small budget of 5,000 or less then there are not many options to put forth. You should not expect excellent quality or expect wonders. If you are looking for car air purifiers then its a different story and there are many good options.
American Micronic air purifier performs good and comes well within your budget. The looks may not be great but this air purifier does its job well.

| | |
| --- | --- |
| Feature | Value |
| Model Name | AMI AP1 22Dx |
| Coverage Area | 150 sq.ft |
| Filter Replacement Indicator | No |
| Replacement Filter Cost | 750 |
| Sleep Mode | Yes |
| Ionizer (Independent ON/OFF) | Yes |
| Air Quality Indicator | No |
| Purification Stages | 4 |
| Fan Speeds | 3 |
| Filter Life | 6 months – 1 year |
| Dimensions (H*W*D) | 29 * 16 * 17 |
| Power Cord Length | 2.5 Feet |
Check price
Pros and Cons
Verdict
The American Micronic is the Best Room Air Purifier under Rs. 5,000. Its small sized so it can fit in small spaces without any fuss. It has an Ionizer too. With respect to the cost, the performance is good.
The Hullaards Halo Air Purifier gets its name from the LED lighted ring-like cavity. Its a very compact air purifier and weighs just 2.7 Kg. The air purifier intakes polluted air from near the base.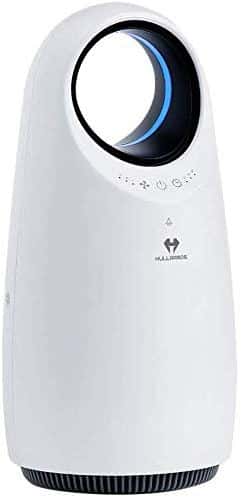 Features
3 stage air filtration with first being the pre-filter, followed by the activated carbon filter. A HEPA filter makes up the next stage and removes 99.97% of air borne particles. 

Coverage area: Up to 100 sq ft . suitable for bedrooms, children room and office cabin.

Clean Air Delivery Rate (CADR): 80 m³/h. CADR is the most common specification which is cited for air purifiers. As expected it is not much but enough for an air purifier of this price range.

Ionizer function is present. An ionizer renders the harmful elements present in the air ineffective.

Timer function for 2H, 4H and 8H are present.

3 speed settings of low, middle and high.

TCL is a Chinese company, better known for its TVs. Its TCL KJ65F Air Purifier also takes in impure air from near its base. Purified air is expelled from the top. One downside that we noticed is the position of the console. Its not visible from any angle as its on the top. The advantage with cylindrical filters is that there is no scope of air leakage. When air leaks through the edges of rectangular frames of some air purifiers. It defeats the whole purpose and effectiveness of an air purifier.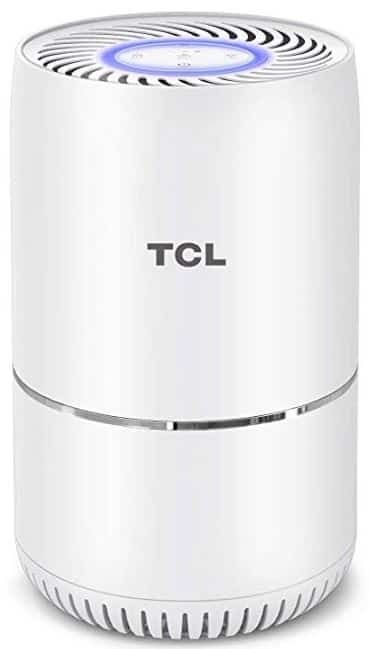 Features
3 stage air filtration with first being the pre-filter, followed by the activated carbon filter. A HEPA filter makes up the next stage and removes 99.97% of air borne particles. 

Coverage area: Up to 92 sq ft . suitable for small rooms only.

Clean Air Delivery Rate (CADR): 65 m³/h. The more the CADR, the better it is.

LED light can be turned ON/OFF.
Child Lock feature is present to lock the console buttons.
Ionizer function is not present. Hence you need not worry about any ozone production.

NO Timer function present.

3 speed settings are allowed for varying needs.

ZAAP Air Purifier looks more like a speaker than an air purifier. The polluted air is sucked from only the front side and released from the backside. Apart from the customary 3 stages viz pre-filter, HEPA and activated carbon filter, a 4th stage in the form of UV light is provided.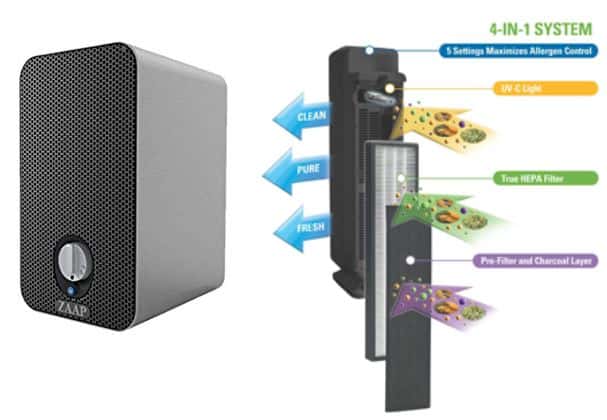 Features
CADR of 101 is impressive.
Coverage Area of 118 sq.ft.
Ultraviolet light air purification can be independently operated. UV light eliminates bacteria and germs as well as fungal spores.
Filter Replacement indicator indicates when its time for filter change.
3 fan speed levels as usual.
Good portability as it weighs just 1.9 Kg.

The 4-in-1 Air Purifier with HEPA filter, a composite pre-filter with charcoal layer, UV light offers good air purification.

12-month warranty and friendly customer service.

The Globus Geschaft Air Purifier is very similar in design to the Diakin Air Purifiers. Diakin air purifiers have absolutely peculiar shape which stands out among all air purifiers. Impure air is pulled in from all directions and pure air is let out from the front. Globus Geschaft is an importer and so this air purifier's company of origin is unknown.

Features
An oscillator power function is featured. This powers On the air purifier and then periodically powers it off and so on. This conserves power.
The quintessential

3 stage filtration system, pre-filter, true HEPA filter & activated carbon filter is present.

Purified air is blown out in a swinging fashion.
The ZAAP air purifier includes an ion generator that releases 3 million anions per cubic cm. Anions are known to create a positive effect on one's mood. Patients of depression and anxiety stand to benefit.
2 speed levels which is a unique thing as all air purifiers I've seen have at least 3 levels.
A micro USB cable and port is available. Power from power bank, USB phone charger and computer USB port can be supplied.

Treetop air purifier has the best CADR ratings among all the air purifiers you find in this post. It looks are unusually similar to Honeywell air purifiers.  Its features make it one of the best air purifier under 5000.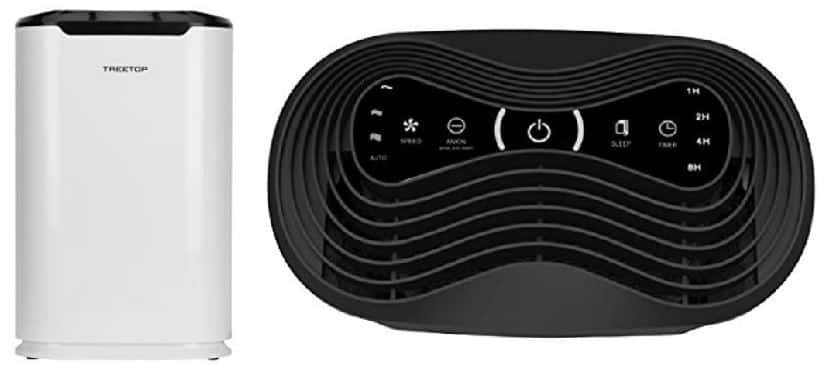 Features
Powerful Cleaning Ability: CADR 222 m³/h, can cover up a large space of 28 m². There are 4 Air changes per hour. The whole volume of room's air passes through the filters at least once in 15 minutes.

An Auto mode complements the 3 speed levels. Auto mode is the best way to regulate air quality without any manual intervention. The dust and particle sensors operate fan speed according to air quality.
Timer function is available with four choices. Timers for 1 hour, 2 Hour, 4 hours and 8 hours can be set.
An independently operable Anion generator functionality is present too.

Air Quality Indicator:  The air quality indicator will also illuminate on the LED Display

Sleep Mode turns off all lights which may distract during sleep. The fan runs in lowest speed so that its noise does not hinder your sleep.

The reviews for Nuvomed air purifier are not encouraging. That's why we have placed it at the bottom of the rung. But, its design is similar to the MI air purifier. Not an air purifier you would want to purchase over the 6 air purifiers we listed above. Still, we let you know about it.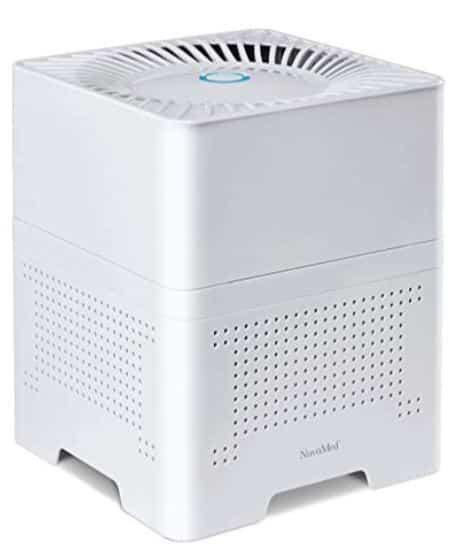 Desktop 3-in-1 ionic air purifier with HEPA filter

Built-in high grade removable HEPA filter

HEPA filter removes 99% of air impurities such as dust, pollen, smoke, bad odors, mold and pet dander.

Less airborne allergies and pollutants creates healthier and safe environment

Perfect for people who suffer from allergies

Warranty: 1 year warranty provided by the manufacturer from date of purchase.

You May Like These Similar Posts From AirSwacch!