A room humidifier is a very useful appliance. Keeping the indoor moisture level in check becomes easy with a humidifier. It is one of those devices which need to run for an extended duration, like a ceiling fan for example. Like anything else your humidifier needs maintenance too. If not for the water it needs to run, it would have not have needed special care. This post helps you know how to clean humidifier. We also share how to clean ultrasonic humidifiers. Plus some tips with the maintenance of room humidifiers are shared. Different makes and models of humidifiers may have different parts or attachments. Generally, both Cool-Mist and Warm-Mist humidifiers can be cleaned in a similar fashion.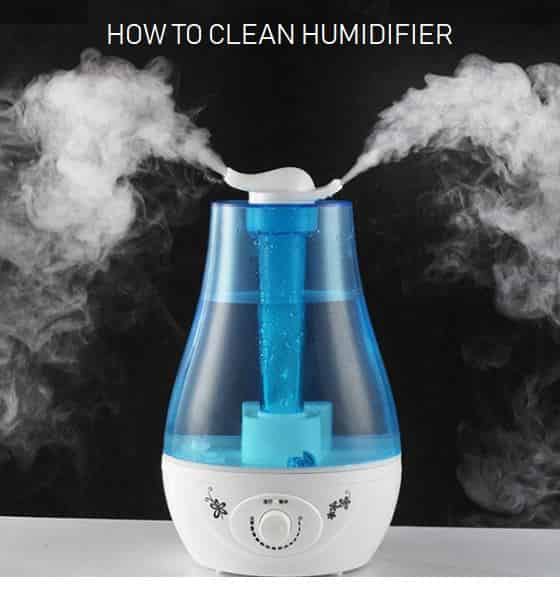 HOW TO CLEAN HUMIDIFIER
All products come with a user manual which you should try to follow line by line. Still, documentation may differ in explanation and may not touch every aspect of humidifier maintenance. This is where this post would come handy for you. Letting water stay for long and dry out results in mineral deposits in the tank and staining. Ignoring the state of your humidifier means you are inviting undue expenses in due course of time.
HOW TO DETERMINE THAT HUMIDIFIER NEEDS CLEANING?
Stagnant water develops a film of impurities and moss, ever noticed? Similarly, beware if you observe a layer of scum on the water surface. Its an indicator that humidifier needs cleaning. Do not think you are safe but only replacing the water. Fungi and bacteria are not removed so easily.
HOW OFTEN MUST A HUMIDIFIER BE CLEANED?
Well, this depends on the water quality. Still, cleaning the humidifier twice a week should be sufficient. It goes without saying that you'd need to clean the humidifier more often in some situations. Like, when the water that you fill in the tank is high on dissolved salts or impurities. For warm-mist humidifiers its advisable not to use distilled water though. Use pure RO water with moderate TDS level. Complete absence of dissolved salts or impurities hampers mist production. Other reason may be the presence of too much dust in the air. A humidifier may become a bacteria and mold spewing villain in no time. Your special care is needed when there are people with respiratory diseases in the home.
TIPS TO PROLONG YOUR HUMIDIFIER'S LIFE
Your devices serve you well if you treat them well. Since a humidifier directly impacts your health you should heed its maintenance.
Keep the tank absolutely clean. Clean it with the procedure we'll be describing ahead. Discard the cotton wick if you are putting away the humidifier for storage.
Use germ free water from RO water purifiers with UV light stage. This becomes all the more essential for cool-mist humidifiers. Warm-mist ones for once can be thought of killing the germs.
Change the filter at the recommended times or depending on their state. This would help maintain good mist output.
---
---
THINGS YOU NEED TO CLEAN HUMIDIFIER
You should strictly avoid abrasive, strongly acidic or caustic things for cleaning the humidifier. Yes, mild acidic or anti-bacterial agents are required. Get the below before starting.
A soft bristles small nylon brush.
Hydrogen peroxide H2O2 or Liquid Chlorine bleach. I personally use hydrogen peroxide since it is way safer than bleach. Although chlorine bleach is a stronger oxidizing agent than H2O2. An oxidizing agent releases nascent oxygen which is the main anti-bacterial agent.
White Vinegar which is anti-slime or anti-algae.
Clean cloth for wiping the surfaces dry.
HERE'S HOW TO CLEAN HUMIDIFIER TANK AND BASE
Do not fail to unplug the humidifier from power socket.
Take apart all the parts carefully as the manual instructs.
Pour and swirl 2 cups of white vinegar into the tank and let it stay for a while. 3% hydrogen peroxide can also be used in bleach's place.
Now place the tank over the base as it is for 20 minutes. Remember to place it with the vinegar from step 3 still there.
Drain out the vinegar from the tank and base.
Scrub the brush inside the tank to clean the surfaces and edges. Move it around to all places it can reach.
Rinse the base and the tank.
CLEANING SMALLER PARTS
Smaller parts like the tank cap can be wiped clean with a cotton cloth and rinsed in vinegar. Refer to the user manual to see which attachments are dishwasher safe.
HOW TO DISINFECT HUMIDIFIER – WITH CHLORINE BLEACH
When a humidifier for baby or medicinal uses is to be cleaned it needs thorough disinfection. For this we would need the chlorine beach you've already procured. Remember not to overuse the bleach and follow the recommended practices. Keep such chemicals out of reach of children. Rinse and wash off every trace of the bleach.
Take 4 L water and 1 cap full of bleach. Use half of this mixture to clean the water tank.
Place the tank over the base and let this solution seep inside the base.
After 15-20 minutes, throw away the chlorinated water and put the brush to good use.
Rinse again with the same unused portion of the chlorinated water.
Repeat steps for any other water reservoirs if any.
Let the parts dry out.
HOW TO CLEAN ULTRASONIC HUMIDIFIER
Cleaning an ultrasonic humidifier is exactly the same as the methods described above. Just do not wet any sensors or electronic LED lights in any way.
CONCLUSION
Hope this post made it clear how to clean humidifier. When in doubt you can call the helpline of your respective product is they offer it. The best way out is to safely preserve the user manual. We tend to throw away the packaging and manuals without realizing in foresight of their utility. The packaging is apt for safe storage when the humidifier is not in use. Discard it only if space is a limitation or you have other means of preventing dust and dirt from settling on the device.
Dirty humidifiers can give out bacteria or fungi in the mist. This infected moisture when breathed can lead to serious health issues. Patients of asthma and allergy are at a greater risk. Always empty the water tank fully before refilling it. Try to do it daily if possible. It hardly takes any time. The effort is worth it compared to the risks unhygienic humidifiers pose otherwise.
You May Like These Similar Posts From AirSwacch!