Air purifiers have become commonplace in many households now. With the ever increasing pollution, an air purifier atleast lets you breathe healthy at home. But, what does it take to be classified as a great air purifier? Well, a good air purifier can not only cleanse the air, but also remove odor, deodorize it, breakdown harmful substances, and prevent future mold growth. And this Okaysou Air Purifier Review is here to apprise you that it can do all these, and MORE! Specially built for medium sized spaces, Okaysou AirMax8L air purifier can cater to a room of size of 320 sq.ft. The filters can remove pollutants up to 0.25 µm. Now, if are familiar with the capabilities of most modern air purifiers, you'd concur that this is an impressive stats. Most commercial purifiers cleanse air of particles sized upto 0.30 µm.
Okaysou is a relatively new entrant in the USA market. Currently, they have introduced three air purifier models in the market – AirMax8L, AirMax10L and AirMic4S. The former is for larger rooms and the latter is for smaller rooms. Since 2018, Okaysou has been a growing platform with a passionate team. They not only produce good air purifiers but also smart scales, and humidifiers. Their motto is to prioritize customer needs and innovate for the future. With the AIRMAX8L, let's see how many of these goals have been achieved in this Okaysou AirMax8L review.
OKAYSOU AIR PURIFIER REVIEW –

AIRMAX8L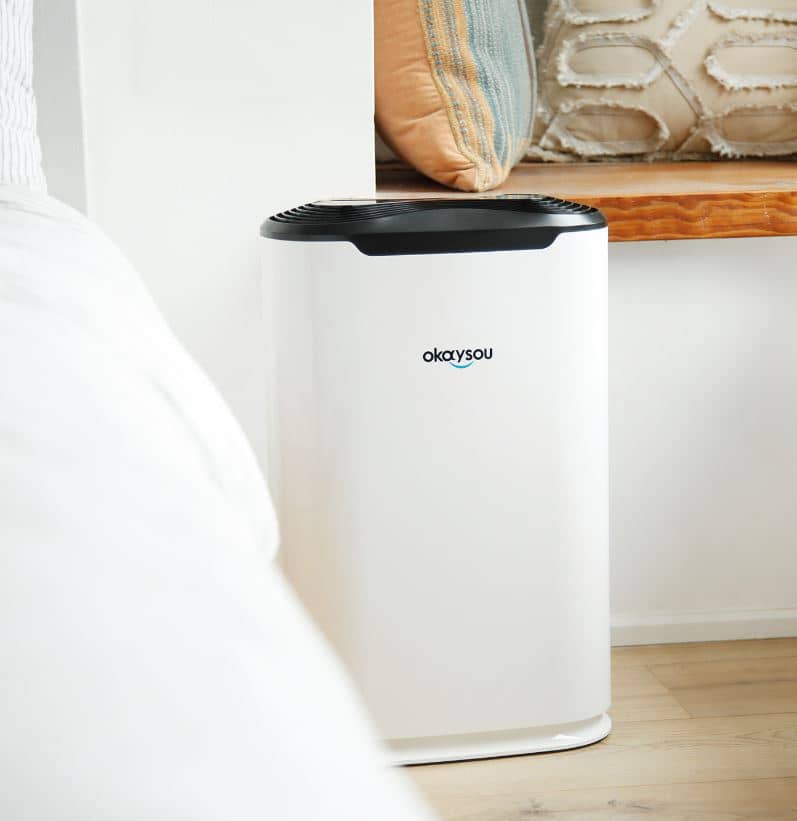 WHAT TO EXPECT IN THIS REVIEW
In this Okaysou Air Purifier review, we're going to take a look at each and every aspect of it. Be it filtering capacity, or design-build – we've covered it all. The company chose us to test out Okaysou's AirMax8L which allowed us to check its functions first-hand. And in short – we're fairly impressed!
The Okaysou Airmax8L is created to cater to medium spaces of around 320 sq.ft. The ideal ACH is greater or equal to 5 air changes per hour. For a reduced ACH of 1.5 you can deploy it to clean a 800 sq.ft area as well. The filter used ensure cleaning of particulate matter up to 0.25 µm. So, you've heard of 3-stage filtration, but the OKAYSOU AIRMAX8L uses a 5-stage filtration process! It also has an anti-bacterial filter to prevent germs and bacteria from getting through. It is also 100% ozone-free and is CARB and FCC-certified.
PRICE CHECK


COMPETITOR
I had earlier review the Levoit Vital 100 air purifier. I couldn't help reminding myself of it every time I looked at the AirMax8L model. Both have many things in common. For instance take their white body, cost, and features. They are very comparable.
Although AirMax8L cleans a much larger area for an ACH of 5. Contrast 320 sq.ft with Levoit Vital 100's 185 sq.ft. (ACH=4). Also, Okaysou AirMax8L has an additional Child Lock feature. With a little extra cost and popularity, AirMax8L could soon displace the Levoit air purifier model, no problem!
---
---
DESIGN AND DIMENSIONS
So, what we first noticed in this product was how certain design elements varied from other market products. Usually, the air inlets are located near the flanks. But this leads to wastage of  third of the filter surface area. Is never used for trapping pollutants near the middle part. For Okaysou AirMax8L, the air ingress happens from the meshed backside, where it meets the filters to be cleaned in the process. This exposed area is a full 14.17 x 9.52 inches in size which results in a higher quantity of air purified every second.  Contrast this with the more common design seen in other air purifiers. The mesh can easily be opened to remove and access the filter inside. This gives the front panel of the product a compact and aesthetic build. The base is white and solid so there is no need to clean beneath it.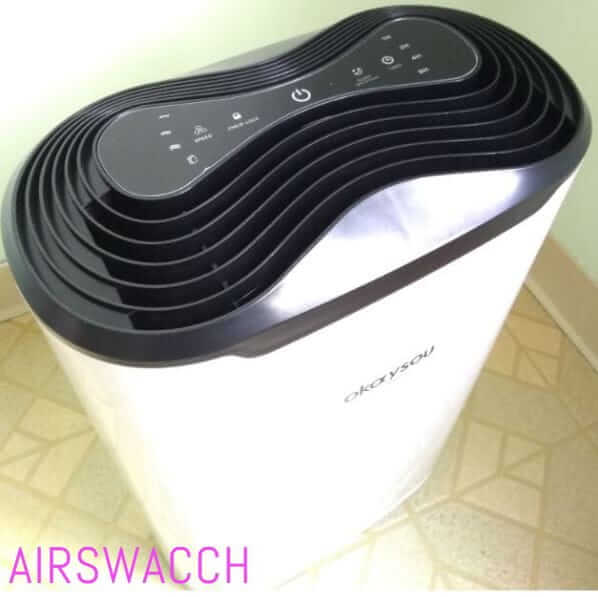 The AirMax8L has a horizontally oblong shape with a white body. The body is not glossy and to find a color contrast only the top portion is black in color. The air egress vents at the top part are stylishly sloped in the form of step-farming in mountains. To describe it more tastefully, I'd call it an array of hourglass formations. The control panel is where the air vents culminate at the top.
The product has a weight of 11.73 pounds, so you can easily carry it from room to room. The height is 19.4 inches which is around the same height as that of a nightstand.
The best part is that the product itself comes in a ready-to-use package. You only need to remove all plastic coverings especially from the filters and that's it. For any issues, the user manual comes handy. Hope this Okaysou air purifier review is informative for you?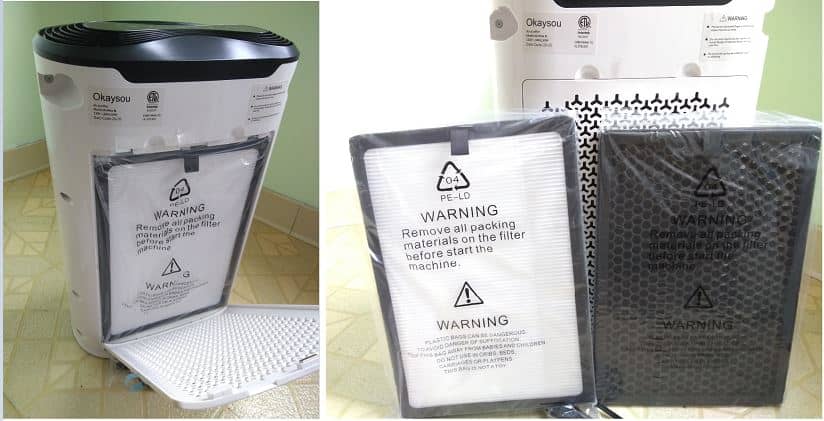 COVERAGE AREA & ACH
Okaysou states that the air purifier can be used for spaces up to 800 sq.ft. At this size, the entire air change per house is 1.5 times. For smaller rooms up to 500 sq.ft, it can replace the air 3 times per hour. And for rooms within 320 sq.ft, the ACH ( Air Change per Hour) is 5 times! So, you should consider it to be an excellent air purifier for 320 sq.ft area.
The CADR or the product is 210. The best part was that within 15-20 minutes of usage, we can expect the whole room's air to have been cleaned at least once. In Shaker Heights where I live, the AQI is very good these days. Even the allergens like grass pollen or ragweed pollen level is either low or moderate. So, the real test against dust would happen at a later time.
My wife suffers from allergic rhinitis and is unusually vulnerable at morning time. I asked her if she felt any difference after 3 days usage and she replied in the affirmative. She told she no longer felt the ticklish feeling in her nose which otherwise used to climax into a sneeze. Hence, this was one feedback which looked encouraging about AirMax8L. Another apparent difference we felt was in the odors emanating from cooking in the kitchen. The honeycomb design carbon filter does make a difference!
FAN AND TIMER
On the inside, the AIRMAX8L comes with an advanced turbine motor with 45 vanes which powers the fan. The large air inlet takes 3 times the regular amount of air. The outwards projecting fan can run at three different speeds. You can adjust the fan speed based on how the indoor air quality warrants.
You can set custom timers. The timer works for 1, 2, 4, and 8 hours. This is great if you're planning on leaving home. With the timer, the air purifier will only run for the set amount of time, and you will save up on electricity costs! Even at night, you can run it for only 4 hours while sleeping by using the timer.
FILTERS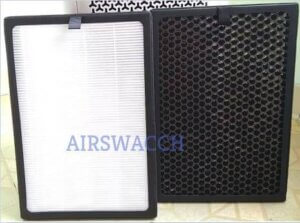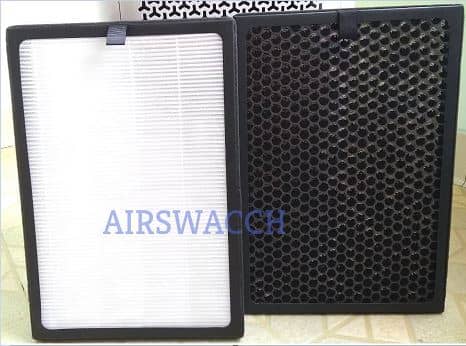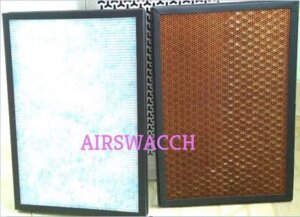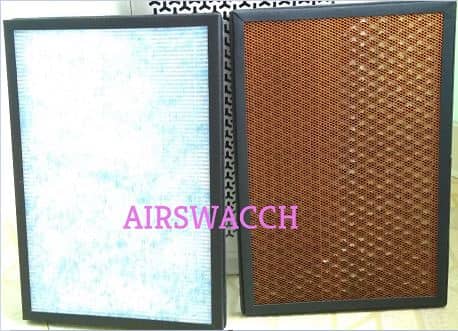 Okaysou Air purifers uses a Medical Grade ULTRA-DUO Filtration System. The primary filter in it is a HEPA filter that can remove up to 99.97% of all pollutants like dust, mold mites, spores, and pollen. The filters are outstanding for removing any odor and fumes. Any smell from the kitchen, to from pet hair can be fully cleaned out. Here's a listing of the filter technology used:
This is the first filtration stage. It contains the Pre-filter, a True HEPA filter, and a Bacterial filter. The pre-filter is a mandatory filter present in all air purifiers. It is washable and prevents larger particles from getting inside. Their main job is to keep out PM10 particles. They also stop hair, webs, and any other larger mass from getting into the filter vents. The HEPA 13 filter has the main task of cleaning 99.97% of pollutants up to 0.25 microns.


This is where all the dust, dander, pollen, and mites get removed.  HEPA 13 is classified as a medical-grade filter since it goes above and beyond regular residential needs. We're glad Okaysou is providing us with this level of quality. The third is the anti-bacterial coating present on the sides. As the air in the filter gets bounced around, it touches all interior faces. With anti-bacterial coating on it, you can be sure that it gets rid of harmful bacteria. It also prevents any bacterial growth within the filter itself.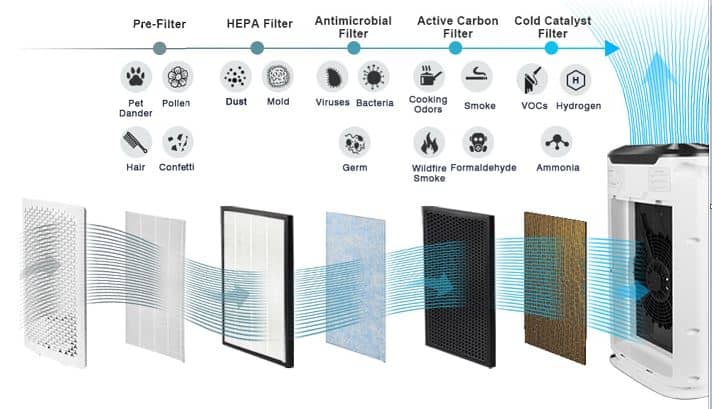 Next, the air passes through another 2 filters. The activated carbon filter takes care of odor and gas and eliminates them. It has a honeycomb-like mesh in it. Activated carbon filters help to remove VOCs, formaldehyde, ammonia, benzene, and any fumes like smoke or kitchen gases. Another filter is the cold catalyst filter. If there are smokers at your home, this filter will ensure that no one is subjected to passive smoke. Combined, these 2 filters add the final stage of air cleaning.
The filters on the inside are not washable and must be replaced. Usually, you should replace the filters within 6 to 8 months of use as stated by Okaysou. One great thing about the AIRMAX8L is that you do not need to keep this in mind. For this, an LED indicator is present on top (on the control panel) to indicate when the filters need to be changed. Replacement filters are available on Amazon. You can use the Okaysou Duo filter (B07KCBGRS2), and the Okaysou Ultra filter (B07KC81LCN). After replacing the filter, you can press the SLEEP button for 3 seconds and it will switch off and reset the LED indicator.
NOISE LEVEL
For light sleepers, this product is a boon. When placed in sleep mode, the Okaysou air purifier can run with only 22 dB of sound. This is around the same noise the Levoit Vital 100 makes. This is much lower than any market contemporaries! Most air purifiers, even in sleep mode emit a noise of around 30-33 dB. The sleep mode also turns off all control panel lights, so you won't be disturbed by any beeping lights in the dark. Silenceboost Technology adopted by Okaysou makes it an ideal product for light sleepers.
The usual noise at regular fan speed is around 28 dB, which again is very light. In fact, this sound will probably be covered up the noise from other equipment running around the house like fans, refrigerators, or the television. In the lowest mode, it is completely noiseless.
CONTROL PANEL
The control panel is in black color and located at the top above the fan vents. You will see that it is extremely simplistic and easy to understand. There are a total of 5 buttons.
ON/OFF – The ON/ OFF switch is distinctly placed in the center. The timer an fan speed buttons are one-touch buttons. So you keep pressing them to rotate between the given options. The sleep mode can also be activated using its button located here.
CHILD LOCK – The child lock mode locks the functions of the buttons. This is quite useful since children are often fascinated by such products and might want to mess with the buttons. With the child lock feature ON, the purifier will not react to any button presses until the lock is lifted. It can be switched on and off by pressing down on it for 3 seconds.
FAN SPEED – You can set it 3 different fan speeds. These are all controlled by one button. On pressing it, the fan speed alternates between the choices as shown by an LED light beside it.
TIMER – This works in a similar way as to the fan speed button. By pressing the button, it alternates between the timers of 1 hour, 2 hours, 4 hours, or 8 hours.
SLEEP MODE – This activates the sleep mode where the fan speed goes to the first section and all LED lights are switched off.
IDEAL FOR PET OWNERS
For those of you who own pets, pet hair, dander, can quickly choke their air purifier filters. Agreed, that all air purifiers nowadays come with pre-filters and so does this Okaysou air purifier. When I last interacted with one of their representatives, she stressed that the AirMax8L is suitable for pets. Reason to believe is the multi-layer filters. Another great air purifier for pets is the Levoit Core P350 with specialized filters.
COUNTRY OF ORIGIN
Okaysou Website – www.okaysou.com
China, Okaysou's parent company is Souxing Information Technology (Chongqing) Co., Ltd.
ADDITIONAL INFO
So, the product consumes 50 W when used in its highest fan mode. It also has an auto shut-off for its protection. Overall, we have to say that Okaysou AIRMAX8L is a good air purifier for the cost. For those with pets, asthma, or allergies, bringing it home would surely help alleviate these conditions. Even kitchen fumes can be easily thrown out by the odor filter leaving no trace. The size cannot be called small as its a fairly tall air purifier. But, the round edges do trim it to look compact. The newer design which places the air inlet at the back ensures there is no hindrance to the path of air. This is ofcourse if you place the air purifier's back at a distance of a few feet away from household clutter and walls.
Replacement filters are easily accessible from the Okaysou site. But the replacement filters are often unavailable on Amazon as I've checked a few times. Don't know if its a temporary thing.
CONCLUSION – OKAYSOU AIR PURIFIER REVIEW
I haven't faced any issues with it yet. But, I've heard Okaysou has an offshore helpline in China? Not very sure how prompt they would be able to help, but they have an email on which they respond- support@okaysou.com .Anyways, since the filters used have a True HEPA in them, they show exemplary performance. We could confidently tell that on a given bad air day, the 5 stages of filtration would result in much cleaner air. Whether you're a light sleeper or suffer from sinuses every morning, this product is capable of handling both problems. The product is ideal for 300-500 sq. ft. rooms. It works best at a room of size 320 sq.ft when it can circulate the entire air 5 times within an hour!
The filter change indicator means no more worrying or keeping track of time. When the time comes, you can easily replace it which is easier than washing it regularly. Child lock is great for pets or children who might want to tamper with it. That's about it in my Okaysou Air Purifier review. Hope you found some of your queries addressed here.
You May Like These Similar Posts From AirSwacch!