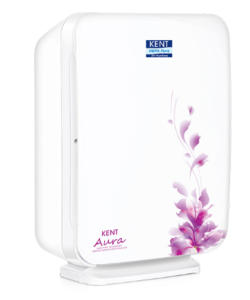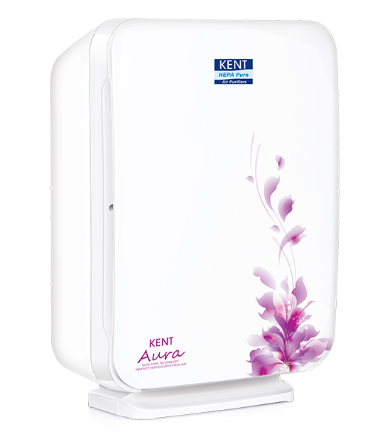 Last time we reviewed Honeywell Air Purifiers. Now, time to review an air purifier from Kent. Kent has lately jumped into air purifier business and is not a recognized player as far as air purifiers are concerned. We know Kent to be more of a good water purifier brand rather than other home appliances. Insofar as marketing goes, there is no denial that Kent spends a  fortune on advertisements. Not hard to estimate why Hema Malini is seen in its ads along with her daughters. We believe that advertisements impact the customer outlook. The more aggressive the ad campaigns, the better is the product- Do you also think the same? Well, lets find out today, how much useful is the Kent Aura Room Air Purifier.
Company Background
Kent is a well-known name in Indian households. The heartening thing to know about Kent is that it is an Indian company based in Noida. It was founded in 1999, in this respect it has weathered the multi-national storms very well. Even I suspected it to be an English company, since I know of a place in England named Kent 🙂
"Kent is the leading brand of home appliances in India with prime focus on innovation and customer satisfaction. It has always been at the forefront of the research, development and manufacture of water purification and enhancement technologies for over fifteen years and consequently and also have patents to our credit."
Kent Air Purifier Review
Features
Kent Aura Air Purifier – Design and Looks
Kent Air Purifiers come in typical shape and size like those from other brands. The unique thing about them however are the floral and colorful patterns on the front panel which look nice. The air purifier is placed on its pedestal and is not wall-mountable. The weight is around 5 Kgs which is also a normal spec. The unit doesn't occupy much space. Its dimensions are 350 L * 180 W * 482 H. Colors– Blue and Purple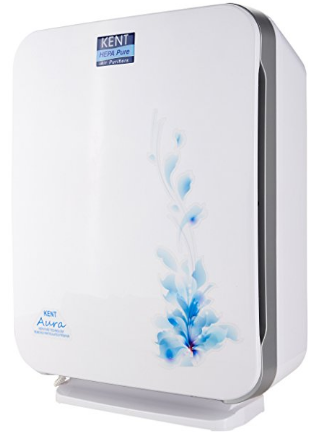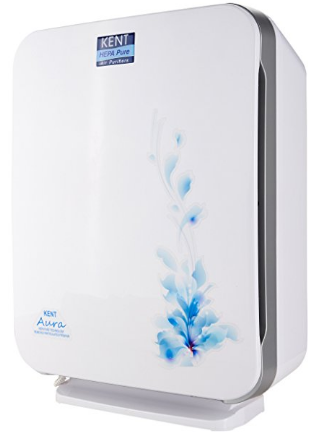 CADR
The company specifies the CADR (Clean Air Delivery Rate) for the Kent Aura Air Purifier to be 180m³/h.and has a coverage area of 270 sq.ft.
                                       1

80
Its worth mentioning here that this CADR rating is pretty good. If we compare it with the Philips AC4025 and AC4012 air purifier models; the CADR is better and that too at appreciable lower cost. This is the benefit of competition and buying Indian products. Recently, the prices of air purifiers have fallen significantly.
Another model from Kent, the Kent Eternal Air Purifier has a much higher CADR of 400 and a coverage area of 377 sq.ft.
CHECK PRICE

Air Filters
The Kent Aura Air Purifier has four-stage filtration.
Filter 1- The front filter is the Primary filter which removes large and visible pollutants like –
Large dust particles
Human and pet hair
Cobwebs
Not sure how the filter removes cobwebs but the product description mentions it, so…


Filter 2- The second stage is the Activated Carbon Filter. It removes any smells/odour including
Cigarette smoke( smell)
Foul Odour
Pet Smell
Formaldehyde
Benzene
TVOCs
Filter 3- The third stage is the anti-bacterial HEPA filter. A filter qualifies as a HEPA filter if it can remove 99.97% of particles from the air over 0.3 microns in size. The HEPA filter removes-
Bacteria
Pollen
Allergens
Mold
Dust and Cigarette smoke
The Fourth stage is the Ionizer.
The filters cost around 3,000 for all three filters.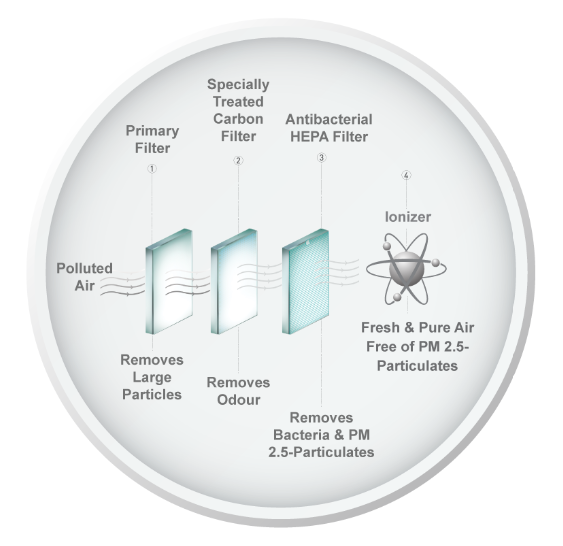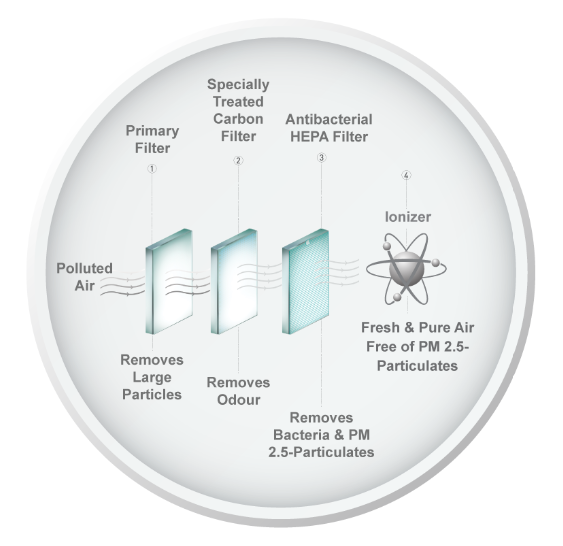 Ionizer
The Kent Aura Air Purifier also has an ionizer which emits negatively charged particles( ions) into the air. This is said to "freshen" up the room air. Ionizers are better when they are Precipitators rather than Ion-generators. Negative ions help in condensing the pollen, mold spores, dust and animal dander floating in the air.
The product manual also mentions of how negative ions have been found to lift mood, alleviate depression and seasonal affective disorder(SAD). It also mentions that there is patent from a prominent researcher on how negative ions can be used to treat depression. You can read more on this on Wikipedia.
Our only concern is that Ionizers are known to produce Ozone, which in any quantity does not belong to your rooms!! The Good News is that you can turn on/off the ionizer and its use is optional.

FAN Speed
Kent Air Purifiers come in four different speed settings. These settings allow- Auto, low, medium and high. For low speed- press speed button once. For medium speed- press the speed button twice and thrice for the high speed setting.
Timer
Kent Aura Air Purifier comes with three different timer settings- 2 hours, 4 hours and 8 hours. These settings allow you to select a usage  as per your needs. To set timer, press the timer button on the control panel. To set the timer to 2 hours, press the button once. For 4 hours press it twice and thrice for 8 hours.
Filter Replacement
When 'Replace Filter' LED lights up it means that the filter life is nearing its end and it needs replacement. The 'Replace Filter' glows after 2000 hours of usage in normal course or when the filters are choked. After replacing the filter, press and hold the 'Timer' button for 3 seconds to reset the 'Replace Filter' indicator. It is important to reset the machine. Failing to do so may damage the photosensitive sensor.
Child Lock
To activate child lock, press child lock key for 3 seconds. In this mode the operation panel will be in lock state. To cancel lock, long press 'child lock' for 3 seconds. When the lights turn off, all keys would be operating normally.
Air Quality Indicator
Once the appliance has been started, the air quality sensor requires around 3 minutes to initiate and would display pink color only. After 3 minutes, the sensor displays color in accordance to the air quality in the room. The colour parameters are described below-
Blue- Excellent
Pink- Good
Red- Poor
Power Consumption is around 45 Watts and Noise level is <=60 db (A).
Pros
Economical choice which fits in your budget and delivers clean air. All major features found in an air purifier are present.
Cons
The filters do not fit very snugly and there are a few gaps at the sides which expose the filters. Also, a low CADR rating is a compromise.
Customer Reviews
The reviews of the users of Kent Aura Air Purifier are a mixed-bag. Some reviews are downright positive while others despise the product as trash. But, its nothing new, if you get to read the reviews of any product whatsoever, you see mixed reactions. Its better to seek feedback from some actual users you may know or come across. You can read the Reviews on Amazon
For Service and Installation anywhere in India Call- 092-789-12345 all days 8 AM to 8 PM.
The Kent Aura Air Purifier is an OK device and has all the features one can expect from a decent Air Purifier. There are definitely other better (and hence costlier) options available. If you have limited budget then Kent Aura is not a bad deal. No offence but we cannot visualize Indian technology to be superior to Japanese (Panasonic), Dutch (Philips) or American (Honeywell) products. Kent definitely makes good RO systems and would not want its reputation to suffer because of sub-standard air purifiers. Hope our review would help you in your decision making.