Panasonic F-PXF35MKU(D) Air Purifier
The Panasonic F-PXF35MKU(D) air purifier is a good choice when it comes to finding an air purifier. This model from Panasonic employs not only the conventional air purification method making use of filters but also an innovative Nanoe technology. We would discuss more on this a bit later in the review. For starters, this air purifier comes from Panasonic, which just by the name of it exudes a legacy of trust and innovation focusing on making "A Better Life, A Better World".
We have reviewed the entire range of purifiers from Panasonic. You can gain insight into the Pros and Cons of different models and also compare among different brands of air purifiers in our blog.
The Panasonic F-PXF35MKU(D) Air purifier is available at a cost of nearly INR 14,449 (Check Curent Price) on e-commerce websites like Amazon and Flipkart as of October 2017. It comes with a 1 year warranty on product and the filter needs replacement every 2-3 years as per the company. However, its life varies with the frequency of usage and the extent of pollutants in the surroundings. Reviews on sites, indicate the average life to be 4-5 months. There is a Filter Replacement indicator which alerts well in advance about the impending requirement to change the filters. You can check for more reviews on this product.
Competitors
Features
Nanoe Technology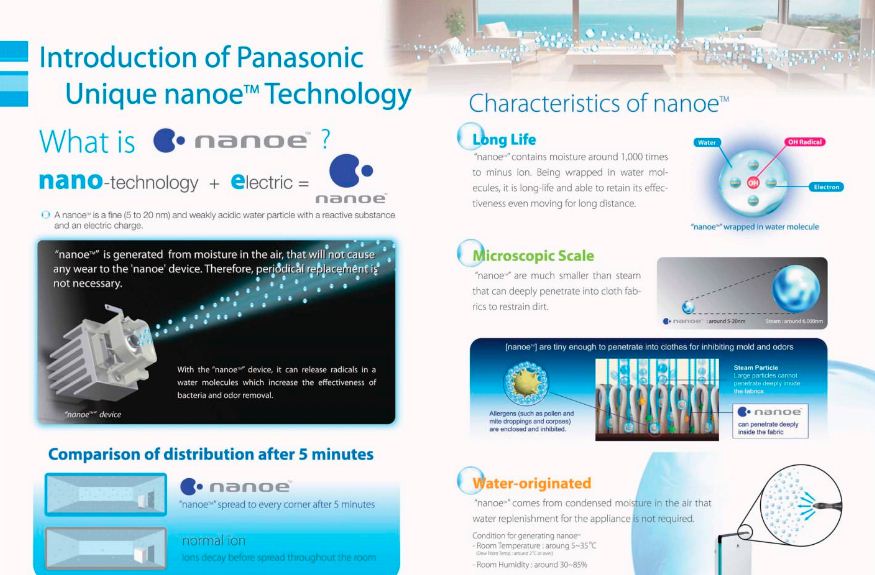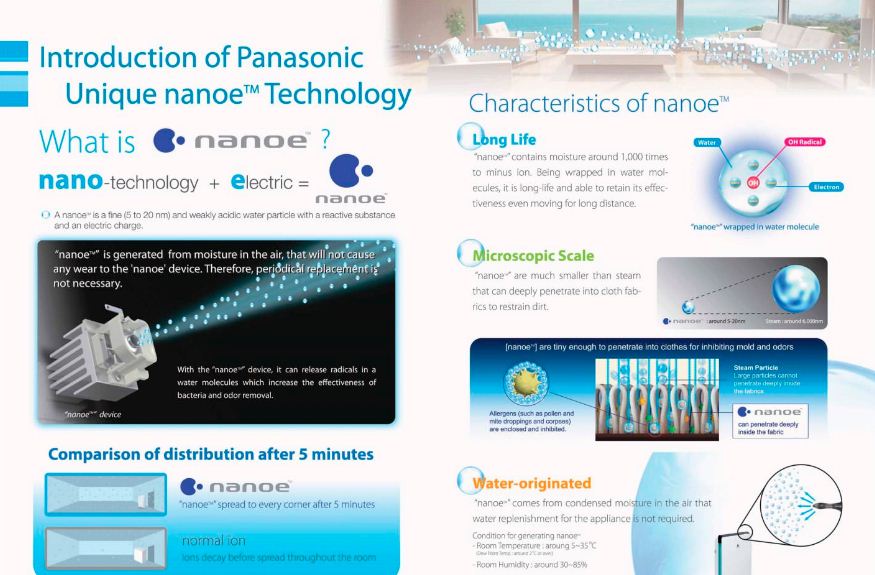 For those of you technically inclined, you must have an understanding or atleast have heard of the term "Free Radicals" right? All those sun-screen lotions and skin rejuvenation cosmetic products scare the ghost out of you in how free radicals are the cause of all your skin and beauty problems.
Thankfully, Panasonic's Nanoe technology has made some excellent use of free radicals and Panasonic F-PXF35MKU(D) Air Purifier uses it too. A good news is that Nanoe helps in the retention of moisture of the skin. It does not cause dehydration of your skin in any way, so put your skepticism aside. A purification device generates Nanoe @ 480 billion/sec. Nanoe(5-20 nm) is wrapped in water molecule with OH radicals, which are capable of inhibiting bacteria and viruses by removing water from bacteria cell. Thus the micro-organisms are left shriveled and hence are safely dealt with. Since the Nanoe device generates Nanoe particles only through the ambient moisture in the air, it never runs out of supply of raw material( moisture).
Another catch about Nanoe is that is can penetrate into fabrics like curtains and bed-sheets. As a result, it can decimate the spores of molds and bacteria/viruses from your fabrics too. How cool is that!
CADR(

Clean Air Delivery Rate

)m³/h
                                               

CADR 193
With respect to the area covered and the consequent CADR, the Philips AC4012 and Philips AC4025 are comparable.
Composite Filter
The Panasonic F-PXF35MKU(D) removes 99% of micro-organisms and allergens from a room of size 280 sq.ft. The room should be as air-packed as it is when you have your air conditioners on or otherwise there would be a constant source of pollutants making their way into the room's ecosystem. It is recommended to first fill your room with fresh( in this case polluted) air and have your AC switched ON simultaneously for the best experience. The filtration system is a 3-step system as enlisted below-
Super-Alleru Buster
Anything that can cause an allergic reaction or symptoms of allergy in a health living being is called an allergen. From pollen to pet dander; from dust particles to mold spores and from mites to microscopic fiber; anything can act as an allergen.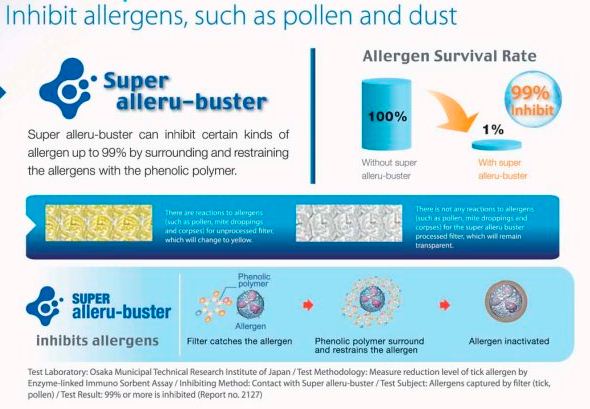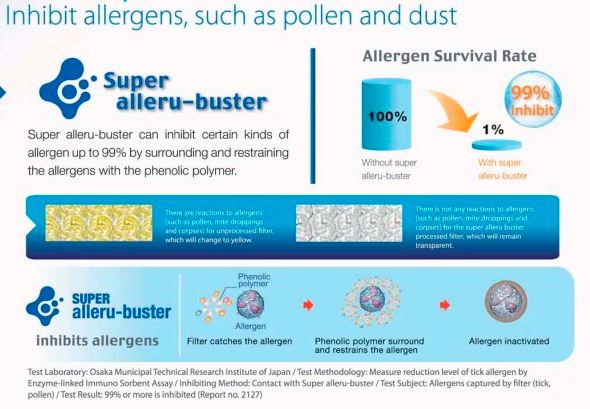 Green Catechin Filter
This filter contains Catechin, a green tea extract. It helps remove Formaldehyde fumes, deactivates captured bacteria and unpleasant odors. A virus is the missing link between the living and the non-living things. A virus can not be killed(as it is not alive); it can just be deactivated or made dormant at the most.
Anti-bacteria enzyme with Super Nano Technology Deodorizer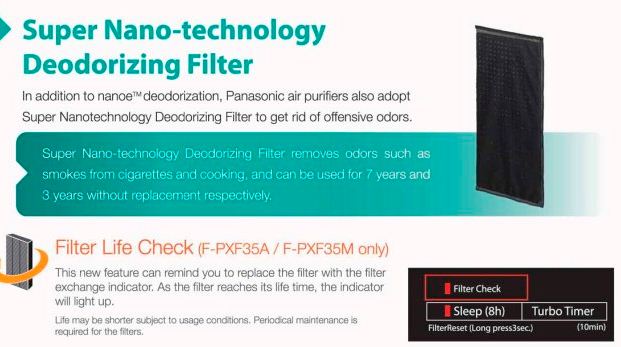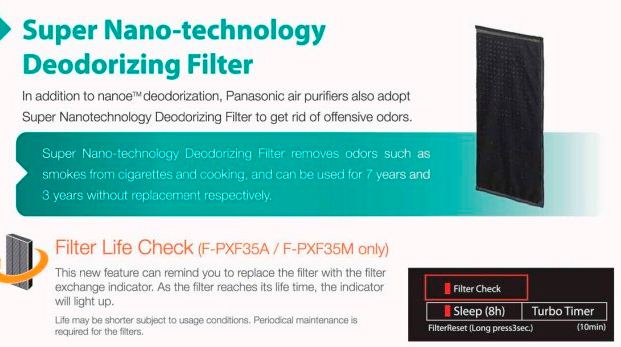 3-D Circulation Airflow
The Panasonic F-PXF35MKU(D) Air Purifier acts on the low lying or suspended dust particles near the floor. The various types of pollutants appear at different levels between the room's ceiling and the floor. For example, cooking odors persist more at the medium to high heights of the room. The 3D circulation airflow takes care of pollutants at different heights and the operation is divided into "Side Airflow' and "Front Airflow".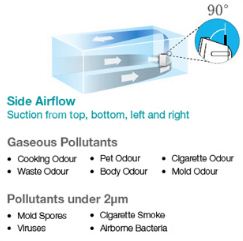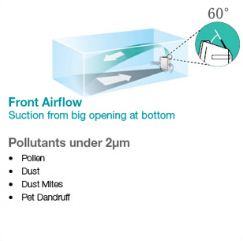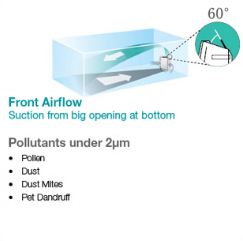 Circulation of Nanoe to every corner of the room takes about 5 mins.
Turbo Mode
With the Turbo mode, you can program the Air purifier to quickly remove the pollutants within 10 minutes. Like in the instance when someone is smoking inside the room, this feature is particularly useful. Its like making the air majorly pure. The Air Purifier returns to its previous preset automatically. This is achieved by the 3 step fan which operates in its highest speed to create strong suction.
Sleep Mode
The Sleep mode enables comfortable sleeping environment for 8 hours. The Panasonic F-PXF35MKU(D) Air Purifier performs noiseless operation up above its already near-silent working. When the purifier's fan operates in its highest RPM, as in the Turbo mode, the noise level is obviously increased. In Panasonic F-PXF35MKU(D); in sleep mode, the LEDs are turned off except the power button and the fan operates in its minimum speed. It is advisable to operate the air purifier in turbo mode immediately before going to sleep.
Clean Sign Indicator
It gives feedback on the quality of air in the room and indicates the different levels of purity levels.
| Parameter | Value |
| --- | --- |
| Room Area Covered | 280 sq.ft |
| Filters | Composite filter, HEPA filter, Pre-filter |
| CADR | 193 |
| Filter Replacement Indicator | Yes |
| Odour Sensor | Yes |
| Dust + Light Sensor | No |
| Econavi | No |
| Sleep Mode | 8 hours |
| Child Lock | No |
| Weight | 4.8 Kgs |
| Dimensions(H*W*D) cm | 52*30*18.9 |
| Humidifying Function | No |
Recommendations
Clean the front side of the composite filter once every 2 weeks with a Vacuum cleaner.
The replacement of composite and deodorizing filter is required in about 2 years or as needed.
Adjust sensitivity when unit is OFF, press the Air Volume and Turbo timer buttons and release when sensitivity is set as desired.