Philips AC4025 Air Purifier – Caters Small Rooms In Low Budgets
The Philips AC4025 Air Purifier is meant for small rooms. Its coverage area is 323 sq.ft/30 sq.m nearly. The design and looks are proportional to the price and accordingly may seem a bit cheap as compared to the other higher range models. It has more or less the same functions and capabilities as Philips AC4012.
There are various technologies which are employed in air-purifiers like Ionization, Ozone-Generation, UV-sterilization and Photocatalytic Oxidation. So much for the fancy sounding names reminding you of your chemistry classes. This purifier is filter based. What it means is that it employs physical sieves (filters) which trap the pollutant particles when they impact or collide with the filters owing to the suction produced by the fans.
The AC4025 model does not have a pre-filter, and this obviously is a compromise in terms of longevity of the purifier HEPA filter. One filter less means less cost and similarly lesser maintenance and replacement costs. All Philips purifier models have True-HEPA Filters, so you need not inquire and worry for it while buying one of them. HEPA Filters are capable of removing ultra-fine particles including viruses. The complete range of Philips purifiers is certified from AirMid and ECARF- which is the European Centre for Allergy Research Foundation.
We'll discuss all the technicalities and features in detail below
Prime Features
CHECK COST



TWO FILTERS
As stated earlier the Philips AC4025 Air Purifier has two filters- The activated carbon filter and HEPA filter.
The NanoProtect Active Carbon filter absorbs the gaseous fumes of TVOCs (example-benzene/formaldehyde etc.)
TVOCs are volatile organic petroleum based compounds which are found in disinfectants, paints, coatings and indoor decorations.They are generally in very high concentrations indoors (up to 5 times more) than outdoors. Prolonged exposure to VOCs can be debilitating for health and can cause cancer. The symptoms of prolonged inhalation of VOCs take a long time to show up. So, for the health of our dear ones especially for infants and small children, its important to protect them from VOC exposure. The most common symptoms are nose,eye, and throat irritation along with headaches, dizziness, and nausea.
Although it's best to limit the use of products which emit VOCs but in current scenarios, it's just not possible to completely avoid it. In not so well-ventilated houses and buildings, VOCs can build up. You can easily get rid of these obnoxious gases by using air purifiers with Activated carbon filters. Such filters work on the principle of adsorption (note the 'd' instead of 'b' in the spelling). Activated carbon is charged charcoal which has a property to absorb the large volumes of gases on the surface of its pores. The pores are so small and so many that a small quantity of activated carbon can present a huge surface area for attaching gaseous molecules. For one of the best purifiers from Philips; you can consider buying Philips AC4372 and obviously have to shell out considerably more 🙂 .
SLEEP MODE
For uninterrupted sleep with no disturbance, the sleep mode is a good feature. In this mode, the fan speed is the minimum, due to which there is no noise of the fan. The decibel rating of Philips AC4025 Air Purifier during sleep mode is 36 decibels.
The air quality lights and other LEDs are also dimmed for less distraction during sleep.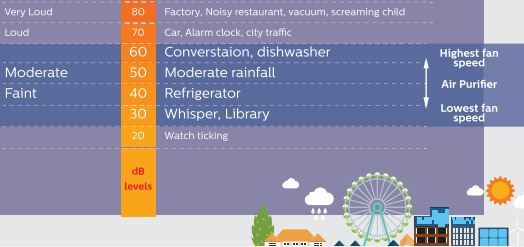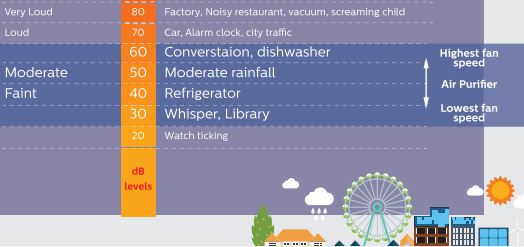 VitaShield Intelligent Purification System
To filter out Ultrafine particles, allergens, bacteria and viruses with size >0.02 micron.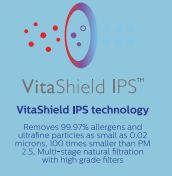 Note– Among all other factors- Quantitative or Qualitative, it's recommended to buy an Air purifier with a Tobacco smoke CADR rating two-thirds(2/3) of the area of the room or CADR= 2/3*(Room Area in Sq.Ft)
PERFORMANCE
•Filters out dust /pollen: 91.2% (0.3 micron)
•Removes bacteria*: >99.9%
•Removes formaldehyde: 95.2%
•Filters out benzene: 95.7%
•Filters out TVOCs: 96.5%
Healthy Air Protect Alert
An Alert is triggered when the filters are no longer capable of giving perfectly clean air. When the filter is not replaced in time, the appliance stops functioning to avoid running with no effect since filter is no more effective. Its an assurance of healthy air always.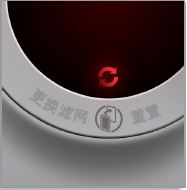 3 Step Fan Speed
The fan speed can be altered according to need. For quick cleaning of the air in the room, the maximum fan-speed setting should be used. It helps remove the pollutants much faster than the slow/medium fan speed levels.
1/4/8 hours easy-to-set timer
To set the number of hours of operation and then automatically switches off.
How does AC4025 compare with other Philips models
There are a whole lot of Air Purifier manufacturing brands in the market. It's tough to make up ones mind as to which one to prefer. Within a single brand itself there are a no. of models. Generally, the costlier models have the Best features which a company has to offer. Simply speaking, the differentiating factors on which the choice of purifiers should depend are the effectiveness in terms of whether the purifier actually cleans the air and removes the various pollutants (organic and non-organic) that they advertise to do so confidently?
Check out the features and compare with other models from Philips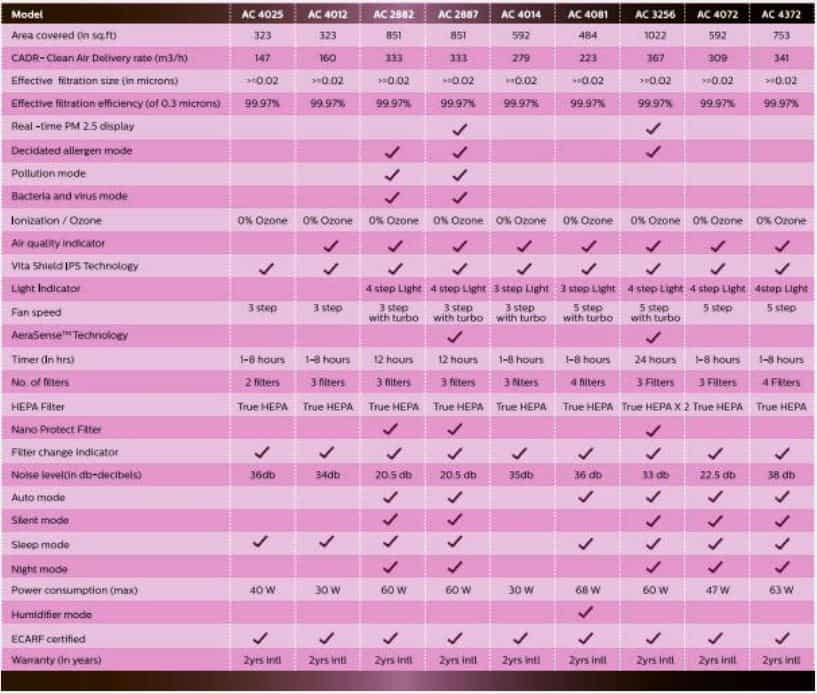 Why Not To Buy
Yes, you heard it right. Ever since newer models have been introduced, the Philips AC4025 Air Purifier is has lost its charm. It is an entry level air purifier with low price. The Philips AC1217 is a newer and better designed air purifeir. It is effective for not-so-worse air conditions. Also, it is found to work well in places where the air has too many pollen. If you have a small area (less than 300 sq.ft) to cater to still don't go for it! The Philips AC1215 Air Purifier is far far better and that too cheaper.
Some Negatives
There is no Pre-filter. The active carbon filter acts as a Pre-filter.
The Quality of filters is somewhat compromised to keep costs low.
Philips AC4025 is not so effective. Furthermore, the coverage area is very small compared to higher models.



Weight and Dimensions
Product Dimension(W*D*H): 33.3*18.6*51.0 cm
Product Weight: 4.5 Kg
Specifications
Frequency: 50 Hz
Voltage: 220-240 V
Cord length: 1.8 m
Noise level: 36 (Sleep mode) – 54 (Maximum speed) dB
Wattage : 40 W(maximum)
Materials of main body: ABS plastic
Philips Customer Care No.  1860-180-1111 , 1800-102-2929
You May Like These Similar Posts From AirSwacch!