Snake Plant or Mother-In-Law's Tongue plant is a champion air purifying plant. All online articles on indoor plants reserve a place for it. Obviously there must be a reason for that. The much publicized list of air purifying plants which NASA recommends has it too. Are you are on the lookout for air cleaning plants? Then consider this low maintenance plant. This post share a few tips on snake plant care.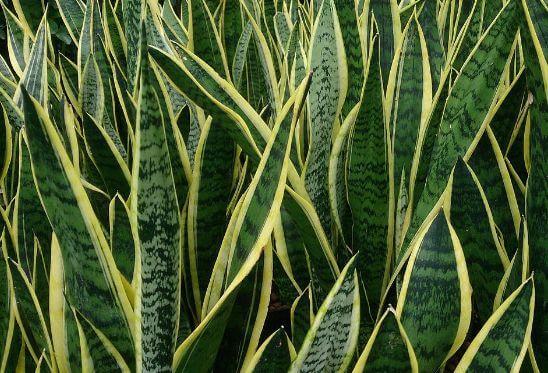 Snake Plant Care
Biological Name of Snake Plant- Sansevieria
Varieties Of Snake Plant
There are over 70 varieties of snake plant found across the globe. Varied climatic conditions of regions host different species.
Bantel's Sensation
Craigii
Cylindrica
Hahnii
Golden Hahnii
Sansevieria grandis
Does Snake Plant Need Extra Care?
One thing remains common in all snake plant varieties. A grown up snake plant can be one hardy fellow. It can go for days without water. In fact, it loves the 'No-Water' challenge thrown at it. There is no drooping or change in the texture of the leaves. If you observe them, the leaves are sword-like with a shiny texture like plastic. The plant grows in a dense cluster of leaves.
This specialty makes it a preferred indoor plant for working professionals. Very few diseases are seen to affect this plant if not any.
What Fertilizer For Sansevieria  Plant?
No special fertilizers are needed, really! But, if you have an ignored plant at hand that is in really bad shape- Yes. You can give 'Miracle Grow' to it for speedy replenishment of nutrients. Use it every week and see the difference.


How Much To Water Snake Plant?
As we have already alluded to above, the snake plant needs no special care. Still, if you can show it some love- do not inundate its soil with water. Snake plants do not like this generosity. The roots would rot in absence of drainage.
If the leaves begin to droop, means you may be over-watering. Ensure their is good water drainage in the soil.
Give some gap between watering as well. Generally 2-3 weeks is best between each watering.
Wrinkling or tilting of leaves from middle indicates lack of water.
As it is a good indoor plant, it does not need direct sunlight. Give it sunlight or not, it hardly cares.
Snake plants get very densely packed in their pot. So, do look out for removing old or yellowed leaves to make space.
Is Snake Plant Good At Removing Pollution?
Yes, definitely! This is the reason for it featuring on the NASA list of Best Air Purifying Plants. It is good at removing the following pollutants.
Benzene – which is a carcinogenic organic compound gas.
Formaldehyde
Xylene
Trichloroethylene
Obviously like any green plant, it gives oxygen. All this I have seen put to good use along busy roads or traffic intersections. Snake Plant can endure the harshest of weathers. Be it extreme heat or cold, this plant never cease to amaze with its toughness.
How To Make Clones Or Multiply Your Sansevieria Plant?
Have you noticed ginger? It is nothing but a root called rhizome in biological terms. A new stem or shoot can burst out from any of the nodules. Same is the case with a snake plant. There are three ways of doing it. You can even take the below instructions for re-potting.
To multiply your count of snake plants, just cut one of these nodules with a sharp knife and plant it about

1 inch deep

. When you look at the base of plant, the last of the white portion and below is what you should cut out. After around a month, the new plant would gather roots.
Cut the leaf horizontally near its base. Let the end you cut dry out somewhat. Dip the end into a rooting hormone powder to accelerate rooting. Bury the end into loose and moist soil. Mind that the burial is only shallow.
Put a stalk that you cut a little immersed in water. After some days new root system may come out. This method needs regular vigilance to check for rotting.
What If My Snake Plant Develops Scales?
Those scales may be insects which suck the life out of the leaves. Keep the leaves dust free to minimize infestation. To remove scales sprinkle soap water on areas where you see the scaling. Continue this for 14 days and see the difference.
Is Snake Plant Safe For My Pets? (Cat Or Dog)
Snake plant is toxic to your pets and even humans. Pets tend to nibble on plants. Sometimes casually, and at other times due to an upset stomach to expel the irritants. Keep an eye on this or keep it at a suitable place out of their reach.


Conclusion
Hope this article on Snake Plant Care was informative! Snake plants are difficult to kill. It loves your neglect and you'd would love its toughness. Do plant more indoor plants to improve air quality. Offices, hotels and hospitals have adopted indoor plants over artificial ones. Nowadays our homes are stuffed with all sorts of things. Many of these give out poisonous fumes of formaldehyde and other VOCs. Air purifying plants like snake plant, dracaena and peace lily easily tackle this menace.