Just when things started to look better, Coronavirus cases are tormenting India like never before. I'll list the best face shields for Coronavirus or COVID-19 disease here. Many protective gears are available online but not all help against the virus. Before that I need to tell you why face shields or face covers are useful.
In the fight against Chinese Virus, often only covering the nose and mouth is stressed upon. The fact of the matter is that covering the eyes is equally important. I sometimes feel, is there no one in media or government who knows this? The irritating telephonic recorded messages before each call should talk more about preventive measures. Face shields usage is a good prevention on top of face masks.
People have been trying to wear the Best N95 masks as their pocket allows. They now understand the importance of wearing face masks. But, what pains me is the sight of them not wearing them in the correct way. Most of the people have their masks dangling below their noses or just wrapped around their necks or chins. Is this how we intend to defeat Coronavirus? I mean, come on!
BEST FACE SHIELDS MASKS
When you use face shields for Coronavirus it helps you in many ways. Every doctor and health bulletin advises you not to touch your eyes, nose or face these days. You automatically save yourself from repeatedly touching your face when you use a face shield. Out of habit, anxiety or whatever reason, we are compelled to reach our face. Sometimes, we don't even know when our hands automatically begin picking our nose or scratching the face. Droplets from sneezing or contact from an infected person are stopped from reaching you. Isn't it reassuring? Face protection shields are simple yet effective gears and they're reusable and usually last for years.
BEST FACE SHIELDS IN INDIA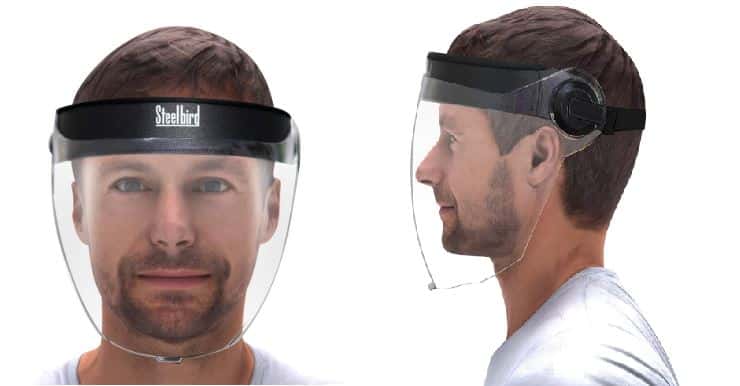 Steelbird is a well-known Indian maker of helmets and accessories for bikers. Its products are trusted and of high quality. Its face shields are no exception. I really like how the shields have been given a concave shape. The whole of the face till the ears is well protected. The band which rests against your forehead is covered with a soft fabric for comfort. On the inside, this band is filled with PU foam. Face shields are part of PPE kits used by medical and health care professionals.
These face protection shields prevent the face from splashes or sprays of bodily fluids. Bikers can use this as a visor to prevent dust particles from hurting the eyes. The quality is really great making it one of the Best Face Shields in India.
FEATURES
Steelbird face shields protect the wearer from bacteria, viruses and airborne infections.

These are washable and hence can be used for years.

The quality of the shield is really good. It is made of unbreakable Poly-carbonate material.

PU foamed forehead band for comfort covered with soft fabric.

Adjustable size of the head strap.

Optical true in the sense that the shield does not interfere in how you see things.

The shield is coated with an Anti-scratch coating.

2.

DR SHIELD FACE PROTECTION BY STUDDS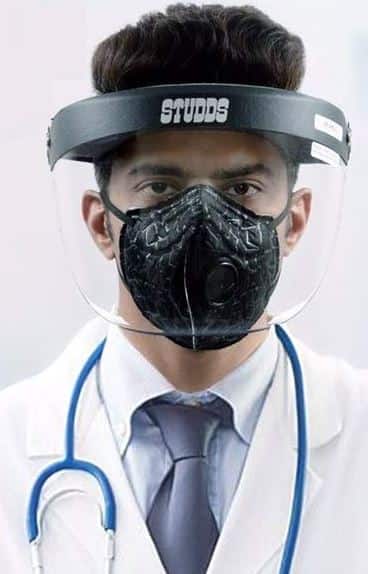 Studds is another well known Indian brand of helmets and visors. This face shield is adjustable and wider than the above one. A strap is there to wear it around the head. This product is of decent quality. Even though the strap is a little thin and less durable it solves the purpose. The padding over the head is comfortable and good quality. The front shield is clear and sturdy. This face shield is ideal to be bought for use in OPDs, emergency and operation theaters.
This face cover looks better for people with wide faces. This shield has an advantage that it can be used even after the Coronavirus fear subsides. Wear it under a bike helmet while cycling etc. to protect from flying objects to get into the eyes.
3. GIRLS HELMET VISOR FACESHIELD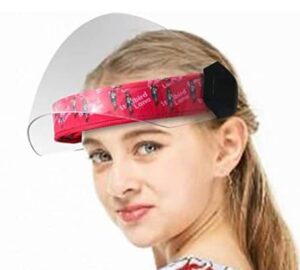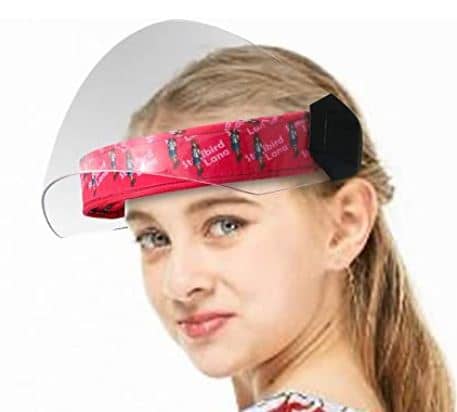 Looking for face shield for girls? We have you covered with one such helmet for women. Steelbird YS-99 visor has a girly touch to it with a flip up visor. There are two faceshields for girls aged upto 11 years. The below link takes you to Amazon and it comes in a pack of 2.

ALL PURPOSE FACE SHIELDS
1. Sellstrom Dual Crown Face Shield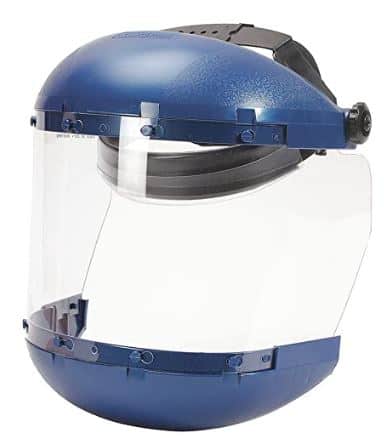 No one saw Coronavirus coming, likewise any unforeseen need may push you to buy a face protector. It would be wise if you buy an all-purpose face shield if you are looking for one. This would solve many purposes and would be a cost saving in the long run. For going outdoors during this pandemic wearing this would look weird to some. But, definitions take shape from one's perspective. People have to say things for everything, so do what suits your interests.
This model and the likes of it from the company are top notch products. The below link takes you to their complete product listing.
CHECK PRICE


Product Dimensions: 14.1 x 10.2 x 8.9 inches
Product Weight: 1.38 pounds
FEATURES
The shield visor is made of acetate and the headgear of nylon.
There's added protection on the forehead and chin area. This blue part is made of tough ABS plastic.
This face shield is suitable for all purposes like welding, shearing or grinding.
You can change the height and fit with its ratchet and a twist knob.
The visor or window is made of clear acetate material. It wraps around the face for an all-round protection.
The shield is replaceable and other parts too can be changed if needed. This is a nice way to keep it useful for a longtime.
The lens is clear and does not obstruct viewing or stops any light.
A cushioning made of perforated vinyl makes for a comfortable forehead rest.
CONS
Wearing this face shield may make you feel awkward in casual outings in public.
Nothing can be worn over the head like a hat etc.
If any part of its main body breaks, you need to buy a new one.
BEST FACE SHIELDS WITH GOGGLES
Some face shields come with integrated goggles. Others come with provisions to wear glasses comfortably by keeping the visor away from the face. No need to adjust any goggles separately, they are there already.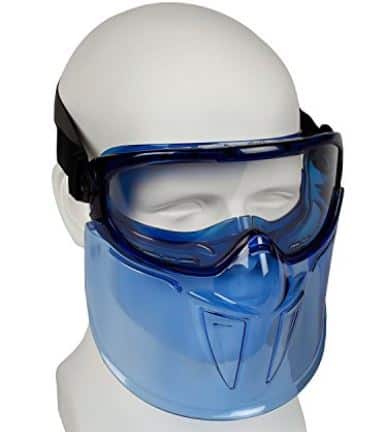 This face shield cum goggles provide good eye protection for the wearer. You can detach the goggles from the shield as well. It covers the face well below the chin. For someone wearing a respirator underneath it, no issues with it. This combo is very light at just 0.16 ounces. The length of this product is 8.0 inches. Arguably one of the best face shields you can buy for around $25.
FEATURES
Does not cause fogging issues even after wearing for prolonged.
A soft lining of rubber around the goggles makes for a comfortable wear.
The visor below the goggles has a blue tint. The goggles is transparent and sans any tint.
Like any other face shield, the surface of the shield is curved which is necessary anyways.
You can use just the googles if you need to, as it is detachable.
Jackson safety goggles fit comfortably over most eyeglasses.
The lens is clear and does not obstruct viewing or stops any light.
CONS
It could have been better if it had a few small holes or vents for passing little air. This is not to mean that you feel suffocated in it.
No provision of flipping the goggles up when not needed. You need to take the whole thing off.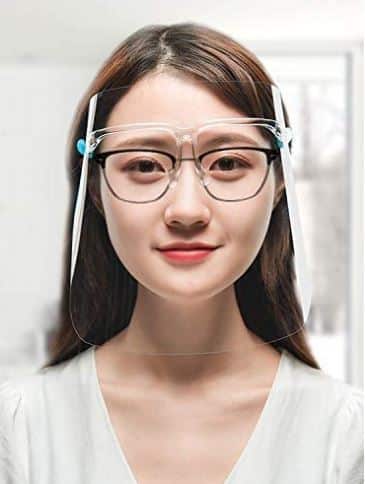 This face shield with goggles has a raised ridge which keeps it away from the face to make room for your spectacles. The design also means that there is no fogging since the mouth is away from the shield for the moisture to condense. The shield material is PVC (poly vinyl chloride) and transparent to look through with ease. The shield is 25 cm wide and 20 cm long which means it covers the whole face till the neck or the start of the shoulders. It comes protected with a peel-off protective film so that there are no scratches during delivery.
The size is such that it fits even kids and naturally for them it extends down even more. You would need to do an installation of sorts to mount the goggles onto the shield frame. So, read the instructions. This is reusable as expected and each set is very cheap that some people may not even care to reuse a set multiple times.
Its a wrap around face shield with goggles which is worn just like wearing a pair of glasses/frame over the ears.
CONS
The weight is 11.8 ounces which not sure how comfortable it would be.
BEST FACE SHIELDS FOR CORONAVIRUS
The below face shields are reusable alright, but cannot be considered as 'All-purpose'. These face shield masks can very well stop droplets of saliva from coughing or sneezing. Doctors can wear them, health professionals on the frontline can use them. But, do not expect these to last very long or remain scratchless for very long. Do not even think of using these while welding or where shrapnel are flying around.
Also, since these face sheets are reusable and cheap, do not expect them to be very sturdy or high quality. The high quality reusable ones have already been listed above.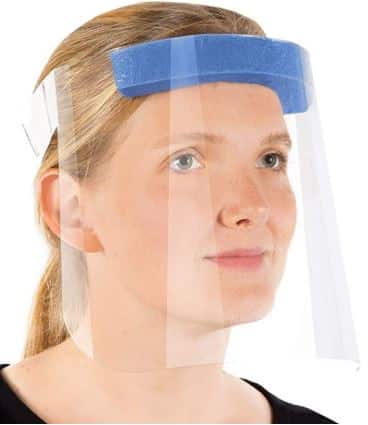 R20 face shields are clear to look through and have a decent quality. As pointed out by the manufacturers themselves, these face shields are anti-fog. Although, in some cases the top middle part may still get foggy. Someone with glasses can wear this protective face shield comfortably.
This face shield when it gets delivered to you may seem very simple. For once you may think that you could have assembled it on your own. What is it after all! A plastic sheet, a foam and an elastic band is all that make it up. But, the consideration at this time should be to stay home as much as possible. No need to go searching from store to store to get it assembled. Why waste time and risk your health when you can get a couple of these at a reasonable price. Considering that these face shields are not very pretty to look at, this is not the time for flaunting fashion either! The important thing to note here is that wearing one of these face shields would protect you from splashes of spit etc. This is what should be everyone's priority at this moment.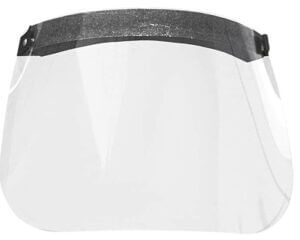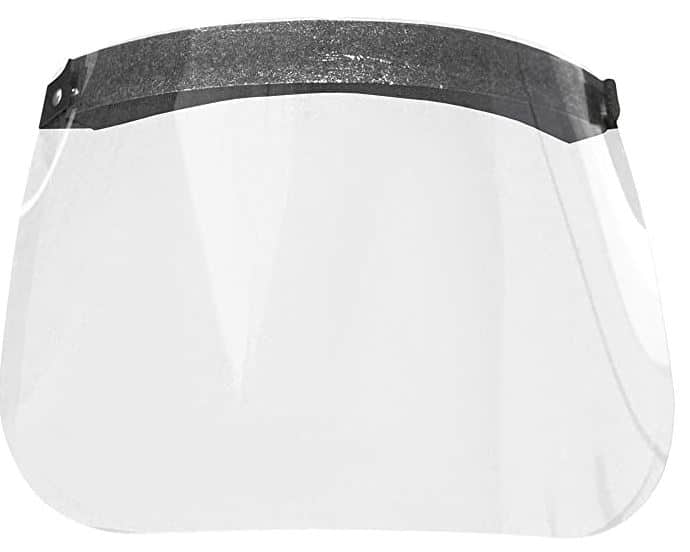 An affordable poly-carbonate face shield which does the job well. It protects your face from direct contact with splashes of bodily fluids or germs. Wear the KlearStand face shield in conjunction with face masks for all-round protection against viruses and bacteria. What I like about this face shield is that it comes with protective films on both sides of the visor. Before using it you just need to peel off the film for a crystal clear scratch-free film. I know how frustrating the scratches on the shield are. They irritate the wearer as the view may be impaired.
You can work on computers, look around and see things normally. Much depends on how you maintain and store your face shields when not in use. The polycarbonate material is resistant to scratches but upto an extent only. Needless to say, if you touch your face shield with bare hands then smudges may also disrupt the otherwise clear vision.
A good feature is that its band fits all head sizes since it has a velcro strip. This is one of the better face sheet masks.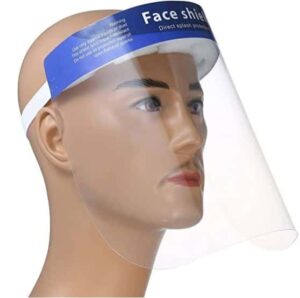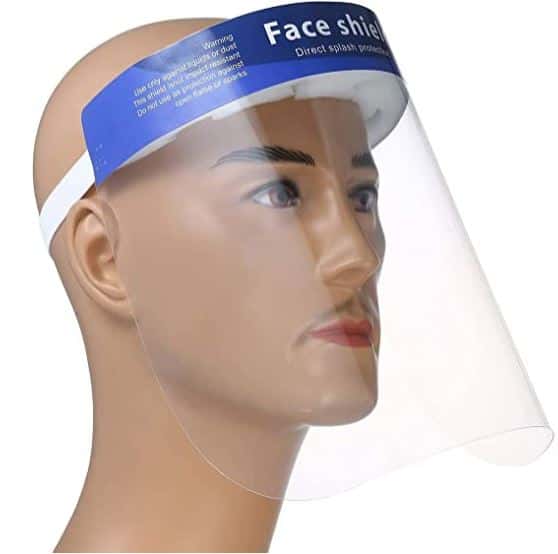 You'd see this product and the same product photo all over the place on Amazon. Hence, I've chosen one of the better sellers which is the amazon choice. This face shield protects the face and eyes in a number of situations. While cooking there may be stray splashes of hot oil or water. Needless to mention this is one of the cheaper face shields, so do not expect it to be very sturdy. The shield material is PET of which disposable water bottles is made of. Compared to polycarbonate (which you should prefer), PET is softer and hence less durable. This one is not suitable for industrial use. The length of the visor or shield extends to cover below the chin.
An elastic head band is what is provided to wear it over the head. A foam rests the face shield against the forehead and is comfortable that way.
I personally dislike the label which is an eye sore.
WHY COVER EYES OR FACE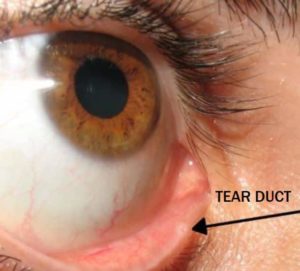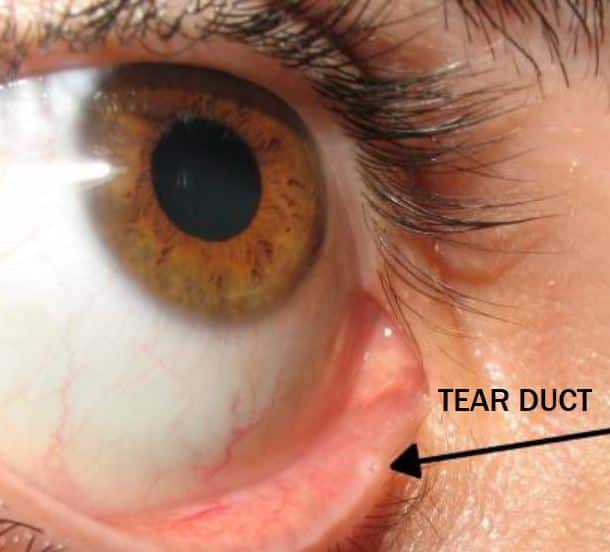 When someone splashes the eyes, some water comes up in the nose too. Or, chances are you must have seen that 'magic' trick wherein someone suctions up a grain into the nose and expels it out from under the lower eyelid? Well, there is no magic in this. There are lacrimal glands which produce tears. Then there are two small openings (Puncta) which drain the tears into the nose. When our eyes well up with tears, the tears are funneled out into the nasal cavity. What this all indicate? It simply means that our eyes, nose and throat are interconnected. Do you still feel something as small as viruses would find it difficult to make their way from the eyes into the throat? Coronavirus once reaches the throat is where it turns deadly for some people.
So, protect your eyes very well in the current scenario. When you use face shields or goggles, you are effectively preventing the virus from reaching your eyes. Easy enough as you can procure these shields at a reasonable cost. Depending on the quality, most shields are reusable and a one-time investment.
ARE FACE SHIELDS BETTER THAN MASKS?
This is an incomplete question because it depends. Which application are you talking about? For riders who are otherwise in a low pollution area, this shield protects against dust, insects or splinters from injuring the face/eyes. As is easy to imagine face shields cannot protect the wearer from particulate pollution. In a way, the shields just form a transparent physical barrier towards any solid/liquid thing from reaching the face head-on. Pollution masks on the other hand cannot protect your eyes. They are devoted to filtering the inhaled air only.
Masks are difficult to breathe in when compared to the ease which one can while wearing a face shield.
Face shields find use in manufacturing units, or wherever face needs protection.
For protection against Coronavirus etc, a face shield which extends till below the chin is good to have.
CONCLUSION- Best Face Shields
Wearing face covers or face shields over the masks is convenient. There is no obstruction to any of your activities wearing them simultaneously. Yes, there is always a possibility of receiving a few pieces of your face visors to have scratches. But, again these are cheap in cost and even a scratched face shield will give the same protection against virus. People wearing specs may find it difficult to wear or see through it. Your objective should be to save your face from coming in contact to infectious liquids or dust. Choosing to wear some of the Best face shields can go a long way in insuring your well-being. Despite all the Pros, not many people choose to wear them. Day by day, the Coronavirus scare is receding especially when countries have started immunizing their people.
You May Like These Similar Posts From AirSwacch!