Coway Airmega air purifiers always manage to catch the attention of users seeking a good air purification system. Not only do they perform very well against air pollutants but their 'Smart' models are trendy, convenient to operate and a delight to own. There are Coway Airmega 300, Airmega 400, Airmega 300S and Airmega 400S models we'll be discussing shortly. When you see air purifier models with their looks exactly the same yet have different model numbers, it becomes necessary to clearly bring out the differences. Coway Airmega series is known for its typical design and extraordinary looks. No other air purifier comes close to being so 'different' in shape as these. Whether you go for the 'Smart' or the normal Airmega models, its your own choice. I am here to launch this compare Airmega 300 vs 400 vs 300S vs 400S post.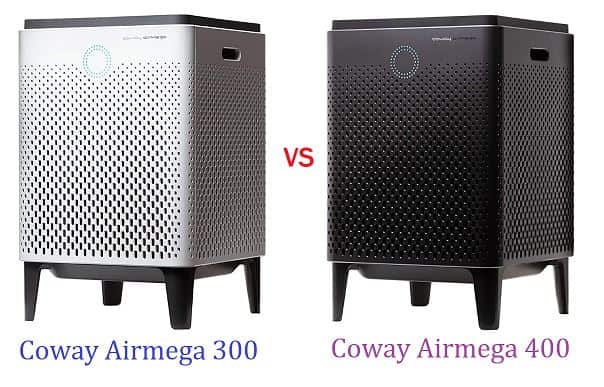 COWAY AIRMEGA 300 vs 400
I know what has brought you here. You must be interested in knowing the subtle differences between Airmega 300 and 400. Well! to catch the differences with naked eye is impossible. I mean both the models look exactly the same. The only difference one can make out is after taking a look at the console. Otherwise grab a meter tape and measuring the sides of the models can also unravel some dimensional variations.
PRICE GAP – AIRMEGA 300 vs 400
The filters for Airmega 300 and 300S are exactly the same. Same is the case with Airmega 400 and 400S filters. The Smart version (400s and 300s) are costlier than the non-smart variants. In recent times the prices have gone down considerably. There was a time when you'd have to shell out around $749 to own an Airmega 400S! Nowadays its available for over $200 less. Before you buy any Airmega, please carefully factor in the price difference. The difference between the prices of Airmega 300 and Airmega 300S is around $120. Whereas, the price gap between Airmega 400 and Airmega 400S is around $54. Don't take my word for granted as the prices are subject to change.
Apart from the upfront cost, you cannot ignore to consider the recurring filter replacement costs. Simple to guess the filter cost for Airmega 400 is greater by approx. $50 from Airmega 300 MAX2 filters. Yet another reason for you to prefer Airmega 300S over 400/400S.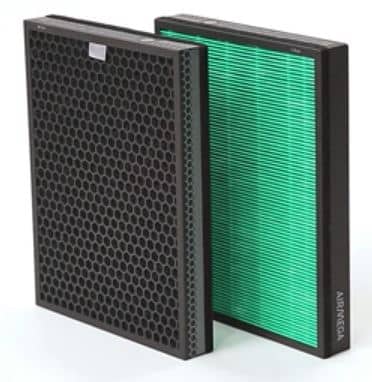 COVERAGE AREA DIFFERENCE
Coway Airmega 400 is a bigger air purifier model with a higher coverage area than Airmega 300. Contrast 1560 sq.ft. coverage of Airmega 400 vs Airmega 300 with 1256 sq.ft coverage area. If you do not know the exact room size, you can go for the smaller one. Remember the above area figures are for an ACH of 2.


SIZE DIFFERENCE BETWEEN AIRMEGA 300 AND 400
Coway Airmega 400 is a larger model from CADR and coverage area perspective. As expected, it is also a bit larger and heavier than Airmega 300. Contrast 24.7 pounds weight of Airmega 400 with 21.4 pounds of Airmega 300. In dimensions, only a few extra inches in each side makes Airmega 400 a slightly bigger brother. Again, to the naked eye the size difference is not apparent.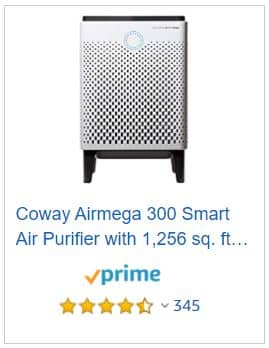 COLOR OPTIONS
Coway Airmega 300 and 300S are only available in White body color. The 400S and 400 offer two color choices viz white and a Graphite one. The graphite color is a little cheaper now although it used to be the other way round.
DO ANY FEATURES VARY?
Yes, only a couple of features vary. Below are just the two broad Coway Airmega 300 vs 400 post precipitates.
Coway Airmega 400 has a light sensor which Airmega 300 lacks. This sensor makes its presence felt in how the Sleep mode comes into effect. With Airmega 300 you need to manually turn this mode ON. While the light sensor in Airmega 400 comes into play automatically. The air purifier enters Sleep mode as soon as the light intensity in rooms decreases whether naturally after evening or when lights are put off.
Other things as you know differ in the coverage area, CADR, size and weight. Coway Airmega 400 has all these parameters a little greater than Airmega 300.
---
---
COWAY AIRMEGA 300 vs 300S
The 'S' version of Coway Airmega 300 and 400 models incorporate mobile APP support. Your Airmega 300S and 400S air purifiers have WiFi modules to make this possible. You can also leverage Alexa to issue voice 'commands' to your device. For example you can say "Airmega, increase the fan speed" and it is done. The same differences exist between Airmega 400 vs 400S. There is a price difference of about $80 between these two. If you find this amount to be worth the value addition, go for the Smarter variant.
Features Distinguishing The Airmega 300 And 300S
1. COWAY IOCARE APP
As you may know well by now, only Airmega 300S and 400S have the IoCare APP support. That is models with an 'S' in their model names. I would not talk of the difficulties users report in connecting their Airmega to the APP. That's a separate topic I won't dive deeper into. For those for whom the APP works fine, they get to view a lot of graphs, charts and statistics. Below are some interesting things a user can view –
AIR QUALITY
Current Indoor air quality, whether it lies in the Good, Moderate, Unhealthy or Very Unhealthy zone.
Outdoor air quality in your city where PM2.5, PM10, Ozone, Sulphur dioxide and Carbon monoxide levels are displayed.
DEVICE CONTROL
You can power ON/OFF your Airmega from the APP.
Timer can be set from within the APP as well. 4 timer presets of 1/2/4/8 hours are available for selection.
The APP also lets you choose the MODE to run your air purifier in. SMART mode or SLEEP mode selection can be made here.
Coway Airmega offers 3 FAN speeds which can also be controlled from the APP.
SCHEDULE
This is the only feature apart from the APP which needs separate mention. Coway Airmega 300 doesn't have a Scheduler while the 300S one has it. You can-
Set the Time when your Airmega must turn ON.
Schedule when the air purifier turns itself OFF.
Schedule within 7 days of the week.
Even set the mode in which the air purifier should wake itself in. Available options are Auto, Sleep, Speed 1, 2, or 3.
Control whether or not the lights on the Airmega 300S be ON on the set date and time.
2. SMART MODE
Both models let you set the Timer. Airmega 300 has a separate button for setting the timer. However, Airmega 300S doesn't have any button to set the timer. This is possible only through the mobile APP. Sort of a disadvantage present only in 300S. No other Airmega including 400/400S/300 has this issue. What if you are unable to get the APP working or maybe can't use the phone?
Hope the above content made the Coway Airmega 300 vs 300S comparison crystal clear.
Should You Buy 300S Or 400S?
There is no fixed price difference between Airmega 300S and 400S. The price varies greatly between the White and Graphite models. Nowadays the Smart model 400S is cheaper than 400, a puzzling thing. Infact, there is no pattern can be set for the price. Look for the current price and decide what best deal you can crack. The only fixed difference between Airmega 300S and 400S lies in their coverage area (1256 vs 1560 sq.ft.). So, there is no debate when one should buy either of them. For the around 300 sq.ft. coverage area difference, if you have to shell out many more dollars then avoid it if you want. I would suggest to save it and invest it maybe another air purifier. Close to $100 can fetch you a Taotronics air purifier which would prove to be a good purchase.
You May Like These Similar Posts From AirSwacch!