Honeywell offers a big catalog of air purifier models, so vast that it seems endless. You can get an air purifier tailor made for your needs, whatever they may be. Our blog also has a number of Honeywell Air Purifier reviews just like this one. You can check them out if you have any other Honeywell air purifier in mind as well. This post on the Honeywell AirGenius 5 review is another now in the same series. The Honeywell AirGenius 5 HFD320 is a relatively newer model in the AirGenius family. Now, even the latest AirGenius 6 is out. So, it seems to be a never ending trail. It is definitely an improvement upon the earlier AirGenius 4 and AirGenius 3 versions. But naturally, not everything can be overhauled so it has many common features as well. Like all other HFDxxx models, this one too is meant for small rooms.
HONEYWELL AIRGENIUS 5 REVIEW
The flagship model of any air purifier brand keeps changing. Until sometime AirGenius 4 held this crown but only until AirGenius Five arrived. Now, lately there's a newer AirGenius 6 basking in the glory, but for how long! Anyways, the Honeywell AirGenius is such a series which doesn't disappoint a bit. Do you think what good is an air purifier like AirGenius 5 which can cover just 250 sq.ft? Let me inform you that for AirGenius 5, the ACH for 250 sq.ft. area is 5.  If you've zero information about air purifiers and not even heard of the AirGenius series, this Honeywell AirGenius 5 review would help you.

The AirGenius series is one with a tower design. Many air purifiers follow this shape, which allows for longer passage of air through it. Price-wise also there is not much difference between this one and the earlier version. It has 5 different fan settings and uses the same filter as the AirGenius 4. There is no HEPA filter so users might be skeptical. But this is what makes the product extremely silent. The timer is improved and has many more settings. You might be wondering about the new differences – does it have more coverage? Does it have an ionizer? Well, in this Honeywell AirGenius 5 review, we will be looking at each feature and discussing it in details. The pros and cons of the product, as well as whether it is any better than the earlier models – have been discussed.
THE 'ifD' (Intense Field Dielectric) FILTER
An air purifier's filters are its most important parts. Afterall, the whole air purifier industry is revolving around them. True HEPA filters are the holy grail among air purifier filters. That too if you happen to find one with H14 grade then its a done deal! Now, coming on to the Honeywell AirGenius air purifiers, they do not have the concept of a HEPA filter at all. The company has innovated and uses ifD filters in all the HFDxxx air purifiers.
Surprising it may seem but this is not at all a performance or quality compromise. Infact, ifD filters perform better than True HEPA filters in more ways than one. Firstly, compare the performance of ifD vs HEPA filters.
True HEPA filter of grade H13 and above can filter

99.97% of particles sized 0.3 microns or bigger. An ifD filter removes 99.99% dust or microscopic entities!

ifD filters manage pressure drops efficiently and thus, causes less noise. Usually, it is rare to find noiseless HEPA filters since the way they obstruct the way of air results in some noise anyway.
Secondly, you'd be pleased to know that owning one of these AirGenius air purifiers could also save money.
The ifD filters are so designed that they never need replacement ever! So, the same set of ifD filters that come bundled with the air purifier could last till the air purifier works. Even the cost of the replacement set is way lower than what a True HEPA filter would cost. They can also function at less energy than the HEPA filter so overall, it will save up on your energy bills.
DESIGN AND LOOKS
The AirGenius 5 HFD320 is a black tower form factor air purifier. It has corrugated lines all over the body and a blue LED accent light near the base. Even the AirGenius 4 had this light but not the AirGenius 3. Looks-wise, this models is not much different that its predecessors. Users won't be able to tell any difference at a glance. The tower is 27 inches high and has air inlet grills located on the backside. This is different from most models. But backside grills are also becoming common in the designs by some manufacturers. The air vent that throws out air is located on the front. The grills are blended into the corrugated design so they don't stand out especially. But the design also makes it more likely to attract dust particles on the body.
Hope you are getting what you were looking for in this Honeywell AirGenius 5 review?
---
The product body is all black like a mamba staring at you and ofcourse its very sturdy. The main difference between AirGenius 4 vs AirGenius 5 lies in the control panel. The newer model now has a touch control panel. A couple additional features have been added. AirGenius 5 weighs 17.9 pounds and has a specific Germ reduction setting for removing airborne germs. The weight is also the same as the previous two models released by Honeywell. The base is flattened which prevents it from easily turning over. The LED ring light also makes it easier to find in the dark.  So, design-wise, we hardly see any change with respect to weight or height. All the AirGenius models are available in black color.
CHECK PRICE


LATEST MODEL
DIMENSIONS
The product stands 68.1 cm tall which is not quite enough to reach the height of a table. But still large enough that it cannot be placed on a shelf. It is 25.1 cm wide, which is quite slim.
COVERAGE AREA & ACH
The air purifier has a coverage of 250 square feet, which is the same as the previous models. Again, we do not see the reason why Honeywell brought out a whole new version if not even the coverage got any scale up. The ACH as stated earlier is fantastic at ACH=5. This means that every 12 minutes, AirGenius 5 finishes cleaning the air of the entire air in a room. This is quite impressive and more than the usually stated requirement of 4*ACH circulation.
The CADR is 160 for Dust, 161 for Smoke and 170 for Pollen. This CADR rating is sufficient for this size and coverage area.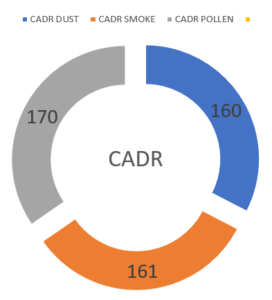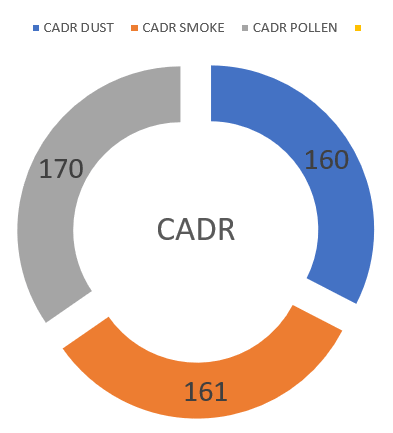 HONEYWELL AIRGENIUS 5 FILTERS
AirGenius 5 uses a 2 stage filtration process. This is the same process used in AirGenius 4 model as well. Instead of a HEPA filter like most other Honeywell products, it uses an ifD filter.
PRE-FILTER – This is a normal, grey pre-filter. It prevents larger particles of PM10 from entering the system. It is washable and must be regularly cleaned to ensure the system works perfectly. There is not much of a quality factor for pre-filters, since it mostly acts as a mesh rather than some high efficiency filter.
ifD FILTER – This unique filter is more effective than a true HEPA filter and this is why the product costs as much as it does. This filter removes 99.9% of dust particles up to 0.3 microns in size. It can also deal better with any change or drop in pressure. It can get rid of any pet dander, mold, viruses, bacteria and pollen. If you have asthma, this is a highly suggested product.
ACTIVATED CARBON FILTER – This filtration ensures removal of VOCs, ammonia, formaldehyde or any substance that gives off smell and odor. It can get rid of pet smell, kitchen fumes and incense fumes.
It is interesting that Honeywell chose to use the Intense Field Dielectric filter instead of a HEPA filter. Despite using similar filters, the fan power of AirGenius 5 is higher than the AirGenius 4 and hence, it is more effective. The ifD filter also offers permanent filtration for the air once circulated through it.


CONTROL PANEL
Honeywell AirGenius Five's control panel is located on the top face and angled towards the user. This angle makes it easy to operate. There is a great increase in the number of options here.
ON/OFF – This button is located at the lowermost portion. It is distinct from the bunch of other buttons, which we liked. It is easy to identify.
PURIFICATION LEVEL – This adjusts the fan speed. There are 5 different options available. By using the single button, it alternates between the 5 styles.
FILTER STATUS – This is in the form of a battery indicator that denotes the current filter status. This is a nice change from the usual LED light indicators seen in most products. Usually, models have an LED light that snaps on when the filters approach replacement time. This makes the user suddenly start looking for a replacement. However, using the battery style icon, you can see form beforehand how much filter life is left.
ACCENT LIGHT – This turns on or off the LED ring light at the base.
OSCILLATE – The oscillation function helps the air move back and forth. This button activates it.
TIMER – This is an improvement on the earlier model. AirGenius 5 has 5 different timer settings. You can set it up for 2, 4, 6, 8, 10 or 12 hours. They specifically added the options of 12 hours in this model.
The control panel is convenient, however, there are many buttons and writings on it. It could have been more minimalist in design.
FAN AND TIMER
There are a total of 5 different fan speeds that users can set. The best part is that it is a fully noiseless product! Light sleepers can rejoice since the ifD filter releases minimum sound. Compared to a HEPA filter, it is practically silent. The fan settings are termed as, "Sleep", "Germs", "General", "Allergen" and "Max". For those allergic to pollen, the allergen mode might be quite useful. It also shows how the purifier gets rid of certain pollutants at each level. So, users will know which level acts best for what type of pollutant.
The timer also has 5 different settings. It can vary from 2, 4, 6, 8, 10 to 12 hours. This is a wide range and uses will enjoy having liberty. The fan timer can be set by a single button that alternates between the hours.
NOISE LEVEL
Thanks to the ifD filter, there is no humming at the lowest mode or the sleep mode. ifD filter does not force air through a matrix of small passages. Hence, there is no gushing of air and no pressure drop. An ifD filter mainly uses an electronic attraction to remove the particles from the air as it flows inside. the smooth polymer flutes are in a honeycomb shape on the inside. The air flows at a normal speed. This is the reason the filter body is thinner and taller. The end result is that there is no sound of the air rushing in or not. It is great for usage in the bedroom.
ADDITIONAL DETAILS
Due to the ifD filter, the power consumed is much less than most models. The Honeywell AirGenius Five uses only 38 W of power when in use. When tested, it has the highest air cleaning efficiency among all the AirGenius models. Hence, it is better than AirGenius 4 despite using the same ifD filter due to its better fan.
For users wondering about whether it has an ionizer or not, here is the explanation. The ifD filter works on the same principles as that of an ionizer. Hence, it can be said that it does have an ionizer. Though, using the same principles, an ifD filter works much better than a simple ionizer. A small issue is that the LED lights placed behind the buttons cannot be switched off. The accent light below can be controlled, but the button light cannot. Some users may not like this during the night.
CONCLUSION – Honeywell AirGenius 5 Review
Maybe some users avoid Honeywell HFD320 due to its ifD filter. The reason maybe because it works along the same lines as an Ionizer. As such, it might release ozone as a by-product. But we trust Honeywell to know that this is a trace amount and well within the certified limits. If you are only looking for a Honeywell air purifier with True HEPA, then Honeywell HPA300 Review deserves a read. There are certain additional features that were not present in the earlier models. Like the addition of an extra sleep timer. The fan used is also more powerful. It would be nice to have a specific auto mode that would adjust the fan speed itself. However, since the power usage of the device is already so low, it is doubtful how much an auto mode would be able to reduce it further.

In many aspects, it is better than other industry models. But it is quite similar to the earlier models of the AirGenius series. Hence, spending money on AirGenius 5 should be a personal decision of the user. It is certainly quite and suitable for 250 sq.ft. area. It having an ACH of 5 makes it perfect for patients of Asthma and Allergy. The best part is that users need not replace the filter. The pre-filter can be manually washed. The ifD is a fixed filter. The carbon filter still needs to be replaced and the indicator provided for it is also quite innovative and stylish.
That's it in this Honeywell AirGenius 5 review. Cya!
You May Like These Similar Posts From AirSwacch!