Sleep mode
For uninterrupted sleep with no disturbance, the sleep mode is a good feature. In this mode, the fan speed is the minimum, due to which there is no noise of the fan. The decibel rating of this purifier during sleep mode is 34 decibels.
The air quality lights and other LEDs are also dimmed for less distraction during sleep.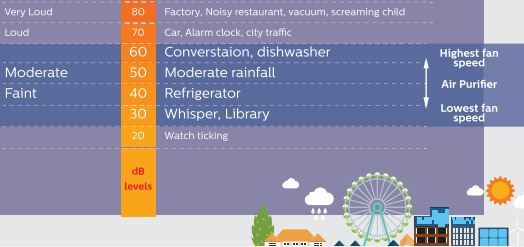 VitaShield Intelligent Purification System
To filter out Ultrafine particles, allergens, bacteria, and viruses with size >0.02 micron.
Note- Among all other factors- Quantitative or Qualitative, it's recommended to buy an Air purifier with a Tobacco smoke CADR rating two-thirds(2/3) of the area of the room or CADR= 2/3*(Room Area in Sq.Ft)
PERFORMANCE
• It filters out ammonia: 93% (run at hi speed over 60 mins inside 1m³ box)
• Filters out bacteria: 99.9% %
• It filters out benzene: 94% (run at hi speed over 60 mins inside 1m³ box)
• Filters out dust /pollen: 97.4% (0.3 micron)
• Filters out formaldehyde: 89% (run at hi speed over 60 mins inside 1m³ box)