In our last post we reviewed the most mainstream models in the Sharp range of Air Purifiers-  Sharp Air Purifier FP-F40E. Lets be clear right away and call a spade a spade. The Sharp FP-F40E Air Purifier does not have as many features which even cheaper models from Philips or even Samsung offer. Still, in this article we review the cheapest air purifier from Sharp- FU-A80E-W.
Air masks are not an alternative to air purifiers but ensure protection against polluted air when you are on the move.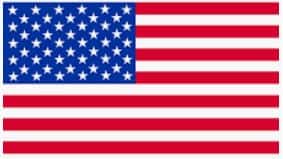 MOVE TO BEST SHARP AIR PURIFIERS IN USA
Sharp FU-A28E-W Air Purifier Review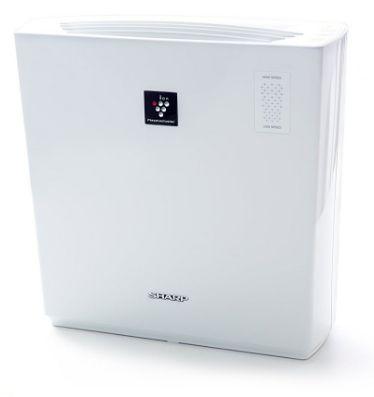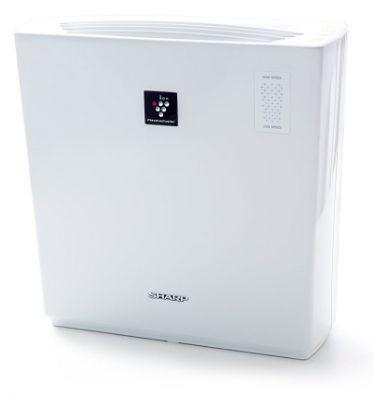 Why SHARP?
Sharp HEPA Filters meet top global performance standards Sharp Air Purifiers sold in India are equipped with H14 Class (in EN1822 type) True HEPA filters, based on the JEM1467 standard of The Japan Electrical Manufacturers' Association. HEPA filters built to this standard remove 99.97% of dust and other particles of size 0.3 µm each time air passes through them.
Check Price in Singapore
Sharp FU-A80E-W Air Purifier for Big

680 sq.ft. R

ooms
CADR
CADR for Sharp FU-A28E-W Air Purifier is 168 m³/hr
Features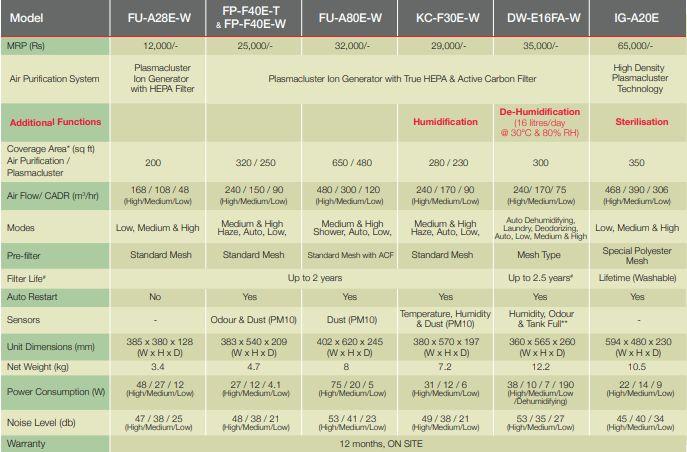 Coverage Area
Coverage area is around 200 sq.ft. This is suitable only for small room sizes.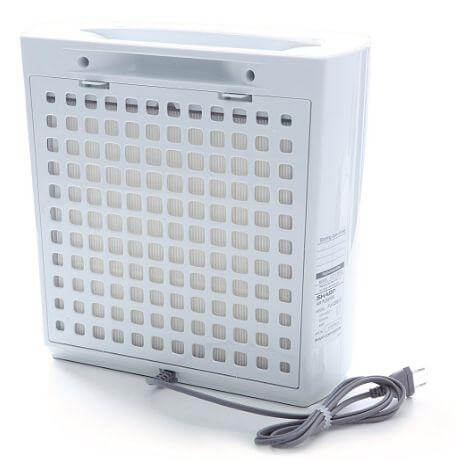 Plasmacluster from SHARP
Plasmacluster ions are positive and negative ions that occur in nature. The effectiveness of Plasmacluster as an air-purifying
technology has been supported by test data, and Plasmacluster is thus increasingly finding applications in various areas of
activity, such as in businesses, in addition to household use. Plasmacluster provides you with natural and safe air. This unique
technology from Sharp applies the power of nature. In short, Sharp Air Purifiers have Ionizer function which can be turned On and Off.
Ions over Approx. 1,000,000 ions/cm³ start to cause skin irritations. While Sharp Air Purifiers release far less ions approx 25,000 ions/m³.


Plasmacluster Ions Can Remove Mold, Viruses, Allergens, Odors and Static Electricity.
1.  GENERATES FRESH INDOOR AIR
Plasma discharge generates and emits the same positive and negative ions that occur in nature
2. NEUTRALIZES HARMFUL VOC & OTHER TOXIC GASES
Plasmacluster ions surround and break VOCs and toxic gases
3. KILLS MICROBES AND OTHER CONTAGIOUS ELEMENTS
Plasmacluster ions kill viruses including H1N1, microbes, bacteria like E. Coli, MRSA, TB & fungal spores to sterilize indoor air.
4. ELIMINATES STATIC CHARGE
Plasmacluster ions remove static charge which causes dust & pollen to cling to surfaces such as ceilings and walls, curtains, even hair and clothing.
5. HYDRATES SKIN
Plasmacluster ions not only help the skin retain moisture, but also help improve its elasticity and texture.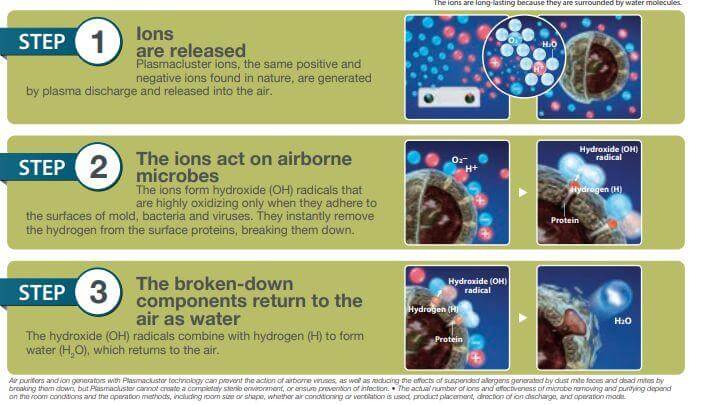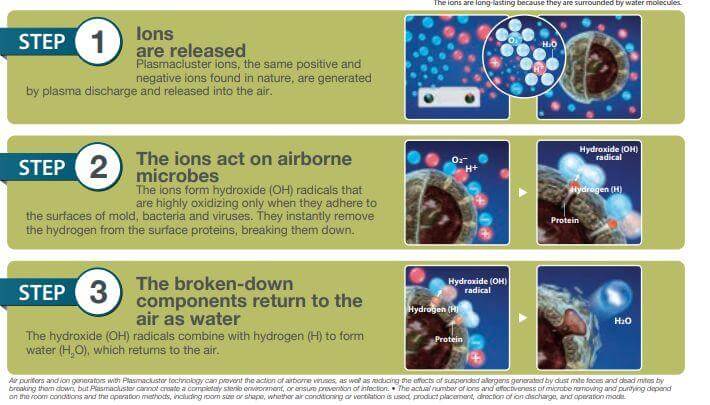 Plasmacluster Air Purifier Applications
Bedrooms & Living Rooms
Most of our time is spent in bedrooms & living rooms. Hidden in the air remain a variety of contaminants such as viruses, bacteria, pollen, haze invading from the outside, as well as odors and dust mite feces and remains. Sharp Air Purifiers neutralize all such threats to make the indoor environment safe for its inhabitants.
Small Rooms (For Children) & Closets
Children have a weaker immune system compared to adults. It is therefore important to provide them with a clean environment. Closets on the other hand are usually not properly ventilated and this causes odors, particularly of sweat, to linger. Mold too, grows easily in closets.
Kindergartens, Nursery Schools & Child Day Care Centers
Provide a comfortable space to children, free of airborne allergens, viruses, fungi and pollution. Sharp Plasmacluster Air Purifiers will help reduce instances of children falling sick because of such airborne threats.
Elderly Care Facilities
Provide a comfortable space to elders, free of airborne allergens, viruses and fungi. Sharp Plasmacluster Air Purifiers will help reduce instances of elders falling sick because of such airborne threats.
Hospitals
Aside from neutralizing airborne threats such as viruses and microbes, Sharp Plasmacluster Air Purifiers reduce odors peculiar to hospitals that permeate doctors' cabins, waiting rooms and hallways. What's more, Sharp Air Purifiers also curtail formation of mold which is known to cause respiratory distress in many individuals.
Path Labs & Medical Test Centers
Sharp Plasmacluster Air Purifiers help maintain a sterile, dust-free, germ-free indoor environment and are a must-have for facilities such as pathology labs and test centers.
Hotels & Restaurants
Sharp Plasmacluster Air Purifiers help provide a high-quality, pollution-free and welcoming atmosphere for customers by removing airborne threats and unpleasant odors such as from food or cigarette smoke.
Office Meeting Rooms & Waiting Rooms
Protect your employees and clients against the risk of pandemics. Provide clean air in areas used often for meetings and other discussions.
Automobiles
Odors from eating food, smoking cigarettes and burnt rubber cling easily to a car's interiors. And then there's mold that grows in the car's air conditioning system. Sharp's Plasmacluster Air Purifiers for cars, vans & SUVs address these issues quickly and efficiently
Filters
Sharp FU-A28E-W air purifier use a composite filter frame. Thing to note here is that there is no Activated Carbon Filter.. Filter cost is around INR 3,000 but please check for the latest price.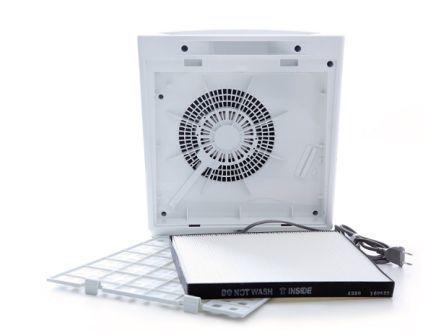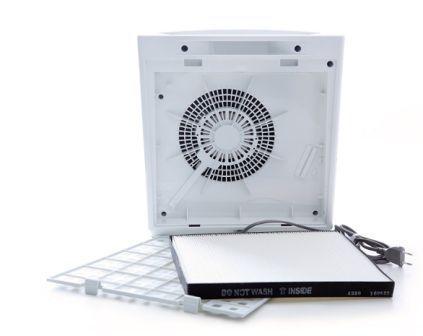 Conclusion- Sharp FU-A28E Air Purifier Review
This Sharp FU-A28E-W Air Purifier Review servers to apprise you of the Have's and Have-Not's of it. The design is simple and there are no LEDs, or pollution reading displays or mobile APPs. But this is understandable as its price is low. Still, you are paying more for Brand value of Sharp. It does not stand any chance when we have the likes of MI Air Purifier 3 or Honeywell Air Touch A5.
Check Price in Singapore
SHARP Singapore Contact Information
49, #01-11 Jln Pemimpin, APS Industrial Building,
Singapore 577203
Phone : +65 6345 5985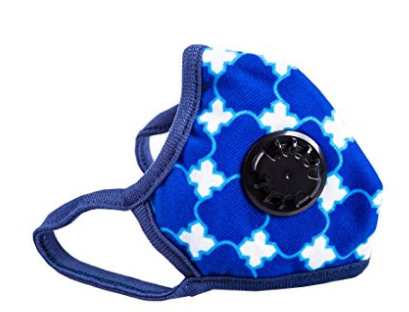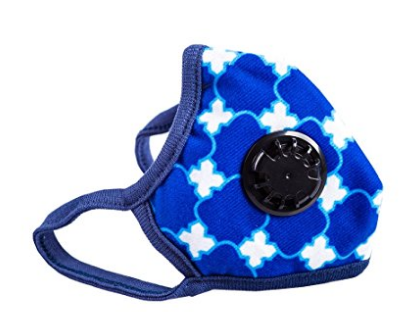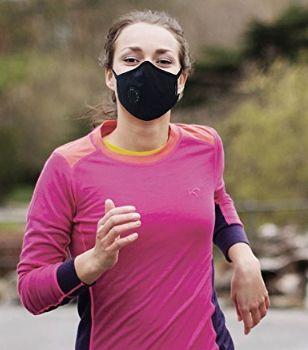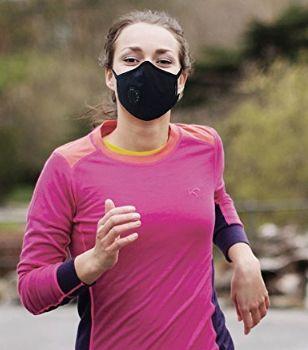 You May Like These Similar Posts From AirSwacch!