We described in great detail in our previous post, the use of activated charcoal. We also highlighted the various products utilizing the adsorption properties of Activated charcoal. In this post, we rate the odor and humidity controlling Activated carbon bags. Read on to find the Best Activated Charcoal Bag.
BEST ACTIVATED CHARCOAL BAG
Charcoal Bags or sacks are a non-costly way of deodorizing your indoors. Damp spaces or washrooms tend to be the smelliest areas in homes. Carbon bags can be also find use as dehumidifiers as they absorb water vapor as well.
Activated charcoal has an innate ability to absorb gases. This use and its discovery is a great example of science put to good use. Lets see some of the Best carbon bags then.
Moso Natural Air Purifying bags are the highest rated activated charcoal bags. There are activated bamboo charcoal from Olivia & Aiden which are also widely liked. Best activated charcoal bags are these.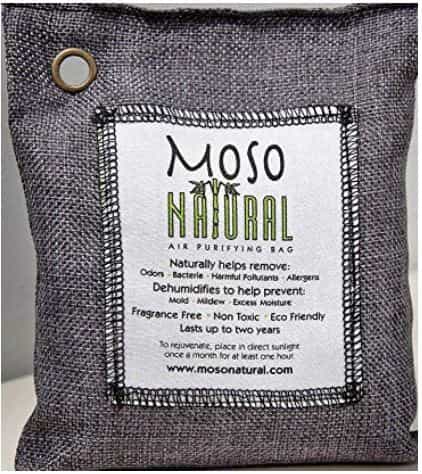 Moso Charcoal Bags are made from a species of Chinese bamboo. The  whole process of converting it into charcoal is a long one. The carbonized bamboo develops millions of tiny pores. The pores present a huge surface area which trap pollutant molecules in them. The pores adsorb odor, allergen and bacteria particles on its surface. This in turn purifies the air. The below is a comprehensive post on the Best Bamboo charcoal bags.
As with other activated charcoal bags, place the Moso bags in sunlight to recharge them.
Life Expectancy is 2 years after which open the bag and sprinkle it in your garden. The price is high because of unique bamboo charcoal.
Available sizes are 75 and 200 gram bags.


How To Prolong Life Or Recharge Activated Charcoal Bags
The quoted average life of Moso bags is 2 years. There is no need to keep things for so long especially which is a cleaning agent. Why to unnecessarily keep bacteria and impurities prone things around for long periods? The price is also not very high so affordability is easy. Still, up to a limit it is recommended to keep recharging the Activated charcoal. This can be achieved by keeping the bags in open air under direct and strong sunlight.
Another Natural Air Purifier Alternative
Indoor plants can prove very effective in controlling pollution. The Best Air Purifying Plants post is just for those who are avid plant lovers. Tendering to plants nurtures traits of love, care and affection. Get involved in gardening and rope in your kids as well. They will grow into better tempered and nature loving individuals. Those who love nature are often great humans, liked by one and all. So, sow this seed early in your kids' mental field.
Breathefresh Vayu is the Best Activated Charcoal Bag available in India. Following are its features-
Vayu Natural Activated Charcoal bags combine three layers of carbon.
First layer uses a carbon woven cloth. In simpler terms its a fabric made out of carbon. It is 3-5 times more effective than charcoal granules. Carbon cloth offers maximum pore surface area. The gas absorption power of activated carbon is all due to the numerous pores.
Second layer comprises of Charcoal granules in fine or coarse powder.
Third layer is a carbon infused sponge which absorb maximum amount of bigger sized pollutants.
The outermost fabric holding the above layers has a jute sack look. In fact it is made of Linen. It's non-static, quick dry and strong.
Available sizes are 100,250 and 500 gram bags.
USES OF VAYU ACTIVATED CHARCOAL BAGS
You can use Breathefresh Vayu in Washrooms, cupboards, cars. Vayu bags remove chemical fumes from the air.
The most usual place where it finds use is in kitchens and shoe racks.
It reduces humidity by up to 70% which prevents growth of molds and fungi. Place Vayu bags in damp places to arrest fungal growth as it also removes moisture.
Activated Charcoal bags are not a cheaper alternative to air purifiers. Although, marketing needs drive such advertisements but there is little logic in it. Unlike Air Purifiers, there is no mechanism of drawing the surrounding air into the charcoal bags. However, the claim of killing bacteria is only partially true. At the most, bacteria and viruses suspended in the air are trapped in the pores like any other molecules of gases.
Another good product is the Dr. Charcoal Activated Carbon bags. It is the 2nd Best Activated Charcoal Bag in our countdown. We've placed it below Vayu bags for a reason. There's no mention of the inner components or layers anywhere which is a negative. But given the reviews, it does its work well.
Place Dr. CHARCOAL in your bathroom, kitchen, laundry room, bedroom or living room. It is also safe to place it in fridge, wardrobe and shoe racks. The expected life of this product is about 1 year. Its competitor Breathefresh Vayu sells itself with 2 years life expectancy 🙂 You have to decide it yourself.
Available sizes are 75 g ,200 g and 500 g
Dr. Charcoal Activated Carbon bags definitely score more points in looks than Vayu. Prices of the two sellers are nearly the same, so why not go for the better looking ones.
Buy From Amazon

Casa Activated charcoal bags are made from coconut charcoal. Coconut shell is dirt cheap and a widely available raw material. Hence these bags are also cheaper. Coconut shell based activated charcoal is pure virgin grade. A measure of the adsorption power of charcoal is Iodine Number. Casa Activated carbon bags have an Iodine number of 1050 Mg/gm. This value means it is 2 times more effective than conventional activated bamboo charcoal purifiers.
Available sizes are 75,200 and 500 gram bags.
This product has mixed reviews on Amazon. Still if this has activated carbon in it, there wouldn't be much difference from other brands. Activated carbon is just that after all.
Available sizes are 100,250 and 500 gram bags.