Have you heard of charcoal air purifying bags? Or maybe you are already a user of charcoal bags. To reiterate if you are unaware of the activated charcoal benefits. Nature Fresh Bamboo Charcoal Bags can remove odor, reduce dampness and adsorb harmful gases. Owing to these properties of bamboo charcoal, it finds use in a multitude of applications. Be it air purifier filters, pollution masks, face creams or shoe deodorizers, its activated carbon in different forms. Its cheap and a versatile natural product. No surprise these are getting so popular and drawing attention.
Best Nature Fresh Bamboo Charcoal Bags
Each major brand sources its bamboo charcoal from China or neighboring countries. So, there is not a great difference in quality really. So it all comes down to the minute differences in user feedback and the packaging. Below, we have tried to handpick a few of the Best Bamboo charcoal bags available online.

Bamboo charcoal is more effective than normal wood charcoal. It has 10 times more surface area and 5 times more porosity. Bamboo charcoal is excellent at removing stuck-up or lingering foul odors. Air fresheners just mask the odors and do nothing to remove them. Not so, with activated bamboo charcoal bags! Put them in direct sunlight for 6-8 hours before use and even monthly once to recharge the charcoal. As with anything, activated charcoal also loses its vigor or efficacy with time. That's until you recharge them and they again perform like a charm. Know more about Activated Charcoal.
Good Things To Know
Charcoal is specially sourced from the original habitats of Moso bamboo.
Very good deodorizer for confined spaces or removing pet odors.
The sac material is durable and unless you wet them on occasions, they'll last long.
Do put the bamboo charcoal bags in direct sunlight before use. This activates the charcoal to enable it to do its job.
There's a metal grommet in the bag to easily hang it.
The charcoal is unscented which is good since that's what we are avoiding right? If we were to use scents then there are trillions out there.
Convenient sized bags can be put in smelly refrigerators, pet house, washrooms or closets.
Rank 2.

NewBreath Nature Fresh Bamboo Charcoal Bags

NewBreath Bamboo charcoal bags are equally good in quality as the California brand above. We have placed it on 2nd rung because it is costlier. CHG bamboo bags are relatively new entrants in market. So, they have kept the price lower to make a niche for themselves in this competitive segment.
Good Things To Know
A point to note out if you are confused between California Home and this.

NewBreath promises to effect 100% no-questions-asked replacement if you are dissatisfied.
Works like a charm in smelly areas especially if you're a pet lover.
Each bag can last around 2 years provided your handling and recharging is good.
Don't hold high expectations from your bamboo charcoal bags in mold or mildew problems. Get a good Dehumidifier for Rooms to combat the issue. And yeah, look for the source of dampness and get it fixed. It will be way cheaper than buying and paying the recurring electricity bills for running costs.
Rank 3.

Olivia And Aiden Nature Fresh Bamboo Charcoal Bags

By far the best deal we came across on Amazon. If you love bamboo charcoal and fill its stock up like groceries, then you must not ignore this deal. Its not to suggest as if its a compromise on quality. All in all, Aiden and Olivia charcoal bags are the most affordable. Need we reiterate what all is it good for? Nah! You know it already by now what are bamboo charcoal bags used for, isn't it? However, this brand is known for the #1 durability of the bags.
How Much Bamboo Charcoal Is Good Enough?
Activated bamboo charcoal is safe as it does not contain any chemicals. Too much of anything is bad, but not so for the bags only if they'd come for free! Below is the optimum bag size you can place in different locations to get rid of smells.
100g or 200g bags suffice for trash bins, drawers and cabinets.
Depending on how nauseating the foul odor is 200g or 500g bag is sufficient. Be sure to hang the charcoal bags in the mentioned areas.
One or two 500 gram bags in diagonally opposite corners should work just fine.
Seems most brands have adopted metal rings for hanging. So, you may need metal hangers.Talking about environmental sustainability, its best if your charcoal bag is 100% biodegradable. We searched for bamboo charcoal bags without metal rings. Only the smallest of sizes come with a fabric cord.
Rank 4.

Wyewye Activated Bamboo Charcoal Air Purifying Bag

The #1 Odor Eliminator bamboo charcoal bags. You can use it to deodorize your refrigerator which tends to develop a mixed odor. Wyewye offers many combos with different weight bags. Avoid wetting the bags and if at all it gets soggy, again put it to dry in the sun.
Good Things To Know
Total of

1.5 kg of Activated charcoal which is packed in a sealed linen bag.

No added fragrance or artificiality.
Useful for areas which tend to get a musty odor.
Completely safe for your family and pets.
Recharge for a minimum of 2 hours monthly or whenever the sun is bright.
What Is Charcoal?
Humans know the art of making charcoal since ages, especially Chinese and Japanese. For making charcoal, wood is burnt at high temperatures in absence of air or limited oxygen. Temperatures ranging 800º C to 1000° C is common. Destructive distillation is the name of this process as called in chemistry. Moso bamboo, a special species is most widely used for making activated charcoal.
And What Is Bamboo Charcoal?
Moso bamboo is a very fast growing bamboo species. In a day it can grow up to 2 feet taller. There's just no end to its growth story. Due to this vigorous growth, the internal structure of the bamboo is different too. After about 5 years when it attains its harvesting age, innumerable tiny pores have developed in its stalk. And these pores are what lend the absorptive powers you are looking to buy it for. Bamboo charcoal is many time more porous than regular wood charcoal.
Fun Fact For Bamboo Charcoal

Have you heard of analogies like- "The skin of an average human occupies 1.5 to 2 m² area"? Or this- "If you place all the arteries, veins and capillaries in a human end to end they would measure about 1,00,000 KM in length"? Then this is the one for activated charcoal.

The surface area of the best known quality of activated charcoal could be as great as 3000 m²/gram. Just 3 grams of a commercially available quality charcoal would occupy a surface equivalent to a football field. The immense surface area of these pores is a marvel in itself.
Is Cutting Bamboos For Making Charcoal Not Bad For Environment?
Hope you found this Best Nature Fresh Bamboo Charcoal Bags countdown informative!
Bamboos grow very fast and are resistant to rough conditions. Bamboos are grown for making charcoal and cut after 5 years. In a way bamboo farming for charcoal is good for the environment. For 5 full years the bamboos produce oxygen and biomass. Even after they are cut, they regrow in no time. Even the byproducts produced in the process are useful in medicinal uses. After your charcoal bag is past its usefulness, it is 100% biodegradable. So, don't worry.
Each and every part of a bamboo tree is useful. The young shoots are made into pickles. Some cuisines make use of their leaves. Moreover, bamboo farming does not need chemical fertilizers or insecticides. Just plant it in a favorable climate and come back after 5 years to harvest it. If someone is so concerned about environment, then using activated charcoal is actually a help. Humans should work towards reducing their carbon footprints. Do more for the environment and talk less.
Is Bamboo Charcoal Safe?
Bamboo charcoal is 100% natural. Even its production does not require any sort of chemicals. Some catalysts are used to speed up the process but they are fully consumed and harmless. Doctors administer activated charcoal to patients of poisoning or fumes asphyxiation. Its safe for the environment too. After your charcoal bags has served you well, you can empty the contents in your kitchen garden.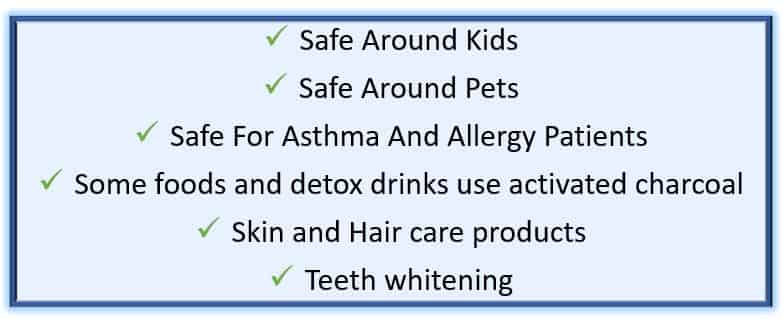 Conclusion – Activated Charcoal Air Purifier Bags
You just witnessed the benefits of using activated charcoal bags. They are so affordable and good quality ones last for a year or two. No one can ask for a better deal than buying activated carbon bags. Very simple yet versatile product which finds use in every part of your house. No safety risks are expected as its as inert as it can get. These sacks are the real natural air purifiers. Do share this review if you found it worthy. Thanks for stopping by!