Your landing on this page, and I am certain that you are looking for the Best masks for kids, right? Kids and the elderly are the most prone to falling ill from polluted air. Kids are the ones who venture out to go to their schools so early. Morning hours are usually the most polluted time in winters. When the smog is hovering very near to the ground. The COVID-19 disease was not found to be fatal for small kids. A certain protein is absent from their lungs which spares them the wrath of the infection. Thank Goodness! With only 2% of kids aged under 10 reported to have caught the infection. But, sadly this has changed now. The second wave of infection has seen the mutated virus attack infants and kids.
If not for the virus, your children may still need protection against foul air. In this post you'll gain information on the Best N95 Masks for Kids.
Small children have smaller faces so respirators for adults don't fit them. And of what use is a mask if it is ill-fit. This post is highlighting the need and ways to secure your little boys and girls from pollution and germs.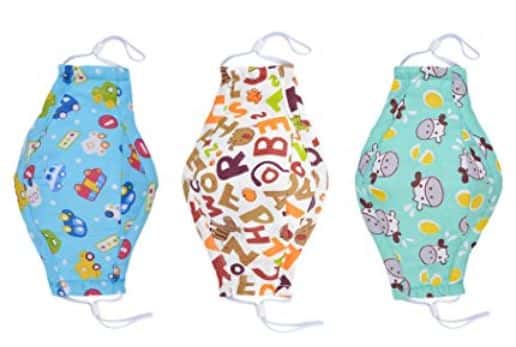 BEST N95 MASK FOR KIDS
Kids need even greater protection from pollutants and viruses. Their active routine and natural lack of awareness makes them vulnerable. Sadly, there are no N95 masks for kids. The reason for this are-
Kids have smaller lungs and may experience greater breathing resistance than an adult. The active lifestyle of kids may result in breathlessness or similar issues.
NIOSH certified masks are for occupational uses.
The use of N95 masks is approved for teenagers. There's one more reason why adult masks fail for kids. Adult masks or conventional masks do not fit well for kids. As you already know, a N95 mask is futile unless its a good fit. A mask will not stop pollution if it is over-sized with respect to the kid's face. There will be scope for air leakage from the edges. Hence, avoid making your kids to wear N95 masks unless its too polluted. Why to let kids out unless its too necessary.
Now you know the reason why its so difficult to find a N95 mask for kids. There aren't any!
Of the limited number of masks available for kids, Vritraz is one of them. The mask material is elastic, lightweight, and ear loops are easy to wear. There's an aluminium nose bridge.  Kids love cycling and other outdoor activities. Its little resistance to breathing makes it an ideal kids mask.
UNIQUE DESIGN: These masks have good breathability. The unique design makes it easy for the exhaled air to pass out. A breathing valve is present in each mask for lower breathing resistance.
BEST PROTECTION: Vritraz masks remove 98% of the dust, chemicals, smoke and particles. Masks give protection against dust, vehicular exhaust, pollen allergy, PM2.5.
REPLACEABLE FILTERS: The replacement filters are easily available. The filters themselves are 5 layered.
COMFORTABLE: The ear bands are made of soft cotton. Cotton ear loops are do not irritate and are comfortable.

ACCESSORY FOR A GOOD FIT OF MASK FOR CHILDREN
Its difficult to find and then be able to buy N95 masks for kids. I'll recommend a simple accessory which ensures a tight seal on the face. The good thing about these Mask Extenders is that it can be used by adults and kids alike. It finds most utility when the mask is smaller than the face. In such cases, the ear loops fall short and cause discomfort on the ears.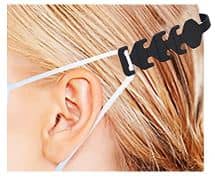 The above provision may not be suitable for all. The reason being that it is not too convenient to unmount the extender once worn. Mask lanyards are soft and better alternatives than plastic mask extenders. The Howenel children's seamless face bandana comes with 2 mask lanyards.
1.  Best N95 Mask For Kids

3M 8110S
You must be surprised seeing us mentioning a N95 mask for kids here. Just a few lines above, we had said there is no designated N95 mask for kids! Actually, 3M 8110S is a genuine N95 mask. But, its size is a bit smaller than 3M 8210. Rest all capabilities remain the same between two models. Hence, if at all a N95 mask is necessary for kids, you can look for the 8110S. The catch here is its availability. Unless a product is very much in demand, its supply is inconsistent.


3M 8110S has a cushioning nose foam instead of a nose clip. Wearing this mask even for long duration does not hurt the nose.
3M 8110S is as effective as the hugely popular 8210 mask.
The size of 8110S is approx. 25% smaller than routine N95 masks.
The mask is light weight and ideal for kids.
The material is breathable and thus lower breathing resistance.
This model may not be available on Amazon India. A very near match is the 3M 8822-V model.
CHECK INDIA PRICE
2. Kids Bandanas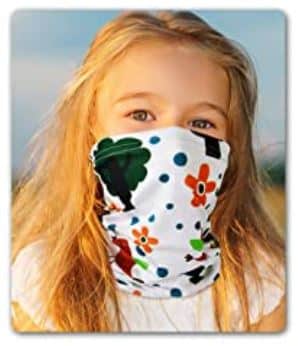 Now you already know that there are no N95 masks for kids as such. You can make them wear Bandanas instead. Cotton Bandanas are breathable and as well-known, virus can stay active for just 3- 4 hours on cotton fabrics. Kids should be active and playing around. Cotton Bandanas for kids won't come in the way of their enjoyments. Moreover, there are so many attractive prints available to attract them. No kid wants to wear the plain masks anyways.
Kids Bandanas have PM2.5 filters inside the outer fabric for added protection against dust. Unlike respirators, Bandanas for kids are comfortable as there are no pinching ear loops or nose-clips.


3. Cotton Face Masks For Kids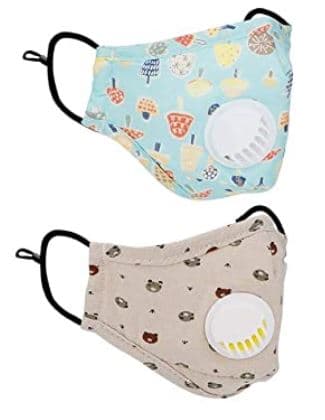 Masks made from cotton are very comfortable to wear. Cotton masks are skin friendly and can be worn for long duration. In absence of any specialized N95 respirators for kids, they can be made to wear cotton masks. Why not, they look colorful and you can match your kids' liking with a matching cotton mask. Cotton masks for kids too come with or without filters.
Some cotton masks which come with activated carbon layers can also be considered. Moreover, you may think what remains of a cotton mask to differentiate it from a full-fledged N95 type mask then. Yes, some cotton masks come with valves as well.


4. FLO MASK KIDS REUSABLE MASK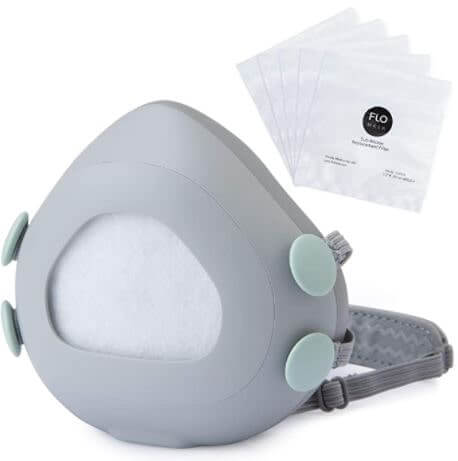 Here's one mask which is unlike other masks we wear or see. Flo masks are Made in USA. The other good thing about the Flo kids mask is that it comes with replacement filters. More on it below.
GOOD THINGS
The mask is likely to fit faces of most shapes and sizes. It is designed by superimposing the 3-D face contours of children of different ethnicities.
Its stated to be over 600% more breathable than ordinary masks.
The mask sans the filter is thoroughly washable and thus hygiene can be ensured.
Mask material is sturdy as polycarbonate is so well known for. Its portion touching the face is made from silicone with the gasket fitting securely around the face.
As the mouth and lips are not in direct contact to the mask material, they are free to move. Hence. the voice is not affected while speaking.


---
BEST KIDS MASKS IN INDIA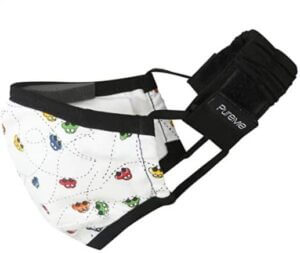 These are extremely soft and effective masks for kids. PureMe Kids masks come with a 5-layered filter with an activated carbon layer too. These are designed for kids in the age span of 3-8 years for the small size. For medium size for children in the 9- 15 years age groups, there's a different size available. For most of the users, it fits well on the small faces of their young ones. Mind it, these are not N95 masks.
PureMe masks come with adjustable nose clips which makes them give a good fitting. Not many children masks have such an advantage which otherwise become just a formality. What is the protection against pollutants or germs if the mask doesn't fit well on the face! You can use the mask with or without the N95 filter if that makes breathing difficult.

6. Junior Pollution Kids Mask From Prana Air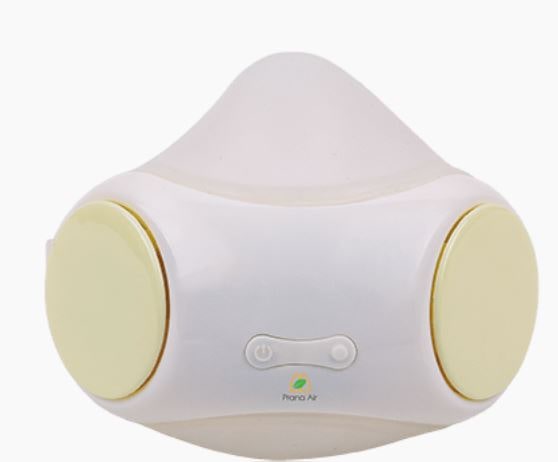 Prana Air has brought out a fancy looking anti pollution mask for kids. These masks have 5 layers of HEPA filters. A higher number of filter layers increase the breathing resistance. Prana Air Mask for Kids has a remedy for this problem. These masks have a battery operated fan. These two ventilators help reduce the problems in breathing one may have. The fan can be made to operate in 3 speeds. This lets adjustment for varying levels of physical activity and temperatures. An 8 hour battery life after which you can recharge with the enclosed USB cable.
PS- We do not vouch for the quality or efficacy of this product. Its non-returnable so bear this in mind.
FEATURES
It has a 5 layer HEPA filter to achieve a high degree of air filtration.
Grade 11 HEPA filters give 95.99% particle filtration efficiency.
Ventilators help expelling stale carbon dioxide rich air.
USB charging needs approx 2 hours to again make the fans run.
Dimensions- 120 * 110 * 50 (mm)
The battery is a 1000 mAh one.

HOW ABOUT USING SURGICAL MASKS FOR KIDS?
Surgical masks are naturally easier to breathe in as compared to N95 masks. This comes at the cost of a considerably low ability to prevent filter PM2.5 or dust particles. Surgical masks do provide some protection against larger dust particles. Please note that surgical masks are not cut out for dust pollution. As can easily be inferred from the name, they are for medical use. Wearing a surgical mask prevents the wearer's nasal or oral fluids/droplets from reaching others.
If you are helpless to send out your child in a polluted environment, so be it. Incase N95 masks are unavailable, make them wear surgical masks for some protection.
Never make infants or kids smaller than 4 years to wear any sort of masks.
6.

Filtra Surgical Mask For Kids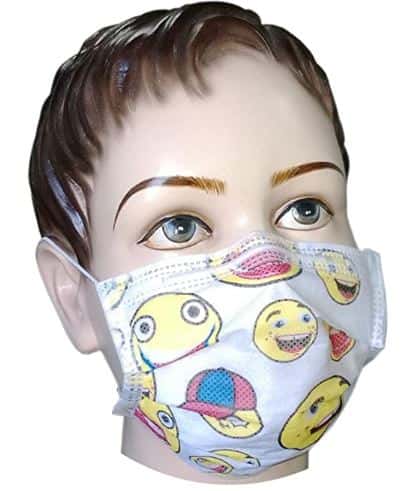 These are good 3-ply surgical masks for kids. Each mask has kiddish patterns on the outside. For surgical masks, their efficiency is measured in terms of BFE ( Bacterial Filtration Efficiency). Filtra masks have a high BFE of 99%. Worthy to be bought in bulk as these are cheap when bought in a box of 50 masks. Use and throw the masks away after each use.
A nose bridge ensures a proper fitting and comfort over the nose. The ear loops have an elastic material. The good thing is that these are surgical masks for kids. One doesn't easily find such masks for children. Needless to say, surgical masks have a much lower breathing resistance, so they are ideal for kids.
What Dietary Changes Help In Fighting Pollution?
A healthy diet and body always help gives a tough fight against pollution. This may not hold true for persistent bad air in some cities. Regular exposure to foul air is a sure shot cause behind respiratory ailments. In such polluted days, everyone should stay safe indoors and use air purifiers or air conditioners. Kids should stay inside and physical exertions and outdoor activities should be halted. Fruits or supplements rich in antioxidants should be a regular part of your diet. Usually all berries are good source of antioxidants. Citrus fruits and guava are rich Vitamin C sources.
Fried and heavy foods should be avoided at all costs. Kids and junk foods have become inseparable but this is unfortunate.
CONCLUSION – Best Kids Masks
No one can ever wish to see the the health of their kids at risk. Kids have a full lifetime ahead of them. Respiratory problems if occur early on in the childhood can wreck havoc in life. Hence, in days of high pollution try to keep the kids indoors. Making the children to wear masks can be a tough job. Try to get cool looking masks for kids instead of bland black ones. This way you would need little convincing and they would readily wear them outdoors. There are modern battery operated masks with small fans available now. These have replaceable filters and do not offer breathing resistance. You can try one of these if you want.
You May Like These Similar Posts From AirSwacch!