This post features one of the most popular Honeywell air purifiers, the Honeywell HPA200. Honeywell makes a wide array of products. Over the years, Honeywell has earned the trust of users, there's no doubt about that. Honeywell air purifiers cannot go unmentioned when talking about air purifiers. The variety of models is so great in Honeywell that it takes a while to understand or zero-in on a specific model. The Honeywell HPA300 review  discusses the bigger sibling which differs just in the dimensions and the coverage area. Both, Honeywell HPA200 and HPA300 are extremely popular models. I personally do not think these models are attractive enough to be Amazon Choice HEPA air purifiers. What could be the other reason then? Ofcourse, its the performance mate! These sturdy air purifiers are very easy to assemble, clean and durable. Find more such info in this Honeywell HPA200 Review.
Over the years, Honeywell's collection of air purifiers has grown to over 20. Some models may have been retired but overall you can sense the variety. There are many choices for all room sizes. The Honeywell HPA200 is meant for small rooms and has nothing out of the box to offer. Another model Honeywell HPA250B covers the same area as the HPA200 but comes with an additional Bluetooth module. The Honeywell HPA200 may not have extraordinary specifications but it has the necessary features and performs exceedingly well.
HONEYWELL HPA200 REVIEW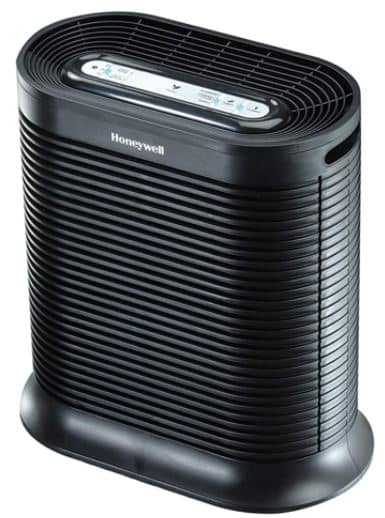 IN A NUTSHELL
The Honeywell HPA200 comes in the trademark jet black color. A white color option is available as well with the model number of HPA204 and there's absolutely no other difference. As expected it is cheaper than the HPA300 model by about 50 bucks. You can also go for the Honeywell AirGenius 5 from other Honeywell family with ifD filters.
Honeywell HPA200 is a portable air purifier weighing not too much.  Also it doesn't exert much pressure on your electricity bills as it has ENERGY STAR certification. You must be used to seeing fan speeds marked as levels on the air purifier consoles. Here you see them as Germ, General Clean, Allergen and Turbo mode. So, Germ mode is the lowest fan speed. Can't really visualize how germ mode can be the lowest fan level but this is how it is. The timer offers just 2/4/8 hour presets which are fewer than most other products.
With an undisputed use of True HEPA filtration, the filter quality is good. The Honeywell HPA200 is able to remove 99.97% of pollutants from the air, comprising pet dander, dust, smoke, mold spores, allergens, and more. There is an LED light reminder to let you know when the filer requires you to change it. Use it for room sizes of around 310 sq.ft. and it delivers well. This is Honeywell HPA200 review in a nutshell.
DESIGN & DIMENSIONS
All models in the Honeywell HPAxxxx series don the exact same design. This is what a family of air purifier means actually.  It has a sturdy body with corrugated ABS plastic build having a low-gloss finish. The design may look as if it draws air from all directions but its not so. The room's air is pulled in only through the front face of the air purifier. Purifier pushes out cleaned air from the top face. So, if you are curious to know whether it can be placed against the wall. Yes, you can. The Honeywell HPA200 is 2 pronged. It weighs 13.91 pounds and has a height of 20.32 inches. Hence this model is fairly compact and portable courtesy the side provisions for sticking your fingers in to lift it.
One issue with the body design is that the grooves are prone to getting dusty. You will have to regularly clean the body of the product. If it were a smooth surface, this task would have been easier, but as you can see its not. Within this price range, it is useless to expect things like smart sensors or mobile APP connectivity. It does, however, have an AUTO TIMER and a DIMMER setting, which dims down the LED lights.If you like connected devices then the Honeywell HPA250B can connect to Bluetooth and your phone.
HONEYWELL HPA200 PRICE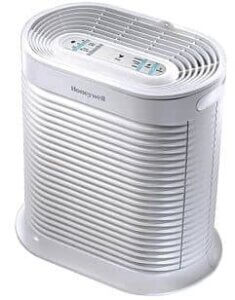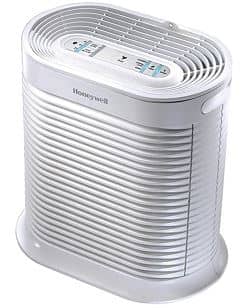 COVERAGE AREA & ACH
The Honeywell HPA200 Allergen remover is suited for medium-sized rooms. For a reduced count of ACH, you can use it for mid and large rooms also. In case of 310 sq.ft. rooms, Honeywell HPA200 can provide an ACH of 5. If you are unaware of what ACH means, read along. An ACH of 5 means that the air purifier cleans the complete volume of room's air 5 times in an hour. An air purifier's coverage area should be rated such that it is capable to produce an  ACH of 4 for effective air cleaning. So, undoubtedly, Honeywell HPA200 purifies the entire room's air every 12 minutes.
---
CADR

– Honeywell HPA200 Review
An air purifier's CADR is something which people should heed after noticing the coverage area. CADR ratings are allotted to a specific air purifier model for how well it cleans dust, pollen and smoke particles. If the air purifier removes all the dust particles from an 'X' cubic feet area within a minute, it means its CADR (dust) is 'X' CFM. Needless to say, the more powerful an air purifier is, the greater would be its CADR.
For Honeywell HPA200 its CADR ratings in Cubic feet per minute (CFM) are as follows- 190 Dust/ 200 Smoke/ 180 Pollen.
The different CADR ratings shows the rate at which it can clean the various particles. These particles have different sizes and varying rates of diffusion in the air. With moderate CADR and a good ACH rating, Honeywell HPA200 can prove to be a revelation if your delivered piece is not defective. Isn't this Honeywell HPA200 Review informative?
FILTERS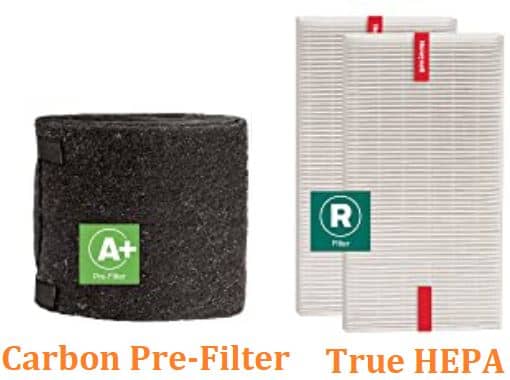 This product uses the same filters as seen in HPA160 and HPA300. Your Honeywell HPA 200 air purifier uses 2 sets of filters. Both accompany the device when you order the air purifier. One of the reasons of this HPA series success is its true HEPA filters fully backing the entire front face. The filters are stacked one above the other. And by the way, it does not contain any Ionizer or UV bulb. Washing any of the two filters is not allowed as it would ruin them. The carbon pre-filter is available in A and A Plus variants. The 'A' variety works well against odors while the 'A Plus' remove odors and household gases.
Honeywell HPA200 employs a 2 stage air purification, a third pre-filter if present would have been nicer.
FILTER DESCRIPTION:
CARBON PRE-FILTER – This black activated carbon filter also acts as a pre-filter in this model. A separate pre-filter would have been nice, but this is how it is. Anyways, it serves to remove larger particles of fiber, hair, pet fur and similar. The activated carbon in it removes odors, VOCs and other harmful gases.
However, since this filter also serves as a pre-filter, it tends to lose its sheen as an odor remover. For your information, it comes cheap so you can choose to replace it frequently. Almost every 3 months, you should try replacing it.


TRUE HEPA FILTER – As you might've seen in most Honeywell products, it uses a HEPA filter as the second stage of cleansing. This removes 99.97% of pollutants which are larger than 0.3 microns in size. The positive point of HEPA filters is that they do not emit any ozone. They push air through tiny tubes with a drop in pressure. There is no UV light involved.
There are 2 separate LED lights to indicate when the filter and pre-filter need to be changed. These alerts work on the hours of usage and do not necessarily mean you need to replace the filters. So, just check their condition when the alert goes off. It is advisable to clean the pre-filter every week. The HEPA filter should be replaced annually. For places with and AQI, it must be altered every 6 to 8 months.


If your replacement filters are unavailable on Amazon etc, then call 1-800-477-0457.
CONTROL PANEL
Honeywell HPA200 review is meant to present all facts about this air purifier. It has a touch panel only as beautiful as itself however way you want to interpret it. The buttons are touch sensitive and nothing is embossed or raised. Some users complained that the touch did not detect their fingertips when they were wet. The issue was readily resolved they used 2 fingertips to touch the buttons.
POWER – This is the ON/ OFF button. It is located centrally and is very distinct from the other buttons. We like this touch of user-friendliness.
CHECK FILTER/ PRE-FILTER – These are 2 LED lights that light up when it is time to replace the filter.
TURBO – This activates the turbo mode or highest fan speed. It will also results in the most noise made by the projected air.
TIMER – You can set timers for 2, 4 or 8 hours. It works on the same rotational feature where pressing the button, again and again, causes it to alternate between the settings.
DIMMER – This dims the lights on the control panel. You may even turn off the lights if you want to. There are 3 different brightness levels including an OFF level. By pressing it again and again, you can alternate between the brightness modes.
FAN & MODES
There are 4 different fan settings in this model. They are termed as "Germ", "General clean", "Allergen" and "Turbo". This nomenclature is a bit more intuitive than seeing 1, 2, 3… since it lets you know which setting would handle which air problem better. There is the ubiquitous TURBO mode where the fan makes a lot of noise while spinning its fastest. It is remarkably fast in removing the bulk of pollutants quickly. So, it is useful when you can afford bearing a noisy air storm to clean the air in a jiffy.
Unfortunately, there is no Sleep mode. So, when going to sleep users can reduce the fan speed to the first level. This will reduce any fan noise as well.
GERM MODE – This is the first of the levels which is allegedly suitable to tackle the gem problem. In this mode, the air purifier runs in bursts of around 5 seconds in what seems to be a medium speed.
GENERAL CLEAN – This is supposedly your day to day setting where you may leave the air purifier set.
ALLERGEN – This mode as the names indicates is most suitable for allergies. Some days of the year when allergies and allergens are high, use this mode.
---
TIMER
Honeywell HPA200 air purifier can be set to run for 2, 4 and 8 hours at a time or continuously. Other Honeywell models usually show 4 different stages, and some even 5. Timers are a great way of saving electricity as you run it only as much as you want to. I have tried to furnish as much information in this Honeywell HPA200 Review for your convenience.
POWER CONSUMPTION
Running the air purifier in the lowest mode is not always the best choice. Lowest fan speed is also the one expending the least power. Sometimes, higher modes might need to be used. Honeywell HPA200 is not one to consume low power. Its a bad boy you see, still it comes lesser power compared to HPA300 air purifier. It draws 84 Watts power which is quite high and rare for this size and coverage. I've seen air purifiers taking up only about 50 – 60 Watts. For running it 8 hours daily at max speed, an yearly expense of $30 could be incurred.
The fan speed, especially when used in TURBO mode results in a lot of energy being consumed. This is not viable for those looking for an energy efficient filter. There is also no Auto mode to adjust the fan speed by itself and prevent the device from consuming extra power. One thing that could help is using the timer to prevent the purifier from running more than necessary. However, this also has only 3 functions and jumps from 4 hours to 8 hours. Usually, 6 hours is the timer used by people at night.
NOISE LEVEL
Noise is measured in decibels. Honeywell has not disclosed exactly how many decibels its fan makes at various speeds. Yet, the experience of users is as follows.
You will find thousands of people sharing their Honeywell HPA200 Reviews over the internet. Naturally there would be a stark difference of opinion as with any review. Majority of the users have commended the performance of the model from an air cleaning standpoint. However, same consensus is present to report that Honeywell HPA200 makes much noise in Turbo mode. This is an issue with any product that uses a HEPA filter. In this case, since the filter covers a large area of 310 sq. ft, it generates a lot of noise to move the air mass. While sleeping, the lowest speed can be used. This generates a tolerable noise but still Honeywell HPA series air purifiers are ill-suited for bedrooms.
We suggest that the HPA200 model be used mostly in offices or spaces like living rooms.
ADDITIONAL DETAILS
Despite the high energy consumption, you must be wondering how come the Honeywell HPA200 is an Energy Star rating. Well, Energy Star does not measure the total energy a product consumes. But rather it checks out the percentage of energy consumed to the amount to the efficiency the product can work with. It's true that the device uses more energy, but it also provides good service. It cleans the air of a room every 12 minutes! This means, within 10 minutes of switching it on, it has already cleaned the air once! With this in mind, it justifies the energy it uses and hence has been awarded a certification.
WRAPPING UP- Honeywell HPA200 Review
Honeywell HPA200 is not a stellar product with no flaws or many features. It uses true HEPA and produces no ozone. This along with the good reviews on Amazon attest for its quality and working. The setup is fairly simple and if there's something unclear, a 'new users guide' is included in the shipment. As noted by independent users, the filter produces 35-40 dB of noise which is a little more than the white noise usually present in a room. So, this won't be a huge issue unless you need to use the TURBO mode at all times. Either way, if you live in a spacious house with big rooms, it is better to upgrade to better models like the HPA300 or the HPA250B. The price tag will be higher but it enables you to scale up.
Honeywell is known to make state of the art products. The warranty policy of Honeywell is also among the longest with up to 5 years warranty. They are sure of their products and do not see any reason to deprive customers from availing service. However, reaching Honeywell might be an issue since if you want to send back a defective product. You will have to shoulder the shipping fee yourself. The replacement time is also only 30 days.

You May Like These Similar Posts From AirSwacch!