A wide variety of air purifier models are available in market. But, not many generate interest or create ripples. How popular an air purifier model can get depends on the reviews it garners over a long time. Generally the ones with the most number of reviews and good ratings continue to be sold more and more. So, in a way its a chain reaction. Lets talk here about the Philips AC2887 air purifier, one of the most optimum air purifiers around. You can think of it as the right balance of performance, cost, features and brand reliability. This Philips AC2887 Review stands to clear your doubts on it. Philips rolls out newer models and it looks it has shifted focus on overhauling the air purifier design.
The Philips AC2958 is the latest model with better aesthetics and features. It has a cylindrical filter just like the MI air purifier 3 to facilitate a 360° air inflow. The price of Philips AC2887 has been artificially inflated very much ever since AC2958 has been introduced. This may been done on purpose to slowly pull AC2887/20 model into the shadows.
Philips AC2887 Review – Pricey But Worth It!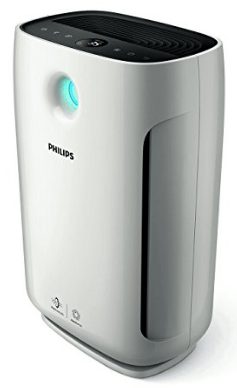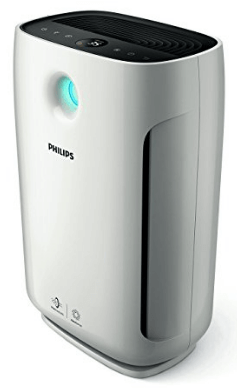 This Philips AC2887 (AC2889 in US) Air Purifier Review covers the features and specs in detail. In our last post we reviewed the Philips AC1215 Air Purifier which is an affordable option any fine day. Important to inform you that all Philips air purifier models sold in Asia are mostly Made in China. Just in case you are also on a Boycott China spree. So how is it different than the AC1215? Well, AC2887 is more powerful and feature rich. The purifier comes with AeraSense Technology. Philips AeraSense technology is highly effective in sensing even the slightest change in indoor air conditions. It continuously monitors the air and automatically adjusts the fan speed when it detects a change in particles. The air purifier employs professional-grade sensors.
PHILIPS AC2887 PRICE
If you seek a low cost air purifier, Philips AC2887  may not be for you. It costs around ₹15,000 as of Jan 2023. Some discount deals or bank card offers may let you get it for a tad lower price. Overall, the price is not too much but yeah!
The price gap between this and the Philips AC2882 model (which is the one without a Real-time PM2.5 display) used to be around ₹ 2,000. But, now it seems AC2882 has been retired.

COMPARE Philips AC2882 vs AC2887
The AC2882 is no longer present on Amazon, this comparison is if you happen to find it anywhere. There are two differences between Philips AC2882 and Philips AC2887 models-
Are you someone who is not inclined to numbers? If yes, then by choosing AC2882 over AC2887 you can save a very good amount. This is because there is just one difference between the two models. Philips AC2882 does not show you the real-time pollution reading in numbers, while AC2887 does. AC2882 still shows the indoor pollution level through the color LED indicator ring.

The other difference between AC2887 and AC2882 lies in the absence of 1 to 12 hour digital timer in AC2882.
The real-time digital display is a very good feature though. Simple color indicators cab get frustrating to look at. You are anxiously waiting for the light to change color to blue. You never know what is the real pollution level in ppm. The LED would show the same Red color whether the pollution level is 300 or 800 ppm. A continuously changing pollution reading in the form of numbers has a reassuring feel to it.


DESIGN AND LOOKS
The Philips AC2887 Air Purifier is white throughout with a black console on the top. The model is available in only white color. It is a beautiful device to look at with a  glossy finish. The most attractive part is the cavity which lights up to show the air quality in the room. The body is made of ABS plastic and the unit is manufactured in China.
The air purifier unit is well-balanced and not prone to being toppled. With regards to air circulation, Philips AC2887 does a good job in moving a lot of air mass. The device sucks in the room's polluted air from the front two sides. The fan pulls the air through the filters infront of it, cleaning the air in the process. Purified air is expelled from the top. This is a typical air purifier design.
PERFORMANCE & EFFICIENCY
The air purifier is suitable for larger rooms like the master bedroom. As compared to Philips AC1215, it is definitely more powerful and well endowed with some extra functions. Take for example and additional Timer and digital PM2.5 display. The AC1215 does not have a PM2.5 display, it just has the particle sensor. One thing to point out is that the air intake is not 360°. This means that you need to place the air purifier away from household clutter to make it effective. You must leave a minimum 1 – 2 feet distance around all the sides so that air may circulate freely.
Philips AC2887 wields a good coverage area which is close to 269~409 sq.ft or 25-40 m².  The higher spec model Philips AC3256 is even more equipped than the AC2887. But, not sure why many people who've bought it through my blog ultimately returned it. The Coway AP-1009 Air Purifier was once the undisputed number one among the Best Air Purifiers. It has now been discontinued by the company. It had comparable cost to AC2887, somewhat less features and specs.
Real-Time PM2.5 Display
This is by far the best feature of this air purifier. You get to see the pollution level readings in real-time. When the air purifier is started, all the LED colors light up in sequence as if performing a self-test. After sometime the air quality sensors select the particular color which corresponds to the ambient air quality.

PHILIPS AC2887 FILTER EFFICIENCY
An air purifier must remove even the tiniest of particles floating around in the air. When you are shelling out so much money, you deserve excellent air cleaning and nothing less. Philips AC2887 air purifier has a TRUE HEPA filter, the best quality among HEPA filters that is. It can filter out 99.9% virus in 30 minutes and over 99% PM2.5 in one hour.
PRE-FILTER – This is the outermost filter with very fine mesh. It is a crucial stage of filtration and you can even wash it as many times as you want. It serves to arrest larger particles from choking the HEPA and carbon filters which would otherwise quickly reduce their efficiency.
HEPA FILTER – Philips AC2887 and AC2882 use TRUE HEPA filters. Not very sure of their grade though. Overall, satisfactory quality and the filter fits nicely into the frame.
ACTIVATED CARBON FILTER – A good quality honeycomb design carbon filter forms the second stage of air filtration. This filter rests between the pre-filter and the HEPA filter. Serves to remove harmful gaseous pollutants like VOCs, and odors.
FILTER LIFE
The expected life of the Carbon filter is 1 year. The HEPA filter can serve you for 2 years if you are a light user and live in a not so polluted area.
There is an indicator which alerts you when the filters are reaching their end-of-life. The air purifier even shuts down completely when the filters are so dirty. It is a purely subjective thing as to how much time your filters would compulsorily last for. The filter life depends on the daily duration of use, pollution concentration and your maintenance.
In days of extreme pollution in north India especially NCR region, you need to run the air purifier all day and night. Expect the filters to become dirty after soaking all the sooty pollution from your rooms. Its not their fault right if the HEPA filter gets visibly black. You must thank them for their sacrifice else that pollution would have damaged your lungs. The running costs of filter replacement is something no one wants to incur. Moreover, the filters are not very cheap.

CADR – Philips AC2887 Review
CADR is an air purifiers most important specification. You should take note of it while making a selection. First you should understand what CADR (clean air delivery rate) is. Well, this simply means the volume of fresh air the air purifier generates in an hour measured in m³/h units. Let me guide you that the CADR value for this model is high which is a good thing.
CADR (cigarette smoke) or just CADR is 333 m³/h
CADR (formaldehyde) is 200 m³/h.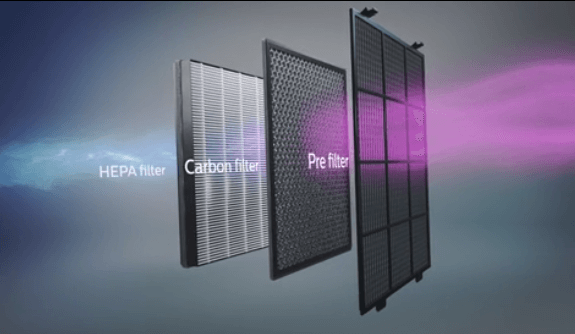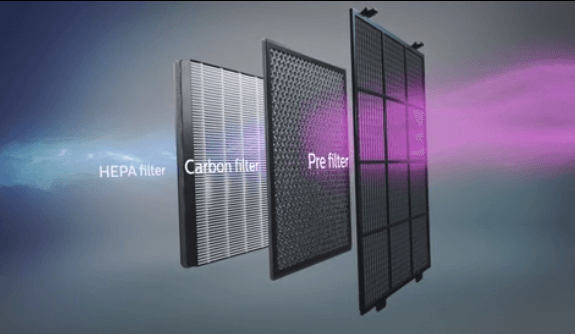 DIMENSIONS
Philips AC2887 and AC2882 both have nearly equal dimensions. The AC2882 is just negligibly larger. Nothing peculiar on this front, the device is not exceptionally larger or smaller than its peer models from other brands. It is 55.8 cm high, 35.9 cm wide and 24 cm deep. Both models have the same weight of 7.7 Kgs. The cord Length is 1.6 m which is sufficiently long to facilitate flexible placement.
COLOR OPTIONS
Philips AC2887 and AC2882 are available in just a single color option. They both are available in a white body.
CONTROL PANEL
Philips AC2887's control panel is as shown below. If it were that of AC2882, you wouldn't be seeing the Timer (clock sign) and the PM2.5 reading. There is no Child Lock function in these models. Below I'll be explaining the function of each one of the buttons.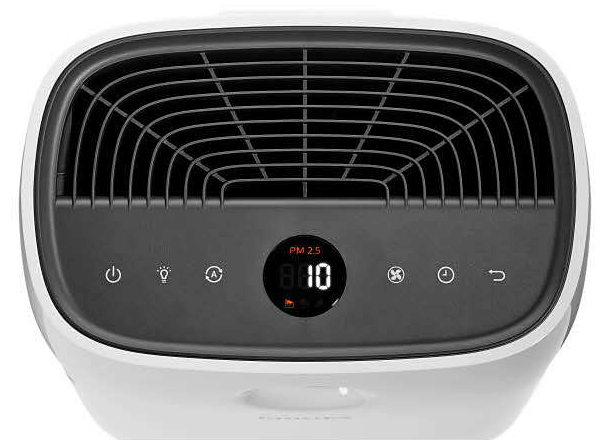 Each Button is to be lightly tapped upon to make it work. Remember these are not press buttons. You'll find the controls responsive in general. However, these are not hand gesture or hover controlled.
Power Button

–  Needs no explanation, press it to turn your air purifier ON or OFF.

Smart Light Control

– The "glowing bulb symbol" button is there to help you put out or dim the AQI lights or the back-light on the console buttons. At night time especially in bedroom use, this function ensures you are not disturbed by the lights.

AeraSense

– The user interface shows the real-time PM2.5 reading when you press this AeraSense button. There are three preset settings to target 1.) general PM2.5 pollutants 2.) Allergen and 3.) Bacteria and Viruses. You can think of it as an AUTO mode in which the air purifier uses its sensitive particle sensor. With whatever feedback the sensors give on the air quality, the air purifier dynamically alters its fan speed.

Fan Speed

– There are 4 levels of fan speed to choose from. The last one is what is called the Turbo mode wherein the fan speed is maxed out. Use it to clear the pollutants quickly.

Timer

– You can set the timer to anything between 1 to 12 hours in 1 hour interval. This is to make the air purifier shut itself down after that duration.

Filter Reset

– The Filter reset button is there to be pressed when you have replaced the filters.
Low Noise & Lights Customization
The Philips AC2887 air purifier operates quietly in sleep mode. The noise level is negligible at 20.5 dB which is next to silent. The lights on the Purifier can also dimmed and/or turned off to suit your preference.
The lights of the Air Quality Indicator and the User Interface panel can be dimmed/ turned off when needed. Hope you are finding this Philips AC2887 review informative!
3 Auto Modes
Philips AC2887 Air Purifier has 3 automatic purification settings: a General mode, an extra-sensitive Allergen mode, and an extra-powerful bacteria and virus mode. You can choose your preferred mode to personalize and optimize your purification.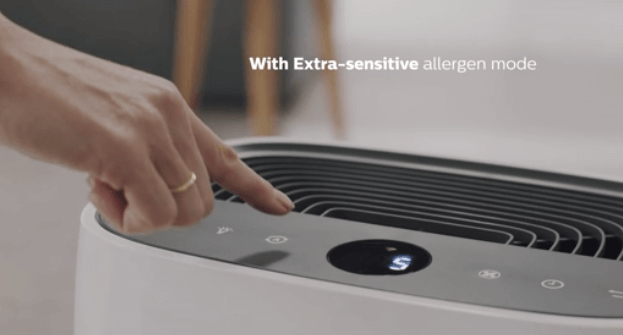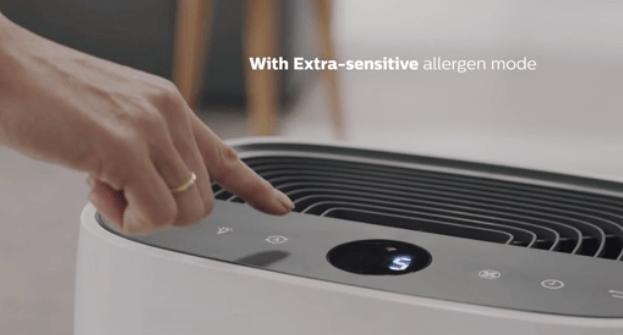 AUTOSTART ON POWER RESUME
One of the most important questions people ask is whether the air purifier turns itself ON in the last setting it was running after a power cut. Yes, it does. I've tried to mention things that users are most curious to know in this Philips AC2887 review.
POWER CONSUMPTION
Another aspect of an air purifier you may be interested to know is its Power Consumption. For starters, an air purifier is never a heavy power guzzler. Its main load is the fan only with the electronics hardly drawing any noticeable power. Depending on the mode of operation which alters the fan speed also, Philips AC2887 consumes between 11 to 60 Watts.
People often ask whether they need to run their air purifier full day. This is a complete waste of power and also has direct impact on the device life. Its best to use AUTO mode for optimum power consumption. But AUTO mode does not give satisfactory results if you choose it from the start itself. For severely polluted air, first run the air purifier in Turbo mode to let it quickly clean the mess. After the air quality settles near Good mark, you can put it to run in AUTO mode.
SUMMARY OF FEATURES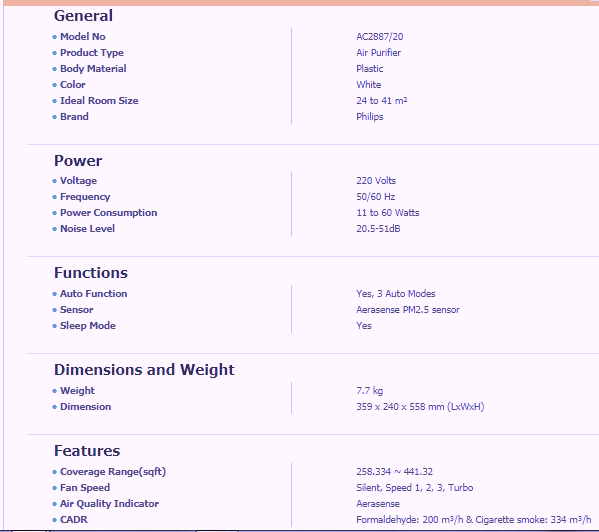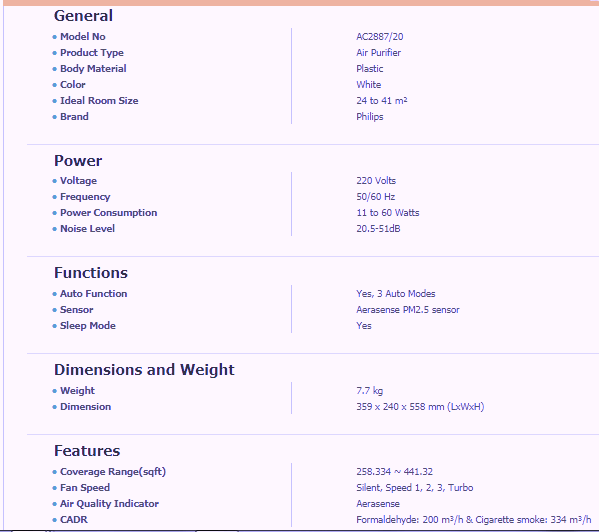 CONCLUSION – PHILIPS AC2887 REVIEW
The Philips AC2887 air purifier is one of the best air purifiers around. Its a perfect blend of features and price is genuine considering it has advanced sensors and real-time pollution display. As compared to AC3256, AC2887 has a better air flow and hence is more effective. A majority of users are satisfied after using this air purifier. For best results keep the doors and windows closed. Don't expect the air purifier to clean your other rooms too as you may feel seeing at the coverage area. Use multiple air purifiers in separate rooms rather than going for one big air purifier. It cleans allergen, pet hair and not to mention PM2.5 and nano-particles sized 0.02 microns. Overall, it is a good air purifier, much better than Philips AC4014/AC4025/AC4012/AC4072 models.
Be with the times, and try to go for Philips AC2958 model which was released in 2020. It has the latest tech and even Philips is promoting it over AC2887 now.
PHILIPS AIR PURIFIER VIDEO
CHECK PHILIPS AC2887 PRICE



CLEANING

YOUR PHILIPS AC2887 AIR PURIFIER
You must clean the air purifier parts especially the filters for a longer life and enhanced efficiency. The pre-filters are washable but reinstate them only after it has completely dried out. A damp pre-filter can be a happy home for fungi and bacteria. Remember only the pre-filter is what you can wash. The HEPA and the carbon filter are never to be soaked or washed.
When your air purifier displays a FO message you should know its for cleaning the pre-filter. For cleaning it, you can put it under a running tap and brush it softly. Philips AC2887 filter life can be increased if you maintain it properly.
CLEANING THE AIR QUALITY SENSOR
With time you must also clean the air quality sensor as dust settles on it as well. When it becomes dusty it is unable to sense the indoor pollution level correctly. Please make it a point to clean the sensor surface every 2 months. This will help the air purifier display the accurate air quality.
When the air humidity level is very high like in rainy season, moisture can buildup on the sensor. As a result, the air quality light may wrongly indicate the air quality as bad even though it is good. In this case you have to clean the air quality sensor or use one of the manual speed settings. For this clean the air quality sensor, the dust inlet and the dust outlet with a slightly moistened cotton swab.
This is all I had for you in this Philips AC2887 Review. Hope you enjoyed finding all the information at one place.
You May Like These Similar Posts From AirSwacch!