This post is dedicated to Blueair Joy S Review. On the first look, it is a rather costly air purifier that cater to small rooms. As a common feature of all Blueair air purifiers, JOY S is also 100% recyclable. A cylindrical body which reeks of simplicity in design is how I can describe this air purifier quickly. It appears as if the interior holds just the air filter and nothing else.
In another post on the Blueair Sense+ review, you get glimpse of a classic air purifier from Blueair.
BLUEAIR JOY S AIR PURIFIER REVIEW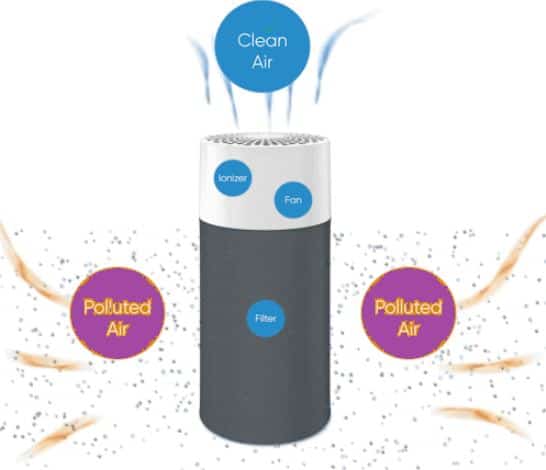 DESIGN AND LOOKS
Nothing much to discuss here since the features and design is exactly similar to Blue Pure 411. The outer body is made of aluminium and its a really small air purifier. Just over a feet tall and cylindrical in shape. It measures 20 x 20 x 43.3 cm to be exact. As in Blue Pure 411, JOY S has a fan unit at the top white portion which is separable.
A 360 degree air intake is what most newer air purifiers are betting on. I like this concept since it quickly pulls in surrounding air to clean it. Purified air is blown out from the top. The variable fan speed is the only thing Blueair has provided in this air purifier apart from powering ON and OFF. The same button does all this.
Like other Blueair models, Joy S comes with a 'dark shadow' pre-filter. There are many color options available to be bought separately. A pre-filter stops larger dust particles from clogging the costlier main filters. Not just this, the colorful cloths render a new look altogether when you change it with another one.
CHECK PRICE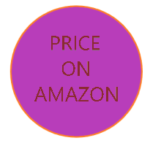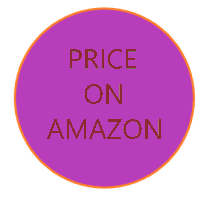 FILTERS
JOY S consists of an advanced filter which is capable of trapping particles as small as 0.1 micron in size. It achieves this through the proprietary HEPASilent Technology using both mechanical and electrostatic filtration. The compound filter of Blueair Joy S is capable of trapping airborne contaminants. Be it pollen, dust, pet dander or mold spores, nothing can escape the HEPA filters.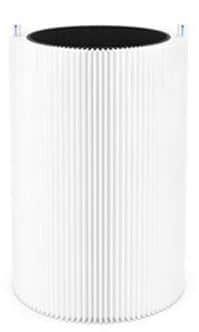 The carbon filter material is polypropylene fibers which resists bacterial or mold growth onto itself. It removes gases, odors and VOCs from the room air. The compound filter has HEPA filter outside and carbon filter on the inside. You can clean the filters with a vacuum cleaner whenever you want. Replacing the filter is very easy. The filter can be pulled out after twisting the base open. The furrows in the filter body prevent their clogging. The dust particles are held firmly by the filters. Some air purifiers with large face velocity tend to release back the trapped pollutants in the air. This is not the case with this model.
PERFORMANCE
Blueair Joy S is only suited for small rooms if at all you buy it. Whether or not you should buy it, we'll suggest in a bit. An okayish CADR of 200 cubic meter per hour is what it can give you. This CADR rating allows for cleaning a 172 sq.ft. room's air 5 times in an hour. This is under test conditions when the ceiling height is 8 feet.
For big rooms to get the same ACH of 5 or 4, you simply need to look for another air purifier with larger coverage. This means that you can use this air purifier for let's say double the room size but you'll get a lower ACH result.
FAN SPEED
You can change the fan speed to any one of the three options. A pressure sensitive control at the top lets you do it. The first speed level is very silent and ineffective. Only 17 dB decibel level is the noise at minimum fan speed. The best speed setting is the top one where the fan runs at its max speed. The noise level at top speed is tolerable at 46 dB.
POWER EFFICIENCY
The Blueair Joy S hardly takes up any power. It draws just 1.5 W at the lowest fan speed. Even at the third level the air purifier consumes just 10 Watts.
SPECIFICATION SUMMARY – BLUEAIR JOY S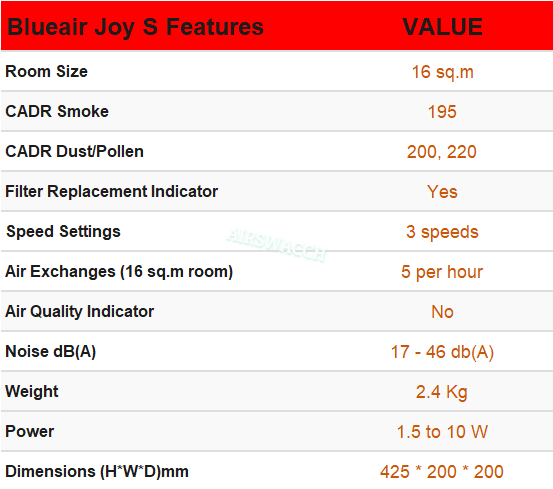 VERDICT
At this cost, you should definitely look for more features. Being minimalist is not an excuse. If Blueair thinks that its a good thing then they should also considerably decrease the prices. A consumer needs the best features when he is spending a considerable amount. One thing to note here is the complete absence of air quality monitoring in JOY S. An effective real-time pollution display is a norm nowadays. Users want to see and know what air quality they are breathing in. I could have given a go-ahead for this air purifier, had this feature been present.
So, DO NOT buy this expensive air purifier. You can bring home the way better MI Air Purifier in this cost. It outranks JOY S in every aspect and has a 270 degree air intake. Hope you found this Blueair Joy S Review informative!
You May Like These Similar Posts From AirSwacch!