When it comes to choosing the right air purifier for home, people hold many confusions. There are popular models from companies like Philips and Honeywell which have thousands of ratings and reviews. Then there are some relatively new arrivals in India like Coway, which is the World leader in air purifiers but not many people know about it. With the immense popularity that Coway AirMega models have garnered, it becomes compelling to compare Coway vs Philips Air purifiers. Now, within Philips only one model, the Philips AC2887 air purifier is what can offer a real challenge to the Coway Airmega 200. Coway Airmega 150 is smaller and can compete against Philips AC1215.
Be it Coway or Philips, both companies make good air purifiers. In this Coway vs Philips air purifier post, I'll highlight some fine differences between these two excellent air purifiers.
---
COMPARE COWAY vs PHILIPS AIR PURIFIER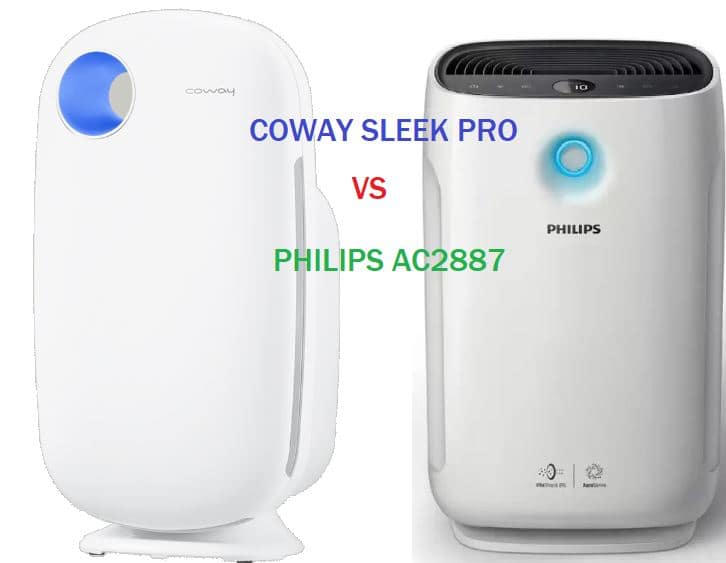 Air purifiers can only be compared with one specification at a time. For ease of understanding, I would be taking up one feature at a time. And for convenience I'd pronounce a winner in each category.
PRICE COMPARISON
PRICE ON AMAZON
Price-wise there isn't much difference between these two models. I've seen the price of the Philips AC2887 come down in recent times, maybe owing to the competition it is facing from Coway. Coway used to have some other models in India like Coway Sleep Pro AP1009 and Coway Sleek AP0509. These have since been discontinued in favor of more generic, optimum and minimalist air purifier breeds. I am talking about the Coway Airmega range of air purifiers.
Talking specifically about Airmega 150, its price is not very consistent with some days you see it available at a much reduced price than its average price of around INR 12,000. As you would know if you read my review of it, you can get a good discount as some sellers sell it cheaper some days.
In terms of return over investment or value for money proposition, Philips AC2887 leads slightly. This is when you compare it with Airmega 200. I am awarding this lead only because of the additional real-time pollution indicator it has. From a customer service standpoint, Coway is miles miles ahead of Philips. In the event of some issues with your air purifier, Coway would take your concern up in arms and co-operate fully and without any hassles. Same cannot be said with Philips, with which I've seen complaints over its post-sale support. Hence, from a peace of mind and overall customer satisfaction over the performance, Coway is a clear winner.
NEWER COWAY MODEL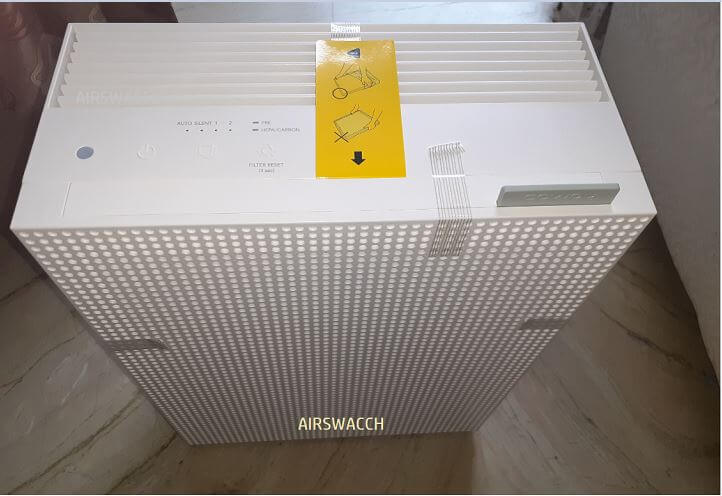 Coway Sleek Pro AP-1009CH has been discontinued already. The latest models from Coway are the Airmega 150. and Airmega 200. We have reviewed it in detail on AirSwacch, do check that post too. The dimensions of the Airmega 150 are smaller than the Sleek Pro. I've talked to the company technical personnel. They told that Airmega 150 although looks small, but is at par with the iconic Sleek Pro model in every respect. This can be attributed to its more powerful fan motor.
COUNTRY OF ORIGIN
Philips is a Dutch company which operates in over 100 countries. Nothing can be said where the country its product would be "Made In". Coway is a South Korean company, the land of the Samsung. If you despise communist China as much as I do, then Coway air purifiers are solely sourced from Korea.
CONTROL PANEL
Philips AC2887 has an attractive control panel with fairly responsive touch buttons. On the other hand, Coway has comfortable touch buttons which may seem old fashioned but is equally effective. A short jingle is produced when a button is pressed. Both models do not have any APP or WiFi support.
In terms of functions, not much difference here. Coway Airmega 150 doesn't have any Timer, Philips has a 1 -12 hour timer.
DIMENSIONS
| | | |
| --- | --- | --- |
| Coway Airmega 200 vs Philips AC2887 Dimensions | 686 x 335 x 204 mm | 558 x 359 x 240 mm |
Coway looks slim as compared to AC2887. In terms of portability Coway is slightly lighter, weighing 6.5 Kilos gross as against 7.7 Kgs of Philips AC2887.
COVERAGE AREA
Philips AC2887 is a winner in this respect also with its coverage area. Although Coway Airmega 200 is equally competitive if we leave the numbers consideration aside. For a human being, it is not noticeable whether an air purifier is cleaning a 355 sq.ft room better or a 303 sq.ft. Such minute is the difference in their coverage areas. Coway Airmega 200 and Philips AC2887 both are ideal for small to medium size rooms. For small rooms, both air purifiers would clean the air very quickly say in 15 – 20 minutes.
Coway Airmega 200 ->

361 sq.ft.
Philips AC2887/AC2882 Air Purifier ->

269 – 409 sq.ft.
Even a powerful air purifier can be rendered ineffective if you fail to use it the recommended way. Let me reiterate it once for you. For your air quality indicator lights or the real-time PM2.5 display to indicate an improvement, follow this-
Clean the dust/particle sensor with a cotton bud often or as the user manual directs.
Keep the doors and windows closed and in a way sealed off while operating the air purifier. Similar to what you do while your air conditioner is ON.
You may feel lack of fresh air especially oxygen if continuously running the air purifier for several hours. The remedy for this is to place a few indoor air purifying plants as well. Technology and nature can go hand in hand, why not!
CADR (Clean Air Delivery Rate)
CADR is the volume of purified air circulated by the air purifier in an hour's time. On this parameter too, a very minute difference exists. For your reference, Philips AC2887 has a CADR of 333 m³/h while Coway Airmega's CADR is 309 m³/h. This makes the Philips air purifier capability of cleaning air per hour slightly more pronounced.
REAL-TIME PM2.5 DISPLAY
As you know by now, that Philips AC2887 shows you the PM2.5 concentration in real-time. This feature is a deal breaker as I personally am always interested in knowing in numerical terms. Color coded air quality indicators do give indication of air quality. But, its a different satisfaction in coming to know the actual PM2.5 level in ppm. Users of Coway Sleek Pro need to stay content with just the beautiful LED lights.
AIR FILTRATION
Coway air purifiers clean the air exceedingly well. Thanks to the high quality TRUE HEPA filter which is even coated with anti-bacterial and anti-viral natural extract from Japanese plants. HEPA filters are very well capable of removing bacteria and virus from the air. They get pulled and trapped in the filters just the say way as dust is. The difference Coway filters make to this is by destroying the germs, not just trapping them. Whether it be the Sleek Pro or the new Airmega 150, Coway's filter remain the same across all models.
Philips AC2887 too has TRUE HEPA filters with foam linings to seal the filters on the frames and prevent air leakages. But, Philips is silent on the grade of its filters. If a company advertises that its HEPA filter can remove 99.97% of particles sized 0.3 microns or larger, it is possible only for H13 grade filters. H13 grade is high end quality with only a H14 grade filter like the one found in Sharp Air Purifier being better.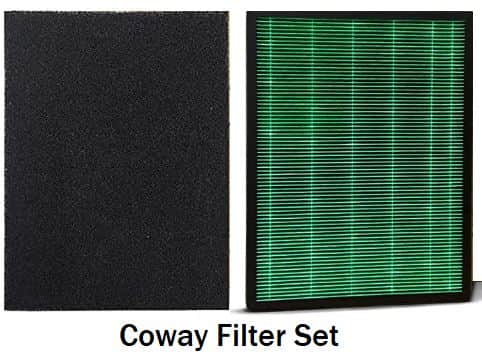 FILTERS
Coway Sleek Pro uses anti-flu HEPA filter and carbon filters. Coway's HEPA filter is a must have in these days when everyone is petrified by virus scare. The special green coating extracted from Ginkgo and Japanese Sumac plants renders lipid-coated viruses ineffective by breaking their cell walls. In times of this virus pandemic, it is a very good feature. The cost of the replacement filters is comparable for both Coway AP1009 and Philips AC2887. This Coway vs Philips air purifier battle is getting warmed up right?

Both Coway and Philips air purifiers use 3-layer air filtration. There's a Pre-filter, true HEPA filter and an activated carbon filter. None has any Ionizer stage. Philips' honeycomb carbon filter is of far better quality. So, Coway wins on the HEPA filter side while Philips on the carbon filter side. HEPA filter is a more important filter by the way.
NOISE – COWAY vs PHILIPS AIR PURIFIER
Coway Airmega air purifiers are one of the quietest air purifier you'll find. While running in its lowest fan speed, Coway is quieter than a whisper and records just 22 dB on the decibel meter. Even at max speed of the fan, Coway is still more silent than its Philips competitor. When running in Turbo mode, Coway Airmega 200 makes 49 dB noise, again superlative performance.
At Sleep mode, Philips AC2887 is even quieter than Coway. Compare 20.5 dB with 22 dB. Not even a leopard or dog can feel such a difference but still this Coway vs Philips air purifier post demands such little analysis. But, many Philips users complain of a knocking or a ticking sound at low fan speeds. This thing if happens for you can be quite distracting at night time. No such issues have been heard for Coway.
FAN SPEEDS
Philips has 3 different AUTO modes for PM2.5, Allergen and one for Bacteria and viruses. This is nothing short of a gimmick. These are nothing more than a preset fan speed for each pollutant. At one of the modes, the fan speed is too low to make any real difference in the air. Marketing strategies aside, there are still the 4 fan speeds including the most useful Turbo mode. For any air purifier I have reviewed, Turbo mode is the most liked mode. It clears the pollutants in the quickest of times although you have to bear the loudest noise coming from the air purifier. This is not just for Philips AC2882 or Coway but any air purifier so to speak.
Coway Airmega 200 has 4 speed levels to choose from. Speed level 1, 2 , 3 and a Turbo mode. No gimmicks here as it has an AUTO mode, one and only one. Same is the case with Airmega 150.
TIMER
Coway Airmega 200 does not have a Timer. Same is the case with the Airmega 150.
Philips AC2887 does have a 1 – 12 hour timer where you can make a selection in 1 hour gaps.
WiFi And APP Connectivity
Neither Coway Airmega 150 or Airmega 200 nor Philips AC2887/2882 have any WiFi or mobile APP support. However, Coway Airmega 300S and Airmega 400S do have APP and WiFi connectivity. But, look at their price then talk. Latest Philips models like Philips AC2958 do have WiFi support.
CONSOLE/AQI LIGHTS OFF/DIMMING
Both the air purifiers let you turn off the air quality indicator LED lights if you want to. In day time, these LED lights look beautiful. Infact they enhance the charm and one is more interested in knowing the pollution levels. At night time, one finds these same lights too distraction, hence this flexibility is given. Especially the lights for showing the pollution levels are facing towards us in both. Coway Sleek Pro has a MOOD lamp button for this.
Similarly, Philips AC2887/2882 have a Smart Light Control button on the console as well.
POWER CONSUMPTION
Coway is more power efficient that Philips. Philips AC2887 gulps up 60 W power while Coway consumes 49 W. This is one each of them is running at top fan speed. But, for this difference you should not see Philips with condescending eyes. Remember it also can clean a larger area.
WARRANTY
Coway offers a 5 years warranty on the fan motor and 1 year warranty on electrical parts. Any physical damage to the air purifier body is not covered in warranty. Philips offers 2 years International warranty.
When you have to compare how well as a customer you are received by these two brands. After making a purchase Coway does not just forget you. They care for you. This is something a majority of users have felt and shared in their reviews. If there is any issues with your Coway product, your problem would be heard and taken up for resolution quickly and courteously. People have had opposite things to say for Philips after sales support.
VERDICT – Compare Coway Sleek Pro And Philips Air Purifier
Coway Sleek Pro air purifier does superior air cleaning and the quality of service Coway provides is unparalleled. Agreed that you do not get advanced air quality indicators or touch panels in Coway air purifier. You even may miss Child lock or Timer functions and even APP or WiFi Support. At the end of the day, an air purifier is appraised for just how it cleans the air for you. Coway Sleek Pro and Philips AC2887 are two excellent air purifiers, which are close rivals. Its upto you to decide after weighing in the Pros and Cons of each as this post tries to bring to the forefront.
But, my personal choice would be to go for Coway. This is because of the air filtration, simple no-fuss operation and superior after sales support. In terms of features, unless Coway releases their newest Airmega 200, Philips AC2887 and even its larger brothers are better purchases. Philips has a real-time PM2.5 display which is so very useful for monitoring pollution. If you have a separate Air quality monitor, PM2.5 meter is a must have given the cost. If you trust my analysis, you've already got the answer for which one is better Coway or Philips.
Hope you found this Coway vs Philips air purifier comparison informative! Do let us know if you find any incorrect information.
You May Like These Similar Posts From AirSwacch!