Coway company air purifiers have come a long way in their design and looks. It is not a new company but has given all contemporary air purifier companies a run for their money. Coway Tower air purifier is one of the old-timers from the family. People who revere Coway having used its other air purifiers would not need to downgrade to it. Those who are looking for Tower models would find it looking better than the other peers. If it has somehow caught your imagination as well, this post is just for that. Coway Airmega AP-1216L review introduces you to this tall air purifier. At about 3 feet high this is ideal for bedrooms, apartments and small spaces. I am writing this review just for the heck of it. As this is an older model, it may even be discontinued anytime.
I don't see any takers for it, when they have the Bestselling Coway Mighty AP-1512HH Air Purifier.
COWAY AP-1216L TOWER REVIEW

Coway Tower air purifier employs 4 stage air purification. Apart from the conventional pre-filter, deodorization filter and a TRUE HEPA filter, there's an additional stage in it. A bipolar device which is akin to an ionizer reduces airborne pollutants. The Ionizer through an electrochemical process renders the pollutants harmless.
Coway Tower AP-1216L air purifier is not much of a competition for the best air purifiers around. However, when it comes to tower design, it makes itself visible in the countdown. Tower air purifiers from Alen, Honeywell, or Germguardian lead this segment.  Alen T500 air purifier looks an eyesore to me, and Coway Tower is much better in terms of looks and CADR.
Another model which you can consider buying is the Honeywell AirGenius 5. It has touch screen controls and more people prefer buying it due to the brand trust. It has some attractive features like 2/4/6/8/10/12 hour timer. Another good one is a digital indicator of levels for filter life. There are 5 speed levels, inclusive of a Sleep mode. it covers lesser area and has a lower CADR too apart from being an eyesore as well!
Coway Tower air purifier is intended to be used for mid-sized rooms. In this segment, the market is already inundated with brand and models. The competition within Coway is fierce. An old-timer like Coway Tower is bound to be left out in this race. Within the brand, Coway Mighty is an immensely popular model.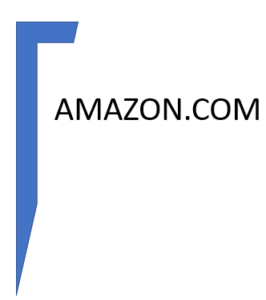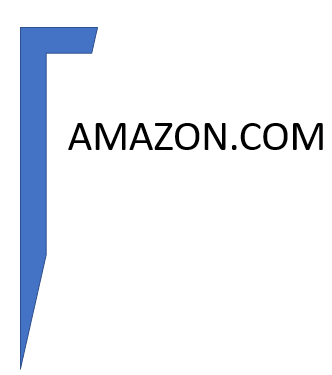 What All Features Are You Getting At This Price? To be very frank, Coway has kept the price very reasonable. A closer look at the control panel reveals the various features you get. Here you see a Timer where you can set the device to turn off automatically after 1/4/8/12 hours. There are not many LEDs on the air purifier which may distract at night. Yet, if you find them disturbing, you may shut them down as well. Apart from this there are 4 Fan speed levels. One of the fan speed options is the very helpful AUTO mode wherein the air purifier operates in self-mode. A separate button lets you choose when to operate the Ionizer.

Most importantly, you get a real-time pollution feedback in the form of a color LED ring. This is the 'light' which lets the user know when the air quality is satisfactory or alarming. Also, this light, should you find it distracting at night time can be turned off.
DESIGN AND LOOKS
As you must have already guessed by now with my statements above that I like the personality of this air purifier. Incidentally or by some tradition, all tower air purifiers I've seen till date are All-Black. Coway AP-1216L is the only air purifier with a tower design from Coway.
Air intake happens from the front side slits and purified air is blown out from the backside. The impure air first encounters the pre-filter which is washable. Then a deodorizing filter capable of removing bad odors and harmful gases comes in the way. Lastly, the TRUE HEPA filter removes tiny nanometer particles with 99.9% efficiency. The height of this model is 32.7 inches and it weighs 13.9 pounds or 6 Kgs.

A Smart Sensor which is the brain behind the air quality indicator lights is a welcome feature. Though not very informative in terms of the exact ppm reading, still it gives an idea of the air quality nevertheless. Given the fact that Coway AP-1216L is an old model, I still do not see any deficiency in terms of any major feature being missing from the scenes.
DIMENSIONS
Coway Tower air purifier is a tall one with slender form and little floor occupancy. The shipping weight of the package is 8.8 Kgs.
Dimensions:

27.18 x 26.67 x 83.06 cm
CONTROL PANEL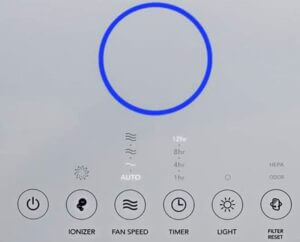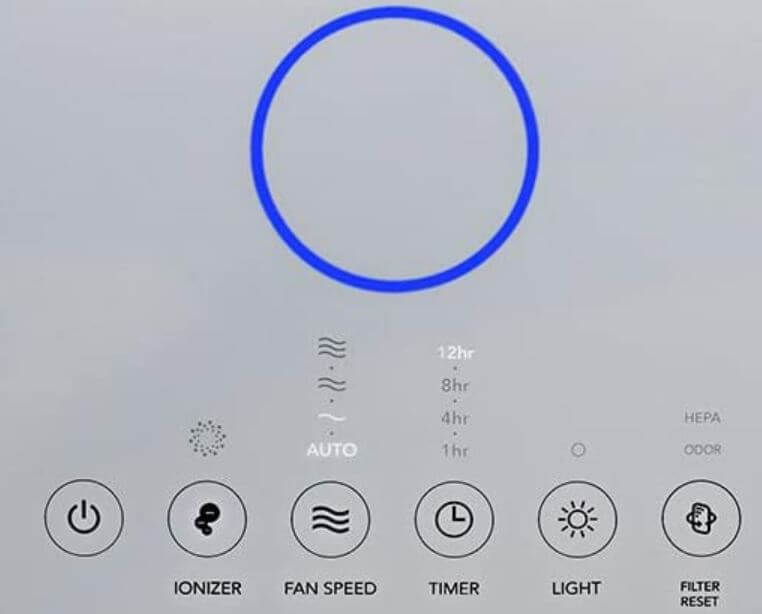 The real beauty of any air purifier rests in its control panel. Here is where all the LEDs and backlit buttons lie. Coway AP-1216L has a slanted console bent towards you which looks inviting. Had it not been tilted there was no need of the Light  button really. There are 6 buttons for controlling the operation. Below is a summary of what each button on the console does.
POWER – This button needs no explanation. It is just to turn ON/OFF the air purifier.

IONIZER

– Choose to start the ionizer and press again to turn it off. The ionizer releases ions into the air. Dust particles on the room tables and surfaces may seem more. This is normal and all due to the effect of the ionizer.
FAN SPEED – There are 3 fan speed levels of Low, Medium and High. The fourth one is the most popular and effective AUTO mode. Choosing the appropriate fan speed is left for the air purifier to decide when you set it in AUTO mode.

TIMER

– You can set the timer to either of 1/4/8/12 hour duration. At the expiry of that time, the air purifier powers off.

FILTER

RESET

– This is to reset the air purifier after the filters have been replaced. This also serves the purpose to indicate an alert when either of the Deodorizing or the HEPA filter needs change.
COVERAGE AREA &

ACH
The rated coverage area for Coway Tower air purifier is 350 sq.ft. for an ACH of 2. This means your air purifier would recirculate the air of such a room sized 350 sq.ft with a ceiling height of 8 feet twice every hour. An ACH below 4 is not useful. The more the ACH the better the air purifier is for a given coverage. So, in effect you should consider it for bedrooms sized 180 sq.ft only. How many of us have bedrooms larger than that size?
The CADR of Coway AP-1216L measured in Cubic Feet per Minute (CFM) is as follows-
DUST

235

 
SMOKE

213

 
POLLEN

262
FILTERS – COWAY TOWER AP-1216L
Filters of Coway Tower air purifier consist of Pre-Filter + Deodorization Filter + True HEPA Filters. A fourth ionizer stage helps further bring down pollution levels in the room. The Replacement Filters are affordable and readily available online or on Coway's website. The carbon filter needs more frequent replacement compared to the HEPA filter. Every 6 months or so you'll have a change of the deodorizing filter due. While the HEPA can server you well for around a year subject to the pollution conditions.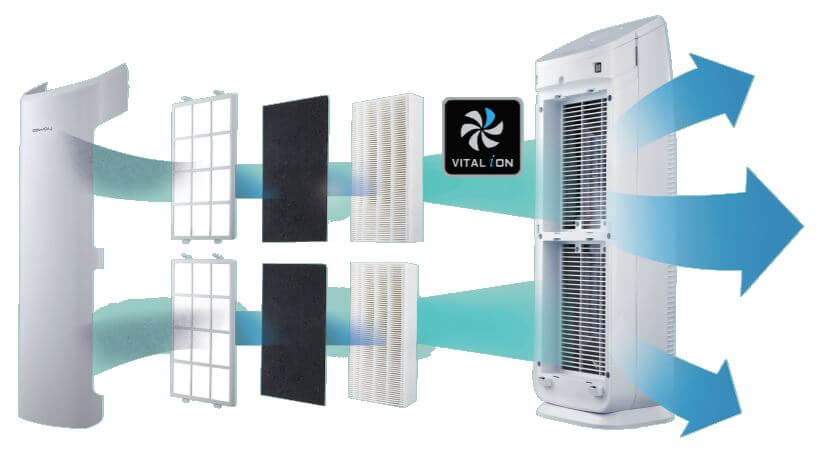 Pre-Filter

– This preliminary filter stage traps larger particles and lint to help the inner filters remain unclogged. The pre-filter is washable and it is recommended to come back and check it every 1- 2 weeks. If its dirty you should wash it or clean it with a vacuum cleaner.

TRUE HEPA Filter

– Its not known what HEPA filter grade the True HEPA filter is. But I suppose it must be H13 grade. A 99.97% efficiency in removal of particles sized 0.3 microns or above is expected.

Deodorizing Filter

– To remove odors floating in the room's air, or to trap harmful VOCs or gases.
NOISE LEVEL
Coway Tower's noise at the Speed 1 is extremely quiet, not even a whisper. At the highest fan level, it may turn a bit noisy. How much noise a home appliance makes is an important consideration. Given the fact that Coway Airmega AP-1216L is designed to be used in bedrooms it ought to be silent.
21 dB – 52 dB
Noise level of 52 dB is not so low to be inaudible. You can imagine it to be at the same decibels as if normal conversation is happening. Ofcourse, you wouldn't mind your new family member to do some talking in its own language, would you? Well! you may mind it at night, so run it at full cylinders before sleeping so that the room is cleared of pollutants. For the rest of the night, the lower fan speeds can be chosen or even the Auto mode. With Auto mode there may be intermittent bursts of full fan speed, which may disturb during the sleep.
POWER CONSUMPTION
Coway AP-1216L is an Energy Star certified product which guarantees it to be not a power guzzler. This Coway air purifier has a power rating of 50W. This is neither too good nor too bad. Compared to other tower air purifiers like the Alen T500, it fares better.
Air purifiers are anyways not a big consumers of power. There's just a fan which eats the lion's share of power apart from a very little consumed by the electronics.
CONCLUDING WORDS – Coway Airmega AP-1216L Review
Not many takers of tower design air purifiers nowadays. For those who still would like to get one, Coway AP-1216L Tower air purifier is a nice option. Atleast from the looks, and air cleaning perspective you can rest assured to be fully satisfied. Can't say the same for its future as its a rather old model. Since it features an air purity indicator, I think it does justice to its price. Had this feature been absent, I would not have played with the idea of recommending it to anyone.
Hope you got my message conveyed in this Coway AP 1216L Review.
You May Like These Similar Posts From AirSwacch!