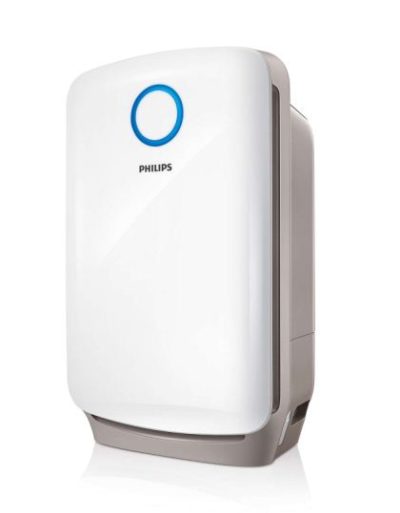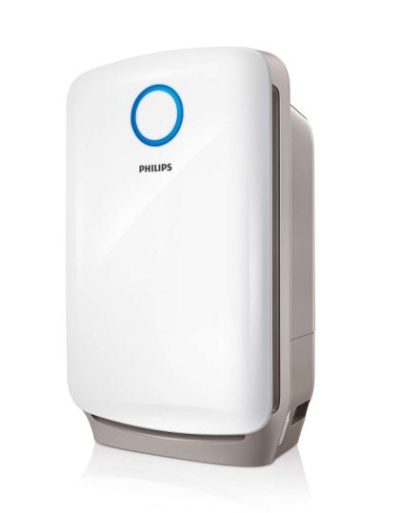 The Philips AC4081 Air Purifier and Humidifier-A Great Combo!
Today we bring to you the Philips AC4081 Air Purifier and Humidifier. Priced at just a notch below 21,000 INR at the time of writing this post in FEB 2021 (check current price), this is a great buy. Polluted and dry air both can be problematic. If you want to buy a product which solves both these problems, this one is a great option.
Seriously, what else can you ask for! You can check for our reviews of  Air Purifiers from other brands as well. But, Philips is a big brand and if you have had good experiences with their other catalog of products, then go ahead and order this amazing make.
NEWER MODEL ALERT!!!
Why Choose Air Purifier-Humidifier Combo?
An Air Purifier does what most of us think it would do i.e. clean up the air. So, when does a Room Humidifier come into the picture? It's when the humidity inside rooms falls below the ideal 30%-50% level. During winters, when we all use artificial heating mechanisms like heaters, blowers or fireplaces, humidity may fall to as low as 10-20%. This doesn't come without a price. Low to very low levels of humidity can cause the mucous membranes or the lining of the oral/nasal cavities to dry up. This invites throat irritations and in some cases strep throat and infections. In contrast, an overly humid room can become home to all sorts of mold, fungus or mites. The humidifiers have inbuilt hygrometers and sensors which help to statically set and maintain a preset Relative Humidity (RH).
The Philips AC4081 comes with Nanocloud Humidification Technology. This tech produces nano-particle sized mist from the humidifier. The very minute water droplets produced prevent staining on nearby surfaces or household items. The nano cloud remains suspended in the air for longer times and helps maintain air moisture. We've also made an observation that increasing the humidity in a room by any means itself brings down pollution levels.
In addition to the Humidifier feature, the usual array of features are all very much present. You can also consider the "top model"- the Philips AC4372 which we have reviewed in detail. Depending on your requirement and pocket size, you may choose from different models.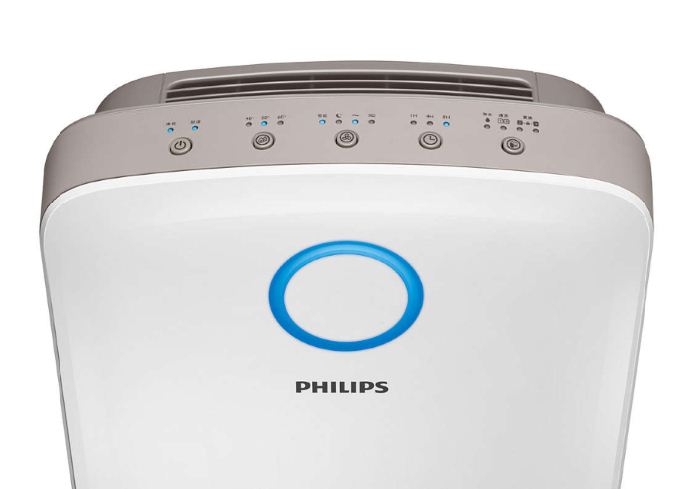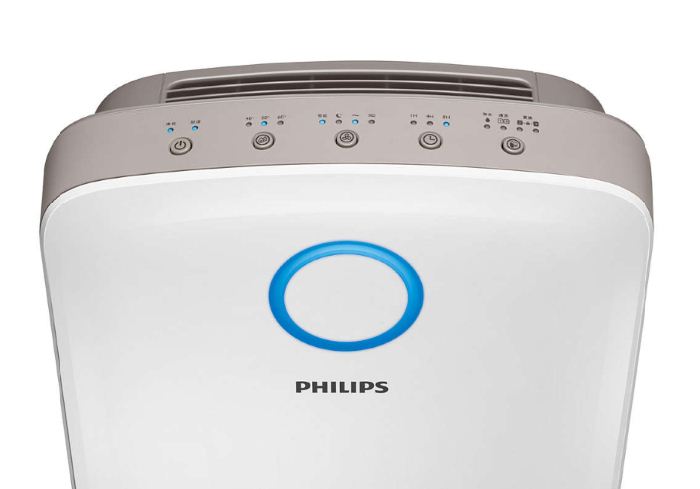 VitaShield IPS technology
German Vitashield IPS technology used in the purifier filters out Ultrafine particles, allergens, bacteria and viruses with size above 0.02 micron.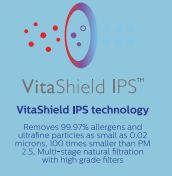 CADR (

Clean Air Delivery Rate

) m³/h
One parameter that should be kept in mind while buying an Air-purifier is the CADR (Clean Air Delivery Rate). CADR in simple terms is a measure of the efficiency of a filter to remove a particular type of particle from surrounding air. Be it smoke, pollen or dust- a filter has separate CADR ratings for the three. Only the CADR(smoke) is mentioned commonly.
The Association of Home Appliance Manufacturers (AHAM) performs air quality tests for manufacturers and gives them ratings and CADR figures to display a seal that certifies AHAM performed the test. The CADR ratings depend on a variety of factors ranging from fan speed,  surroundings, type and size of particles etc. It is advisable to keep the rooms closed as you do while the Air Conditioners are working, because the incoming air from outside may never give the purifier a chance to clean the room's air completely. The Philips AC4081 Air Purifier has a CADR as shown below-
 

CADR     223
5 Step Fan Speed Selection
This purifier comes with a selection of 5 fan speed settings. What is the use of these many speed options? A purifier's fan facilitates the suction of the room air. The incoming air upon passage through the various filters gets cleansed. Very low fan speeds can render the purifier useless. The reason being the purifier would just be cleaning the very proximal of its surroundings rather than the whole room. High fan speeds would also mean greater noise, but that can be tolerated during day time without any issues. Mostly, it's only during sleeping does the noise level become important and noticeable.
You can run the purifier at full speeds for about an hour before bedtime. What it ensures is that it has already cleaned the room's air by the time you put the lights-off!
SLEEP MODE
Sleep mode with low noise and all display lights OFF comes in handy during night. It is meant to put out all the LED lights which may distract during sleep. The air purifier also runs noiselessly at a low fan speed. It is suggested to run your air purifier at maximum speed for sometime before switching to Sleep Mode.
3-color Light Indicators
As with all Philips purifiers, this model too has indicator LEDs to mark and display the general health of the room's air.
                                                                           Blue-Good            Red-Poor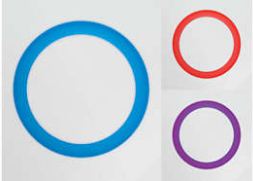 Purple-Moderate/Fair
1/4/8 Hours Timer
You can program it and set the number of hours of operation after which the purifier automatically switches off.
3-step humidity control
There are three presets for humidity levels in the Philips AC4081 Air Purifier. You can set the humidity levels ranging from 40-60% Relative Humidity in 3 steps of 10%.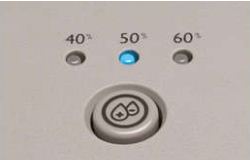 Independently operate Humidifier with the purifier ON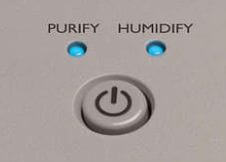 Auto mode for automatic carefree functioning.

Filters out over 99% Bacteria/Virus/Gases (Toluene, TVOCs) and over 90% Formaldehyde.
Dual sensors to give clear feedback on air quality and humidity.
Weight and Dimensions
Product Dimensions(W x D x H): 21 x 36.5 x 60.5 cm
Product Weight: 8.3 Kg
Humidifier Water tank capacity- About 2 Litres
Specifications
Frequency: 50 Hz
Voltage: 220-240 V
Cord length: 1.8 m
Noise level: 36 (Sleep mode)
Wattage: 68 W(maximum)
CONS
No longer available for sale. It has been replaced with Philips AC3821 model.
Sleep mode all-lights-off feature may not come across as a very user-friendly feature. It doesn't signal whether the air purifier is even working or not.
A little heavy which may hamper portability. No wheels or trolley are present.
Water storage may fall short for the full-night duration but again depends on the conditions.
Verdict
We are sure by now you would have taken a liking for this beautiful piece of product, the Philips AC4081 Air Purifier and Humidifier combo. But, this model is no longer available as its been discontinued. Don't fret as the company has introduced a more advanced model the AC3821.
The Philips AC3821 is company's new air purifier-humidifier combo. The Philips AC3821 since it has replaced the AC4081 completely should be your new interest. It has a high cost and should have come with a remote control.
It's ideal for Medium to Large Rooms and gives complete peace of mind with its simple yet reliable operation. Humidifier advantage is its prime USP, especially in dry/windy atmospheric conditions. Greater Fan speed selection options make for a wide range of settings depending on air quality and varying pollution levels. Sleep time all-lights-off feature for no night disturbance. Child Lock is also present to prevent your little ones to tamper with the buttons or play with them. Healthy air protect lock shuts off the purifier when healthy air can no longer be guaranteed or when filters absolutely need replacement.

You May Like These Similar Posts From AirSwacch!